It's a special treat to enjoy a fresh cup of coffee from the coffee bar at your favorite coffee shop. Why not enjoy this delightful experience every day? Keep reading to discover the perfect coffee bar ideas for your home and how you can create a coffee shop-inspired coffee bar in your home in just five easy steps.
(1) Select a Location
Choose a convenient location in your kitchen to set up your coffee bar. You might select a small countertop space, buffet, or sideboard. If you want a mobile coffee bar, purchase a small kitchen cart with wheels that you can easily move from your kitchen to other areas of your home. A cart with shelves is a convenient spot to stash coffee-related items. Whatever location you choose, you'll need an electrical outlet close by.
(2) Choose Your Coffee Maker
Select the coffee maker that suits your needs and wants. Whether you prefer a traditional percolator, automatic drip, or a single-serve coffee maker, choose one that fits your physical space comfortably. Also, consider how many people in your home love to drink coffee and how many cups per day you'll need. Individual pods used in a single-serve coffee maker can be pricey when brewing several cups per day. Also, think about specialty features, such as brewing strength, timer delay, and an automatic shut-off device, when shopping for an accommodating coffee maker.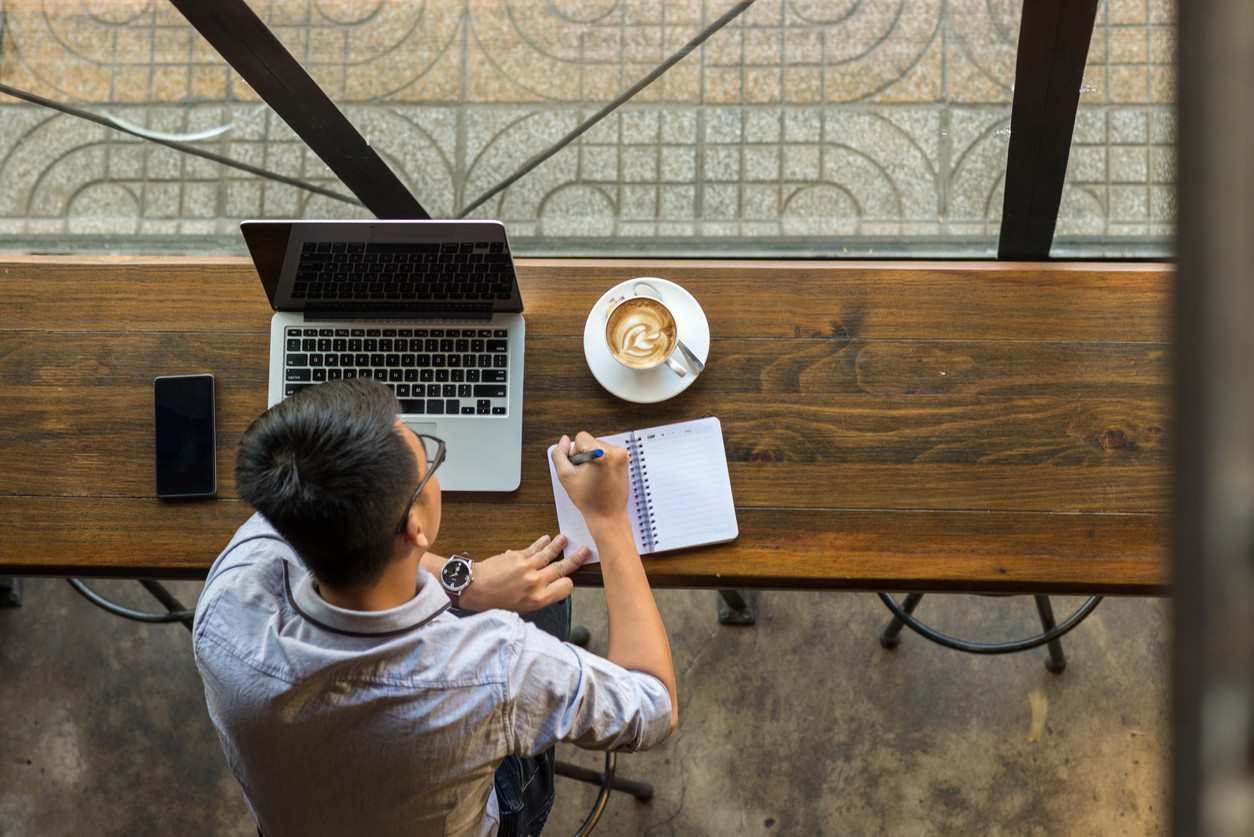 (3) Pick Out Your Coffee
Stock your coffee bar with your favorite coffees. For freshly ground coffee, you'll need a coffee bean grinder and bags of whole coffee beans. You can also opt for bags of ground coffee where the beans have already been ground for you. Either way, you'll want to keep them fresh. The best way to store ground or whole bean coffee is in an opaque, airtight container that is away from light, heat, and moisture. Flavored seasonal coffees are always a special treat for the holidays, and decaffeinated coffee is good to keep on hand for friends or family who can't tolerate caffeine.
(4) Gather Your Condiments
Use one or more small baskets, tins, or other containers to store your preferred coffee condiments. Items such as cane or raw sugar, non-refrigerated creamers, coffee flavorings, and zero-calorie sweeteners offer several condiment choices that are sure to please any coffee connoisseur. Natural stevia sweetener is also a popular coffee addition. Include a basket for napkins and stir sticks as well.
(5) Round Up Your Mugs
Add special mugs to your coffee bar for an even more delightful cup of coffee. Use a mug tree to hold several mugs if your coffee bar has limited space. For larger coffee bars, turn your mugs upside down on an attractive tray or place a small stacking shelf with two levels to hold more mugs. Add a few disposable coffee cups with lids for when you're on the go, or insulated tumblers to keep coffee warm while you're traveling.
Coffee Bar Ideas For Your Home Summary
Creating your coffee bar is a fun, easy project that you can enjoy every day from the comfort of home. Use the information you just read to personalize your coffee bar ideas with the coffees, condiments, mugs, and coffee makers that suit your preferences and needs. The only thing left to do is enjoy a fresh cup of coffee from your custom coffee bar whenever you wish.