Starbucks cup sizes can be confusing, especially when compared to Dunkin' cup sizes.
What are the smallest and largest cup sizes you can get at both coffee chains? Is a Dunkin' Medium size the same as a Starbucks Grande size? These are great cup questions that we can answer!
Here's how Starbucks sizes and Dunkin' cup sizes stack up against each other in this battle of the brews.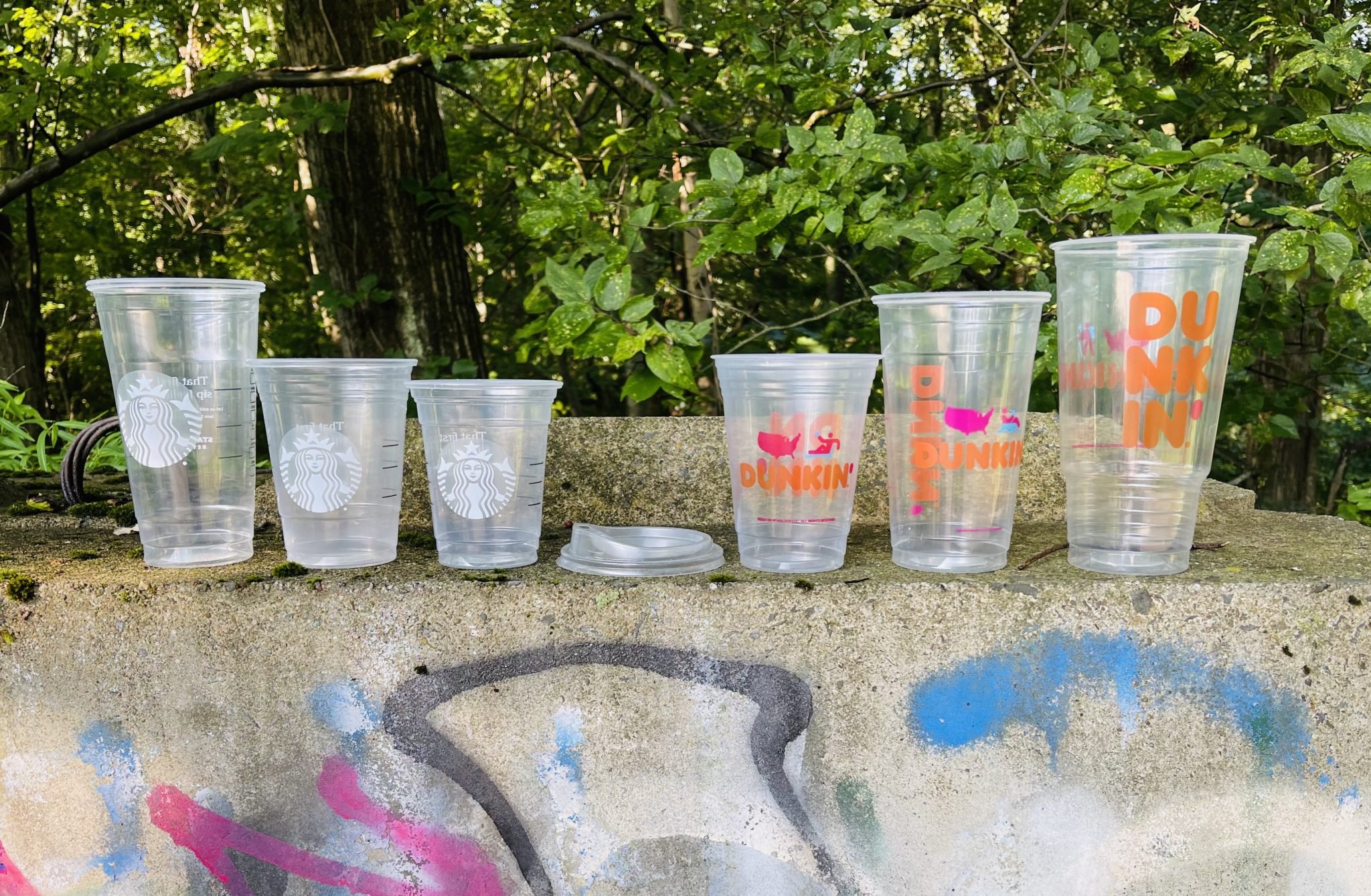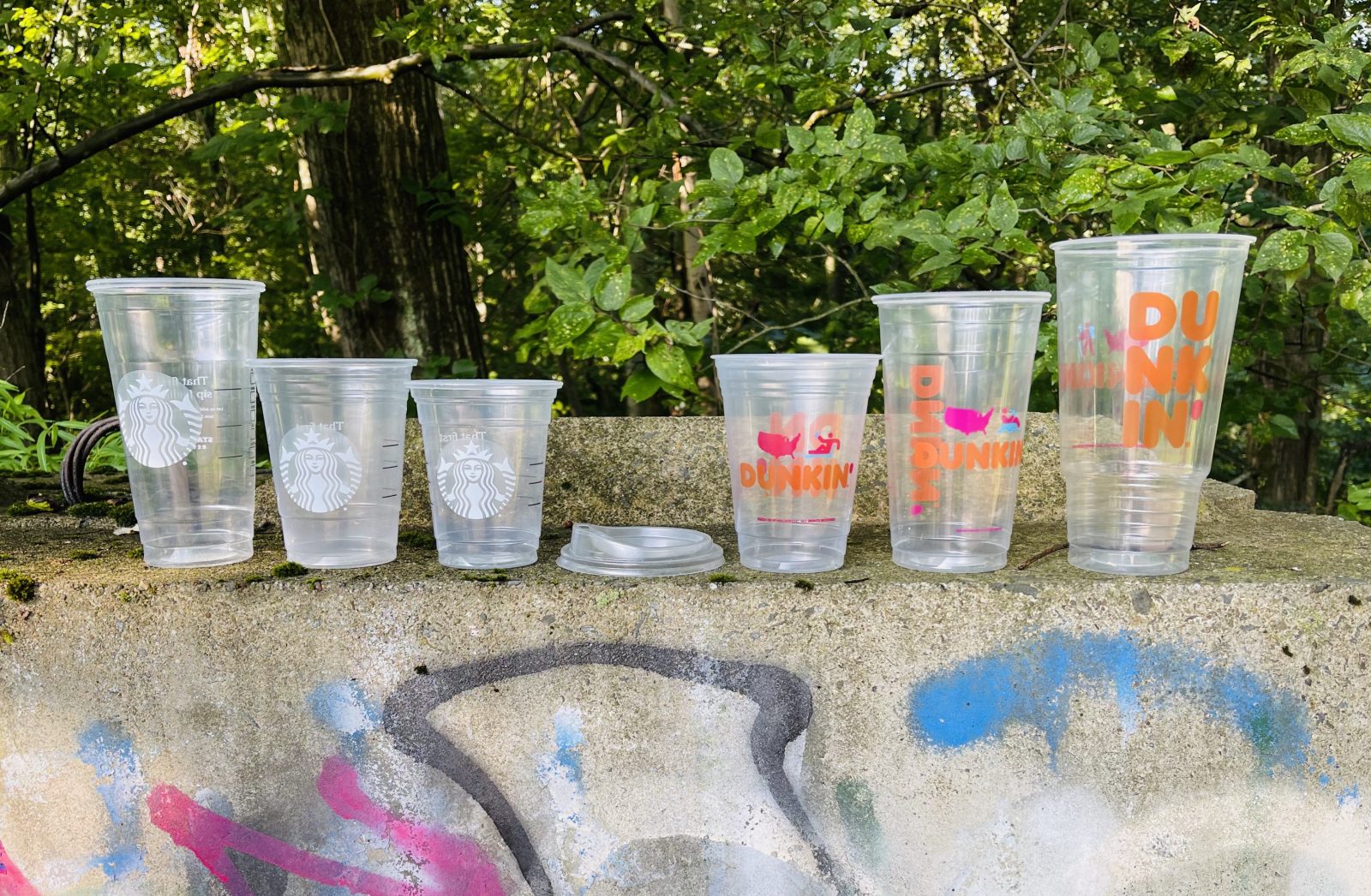 There are a few things to consider when comparing Starbucks cup sizes against Dunkin' cup sizes. The first is price.
Dunkin' comes at a lower price point, making it the most affordable cup between the two retailers, except in the hot coffee category. But for exciting flavors, unique brews, non-coffee options, and genuinely individualized coffee offerings, Starbucks is the go-to coffee experience.
Both coffee franchises offer great coffee, but Starbucks offers some high-end options with a long list of customizable add-ons that take fresh coffee to the next level.
Comparing cup sizes between Dunkin' and Starbucks has not been an easy task due to the variety in cups based on what type of drink you order.
Starbucks Cup Sizes
We thought it would be great to start with a list or chart of all Starbucks cup sizes in hot and iced variations. Here are a few charts that layout cup sizes and ounces.
Starbucks Iced Coffee Sizes
Trenta (30 Oz.)
Venti (24 Oz.)
Grande (16 Oz.)
Tall (12 Oz.)
As you can see, there are four standard iced coffee sizes at Starbucks, the Tall, Grande (most popular), Venti, and the largest iced coffee you can order; the Trenta cup size.
Starbucks Hot Coffee Sizes
Venti (20 Oz.)
Grande (16 Oz.)
Tall (12 Oz.)
Short (8 Oz.)
When we switch to hot coffee, you will notice that the Trenta size falls off the list, and the largest hot coffee you can order is a Venti.
Starbucks Espresso Shot Sizes
Solo (.75 Oz.)
Doppio (1.5 Oz.)
Triple (2.25 Oz.)
Quad (3 Oz.)
If you are only looking for an espresso shot or wish to have an espresso shot served on the size of your main course drink, you can choose from four sizes; solo, doppio, triple, and quad.
If you understand the Italian language, this one is pretty easy!
The solo is one shot, doppio equals two shots, triple equals three shots, and the quad is four total shots.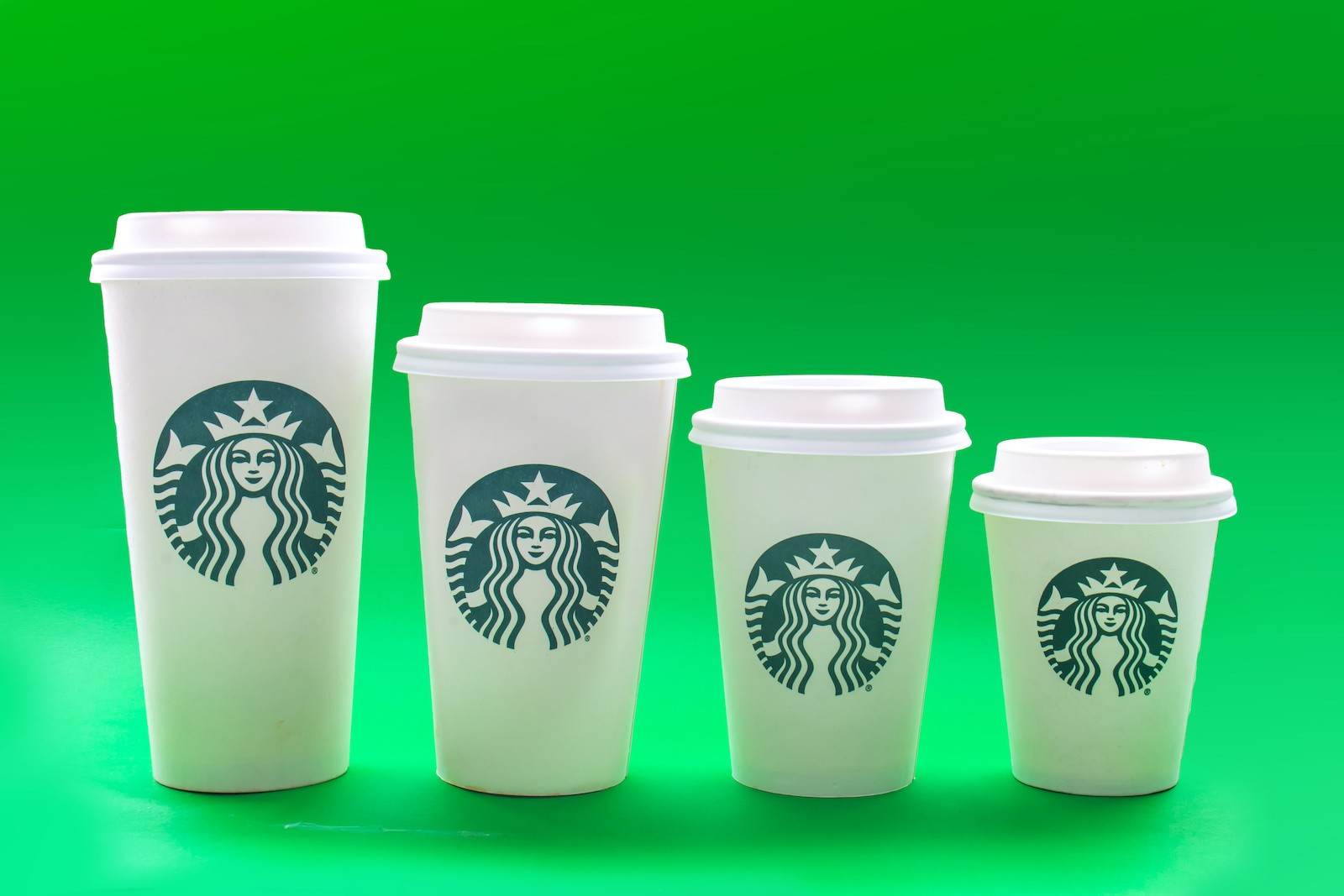 Starbucks Sizes Explained
The Starbucks Short Cup Size: 8 Oz.
The 8-ounce short cup is a Starbucks-only size and the smallest drink you can order at Starbucks.
The catch?
It's for HOT beverages only and is not used for iced drinks unless your barista bends the rules. The 8 Oz. short cup is tiny, but it's great for espresso shots and other free samples of hot coffee you may want to try.
Starbucks Tall Cup Size: 12 Oz.
Starbucks offers slightly more variety in terms of small sizes. Next on the list is the 12-ounce tall cup size. The tall size is one of the original small cup sizes introduced when Starbucks first came into existence.
The tall size is one of the most popular sizes for individuals who wish to follow a low-calorie drink diet or reduce their caffeine intake.
Starbucks Grande Size 16 Oz. or a Dunkin' Small
The 16-ounce cup is known as the Grande size at Starbucks and the part of our article where we begin to introduce Dunkin' cup sizes.
Why?
Because the Starbucks Grande size equals the Dunkin' small.
You can order both hot or iced drinks in a Grande size or Dunkin' Small size. The world grande is Italian for "large" as the grande size used to be the large cup size at Starbucks before the invention of the Venti.
Starbucks' Grande size contains the same ounces as the Dunkin' standard small cup.
Since we introduced Dunkin' into the conversation, here is a Dunkin' cup size chart for reference.
As you can see, they are relatively simplistic and follow the traditional small, medium, and large cup size concepts.
Dunkin' Cup Sizes
Dunkin' Iced Coffee Sizes
Large (32 Oz.)
Medium (24 Oz.)
Small (16 Oz.)
Dunkin' Hot Coffee Sizes
Xtra-Large (24 Oz.)
Large (20 Oz.)
Medium (14 Oz.)
Small (10 Oz.)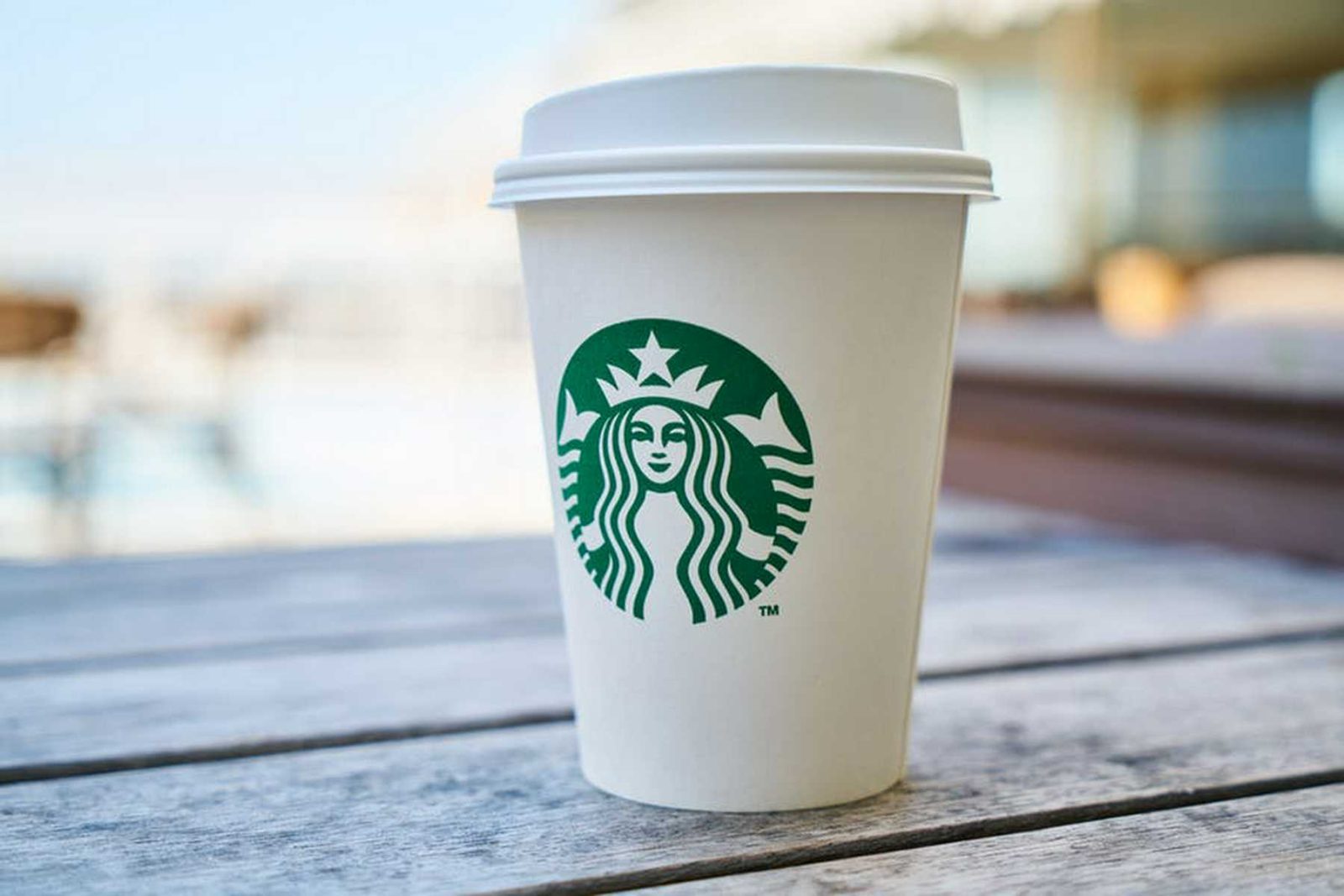 Starbucks and Dunkin' Medium Cup Sizes
This is where comparing cup sizes get complicated. Once we hit the medium cup sizes, 20-ounces or greater, Starbucks and Dunkin' change the ounces in each cup based on hot or iced offerings.
The list below best explains the cup variations and how many ounces you can expect in each.
Dunkin: Medium Hot 14 Oz., Medium Iced 24 Oz.
Starbucks: Venti Hot 20 Oz., Venti Iced: 24 Oz.
Starbucks and Dunkin' Large Cup Sizes
The largest Starbucks cup size is the Trenta and is 30 ounces. The Trenta size is only available for iced coffee and cannot be ordered as a hot coffee variation.
Dunkin's large hot coffee is 20 Oz. A large iced coffee is 32 Oz. The largest hot coffee you can order from Starbucks is a Venti at 20 Oz.
The largest hot coffee you can order at Dunkin' jumps to the next size at 24 Oz., an XL.
Dunkin: Large Hot 20 Oz., Dunkin Large Iced 32 Oz.
Starbucks: Trenta 30 Oz., available for some iced coffee drinks only.
Dunkin' XL Cups Size: 24 Oz.
If you drink as much iced coffee as we do, we have always dreamed of a Dunkin XL iced coffee cup. The Dunkin' XL cup size is only available hot and contains 24 Oz.
It sounds like we can keep dreaming about a Dunkin' XL iced coffee.
Who knows, maybe someday!
Starbucks Espresso Cup Sizes
Solo (.75 Oz.) – soh-loh, means single or (1) shot of espresso
Doppio (1.5 Oz.) – dop-pio, means double or (2) shots of espresso
Triple (2.25 Oz.) – trip-uh l, means (3) shots of espresso
Quad (3 Oz.) – kwod, means (4) shots of espresso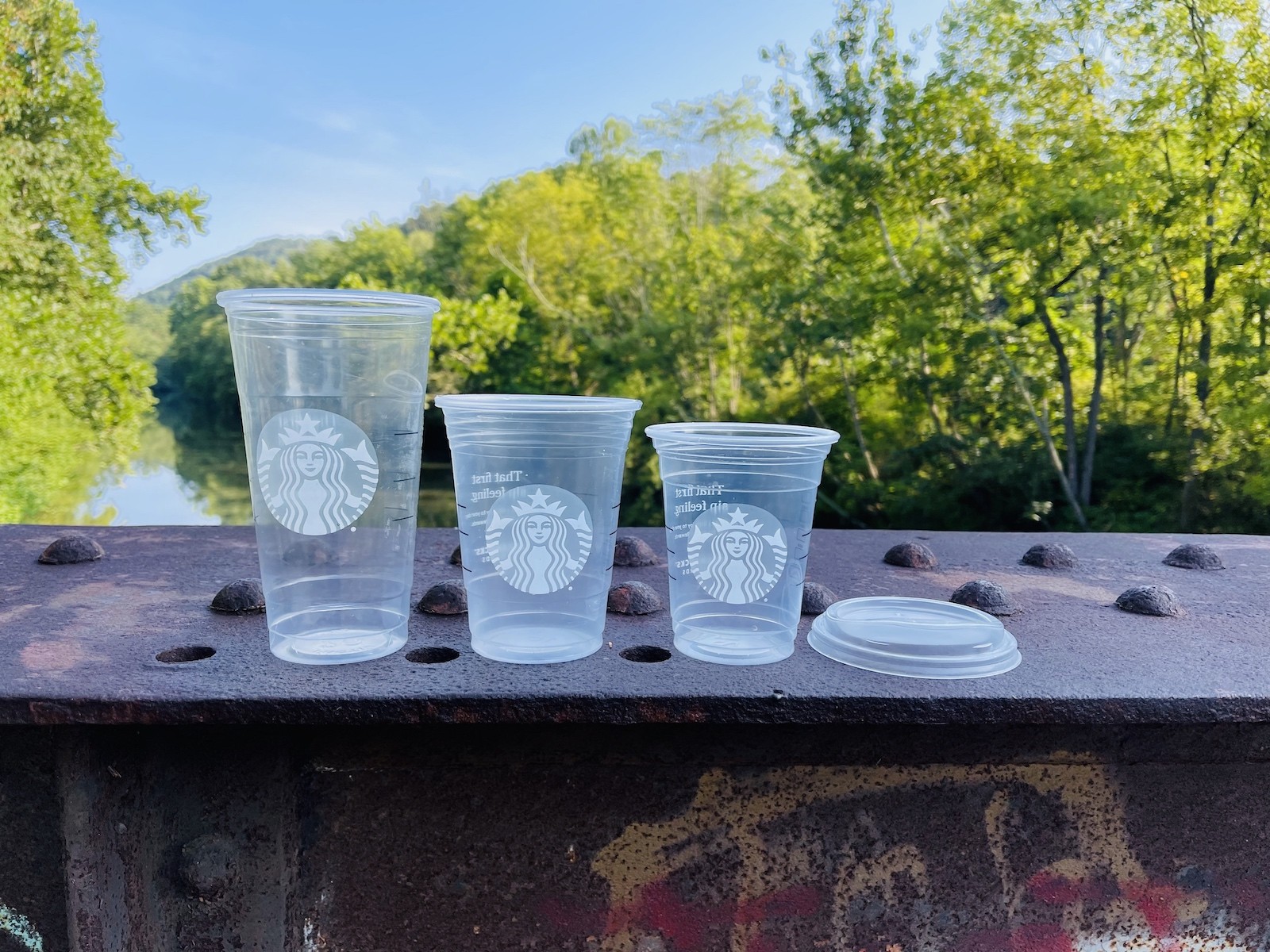 The Cup Size Nitty Gritty Comparison
When comparing Starbucks vs. Dunkin' cup sizes, consider a few things:
Coffee variety
Customization
Quality
Quantity
Starbucks is known for decadent coffee options that can cost upward of $10 or more than Dunkin', which is a little more cost-friendly, but options are limited.
Dunkin' has more of a streamlined, fast-food vibe.
While the quality of the fresh brew is excellent in both places, people may find more original flavors at Starbucks as they specialize in global coffee beans and unique blends.
Cup Size Goals
Dunkin' may be your best bet if saving a dollar is the goal.
But if you want a quality cup of coffee and a little more bang for the buck, they won't be disappointed in the robust Starbucks coffee menu.