Many people have wondered where they get the most bang for their buck with coffee cup sizes at Starbucks and Dunkin'. With that in mind, it's time to determine which sizes are the best option once and for all. Read on to see how Starbucks cup sizes and Dunkin' cup sizes stack up against each other in this battle of the brews.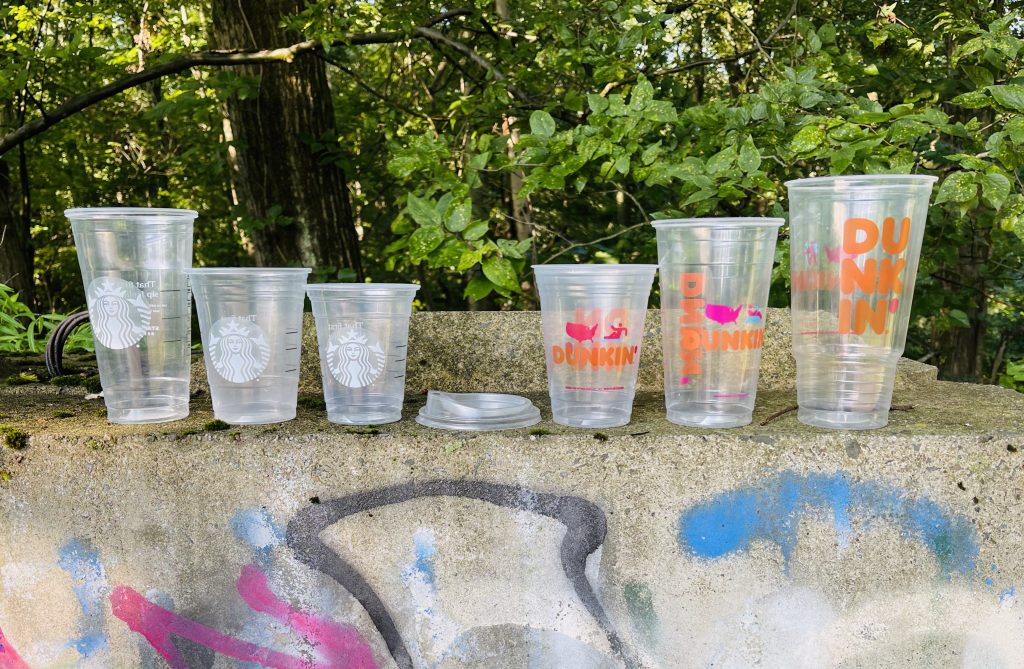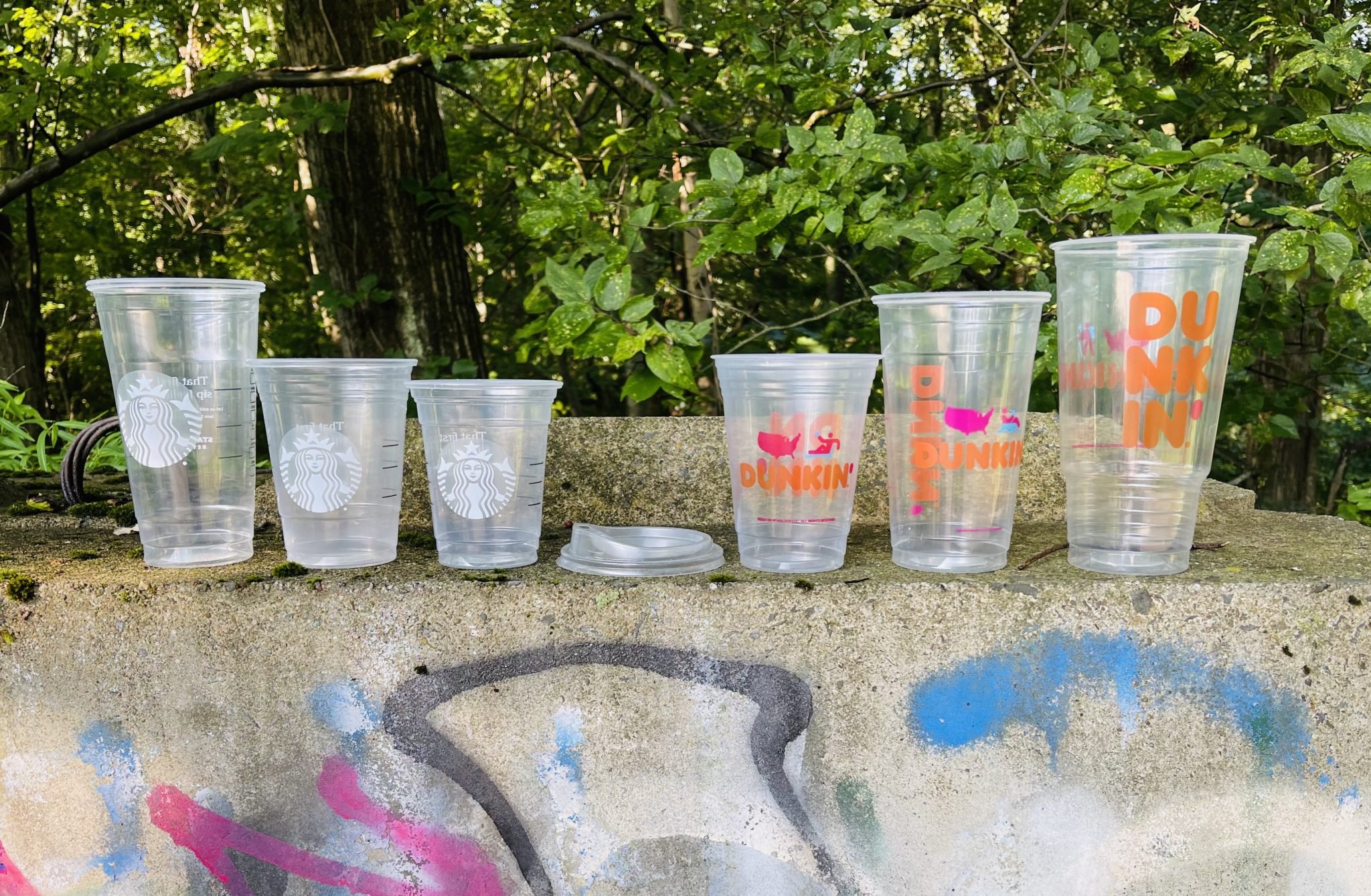 Starbucks vs. Dunkin' Regular Coffee
There are a few things to consider when comparing these two coffee giants. The first is price. Dunkin' comes at a lower price point, making it the most affordable cup between the two retailers, except in the hot coffee category. But for exciting flavors, unique brews, and genuinely individualized coffee offerings, Starbucks is the go-to coffee experience.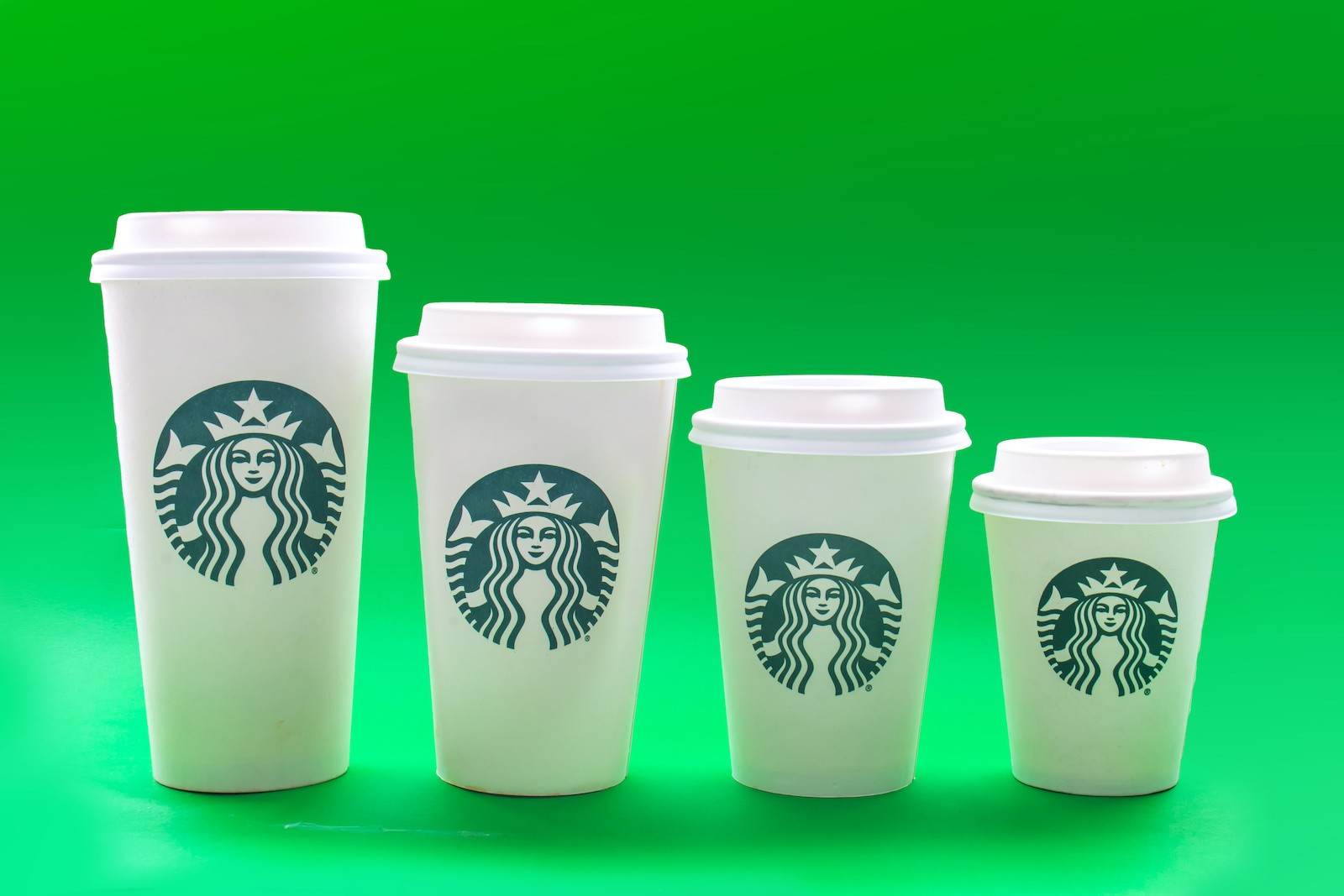 Both coffee franchises offer great coffee, but Starbucks offers some high-end options with a long list of customizable add-ons that take fresh brew to the next level. Comparing cup sizes between Dunkin' and Starbucks has not been an easy task which is why we are starting with a list of all cups sizes in hot and iced variations.
Starbucks Iced Coffee Sizes
Trenta (30 oz)
Venti (24 oz)
Grande (16 oz)
Tall (12 oz)
Starbucks Hot Coffee Sizes
Venti (20 oz)
Grande (16 oz)
Tall (12 oz)
Short (8 oz)
Dunkin' Iced Coffee Sizes
Large (32 oz)
Medium (24 oz)
Small (16 oz)
Dunkin' Hot Coffee Sizes
Xtra-Large (24 oz)
Large (20 oz)
Medium (14 oz)
Small (10 oz)
Starbucks and Dunkin' cups sizes can't be presented any more straightforward than the list above, but there are some specific details you should know about each cup size. Let us explain!
The Starbucks Short Cup Size: 8 oz.
The 8-ounce short cup is a Starbucks-only size and the smallest drink you can order at Starbucks. The catch? It's for hot beverages only and cannot be ordered as an iced drink…that is unless your barista bends the rules. The 8 oz short cup is tiny, but it's great for ordering espresso shots and other samples of hot coffee you may want to try. Even some weird people in this world think 8 ounces of coffee is plenty of caffeine.
Starbucks Tall Cup Size: 12 oz.
Starbucks offers slightly more variety in terms of small sizes. Next on the list is the 12-ounce tall cup size. The tall size is one of the original small cup sizes introduced when Starbucks first came into existence. The tall size is one of the most popular sizes for individuals who wish to follow a low-calorie drink diet or reduce their caffeine intake.
Dunkin' Small or Starbucks Grande: 16 oz.
The 16-ounce cup is known as the Grande size at Starbucks. The world grande is Italian for "large" as the grande size used to be the large cup size at Starbucks before the invention of the venti. The grande size at Starbucks contains the same amount of ounces as the Dunkin standard small cup. You can order both hot or iced drinks in the grande or Dunkin' small size at both coffee chains.
Starbucks and Dunkin' Medium Cup Sizes:
This is where cup sizes get complicated. Once we hit the medium cup sizes, 20-ounces or greater, Starbucks and Dunkin' change the ounces in each cup based on hot or iced offerings. The list below best explains the cup variations and how many ounces you can expect in each.
Dunkin: Medium Hot 14 oz., Medium Iced 24 oz.
Starbucks: Venti Hot 20 oz., Venti Iced: 24 oz.
Starbucks and Dunkin' Large Cup Sizes:
The largest Starbucks cup size is the Trenta and is somewhere in the area of 31 ounces. The Trenta size is only available for iced coffee and cannot be ordered as a hot coffee variation. Dunkin's large hot coffee is 20 oz., and a large iced coffee is 32 oz. The largest hot coffee you can order from Starbucks is a Venti at 20 oz., while at Dunkin', the largest hot coffee you can order jumps to the next size at 24 oz., an XL.
Dunkin: Large Hot 20 oz., Dunkin Large Iced 32 oz.
Starbucks: Trenta 31 oz., available for some iced coffee drinks only.
Dunkin' XL Cups Size: 24 oz.
The Dunkin' XL cup size is only available hot and contains 24 oz. If you drink as much iced coffee as we do, we have always dreamed of a Dunkin XL iced coffee cup. It sounds like we can keep dreaming…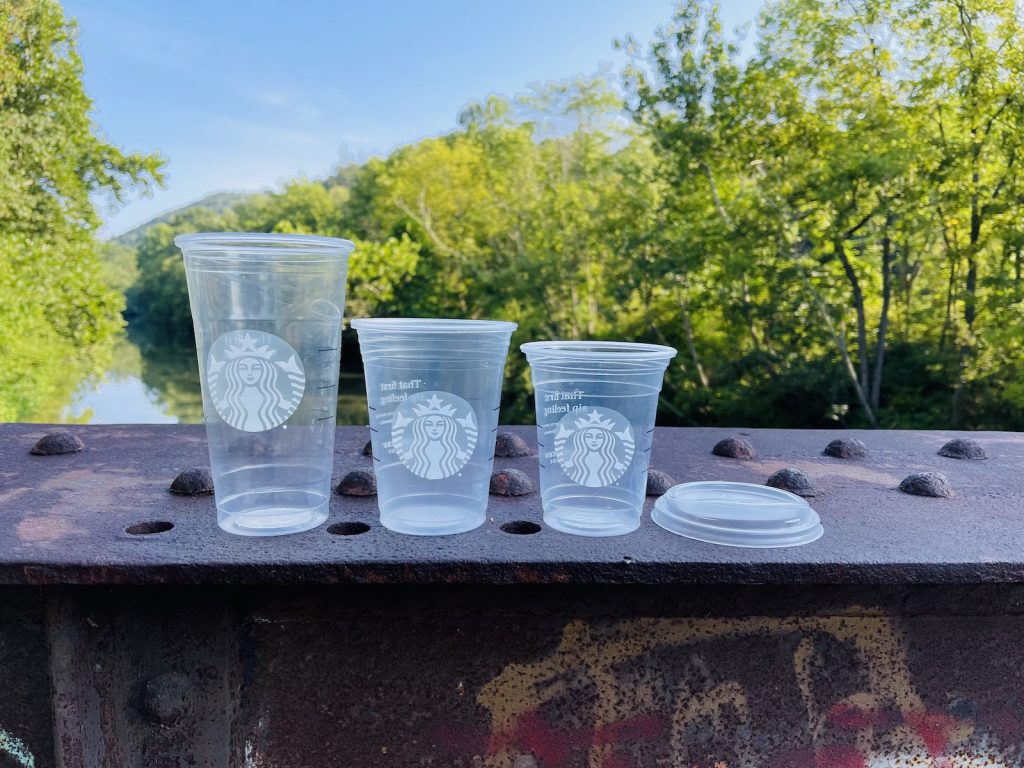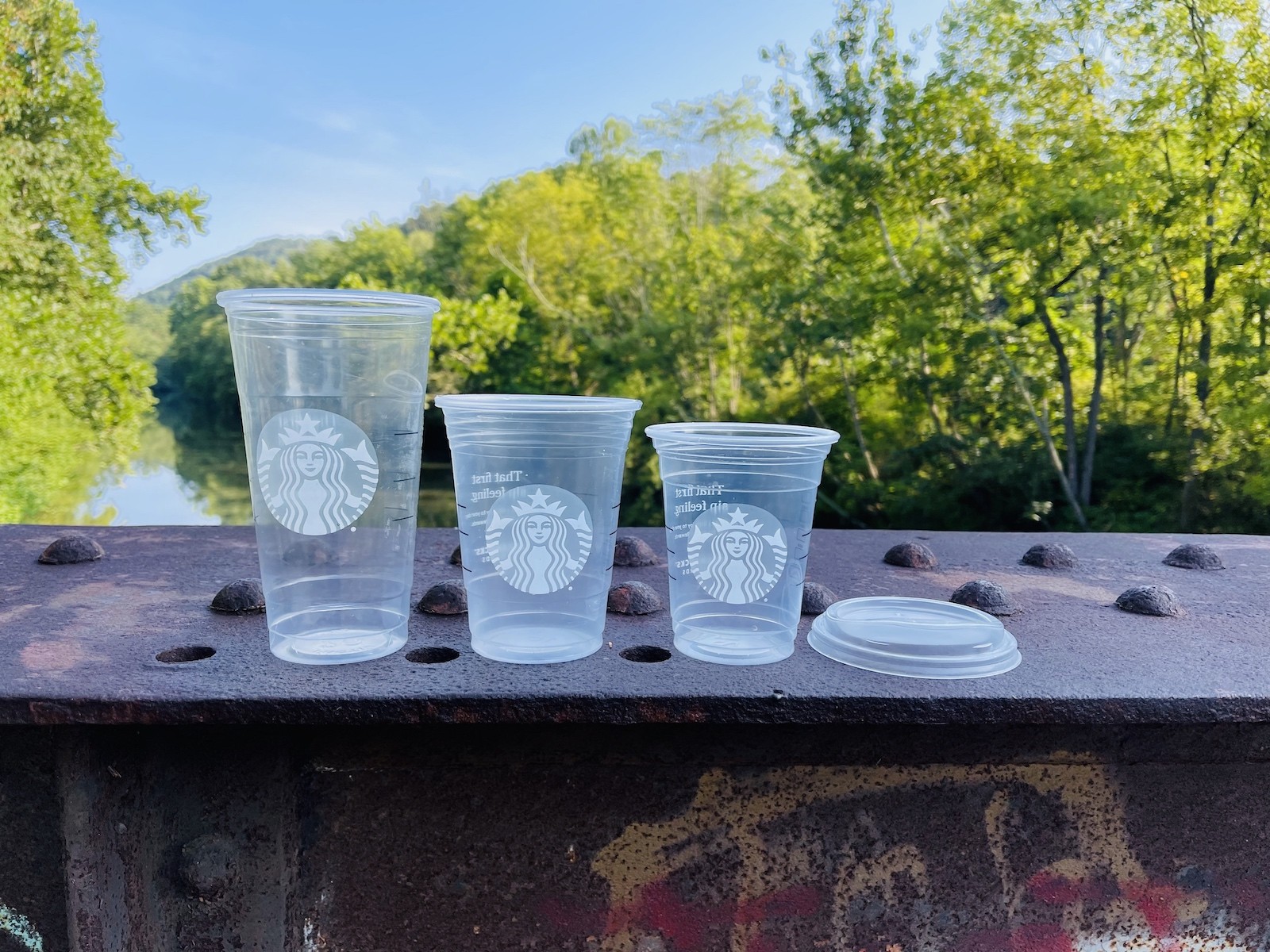 Let's break down some of the coffees that actually go INTO the cups.
The Iced Coffee Comparison
As usual, the flavor choices are much more extensive at Starbucks. Though the cold brews seem to be pretty similar in price, Starbucks also offers a wide variety of high-end cold and frozen coffees, like their Strawberries and Creme, Mocha, and Caramel Frappucinos. Dunkin' instead offers more basic cold brews at lower prices, as well as frozen coffee and iced cappuccinos. Here's how the lattes stack up!
The Latte Comparison
At Starbucks, lattes can come with loads of calories and a hefty price tag if you continuously add ingredients. The options are seemingly endless at times, especially as the holiday season and menu have arrived. Dunkin' offers a range of lattes, but the choices are a little less robust, and the menu seems more streamlined during non-seasonal periods.
Known for decadent and genuinely delicious lattes, Starbucks may cost a few bucks more but has a broader range with unique twists. Here are a few of the unique Starbucks latte options you can order at different times throughout the year:
Pistachio latte
Iced Vanilla latte
Honey Oatmilk latte
Cinnamon Dolce latte
Reserve Hazelnut Bianco latte
Apple Crisp
Here is a look at some of the Dunkin' latte choices:
Caramel Mocha latte
French Vanilla Swirl latte
Cookie Dough Swirl latte
Peppermint Mocha Latte
Pumpkin Spice Latte
Toasted White Chocolate
Many more seasonal signature lattes
The Comparison Details
When comparing the two coffee chains, consider a few things:
Coffee variety
Customizations
Quality
Quantity
Starbucks is known for decadent coffee options that can end up costing upward of $10 or more. Dunkin' is a little more cost-friendly, but its options may be more limited. While the quality of the fresh brew is excellent in both places, people may find more original flavors at Starbucks as they specialize in global coffee beans and unique blends. Dunkin' has more of a streamlined, fast-food vibe.
If saving a buck is the goal, Dunkin' maybe your best bet. But if a consumer wants a quality cup of coffee and a little more bang for the buck, they won't be disappointed in the robust Starbucks coffee menu. Starbucks' coffee beans come from sources worldwide, including Latin America, Africa, and Asia. Let's talk straws!
Starbucks Strawless Lids and Cup Changes
Starbucks has attempted to reduce its carbon footprint by eliminating harmful plastic straws. For a straw-less experience, Starbucks has switched to lids with a spout on the end so customers won't even need a straw. At first, customers were a little unsure of the Starbucks strawless lids, but they soon saw them as a positive; this change is positive for the planet.
While straws are still available, if customers need them, the company is slowly urging customers to use them as infrequently as possible to make that daily cup of Joe less harmful to the planet.