Starbucks offers various beverage sizes to cater to customers' preferences and caffeine needs. One such size, the Starbucks Trenta, is the largest cup size available.
But there are a few catches you need to know about when ordering the Starbucks XL.
Here is everything you need to know about the Starbucks Trenta cup size.
With a significant 31-ounce capacity, the Trenta is a go-to choice for those needing an extra boost or simply wanting to indulge in their favorite ICED coffee or tea beverages.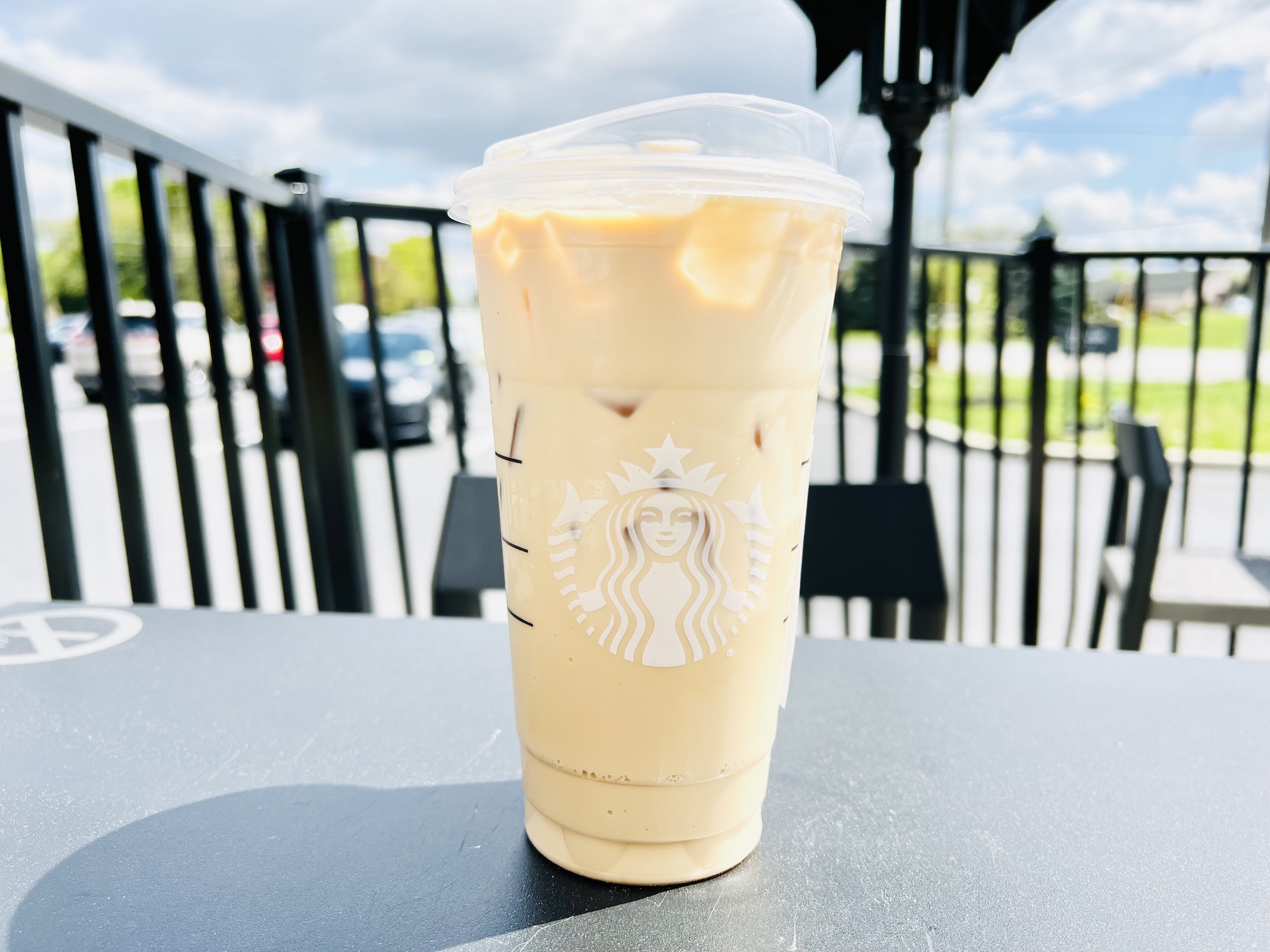 The origins of the Starbucks trenta cup size can be traced back to the Italian word for 30, which is "trenta." Interestingly, the Trenta cup holds 31 ounces, and it's specifically designed for iced drinks to accommodate the additional volume of ice.
Starbucks Trenta Quick Facts
The Trenta is Starbucks' largest cup size, holding 31 ounces of beverage
It is designed for iced coffee or tea drinks ONLY, factoring in the added volume of ice
This size is perfect for customers who need an extra boost or love indulging in larger iced drinks
The Starbucks Trenta Size Explained
The Trenta size was introduced in 2011, and while its name means "30" in Italian, the cup actually holds slightly more than 30 ounces.
With its 31-ounce capacity, the Trenta is significantly larger compared to the other cup sizes traditionally offered at Starbucks, which include Tall (12 ounces), Grande (16 ounces), and Venti (24 ounces).
It is important to note that the Trenta size is only available for a limited selection of beverages, such as iced tea, iced tea lemonade, iced coffee, cold brew, and Starbucks Refreshers.
Espresso-based drinks and hot beverages are not available in the Trenta size.
Ounces In A Trenta Starbucks Cup
A Starbucks Trenta cup is the largest size available for iced coffee and tea drinks, holding a generous 31 ounces.
Starbucks Drink Types Fit For Trenta
Starbucks offers a wide variety of drinks, but not all of them are available in the Trenta cup size.
Here are some of the popular drink types that can be enjoyed in this mega-sized cup.
1. Cold Brews and Iced Coffees
On a hot summer day, you might crave a refreshing, cold beverage, and this is where the Trenta size really shines. Classic Cold Brew, Nitro Cold Brew, and various iced coffee options, like iced Americano or iced flat white, can be enjoyed in the Trenta size.
2. Tea Drinks
The vast variety of Starbucks' iced tea drinks can quench any thirst in the Trenta size. Favorites include Iced Black Tea, Iced Black Tea Lemonade, and Iced Royal English Breakfast Tea Latte. Alongside these options, you can enjoy TeaVana-based tea selections, like Iced London Fog Tea Latte or Chai Tea Latte.
3. Refreshers
Starbucks Refreshers are a popular choice for those looking for a fruity and invigorating drink. The Trenta size is perfect for sipping on favorites like the Very Berry Hibiscus Refresher, Strawberry Açaí Lemonade Refresher, or the Kiwi Starfruit Refresher.
4. Lemonade and More
While traditional hot drinks, such as lattes, espressos, and macchiatos, are not available in the Trenta size, plenty of other cold drink options incorporate these flavors.
For example, the iced tea selection includes a variety of lemonade-infused beverages like the Mango Dragonfruit Lemonade Refresher or the Blueberry Açaí Refresher.
In conclusion, the Starbucks Trenta cup size offers a generous selection of iced drinks for those sweltering days when a smaller cup size just won't do. From cold brews and iced coffees to teas and refreshers, there's a thirst-quenching option for everyone in this extra-large size.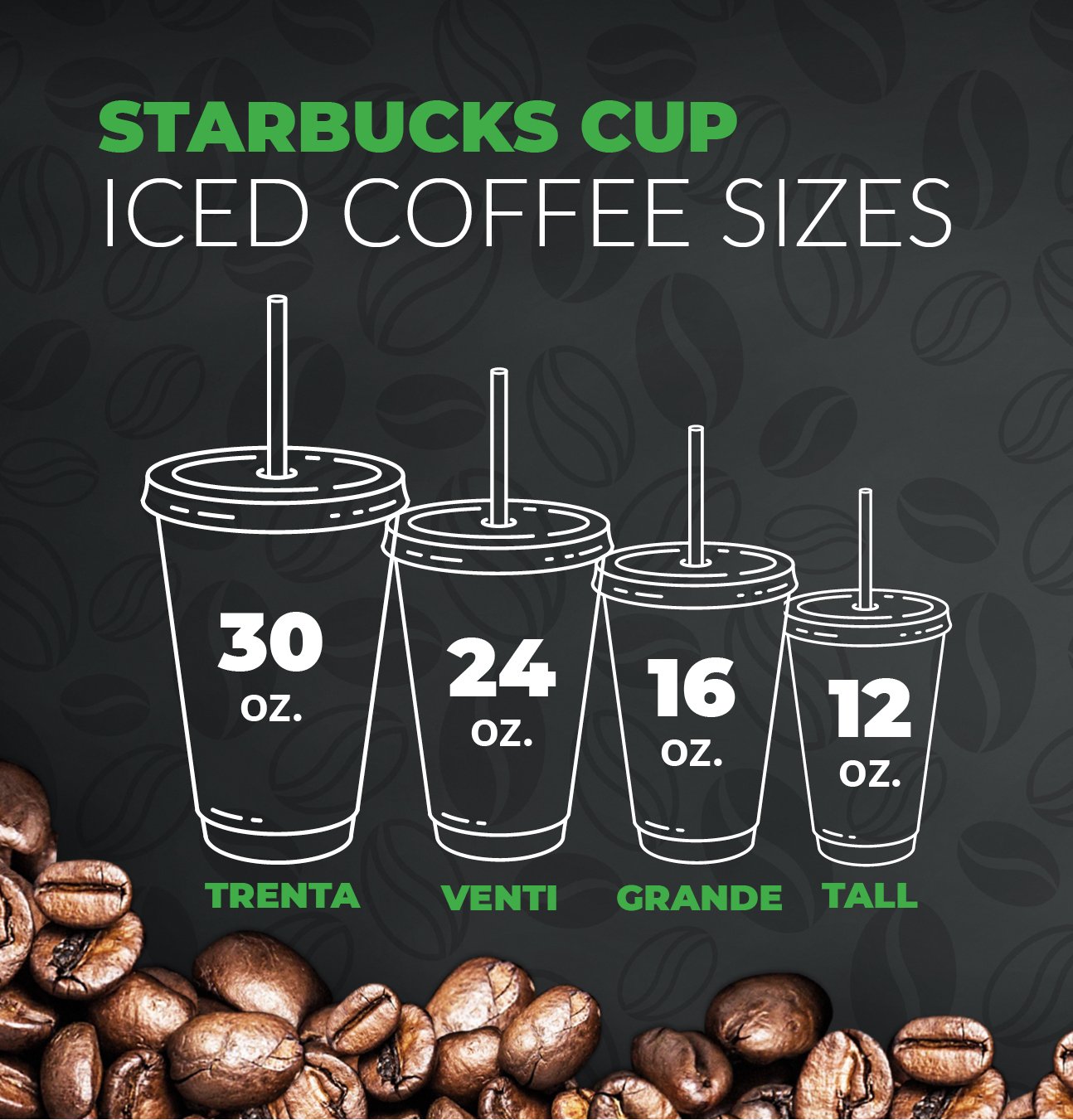 Understanding Starbucks Cup Sizes
When it comes to Starbucks, one can find a variety of cup sizes that cater to different beverage preferences. Ranging from the smallest "Short" (8 ounces) to the largest "Trenta" (31 ounces), these sizes cater to both hot and cold drinks, with slight differences in capacity.
Starbucks Trenta Is For Iced Beverages Only
The Trenta cup size is the largest option available at Starbucks, coming in at 31 ounces and designed specifically for iced coffee or tea drinks. Its size is perfect for those seeking an extra-large cold brew or iced tea during the hot summer months.
While a Trenta-sized beverage may seem like a lot, it can be customized to suit the customer's preferences and include different flavors. Some popular options for flavored iced beverages are:
Pumpkin Cream Cold Brew
This seasonal favorite contains pumpkin-flavored syrup, iced cold brew coffee, milk, and delicious pumpkin cream, topped with a sprinkle of pumpkin spice.
Salted Caramel Cream Cold Brew
A sweet and salty combination of cold brew coffee, vanilla sweet cream, and salted caramel syrup creates a delightful balance of flavors.
Vanilla Sweet Cream Cold Brew
For those who enjoy the classic cold brew, adding a hint of vanilla in the form of sweet cream can enhance the overall taste and aroma.
Apart from these popular flavors, customers can also create their own combination, adding various syrups like honey or molasses, or even adjusting the number of espresso shots to suit their personal taste.
In conclusion, Starbucks' Trenta cup size offers a versatile option for those who enjoy iced beverages.
Frequently Asked Trenta Cup Questions
What are the dimensions of a Starbucks Trenta cup?
The dimensions of a Starbucks Trenta cup can vary slightly depending on the design and materials used in manufacturing.
However, the Trenta cup is typically larger and can hold approximately 31 fluid ounces (919 milliliters) of liquid.
This suits customers who prefer larger servings of their favorite iced beverages.
How many ounces does a Trenta hold?
A Starbucks Trenta cup holds 31 fluid ounces (919 milliliters) of liquid.
Is the Trenta size available for all drinks?
Starbucks Trenta size is only available for SELECTED ICED beverages like iced coffees, iced teas, cold brews, and other cold drinks.
Hot beverages, including lattes, cappuccinos, and hot chocolates, are unavailable in the Trenta size.
Customers can use the other cup sizes available for hot drinks, such as Short, Tall, Grande, and Venti.
What is the price difference between Trenta and Venti sizes?
The price difference between Trenta and Venti sizes at Starbucks can vary depending on the location and the specific drink being ordered.
Generally, the Trenta size is slightly more expensive than the Venti size due to the larger quantity of the beverage served. It's recommended to check your local Starbucks menu for the exact price difference for your preferred drink.