Dunkin' is renowned for its extensive selection of beverages, offering Dunkin' cup sizes that cater to the preferences of all customers. Among these options is the XLarge coffee cup, providing a generous 24 ounces of hot beverage for those seeking an extra dose of caffeine.
Discover the complete guide to the Dunkin' XL cup size – the largest of them all at Dunkin'!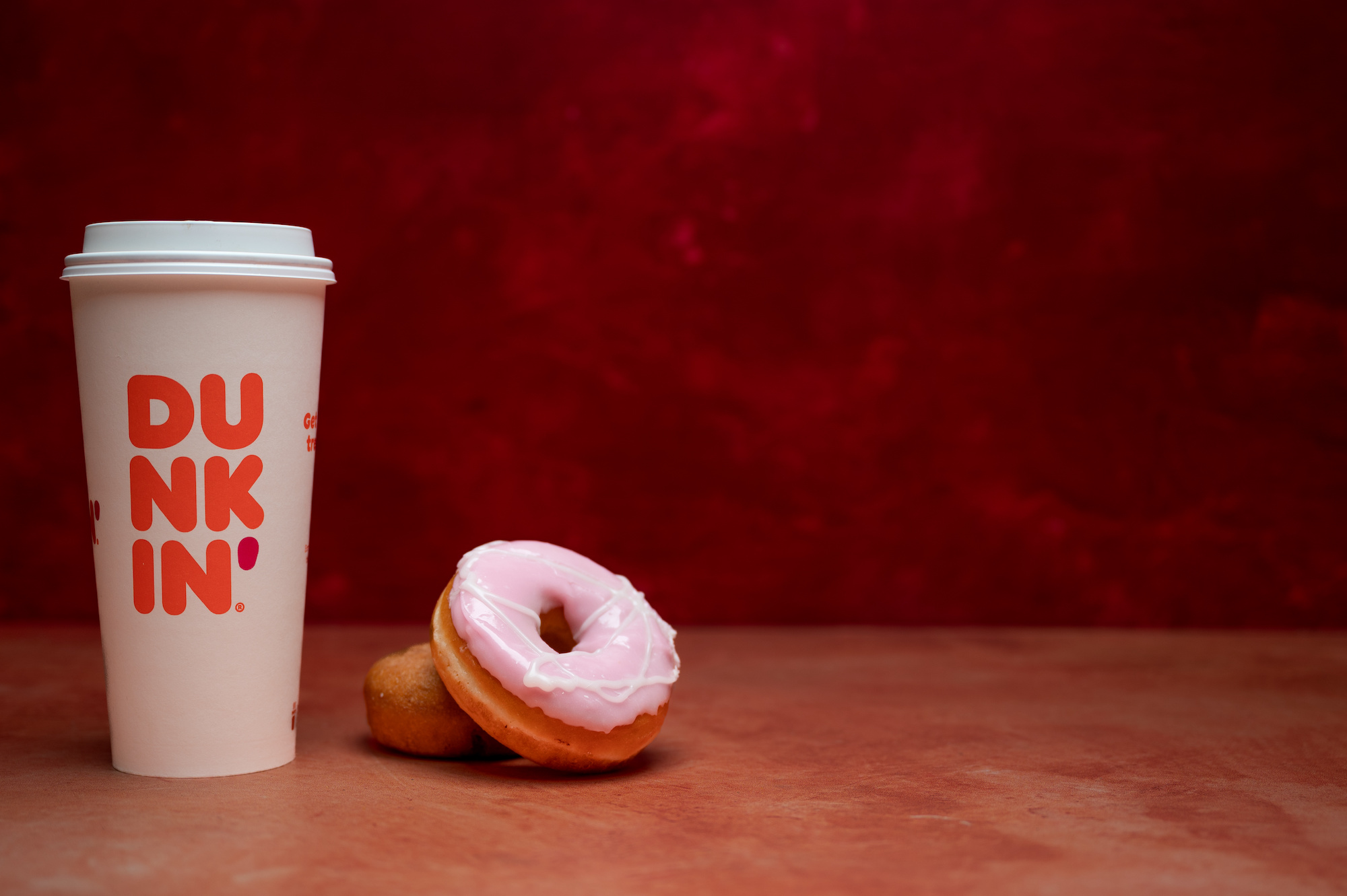 Key Takeaways
The Dunkin' XLarge coffee cup size provides 24 ounces of hot beverage.
This cup compares favorably in size to offerings from other popular chains.
Did we mention? Hot beverages only!
The Dunkin' XLarge Coffee Cup Size Overview
Despite a few social media rumors, the Dunkin' XLarge cup size is only for hot drinks.
The XLarge cup provides substantial volume, which is ideal for those who prefer larger quantities of their favorite hot drinks.
When comparing the cup sizes at Dunkin', the XLarge size is the largest for hot drinks, while the other available sizes include Large (20 oz.), Medium (14 oz.), and Small (10 oz.).
Remember that the cup size measurements for cold beverages are different, with Large being 32 oz., Medium being 24 oz., and Small being 16 oz.
Pricing for Dunkin's hot drinks varies depending on the size chosen, with the XLarge coffee cup being the most expensive due to its larger serving size.
However, customers can expect to pay a reasonable price for the extra ounces of hot coffee, as the price range for hot drinks goes from $1.59 for a small cup to $2.29 for a large cup.
XL Comparison to Other Sizes at Dunkin'
Small Size
The small cup size at Dunkin' comes in two variations: 10 ounces for hot drinks and 16 ounces for cold drinks.
This option is suitable for those who prefer a quick caffeine fix or enjoy a smaller serving of their favorite beverage.
Medium Size
Dunkin' offers a medium-sized cup that holds 14 ounces for hot drinks and 24 ounces for cold drinks.
Large Size
The large size at Dunkin' is the answer for those seeking a substantial coffee serving. It holds 20 ounces for hot drinks and 32 ounces for cold drinks, providing ample satisfaction for customers who need their caffeine fix to last a while or enjoy indulging in a bigger-sized beverage.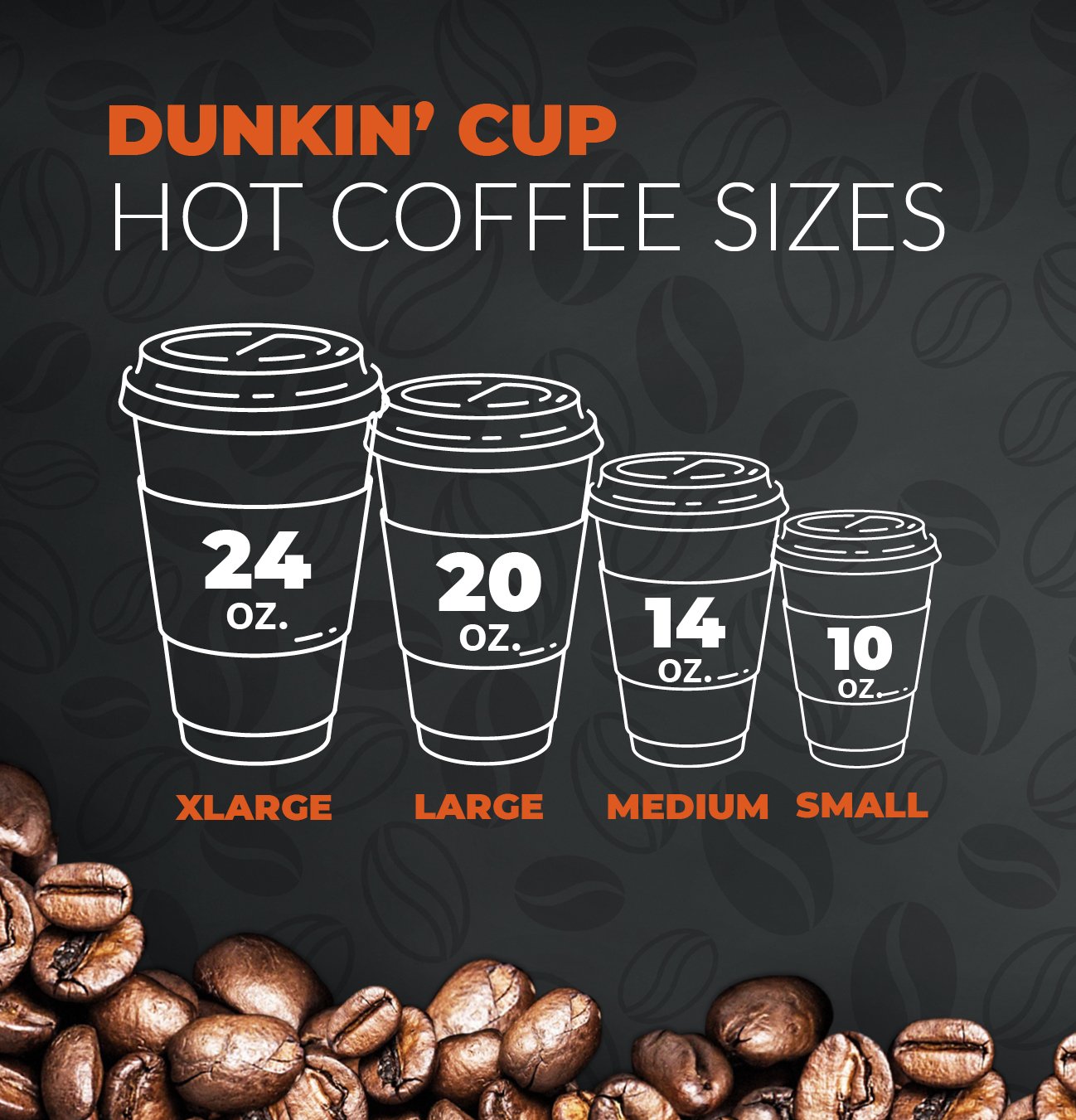 Beverage Choices for Dunkin' XLarge Cup Size
Hot Beverages ONLY
Dunkin' offers a wide variety of hot beverages that can be enjoyed in their extra-large (24-ounce) cup size. These range from classic options to more indulgent choices, perfect for those who need a bigger boost of caffeine.
The available hot beverages in the XLarge size include:
Hot Coffee: Freshly brewed from high-quality 100% Arabica beans, the hot coffee can be customized with a range of flavor shots and swirls. Enjoy it as regular coffee, or with your choice of brewed dark roast.
Americano: Made with espresso and hot water, this bold and energized drink is also an excellent choice for an XLarge size.
Latte: Carefully crafted with steamed milk and espresso, Dunkin's lattes can be tailored to your taste preferences with various flavorings.
Cappuccino: A creamy and frothy blend of espresso, steamed milk, and milk foam, perfect for those who enjoy a balance of bold flavors and smooth textures.
Macchiato: This layered drink combines espresso with steamed milk and a dollop of foam, creating an enticing contrast between the rich espresso and the velvety milk.
Mocha: Chocolate lovers can relish in the combination of espresso, steamed milk, and chocolate syrup, topped with whipped cream for an indulgent treat.
Hot Tea: An assortment of tea options, including black, green, or herbal varieties, will satisfy tea enthusiasts who prefer a more substantial cup.
Hot Chocolate: For those looking for a comforting beverage, the hot chocolate offered by Dunkin' mixes chocolate syrup with steamed milk topped with whipped cream.
Special Orders and Customizations
Flavor Pumps
Dunkin' offers a variety of flavor pumps to add a touch of customization to your XLarge Coffee.
These flavor pumps can be added to any coffee size in different quantities based on your preference.
Typically, an XLarge Coffee comes with 5 flavor pumps. Some popular flavor options include French Vanilla, Hazelnut, and Caramel. In addition, seasonal flavors are also available during specific times of the year, such as Pumpkin Spice or Peppermint Mocha.
Espresso Shots
For those who prefer a stronger and bolder taste in their coffee, Dunkin' provides the option to add espresso shots.
Each espresso shot contains approximately 75mg of caffeine and costs about $1.50. You can request a single-shot or a double-shot of espresso to be added to your XLarge Coffee.
Keep in mind that adding espresso shots will increase the overall caffeine content and total cost of your beverage – Dramatically!
Add-On Charges
In addition to the base price, Dunkin' may charge extra for certain add-ons or customizations to the extra-large coffee. These add-ons include flavor swirls or shots, extra espresso, and milk alternatives, such as almond milk or oat milk.
It's important to note that some add-ons may be complimentary, while others incur additional charges:
Flavor swirls: $0.50 – $0.75 per swirl
Flavor shots: $0.30 – $0.50 per shot
Extra espresso: $0.70 – $0.90 per shot
Milk alternatives: $0.50 – $0.75 per serving
Frequently Asked Questions
How many ounces are in the XLarge coffee cup?
The XLarge coffee cup at Dunkin' holds 24 ounces of liquid. It is the largest cup size available for hot drinks only.
What is the price of an XLarge coffee at Dunkin'?
Prices for Dunkin's XLarge coffee may vary slightly depending on the location and any additional customization. However, an XLarge coffee at Dunkin' is generally priced around $3.30 to $3.99 (2023 rates).
Are XLarge cups at Dunkin' bigger than Starbucks?
The XLarge coffee cup at Dunkin' holds 24 ounces, while the Starbucks counterpart, the Venti, contains 20 ounces for hot drinks.
How many pumps of flavor does Dunkin' add to an XLarge coffee?
Dunkin' typically adds five pumps of flavor to an XLarge coffee. However, customers can customize their drink and request more or fewer pumps, depending on their preference.
Does Dunkin' offer hot and iced coffee in the XLarge size?
Dunkin' offers hot coffee in the XLarge size (24 ounces), but for iced coffee beverages, the largest size available is the 32-ounce Large cup.