When it comes to Dunkin' cup sizes, different options are available for hot and iced drinks. To make the best choice for your daily coffee routine, it's essential to understand each cup size and its corresponding capacity. Here is everything you need to know about the "Dunkin' Large."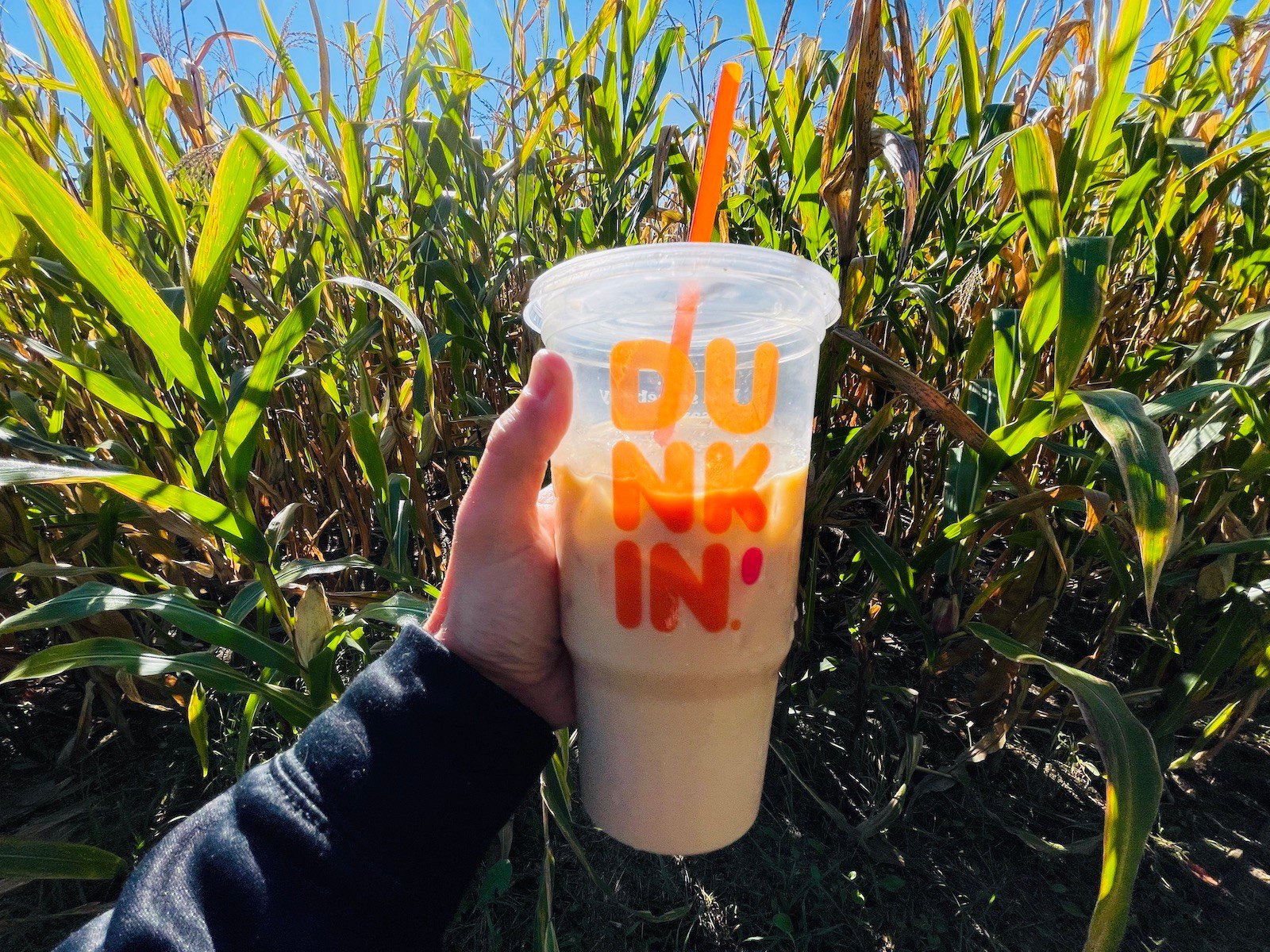 Dunkin's LARGE iced cup holds 32 ounces, while a LARGE hot drink contains 20 ounces.
The difference in size between hot and cold drinks aims to accommodate those who might prefer more ice or more coffee.
Although the large cup size from Dunkin' offers a generous amount of beverage, customers should also be aware of the several other sizes available.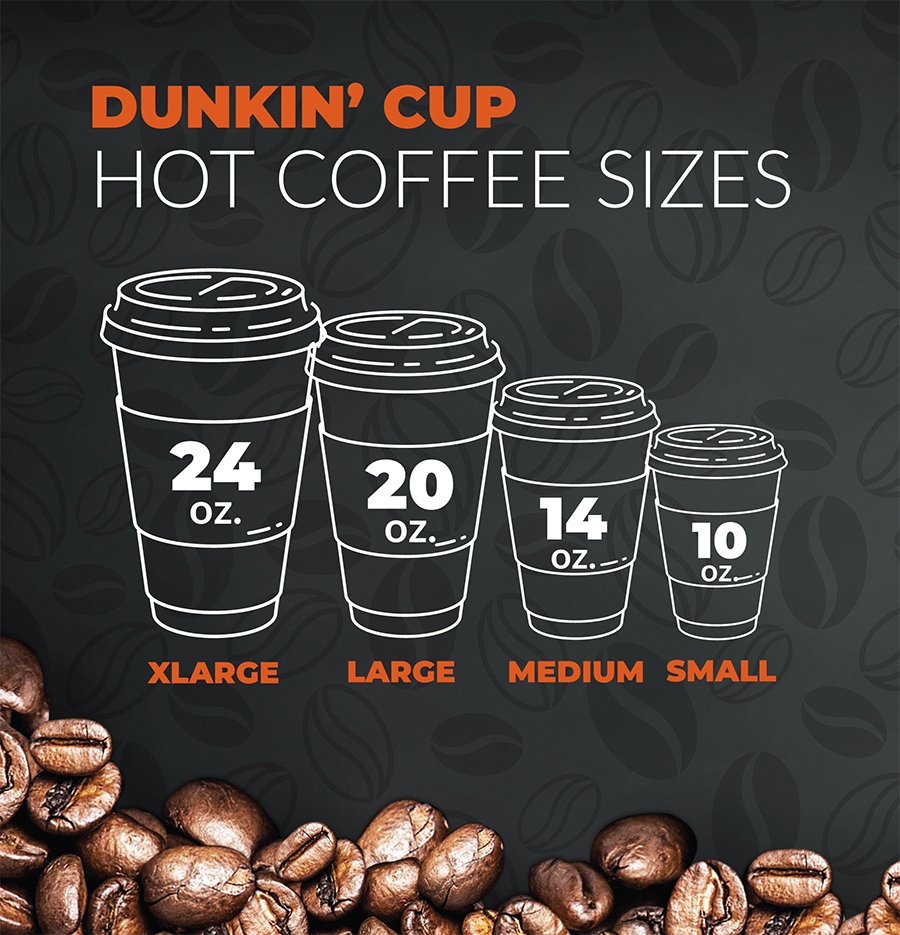 Understanding Dunkin' Cup Sizes
Other Cup Sizes
To put the large cup size into perspective, let's take a quick look at the other Dunkin' cup sizes:
To ensure you select the perfect coffee size to satisfy your needs and preferences, it's important to grasp the different cup sizes available at Dunkin'. This understanding will empower you to make confident choices and enjoy your coffee to the fullest.
The Dunkin' large cup size, in particular, offers a substantial amount of both hot and iced drinks to keep you energized and refreshed throughout the day.
It's a great choice for both hot and iced!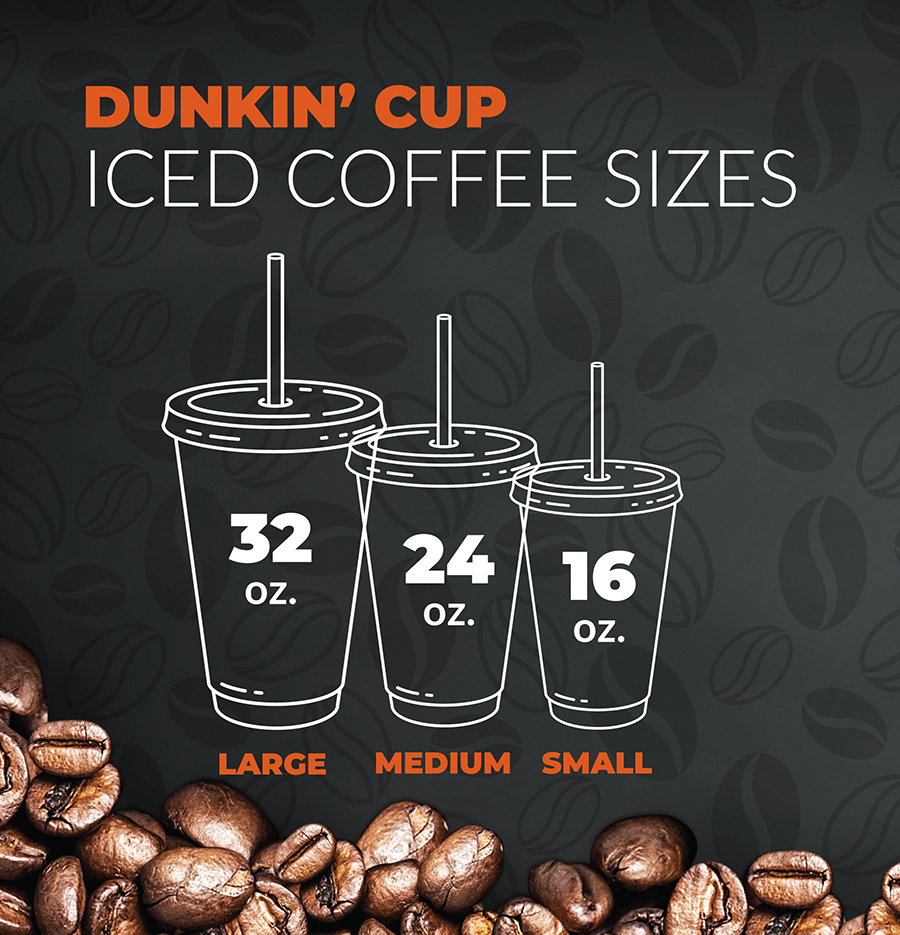 It's important to consider each drink's size, caffeine content, and calories to understand the overall impact on one's daily routine.
In selecting an appropriate size, one must consider factors such as:
Personal caffeine tolerance
Desire for additional cream or sugar in the coffee
The time of day when the coffee will be consumed
Comparing these cup sizes to other popular options, such as the Venti size at Starbucks, a Dunkin' extra-large hot coffee (24 ounces) is quite similar to the Venti size (20 ounces), providing ample caffeinated refreshment.
Ultimately, choosing the right coffee size at Dunkin' depends on individual preferences and needs.
The range of cup sizes offered provides a convenient and customized coffee experience for everyone, ensuring that everyone can enjoy their desired level of caffeination and energy throughout the day.
Breaking Down Dunkin's Drinks Add-Ons
Espresso Shots
Dunkin' offers customers the option to customize their drinks with additional espresso shots. These extra shots can give your beverage an extra kick of energy and a bolder flavor. Dunkin's espresso is made from high-quality Arabica beans, providing a rich and smooth taste to your coffee.
You can add an Espresso Shot to both large cup sizes, whether you prefer it hot or iced. However, please note that the price of espresso shots has recently surpassed the $1.50 mark per shot.
Dunkin' Flavor Pumps
Dunkin' has a variety of flavor pumps available to add a sweet twist to your drink.
A few popular flavor pump options include caramel, French vanilla, hazelnut, and mocha. When selecting a flavor pump for your drink, it's essential to understand how Dunkin' determines the number of flavor pumps for a specific cup size.
Dunkin' typically includes four pumps of flavoring for large cup sizes, regardless of whether the beverage is hot or iced.
Dunkin' Large Cup Size Conclusion
In summary, Dunkin' offers a range of cup sizes to cater to various preferences and caffeine needs. Their large cup size is available for both hot and cold drinks, providing ample room for customization.
Frequently Asked Questions
How many ounces are in a Dunkin large coffee?
A Dunkin' large hot coffee contains 20 fluid ounces (591 milliliters), while a large iced coffee holds 32 ounces (946 milliliters).
What is the price of a Dunkin large iced coffee?
The price of a Dunkin' large iced coffee can vary depending on location and added flavorings, but generally, it ranges from $3.50 to $4.00.
How does Dunkin cup sizes compare to Starbucks?
Dunkin' cup sizes are similar to Starbucks, but some differences exist. Dunkin' follows a simple sizing structure: small (10 ounces), medium (14 ounces), large (20 ounces), and extra-large (24 ounces, available only for hot drinks). Starbucks uses different names and sizes: Tall (12 ounces), Grande (16 ounces), Venti (20 ounces for hot drinks, 24 ounces for iced), and Trenta (31 ounces, available only for iced drinks). Although the naming conventions differ, the size offerings are relatively comparable.
What is the amount of cream in a large Dunkin coffee?
The amount of cream in a large Dunkin' coffee depends on personal preference. Dunkin' does not have a standardized amount for cream in their drinks, so the customer can specify the desired amount when placing an order.
It's worth noting that requesting more or less cream may affect the overall taste and consistency of the coffee.
How many pumps are in a Dunkin Large beverage?
A Dunkin' Large Cup size will usually contain 4 flavor pumps by default.