For those caffeine-conscious folks out there, the Dunkin' Medium cup size is where it's at! It's the perfect balance – not too big, not too small – just right! Let's spill the beans on everything you need to know about the popular Dunkin' medium cup size.

Before diving into the specifics of the medium cup size, it's essential to understand all about Dunkin' Cup sizes. They offer four sizes for hot beverages: small (10 ounces), medium (14 ounces), large (20 ounces), and extra-large (24 ounces).
For iced drinks, they provide three sizes: small (16 ounces), medium (24 ounces), and large (32 ounces). This variety ensures that customers can find the perfect size to suit their caffeine needs and preferences.
The Dunkin' Medium "Just Right" Cup Size
Focusing on the medium cup size, this option is ideal for those seeking a balanced amount of coffee to kick-start their day or for a mid-day pick-me-up. It delivers just the right amount of caffeine without being overwhelming, making it a perfect option for many coffee lovers.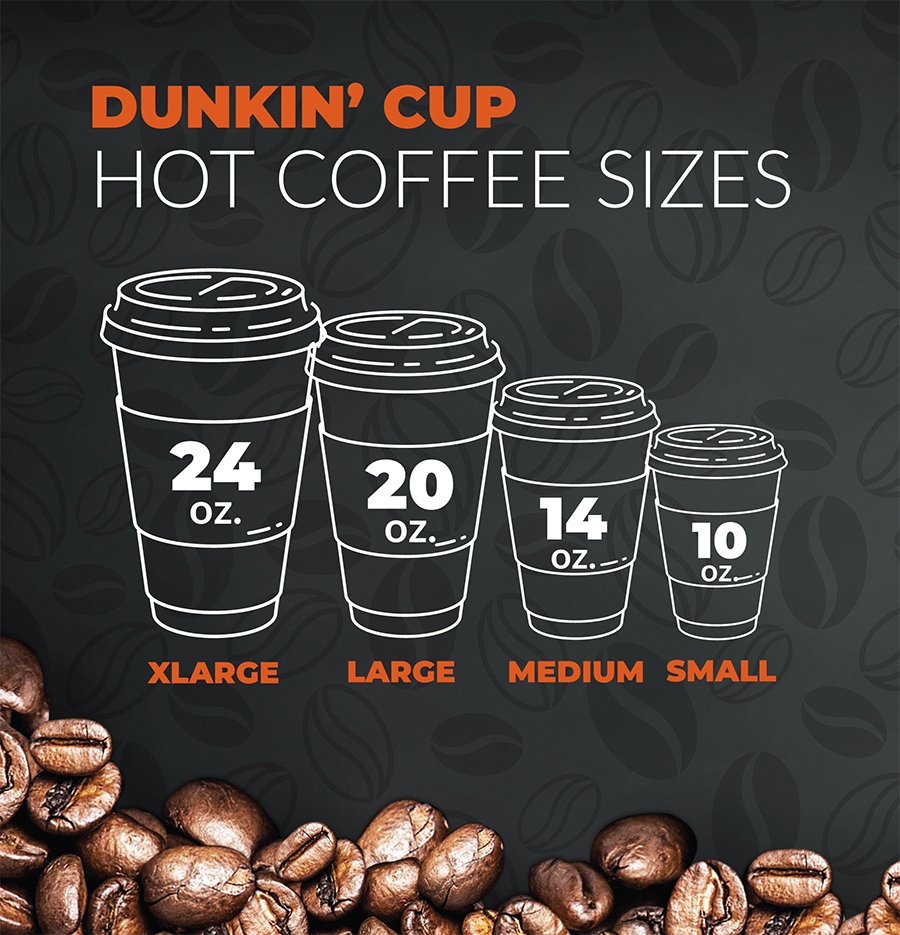 How Many Ounces Is A Dunkin' Medium?
Hot Drinks: A medium cup size for hot drinks, such as coffee or tea, holds 14 ounces of liquid.
Iced Drinks: For iced drinks like iced coffee or iced tea, the medium cup size contains 24 ounces.
It's essential to note these differences, as customers may have different preferences depending on their drink type. While the iced medium cup size may appear larger, this is partly due to the added ice required to maintain the drink's temperature.
In addition to the medium cup size, Dunkin' offers other sizes for both hot and iced beverages:
Small Cup Size: The small cup size holds 10 ounces for hot drinks and 16 ounces for iced drinks.
Large Cup Size: A large cup size contains 20 ounces for hot drinks and 32 ounces for iced drinks.
Extra Large Cup Size: This option is available only for hot drinks, offering 24 ounces of liquid to satisfy customers looking for a more substantial amount.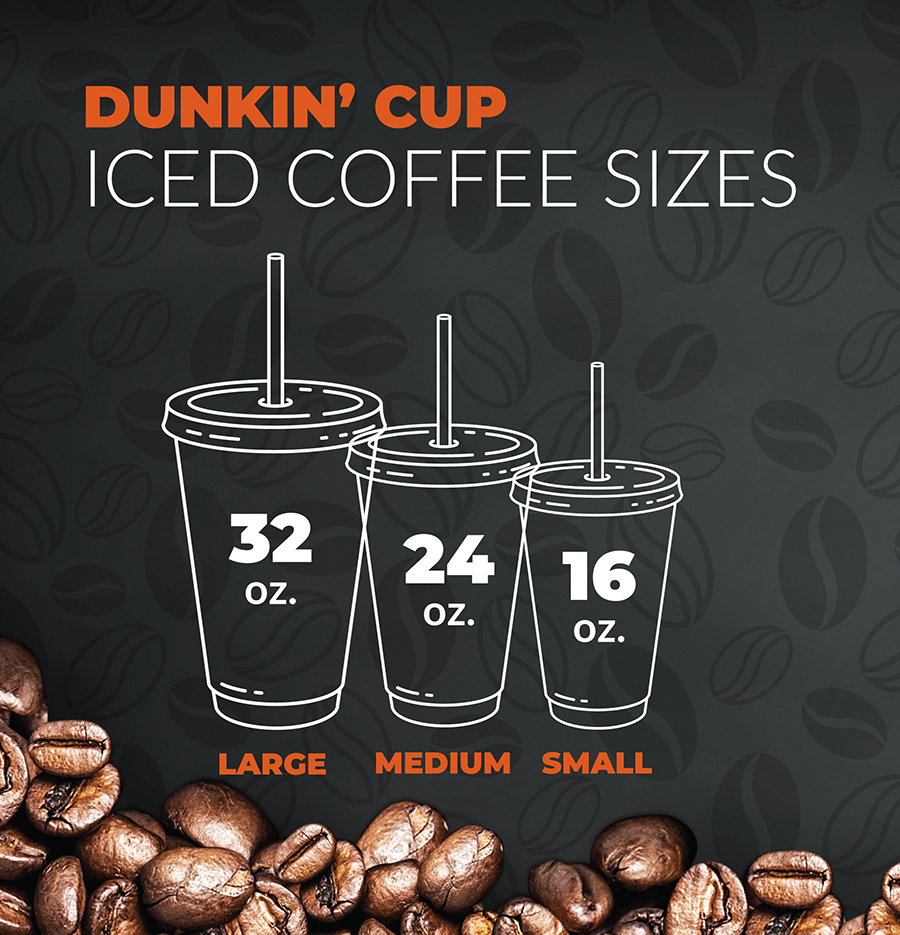 Understanding Dunkin's various cup sizes can help customers make informed decisions and ensure they select the most suitable size to meet their needs. Whether looking for a mid-morning pick-me-up or a beverage to last throughout the day, customers can enjoy their preferred drink in the perfect size at Dunkin'.
Dunkin' versus Starbucks
When comparing Dunkin' with Starbucks, it's essential to consider their respective cup sizes and offerings. Dunkin's medium cup size is 14 ounces, while Starbucks' equivalent, the grande, holds 16 ounces. Both cup sizes are popular choices for mochas, americanos, and lattes.
However, the largest cup size at Dunkin's is 32 ounces for iced beverages and 24 ounces for hot beverages. In contrast, Starbucks offers a venti size (20 ounces for hot beverages and 24 ounces for iced beverages) and the trenta size exclusively for iced beverages, holding 30 ounces.
Generally, Starbucks' drinks have a higher caffeine content compared to Dunkin'. For example, a medium (14 oz) hot coffee at Dunkin' contains approximately 210 mg of caffeine, whereas a grande (16 oz) hot coffee at Starbucks contains around 330 mg.
Customers look for value for money while choosing their beverages. The coffee is more affordable at Dunkin', making it a popular choice for those on a budget.
Conversely, Starbucks tends to be slightly pricier but offers more variety and customization options.
Both coffee shops offer flavor pumps, allowing customers to personalize their drinks. However, Starbucks provides a wider range of syrup flavors and alternative milk choices, catering to diverse tastes and dietary needs.
In conclusion:
Dunkin's medium cup size: 14 oz
Dunkin' Medium Cup size gets 3 flavor pumps by default
Starbucks' grande cup size: 16 oz
Largest cup size at Dunkin': 32 oz (iced), 24 oz (hot)
Largest cup size at Starbucks: 30 oz (Trenta, iced only), 24 oz (venti, iced), 20 oz (venti, hot)
Caffeine content: generally higher at Starbucks
Prices: Dunkin' is more affordable, while Starbucks offers more variety and customization
Flavor pumps: available at both coffee shops, with more options at Starbucks
Dunkin Medium Cup Size Summary
In conclusion, happy sipping! Enjoy exploring Dunkin's variety of medium-sized beverages, confident in the knowledge you're making the right choice for your personal preferences and needs.
Frequently Asked Questions
How many ounces are in a Dunkin medium coffee?
A Dunkin medium HOT coffee holds 14 ounces. A Dunkin medium ICED coffee holds 24 ounces.
How much does a medium iced coffee cost?
The price of a medium iced coffee at Dunkin may vary slightly based on location and added flavors. However, you can expect to pay around $2.50 to $3.00 for a medium iced coffee.
What is the caffeine content in a medium iced coffee?
A medium iced coffee at Dunkin contains approximately 180 milligrams of caffeine. This amount can vary slightly depending on the specific blend and brewing method used. Remember that factors like added milk, cream, or flavored syrups do not affect the caffeine content.
What is the standard number of cream and sugar pumps in a medium coffee?
The standard number of cream and sugar pumps in a medium coffee at Dunkin is usually THREE pumps each. However, customers can customize their order based on personal preference, and the staff will happily adjust the number of cream and sugar pumps accordingly.