You will likely notice unique names for all Starbucks cup sizes when ordering a Starbucks drink. Inspired by Italian coffee bars, the Starbucks menu drink sizes can often confuse American customers.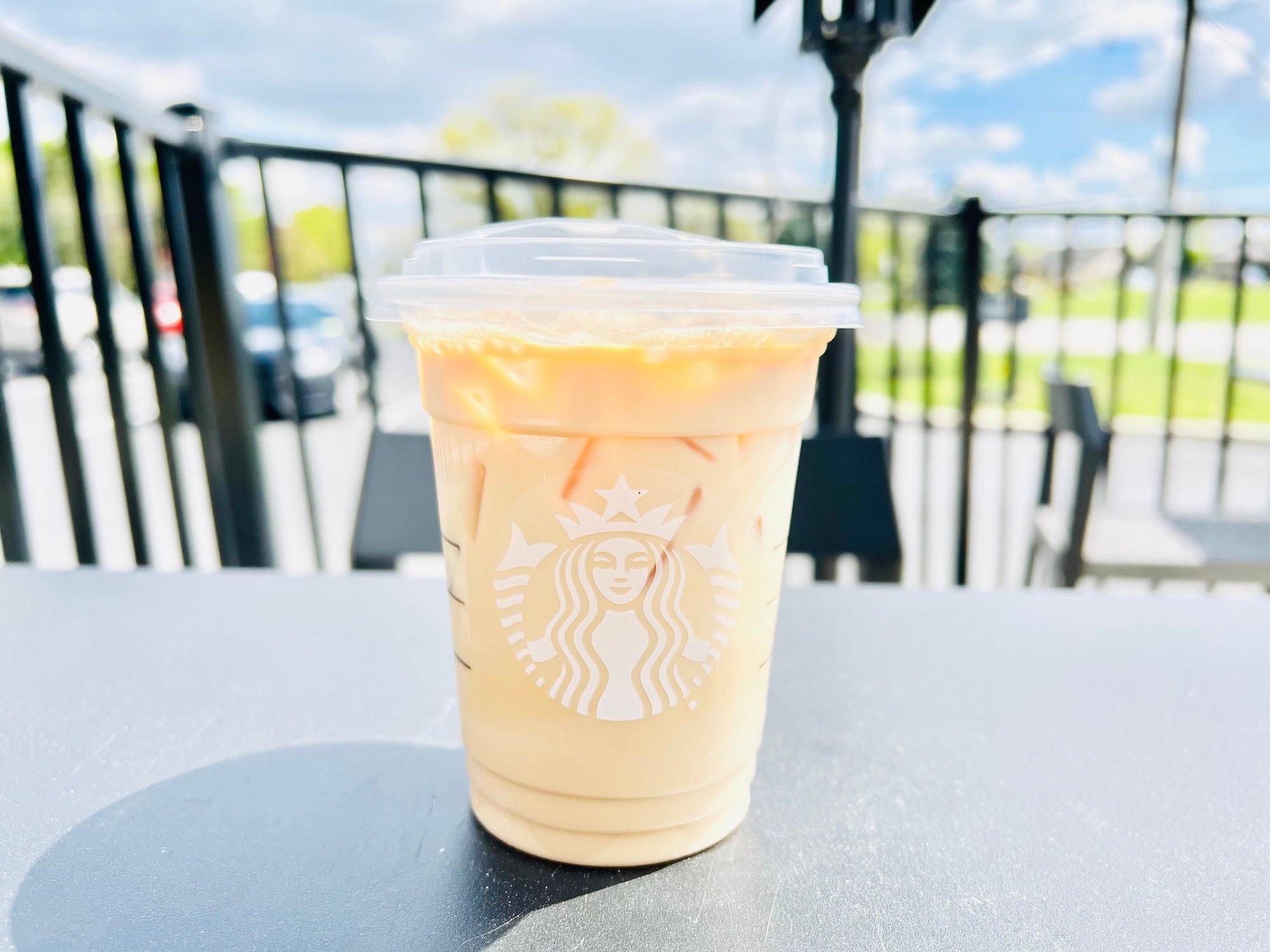 Starbucks has had Italian-inspired cup sizes since the 1980s after CEO Howard Schultz was inspired by the coffee bars he visited on his trip to Italy.
Though decades have passed, customers who do not frequent Starbucks regularly still get confused by the many cup sizes this coffee chain offers.
Below, let's dive into what you need to know about the sizes on the Starbucks menu, starting from the smallest available cup.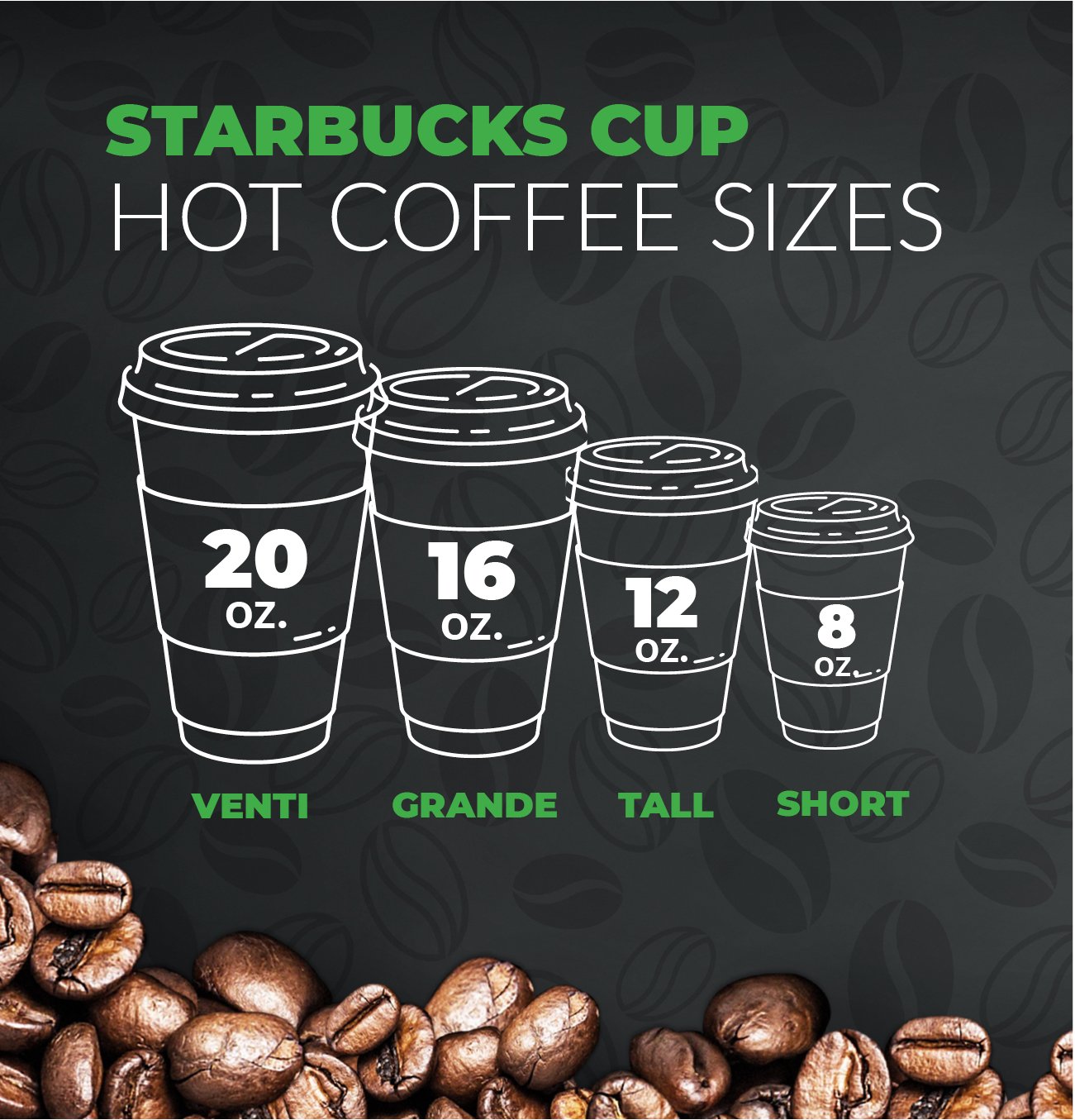 3oz. Demi Cups
Though not posted on the menu in most Starbucks locations, a 3oz. Demi Cup is the smallest available Starbucks cup. This tiny cup can only hold a triple shot of espresso, which can be ordered in decaf, traditional, or blonde espresso.
Many Starbucks lovers are shocked to find out this cup size exists, given that it is not seen often.
8 oz. Short Cups
Starbucks' 8 oz. Short Cups is the smallest cup size available that can accommodate most drink orders. If you look at the Starbucks menu posted in the drive-thru or the store, you won't see this drink size listed.
The 8 oz. cup size is part of Starbucks' secret menu, which means it can be made upon request. While this size was more prevalent in past years, most Americans find this cup too small. If you request syrup pumps in a short size, the drink will have two pumps as standard (unless you request otherwise).
Tip: If you're purchasing a hot chocolate or non-coffee beverage for kids, the 8 oz. short cups are a perfect size. Your kids are unlikely to drink more than this, plus you'll save some money compared to larger sizes.
12 oz. Tall Cups
Though the name can be deceiving, a Starbucks "Tall" drink is the smallest size listed on the menu. This 12 oz. size can be ordered in nearly any Starbucks drink in both hot or iced varieties.
This size can leave you with little to drink when ordering iced varieties especially given the amount of ice that fills the cup.
A "Tall" Starbucks drink will come with three pumps of syrup in a standard order.
16 oz. Grande Cups
The 16 oz. A Starbucks "Grande" cup is equivalent to a standard Medium drink. This is the most popular drink size ordered at Starbucks, which can be ordered in any iced or hot beverage.
A few specialty drinks, such as Starbucks Nitro Cold Brew, only come in two sizes, of which the Grande is the largest available.
A Grande order that includes Syrup pumps will have four pumps by default.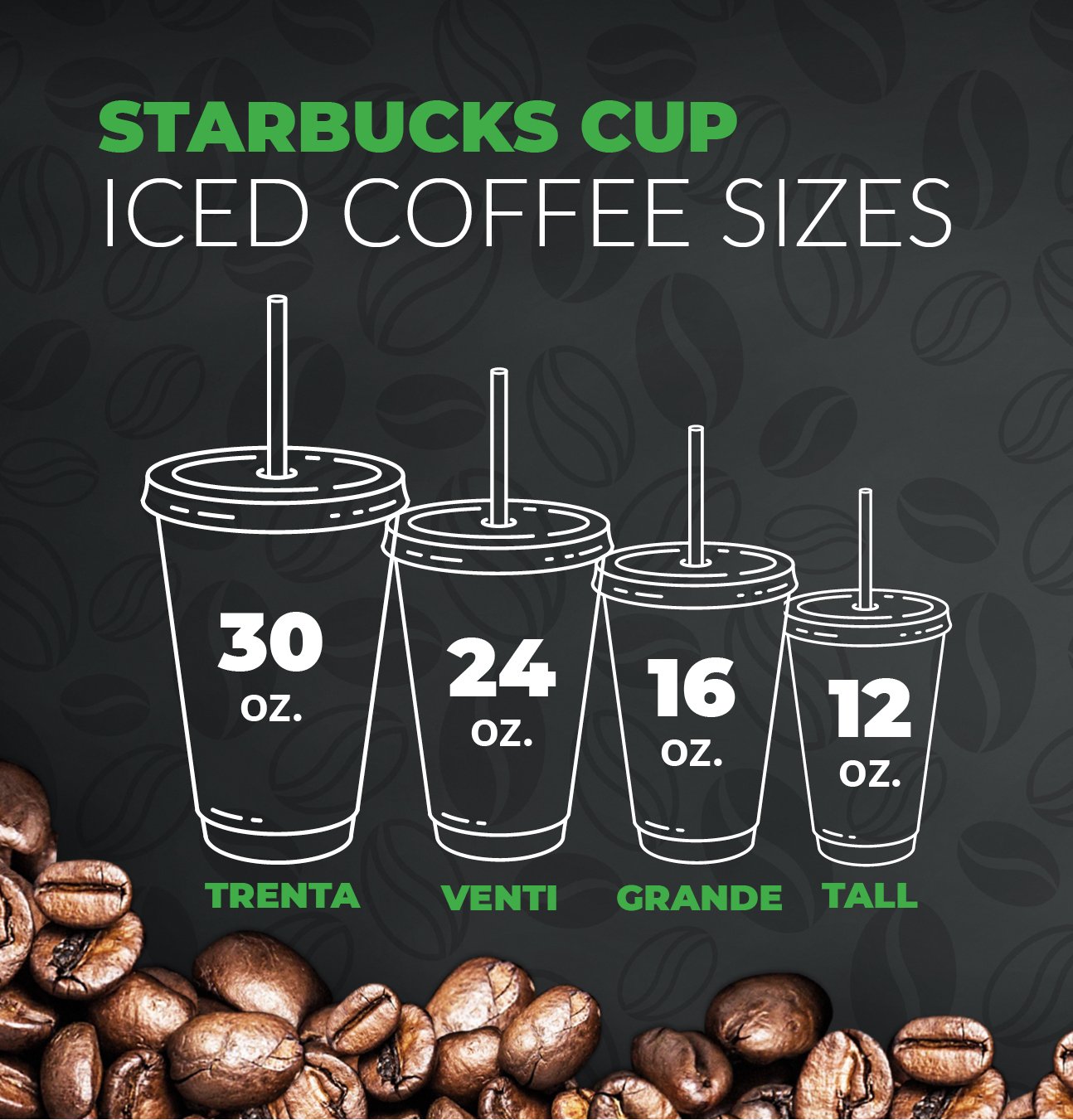 Venti Cups 20 oz./24 oz.
Unlike other Starbucks cups that are the same size for hot and cold drinks, the Starbucks Venti size differs for each variety.
Cold drink orders will come in a 24 oz. Venti Cup, while hot drink orders will come in a 20 oz. Venti Cup.
Hot Venti beverage orders will include five syrup pumps, while cold Venti drink orders will come with six pumps.
30 oz. Trenta Iced Cups
The 30 oz. Starbucks Trenta Cup is the biggest cup size available at Starbucks. This size is only available for specific Iced beverages and cannot be ordered in any hot drink. The Trenta Size can be ordered for:
Iced Teas
Lemonades
Iced Coffee
Cold Brews
Starbucks Refreshers
This size is not available for espresso handcrafted drinks, Frappucinos, or cold brew.
A Trenta Iced drink order with syrup will come with seven pumps in a standard order.
If you're watching your caffeine consumption, be careful when ordering this size as this will give you a severe jolt.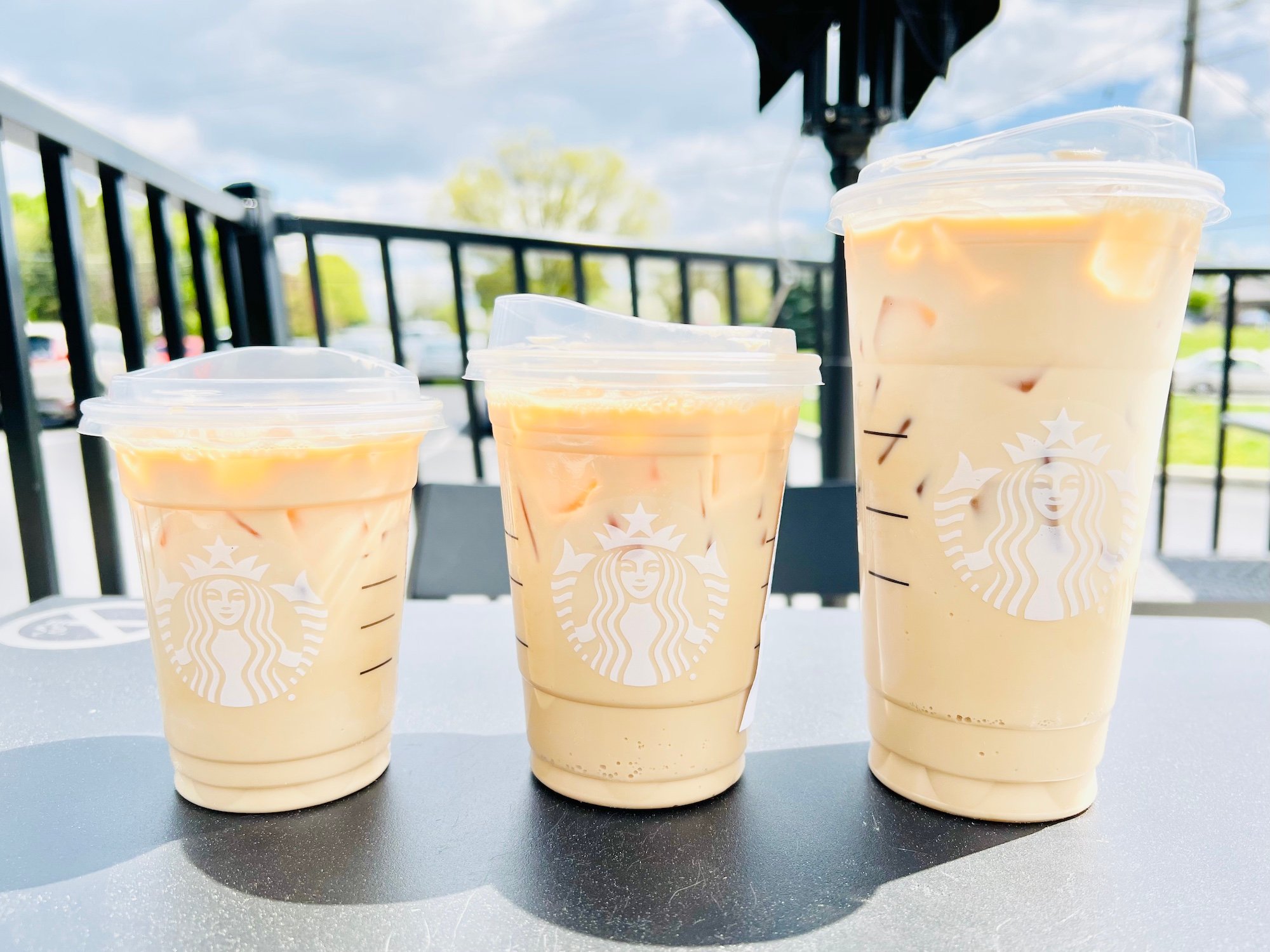 Hot and Cold Drinks at Starbucks
Espresso-based Drinks
Starbucks offers a variety of espresso-based drinks, which can be served hot or cold depending on customer preference. Some popular options include lattes, cappuccinos, and Americanos.
These drinks are available in different Starbucks cup sizes, such as Short (8 oz.), Tall (12 oz.), Grande (16 oz.), and Venti (20 oz. for hot drinks, 24 oz. for cold drinks). The caffeine content in these drinks may vary, so customers can choose based on their desired level of caffeine intake.
Cold Brew and Iced Coffee
In addition to espresso-based drinks, Starbucks also offers cold brew and iced coffee options. Traditional iced coffee is brewed hot and then poured over ice, whereas cold brew is steeped in cold water for an extended period of time.
Some popular cold brew options at Starbucks include Nitro Cold Brew, Salted Caramel Cream Cold Brew, and Vanilla Sweet Cream Cold Brew. Cold brew and iced coffee options are available in Venti (24 oz.) or Trenta (31 oz.) cup sizes.
Frappuccinos
Frappuccinos are a popular cold blended beverage option at Starbucks, combining coffee or other ingredients with ice and milk to create a creamy, frozen drink. Fraps are available in various flavors, such as Mocha, Caramel, Java Chip, and seasonal options.
These blended beverages typically come in three sizes: Tall (12 oz.), Grande (16 oz.), and Venti (24 oz.).
Non-Coffee Options
Starbucks also offers a variety of non-coffee options for customers who prefer alternative beverages. These include hot drinks such as hot chocolate and various tea options, as well as iced teas, lemonades, and other cold refreshments.
Non-coffee options are available in the exact cup sizes as coffee drinks – Short, Tall, Grande, Venti, and Trenta – allowing customers to find their ideal drink size.
Customizing Your Starbucks Experience
Adding and Subtracting Espresso Shots
Customizing the number of espresso shots in your Starbucks drink can make a significant difference in both taste and caffeine levels. Depending on the cup size, Starbucks beverages typically contain the following number of shots:
Demi (3 oz.) – Hot drinks: 1 shot
Short (8 oz.) – Hot drinks: 1 shot
Tall (12 oz.) – Hot and cold beverages: 1 shot
Grande (16 oz.) – Hot and cold beverages: 2 shots
Venti (20/24 oz.) – Hot drinks: 2 shots; Cold drinks: 3 shots
Trenta (30 oz.) – Cold drinks: not applicable
Adding or subtracting espresso shots can enhance the flavor and provide the desired caffeine kick. Inform the barista of your preferred number of shots when placing your order.
Modifying Milk and Sweeteners
Starbucks offers a wide variety of milk and sweetener options to personalize both taste and dietary preferences. Customers can choose from whole, 2% milk, nonfat milk, and non-dairy alternatives such as soy, coconut, and almond milk.
Additionally, Starbucks provides an assortment of sweeteners, including white sugar, brown sugar, honey, sugar substitutes (such as Splenda), and natural sweeteners (such as stevia).
To customize your drink, specify your preferred milk type and sweetener when ordering, or make adjustments at the condiment station after receiving your beverage.
Most Popular Starbucks Cup Sizes
Tall: The smallest of the three popular sizes, the Tall cup holds 12 fluid ounces or 355 milliliters of beverage.
The Tall serves as a perfect middle ground for those looking for a little more than a standard small coffee but not ready to commit to a larger size.
Grande: As Starbucks' medium option, the Grande size holds 16 fluid ounces or 473 milliliters of beverage. This size is often considered the most popular due to its balance between volume and manageability.
Grande cups are available for all drinks on the Starbucks menu, making it a versatile option for all customers.
Venti: The Venti cup is unique in that it has two variations depending on the type of drink being served. For hot beverages, the Venti holds 20 fluid ounces or 591 milliliters.
This is approximately equal to three standard six-ounce cups of coffee. However, when it comes to iced drinks, the Venti size increases to 24 fluid ounces or 710 milliliters. This larger size can accommodate more ice, ensuring the drink remains cold and refreshing.
While these sizes are not the only options available at Starbucks, they are often the most commonly ordered due to their prominence on the menu and their adaptability to the wide range of drink options.
Summary

If you're not sure if your drink order comes in a specific size, you can always ask the Barista!
For those who haven't quite grasped the fancy Starbucks sizes, feel free to order a small, medium, or large.
When you order these, your Barista will select the appropriate size that best matches your order.