Most medical professionals recommend that children under age 12 avoid drinking coffee. So what do you do when you take your kids to Starbucks?
Here are some of the best Starbucks drinks for kids and a guide on how to help them pick out a drink they will love!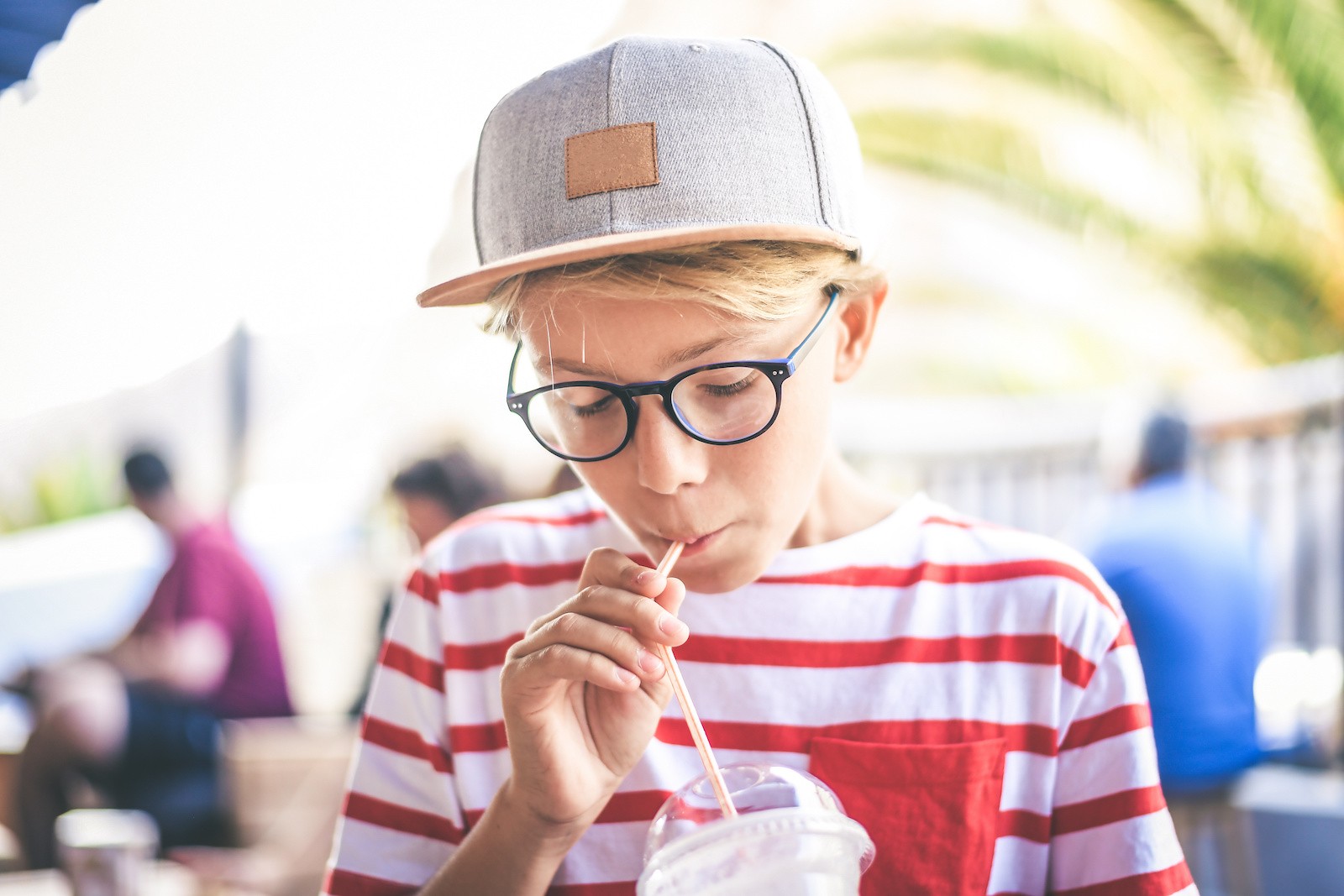 12 Starbucks Drinks For Kids
1. Steamed Vanilla Milk
No matter what time it is, Steamed Vanilla Milk is perfect for your child.
This is one of the greatest Starbucks drinks for kids since it's sweet, simple, and delicious. You don't have to worry about getting stains from brightly colored drinks since this beverage is white.
Depending on your child's favorite flavors you can get a combination of signature syrups. Starbucks has endless Signature Syrup options that blend nicely with frothy milk.
If your child doesn't like vanilla or is asking for something different, ask your barista about their newest additions.
You and your little one can create unique steamed milk that will keep them happy and their stomachs full!
2. Hot Chocolate
Did you know that consuming chocolate can increase feelings of happiness?
The next time your kid wants something at Starbucks, you can help them out by ordering a Hot Chocolate. The chocolate syrup used in this creamy drink can reduce negative feelings and help your child on a bad day.
Starbucks creates its delicious Hot Chocolate with mocha and vanilla syrups. The baristas steam your child's favorite milk to a drinkable temperature and top it with whip cream.
This is one of the best drinks to get your child when the temperature starts dropping and they want something warm.
If your child wants to change things up, try adding peppermint syrup instead of vanilla. The bold peppermint flavor will blend well with the rich mocha syrup and create a festive beverage.
3. Iced Strawberry Milk
One of the best Starbucks drinks for kids will remind you of an old favorite.
If you were a fan of strawberry milk growing up, you can help your child get a taste of your past. Starbucks baristas can mix your child's favorite milk and a scoop of strawberry puree to create a wonderful drink.
Most children get this over ice since it brings out the vibrant strawberry flavors.
Before ordering your child's Strawberry Milk, don't forget to look at our coffee guides to find something for yourself! Starbucks kids' drinks, like this, turn a dull cup of milk into an exciting treat.
You can order Iced Strawberry Milk with nonfat, whole, and 2% milk. If they want something sweeter and dairy-free, almond, coconut, soy, and oat milk are great alternatives.
4. White Hot Chocolate
Some kids find the Starbucks mocha syrup to be bitter and powerful. If that's how your child feels, there is another option.
White Hot Chocolate is made with the same ingredients, but it uses white chocolate syrup, rather than one made with cocoa. Since white chocolate has a sweeter taste than a mocha, there isn't a need for vanilla syrup.
A tasty addition to white hot chocolate is peppermint syrup since it cuts back on the sweetness.
It's common for kids to get inspired by the menu at Starbucks and want to explore all of the flavors. Ordering white hot chocolate can help them find new combinations they like.
5. Vanilla Bean Frappuccino
Part of what makes the Vanilla Bean Frappuccino such a good selection is that it's simple and safe.
If you have a picky eater or your child likes to stick with their favorites, this is your best choice. Compared to other frappuccinos on the menu, this drink is relatively low in calories and doesn't contain a variety of syrups.
The Vanilla Bean Frappuccino is a blend of ice, milk, and vanilla bean powder. It also contains caffeine-free frappuccino and vanilla syrups to create a smooth texture.
At the end of the drink's creation, the barista will top it off with homemade whip cream that your child will love.
This frappuccino is perfect on warmer days since it can help your little one cool off.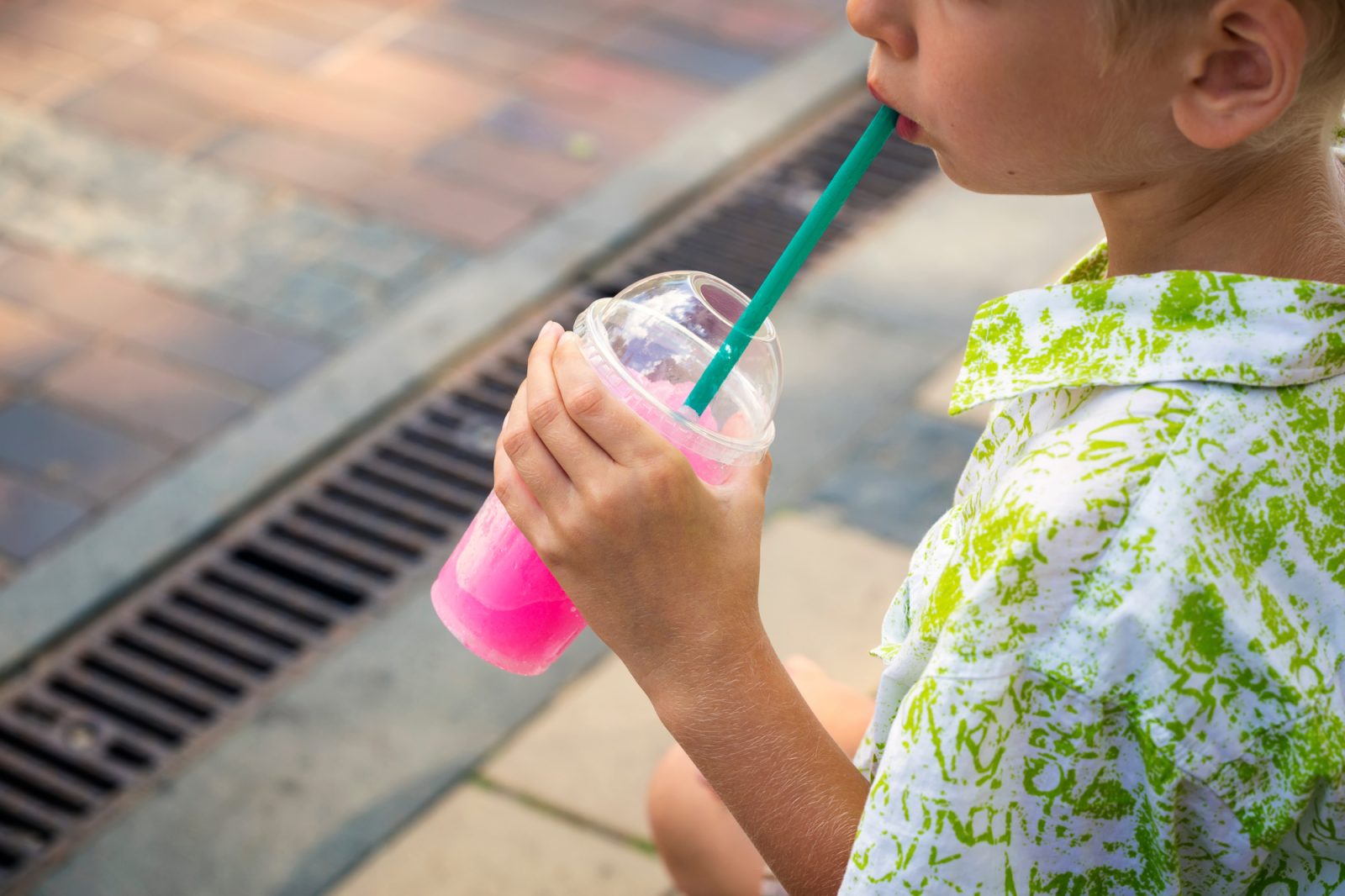 6. Strawberry Frappuccino
Another Creme-Based Frappuccino on the Starbucks menu is based on strawberries.
Strawberry Frappuccinos consists of whole milk, Creme Frappuccino Syrup, and strawberry puree sauce. The barista also includes a small amount of the Starbucks Classic Signature Syrup.
Whip cream fills up the remainder of the cup and your child will enjoy each sip.
This is a good choice if your child like Strawberry Milk but wants a frappuccino consistency.
7. Caramel Apple Spice
Now that autumn has arrived and the temperatures are getting cooler, you can order your kids' Caramel Apple Spice drinks!
Starbucks quickly steams apple juice to make it warm and bubbly for your child. They also mix in some Cinnamon syrup and top it off with whip cream and caramel drizzle.
Since this isn't a milk-based beverage, make sure your little one waits a moment to take a sip or ask the barista to steam it at a lower temp!
Your child will be reminded of visiting the pumpkin patch as they take each sip.
8. Pumpkin Spice Creme Frappuccino
Creme-based frappuccinos from Starbucks are great for children since they are so versatile.
Pumpkin Spice Syrup is currently on the shelves, meaning you can get your child a frappuccino that comes with an autumn twist!
Don't forget to tell your barista to keep the espresso out. Since this frappuccino also comes with the option of being caffeinated, you want to ensure they understand you want the creme base.
Your child will love this drink if they also want to take a sip of your Pumpkin Spice Latte.
9. Double Chocolatey Chip Creme Frappuccino
Starbucks' Double Chocolatey Chip Frappuccino is a favorite amongst children.
The Creme Frappuccino base gets blended with ice and milk. The barista then adds mocha sauce to the blend and tops off the beverage with Signature Whip Cream and chocolate drizzle.
This frappuccino is easy to drink and a great alternative to a Smores Frappuccino!
10. Blended Strawberry Lemonade
Summer might be coming to an end, but the Blended Strawberry Lemonade is still something you can order.
This low-calorie drink is light, refreshing, and delicious. Lemonade and strawberry puree gets put in the blender, resulting in a slushie/ smoothie consistency.
If your child has a sore throat from the season change, this is the perfect option.
Starbucks' Blended Strawberry Lemonade is also a good choice if you want to stay away from dairy.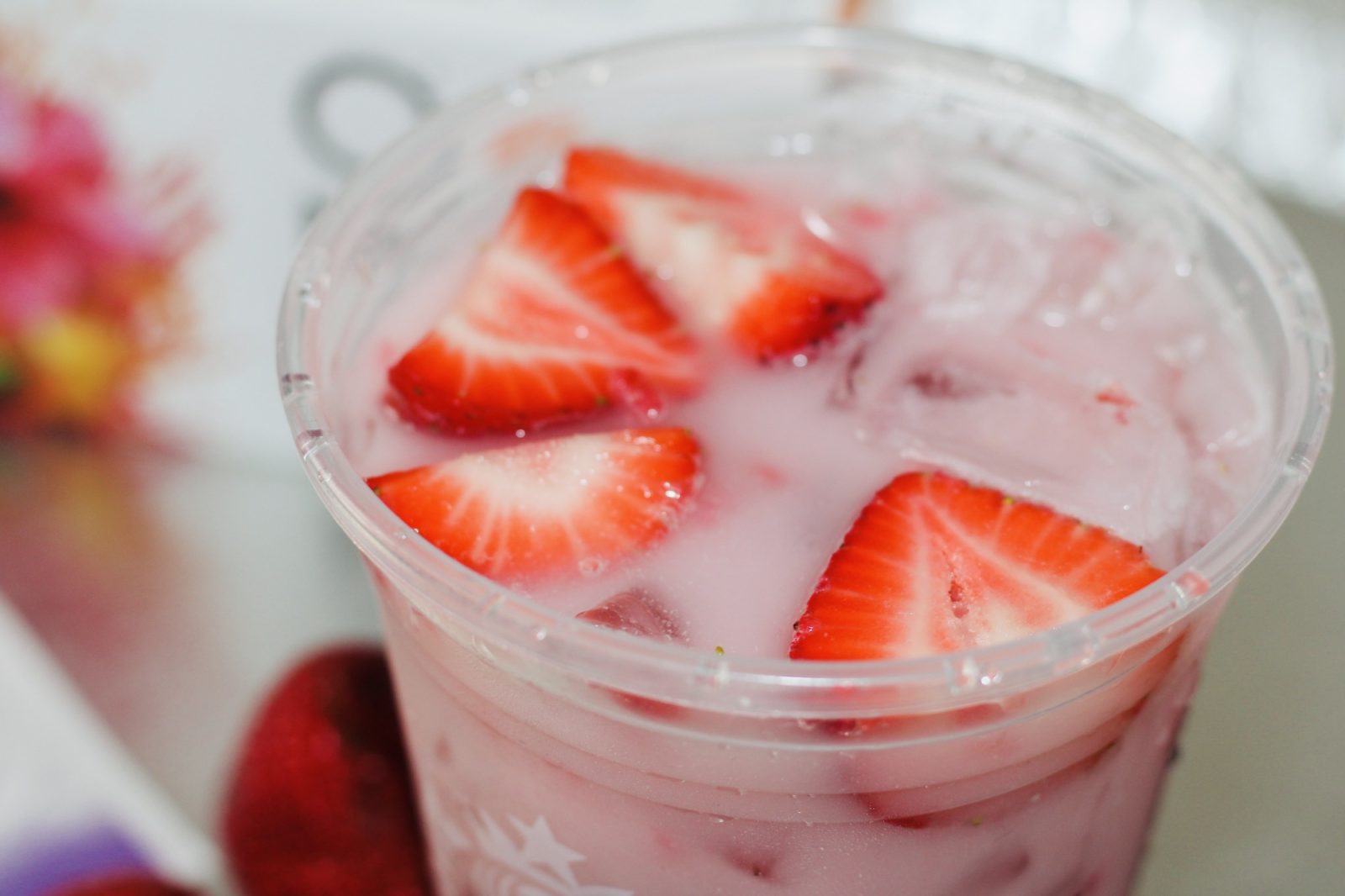 11. Starbucks Pink Drink For Kids
Are you looking for a dairy-free beverage for your child at Starbucks?
The Pink Drink has become a favorite amongst dairy-free communities. This beautiful drink is a blend of silky coconut milk, peach juice, and strawberries.
This was once a secret menu item, but its popularity grew and has become a permanent fixture.
Back in 2016, this drink grew in popularity once the stores began carrying strawberry acai juice and coconut milk. Recent news came out that this drink will be entering grocery stores by the end of the year.
This is great news because you will find it just as refreshing as your child and want to have a sip!
It's still fun to have your child order this drink when you visit Starbucks, however, since they can watch it get blended. The baristas put all the ingredients into a mixer to maximize flavors and let the beverage speak for itself.
Don't be ashamed if you feel inspired to do a photoshoot with your child when they order this drink.
The beautiful shade of pink and tasty flavors will keep your kids happy.
12. Steamed Sugar Cookie Almond Milk
This delicious and seasonal beverage will have your child drinking every last drop.
Much like steamed milk, this beverage uses almond milk or other variations of milk your child enjoys. The cookie-flavored signature syrup has a smooth taste of vanilla that blends well with the nutty flavor of almond milk.
If your child gets steamed vanilla milk regularly, this is a great way to change things up during the holidays.
This festive treat will get your child in the spirit of the holidays, especially when you have to drag them along for shopping.
If you love sugar cookies, you should try the Sugar Cookie Almondmilk Latte. You and your child can savor each sip and imagine you are eating a fresh plate of cookies.
Don't forget to grab a cake pop or pastry when you need a small snack.
These Starbucks Drinks for Kids Won't Disappoint
If you enjoy getting a morning cup of coffee and don't want to leave your little one's hands empty, these Starbucks drinks for kids are recommended.
Starbucks kids' drinks are increasing and there are plenty of caffeine-free options. Whether your child wants something frozen, iced, or warm, they can find a drink with their favorite flavors.
Don't forget to check the seasonal syrups to find unique combinations that will satisfy their taste buds.