It's 3:00 PM, and you're in need of a Dunkin' latte fix. Today you have the kids in the car and you'd like to buy them an after-school treat. Here is a list of perfect Dunkin' drinks for kids to pour into a "sippy" cup.
So what's on the menu that won't send them into a caffeinated or sugar-fueled frenzy?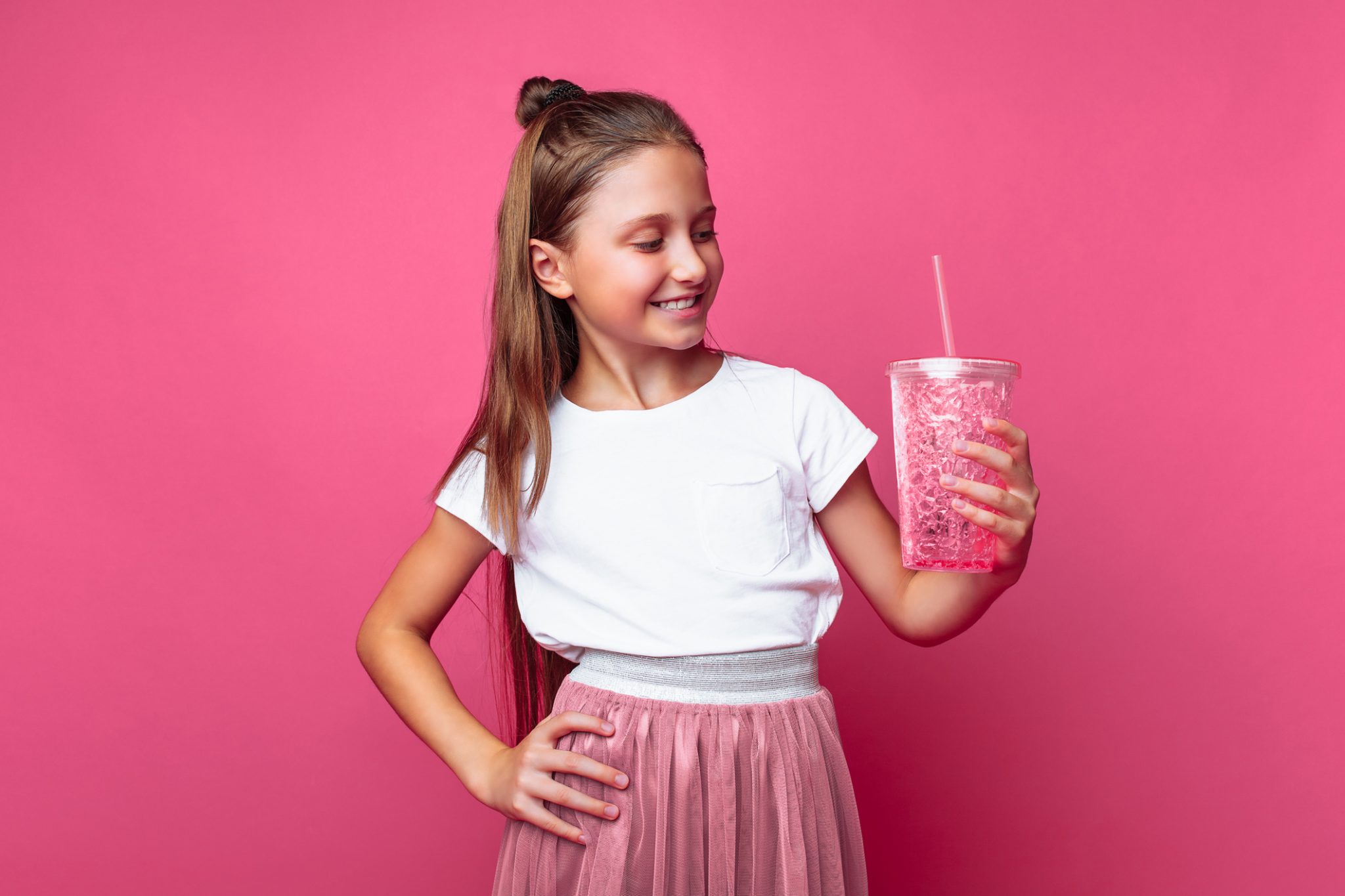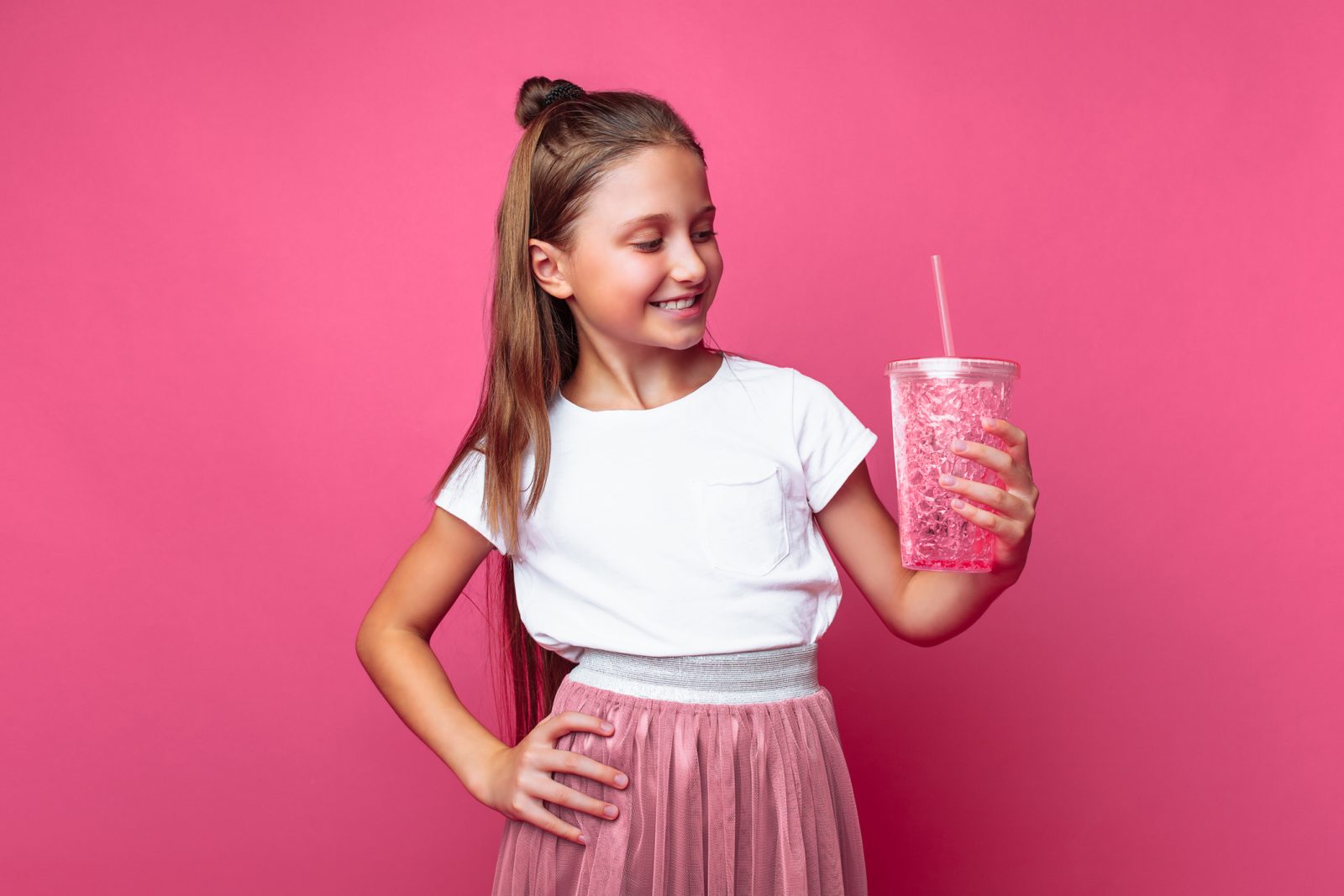 Most Dunkin' drinks contain either added sugars, caffeine or both, so parents will want to consider which options are ultimately OK for their kids. To help, we've compiled this list of some kid-friendly beverages so you can make your Dunkin' run a family affair.
Sugar, Caffeine and Kids: What's Safe?
Caffeine is present in so many products – including chocolate, lip balms and over-the-counter medications — that it's nearly impossible to avoid. Even decaffeinated coffee contains as much as 3 mg of caffeine per serving.
Although the American Academy of Pediatrics (AAP) states there is no "proven safe amount" of caffeine for children under 12, children 12 to 18 can safely consume about 100 mg daily.
Sugar is the other ingredient of concern for most parents, and it's even harder to avoid than caffeine, especially when it comes to beverages. It's in virtually every packaged food item, from cereal and bread to pasta sauce and deli meats.
The AAP recommends no more than 25 grams of added sugar per day. The only 100% caffeine-free drinks on the Dunkin' menu contain 55 grams of sugar. So, if you're looking to limit your child's sugar intake, that is a consideration. But if you're looking for a special treat, kid-friendly Dunkin' drinks fit the bill.
Does Dunkin' Offer Lattes for Kids?
Just like Starbucks, you may have seen "Dunkin' Hacks" on social media that teach you howto order a caffeine-free latte for kids. Unfortunately, this option is no longer available. Steamed milk is not an official menu item,and cashiers have no way to charge you for it using their current point-of-sale system.
But that doesn't mean you can't create other off-menu options. For kids, sometimes just ordering milk and asking for a shot of flavor and a whipped-cream topping can be a treat they'll devour.
Just be sure to check availability before you order and, if they are unable to accommodate your request, ask for options.
You don't need to rely on custom drinks and special requests to treat your family to Dunkin'. There are plenty of options that most parents will approve and kids will enjoy.
Best Dunkin' Drinks for Kids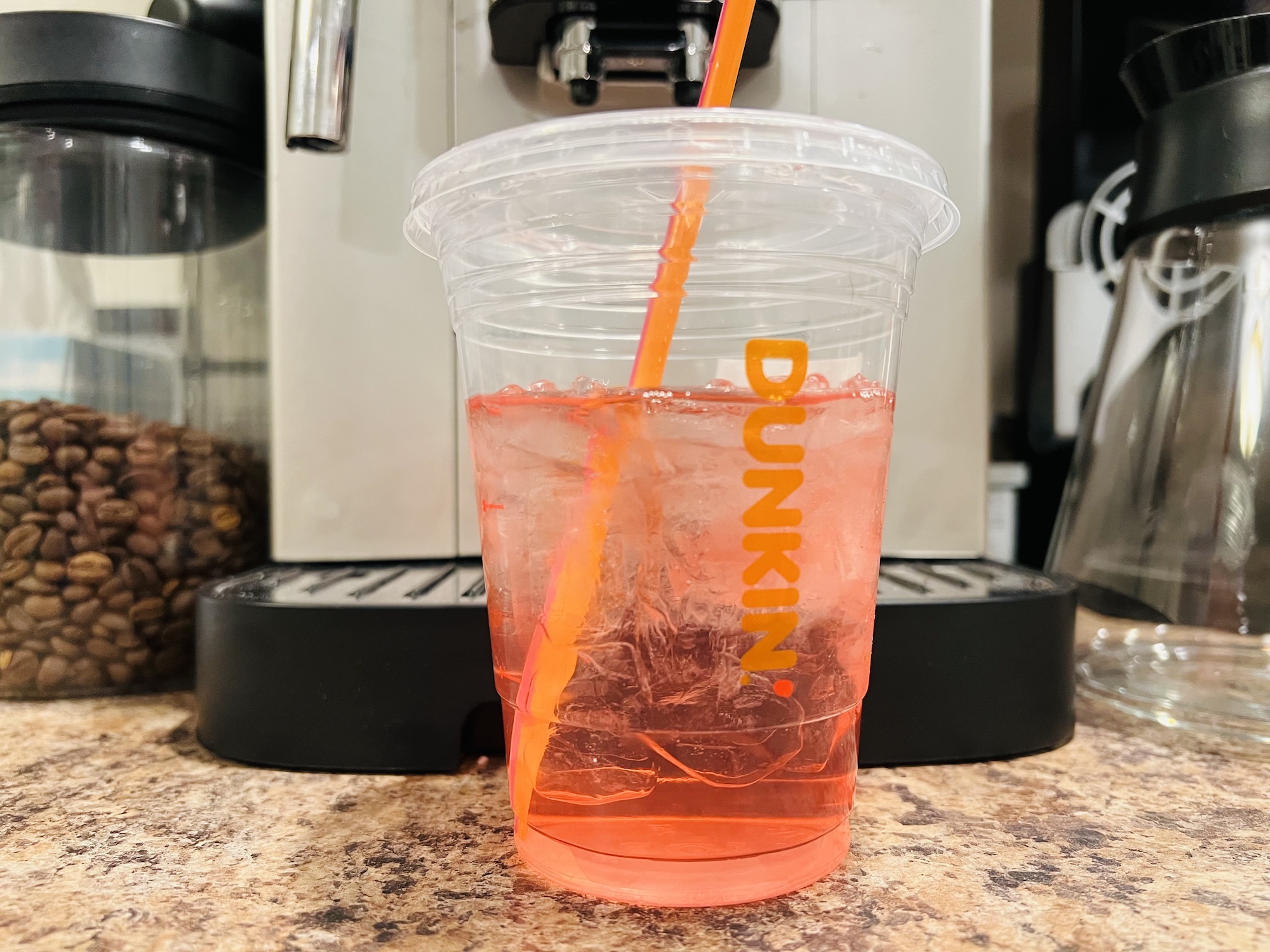 1. Cold, Colorful Dunkin' Refreshers
If your kids are fans of cold, colorful drinks inspired by tropical fruits, Dunkin' Refreshers might be a good pick.
These iced beverages come in two flavors: Peach Passion and Strawberry Dragon Fruit.
Your barista can make the drink with a base of either green tea (for a lighter, translucent drink) or coconut milk (for a creamy, opaque option).
Kids love refreshers because they are super sweet. Both flavors are pre-sweetened, so there's no option to reduce the sugar with this choice. Green tea concentrate is used in both the green tea and coconut milk bases. Green tea naturally contains caffeine, so this drink should be selected with that in mind.
Small-size Dunkin' Refreshers made with the green tea base have about 66 mg of caffeine and 20 grams of sugar.
With the coconut milk base, your Refresher will have less caffeine (about 46 mg) but the sugar content remains at 20 grams.
Here are the flavors of these fruity beverages. Both are available with either of the two bases.
Strawberry Dragon Fruit Refresher
Peach Passion Fruit Refresher
Tea and Chocolate, Dunkin' Style
If your kids want something other than a tropical-style drink, Dunkin' has their versions of cold tea and chocolate, both hot and cold.
2. Raspberry Iced Tea
If you want to avoid sugar, a flavored iced tea might be the way to go. Raspberry-flavored iced tea does not contain any sugar or added sugar, so feel free to order the large.
Of course, the subtle, tart raspberry flavor may not appeal to your child's palate.
All flavored iced teas at Dunkin' are available sweetened.
A small sweetened raspberry iced tea contains 17 grams of sugar.
However, both sweetened and unsweetened ice teas do contain caffeine. There is 45 mg of caffeine in a small raspberry iced tea, sweetened or unsweetened.
3. Blueberry Iced Tea
Like the raspberry iced tea, parents can order a blueberry iced tea unsweetened. While less tart than the raspberry, it still may fall short for kids expecting a sweet treat.
If you choose a sweetened blueberry iced tea, there are 17 grams of sugar in a small.
Again, all iced tea from Dunkin' contains caffeine. Your child's small blueberry iced tea contains 45 mg of caffeine, regardless of sugar level.
4. Hot Chocolate
Hot chocolate is a childhood staple, and few children would refuse this delicious, cold-weather treat. It's also a lower-caffeine choice, with only 9 mg in a small.
Some seasonal flavored variations, such as Oreo Hot Chocolate, contain as little as 4 mg in a small.
If you're concerned about sugars, hot chocolate is on the higher side.
A small, original hot chocolate contains 32 grams of sugar (31of which is added sugar).
5. Frozen Chocolate
Frozen Chocolate is a yummy spin on classic hot chocolate. This iced alternative contains around 5 mg of caffeine, but the sugar content might make it a deal breaker.
A small frozen chocolate contains a whopping 84 grams of sugar. Think of it as the Dunkin' version of a chocolate shake.
6. Blue Raspberry Coolata
Dunkin Coolatas are the only drinks on our list (and, in fact, on Dunkin's menu) that do not contain any caffeine. They are reminiscent of a slushy you might buy at a convenience store or movie theater.
They're extremely sweet and a hit with kids of all ages. If you order one, a small blue raspberry Coolata contains 55 grams of added sugar.
7. Strawberry Coolata
Like other variations on the colorful Coolata, the pleasantly pink strawberry flavor is completely caffeine-free but just as sweet. The strawberry flavor contains 55 grams of added sugar.
8. Vanilla Bean Coolata
While the vanilla bean Coolata is caffeine free like the others, it's certainly not light on sugar.
This kid favorite has 83 grams of sugar, 75grams of it is added sugar. It's another drink that may be better classified as a dessert.
9. Bottled Drink Options
When in doubt, many parents trust the offerings in the Dunkin' cooler case. Apple juice, orange juice, milk and chocolate milk are almost always available.
The bottled drinks have complete nutritional information printed on the bottle.
Brands and availability vary by location, so check your Dunkin' for more details.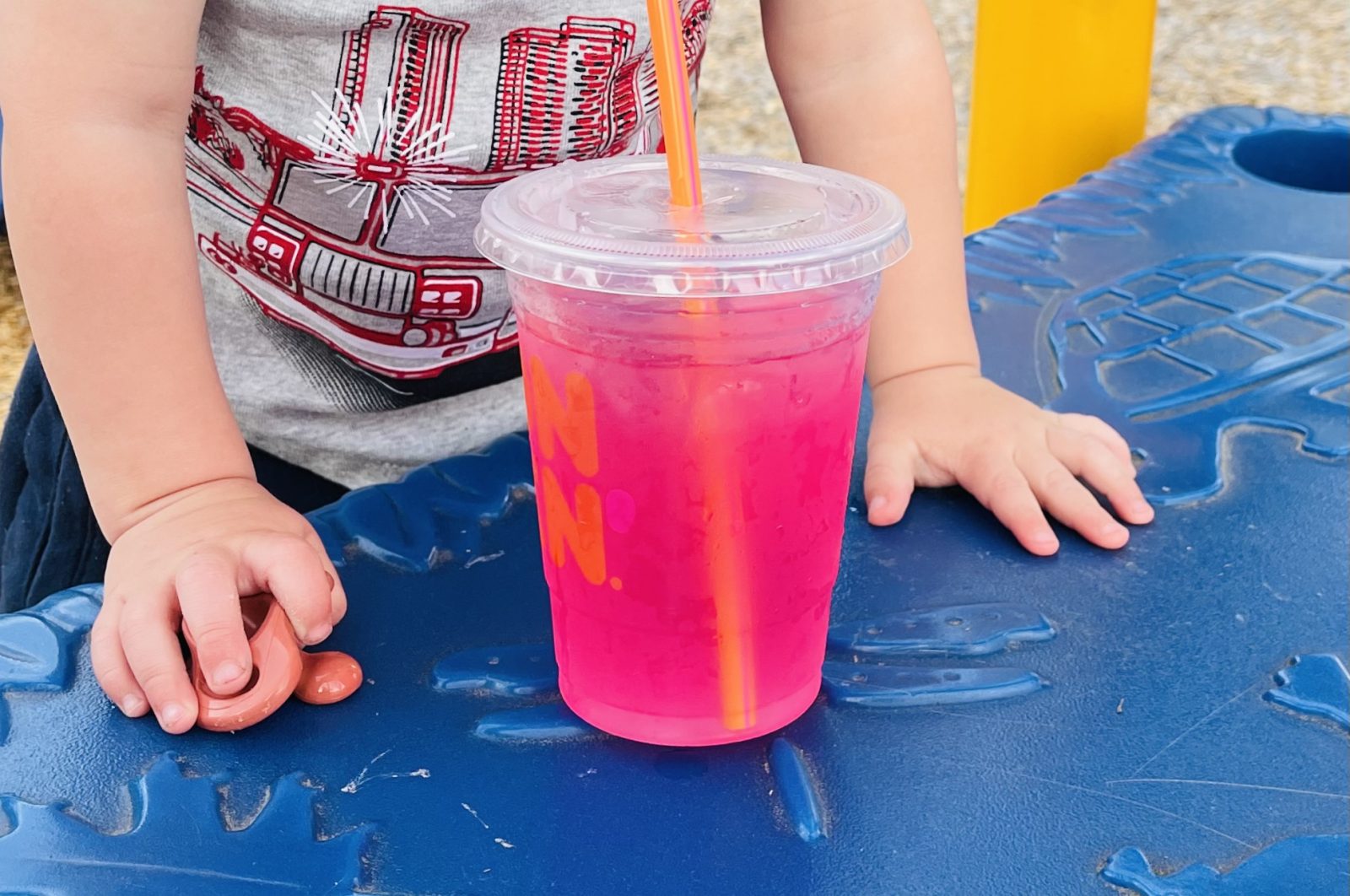 The Best Dunkin' Drinks for Kids Summary
Ultimately, it's up to parents and caregivers to decide which of these Dunkin' drinks for kids are most appropriate for their kids.
Sugar-heavy options like Frozen Chocolate and Coolatas are delicious treats for a sweet splurge.
For a weekly Dunkin' run, however, you might want to stick to the lower-caffeine, lower-sugar options on the list.
Now that you have the kids covered, what do you plan to order on your next trip through the drive-thru?