Ever since Dunkin' Donuts opened its doors in 1948, they have been providing delicious coffee and pastries to its customers. Dunkin' has expanded its menu far beyond coffee. Now, you can get your morning pick-me-up as a delicious, cold, energizing iced refresher!
Ordering new drinks off a menu is always a toss-up. Will you like it? Is it worth the money?
Well, you can stop worrying and keep reading! Our guide will help you find the best Dunkin' refreshers to make your daily routine even better.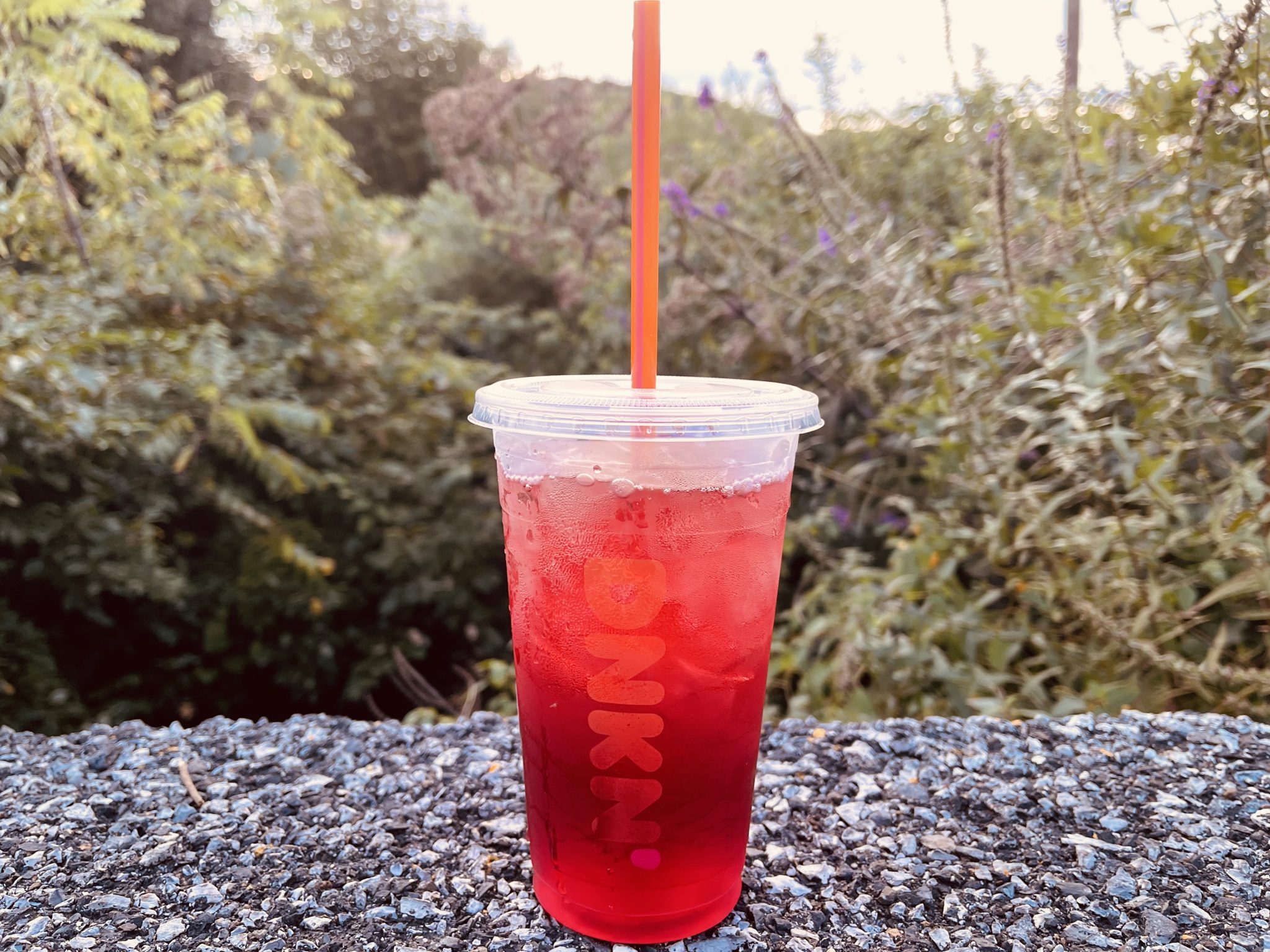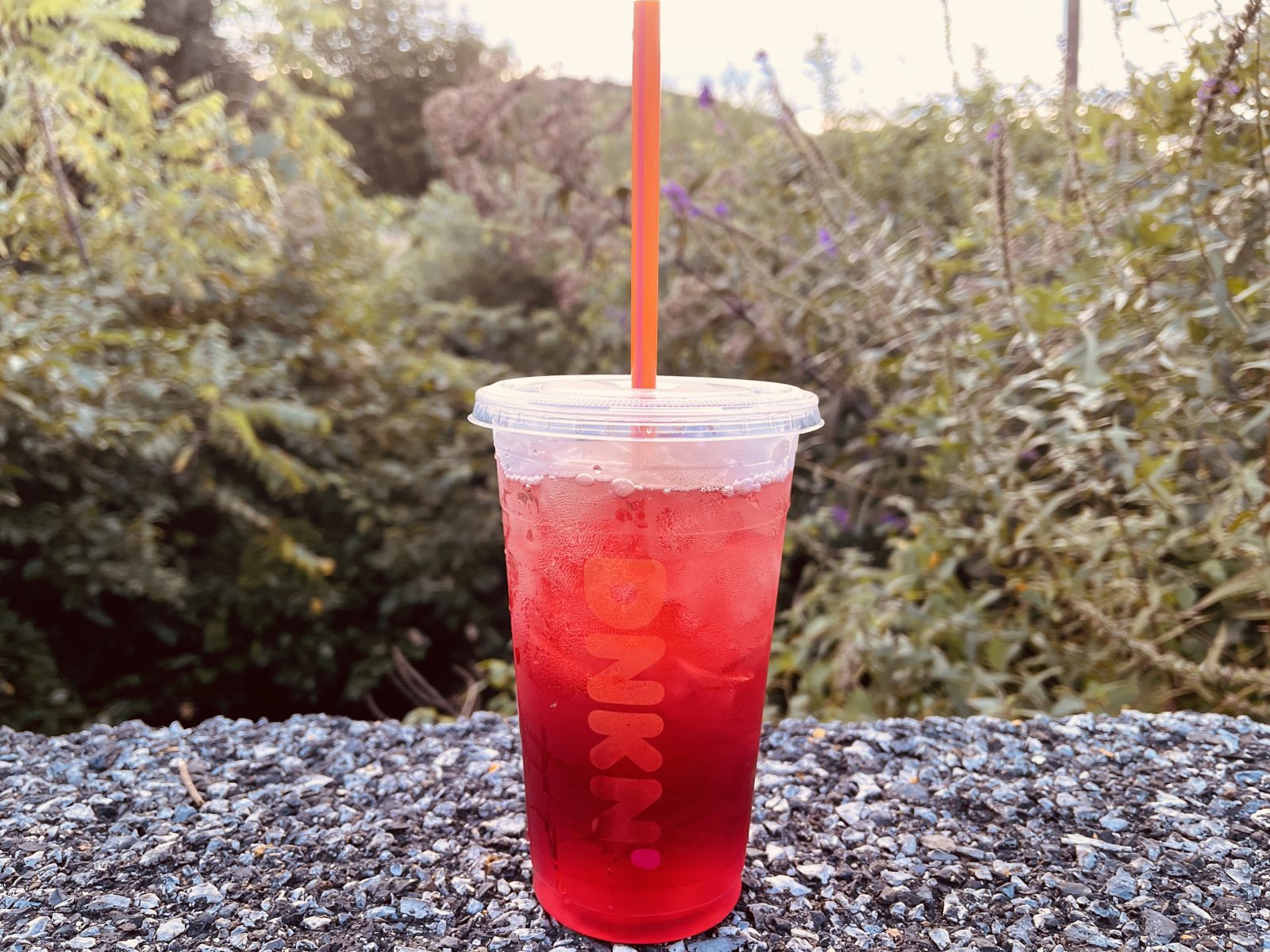 What Makes Dunkin' Refreshers Refreshing?
Before you order your drink, you might be wondering what makes Dunkin' refreshers so refreshing? It all starts with the green tea extract and B vitamins infused with fruit concentrate.
Green tea does contain caffeine. The amount Dunkin' puts in the drinks are just enough to give you a great boost to start your day. This is perfect for those of us who don't like to drink coffee!
After creating this refreshing blend, Dunkin' uses either more green tea or coconut milk to diffuse the flavor. The diffused flavoring creates delicious iced drinks that are a spring must-have!
Classic Refreshers
Classic refreshers contain 99 milligrams of caffeine in a medium. That's more than 8 fluid ounces of coffee! With three great flavors to choose from, there's something for everyone to enjoy.
Peach Passion Fruit Iced Refresher
While the peach passion fruit refresher isn't as sweet as the others, it's one of the best refreshers you can purchase. Your first sip will be a strong peach flavor followed by the sourness of passion fruit. Even after the flavor evens out, you will still taste the delicious peach.
If you like iced tea, this is the drink for you. You will be able to taste the tea in this iced refresher more than the others. It's perfect for warmer spring days because it doesn't have an artificial or sickly sweet taste.
Strawberry Dragonfruit Iced Refresher
Our next must-try refresher is the strawberry dragonfruit iced refresher. This drink is a vibrant shade of red that will look amazing on social media. Strawberry dragonfruit is a classic favorite of many Dunkin visitors.
The strawberry dragonfruit combination creates a strong, fruity flavor. For any fruity drink lovers, you need to get your hands on the strawberry dragonfruit Dunkin' refreshers.
Blueberry Pomegranate Iced Refresher
Another option for those who like a light drink is the blueberry pomegranate iced refresher. We love the look of this drink because it fades from a brighter shade of red to a dark purple.
This drink is the perfect in-between for the strawberry and peach refresher. It's sweeter than peach, but not as sweet as strawberry. You will experience a refreshing kick perfect for when you still feel tired during your spring morning commute.
Apple Cranberry Iced Refresher
Spring is amazing, but some of us can't wait for fall weather to return. The apple cranberry iced refresher gives you two iconic autumn flavors in a drink you can enjoy as the weather gets warmer.
The cranberry flavor balances with the apple so it doesn't feel like you're drinking apple juice. But, the apple also combats the sourness of the cranberries to make a sweet flavored drink. The green tea helps give the flavors an extra layer of deliciousness.
If you love the colors of autumn, this drink is perfect. It has an orangy-red color that will make you excited to drink it.
No Dairy? No Problem!
Whether you are vegan, lactose intolerant, or just like coconut milk, you can still enjoy delicious Dunkin' refreshers! Coconut milk refreshers get their caffeine from the green tea in the flavor concentrate.
A medium will have 68 milligrams of caffeine. If you want a bigger boost, you can get a large with 91 milligrams of caffeine.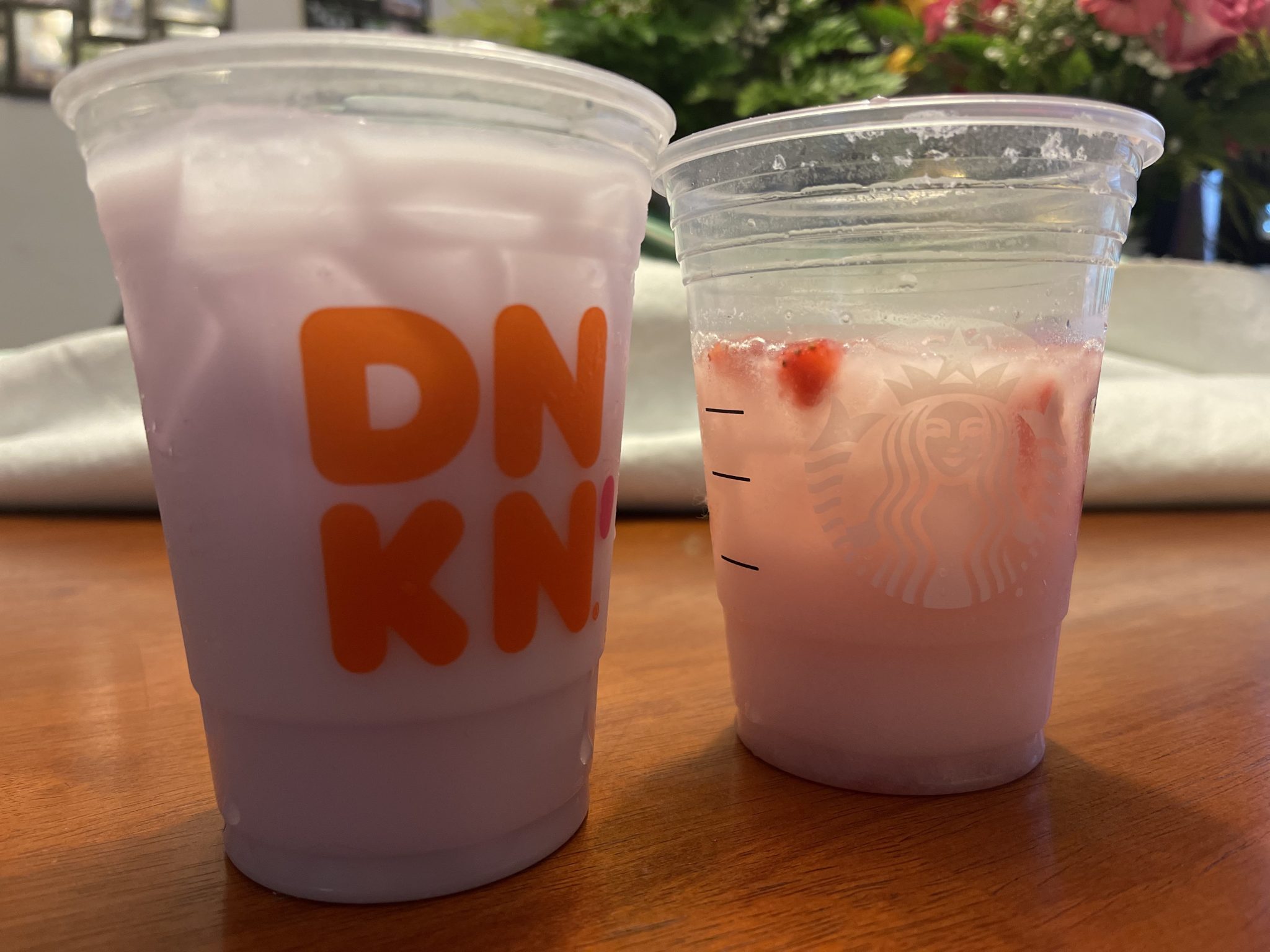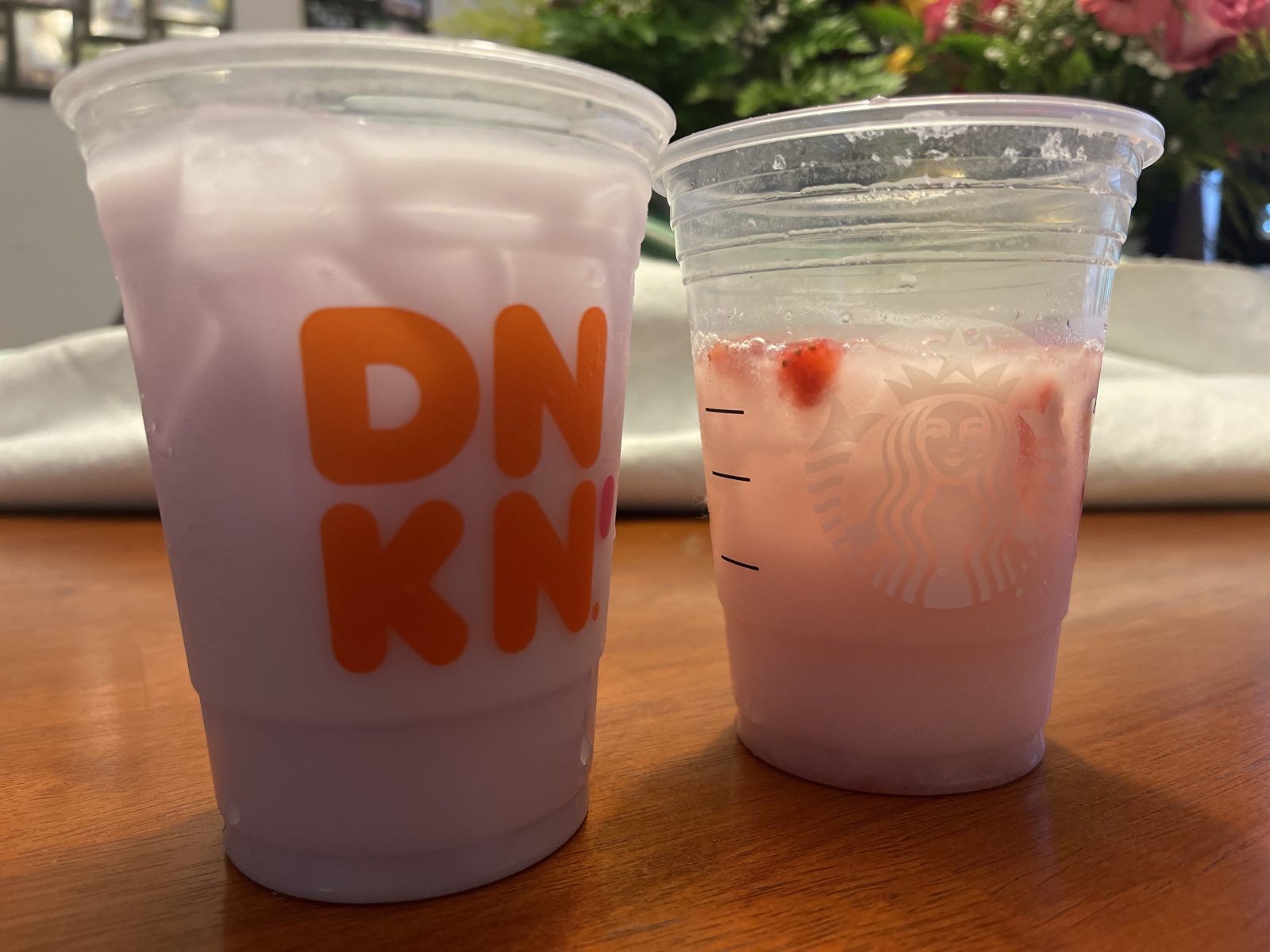 Strawberry Coconut Milk
The appeal of coconut milk is that it provides a creamier flavor to drinks. It can elevate drinks beyond flavored water. That's what coconut milk does for the pink strawberry coconut milk refresher.
Like the strawberry dragon fruit refresher, the heart of this drink is the classic strawberry flavoring. There will be a hint of dragon fruit to help elevate the strawberry taste.
The coconut milk perfectly balances out the strawberry flavor so it isn't overwhelmingly sweet. Your iced refresher will be creamy, flavorful, and give you a boost.
If you like posting pictures of your drinks online, this is a drink for social media. The white of the coconut milk perfectly fades into the pink of the strawberry mixture. The white to light pink design will fit perfectly on your feed.
We compare the Strawberry Coconut Refresher to the Starbucks Pink Drink here.
Gold Peach Coconut Milk
Do you like the peach passion fruit refresher but feel like it's missing something? Then you should try the gold peach coconut milk iced refresher. This drink is like the next step up from our favorite peach passion fruit.
Like the other peach drink, the gold peach has a mild flavor that won't take over your tastebuds with its sweetness. It's just the right amount of flavoring to keep you drinking. Another big draw for the gold peach is that you get all the creaminess of coconut milk without overwhelming coconut flavor.
Purple Pomegranate Coconut Milk
Anyone who loves blueberry muffins is going to love the purple pomegranate coconut milk iced refresher. It's like Dunkin' was about to translate everything that makes a blueberry muffin perfect into the best drink for spring.
When you combine blueberry and pomegranate, it results in a sweet tartness that elevates it above the other two coconut milk options. The subtle sweetness makes this drink ideal for any breakfast.
Plus, if your favorite color is purple, you will love the look of this drink. The subtle shade of lilac purple in this drink comes from the blueberries. This means you get an all-natural, gorgeous-looking drink.
Dunkin' Refreshers Coming This Spring 2022!
Do you love this list? Is there something missing? Either way, you're in luck because four brand new flavors are coming this spring that you have to try!
The first is a mango pineapple refresher. Pineapple has a really sweet flavor, so the mango works as a perfect balance. So far, it seems like this one will be a great addition to the classic refresher flavors.
Next is a collection of lemonade refresher flavors. We already know that lemonade is the ideal drink for warming weather. Each lemonade flavor will pack a refreshing punch that's guaranteed to make your day successful.
The mango refresher comes out on April 27th. You can learn more about Dunkin's upcoming spring menu by clicking here!
Order the Best Dunkin' Refreshers Today!
After going through the best Dunkin' refreshers for every pallet, your next step is to order them! From perfect peaches to ripe strawberries, it's easy to find your next spring staple beverage in this collection of refreshers!
Did you try any of these drinks or have another Dunkin' Donuts favorite? Let us know what you thought in the comments below!