In a standard cup of coffee (let me repeat the word standard), use 95mg of caffeine per 8oz. Here is a comparison of the amount of caffeine in coffee between Dunkin' and Starbucks:
Dunkin' Medium Hot Coffee: 21omg of caffeine
Dunkin' Medium Iced Coffee: 300mg of caffeine
Starbucks Grande Hot Coffee: 330mg of caffeine
Starbucks Grande Iced Coffee: 165mg of caffeine
Six Ways To Reduce Caffeine in Coffee
Some coffee drinkers love a highly caffeinated brew. Caffeine, a natural stimulant, works by blocking certain receptors in the brain, which prevents you from feeling sleepy. A cup of coffee in the morning can help you focus on your work, and a latte with lunch can help you dodge a midday energy slump.
But caffeine also has some downsides. Drinkers who consume too much caffeine can end up feeling shaky or on edge rather than just wide awake. Additionally, some people find that a cup of coffee (particularly on an empty stomach) can make them feel slightly nauseous.
So what can you do if you need coffee to focus but want to avoid the jitters or a stomach ache? The answer is simple: reduce the amount of caffeine present in your cup without sacrificing flavor. Here are six simple ways to effectively reduce caffeine in coffee.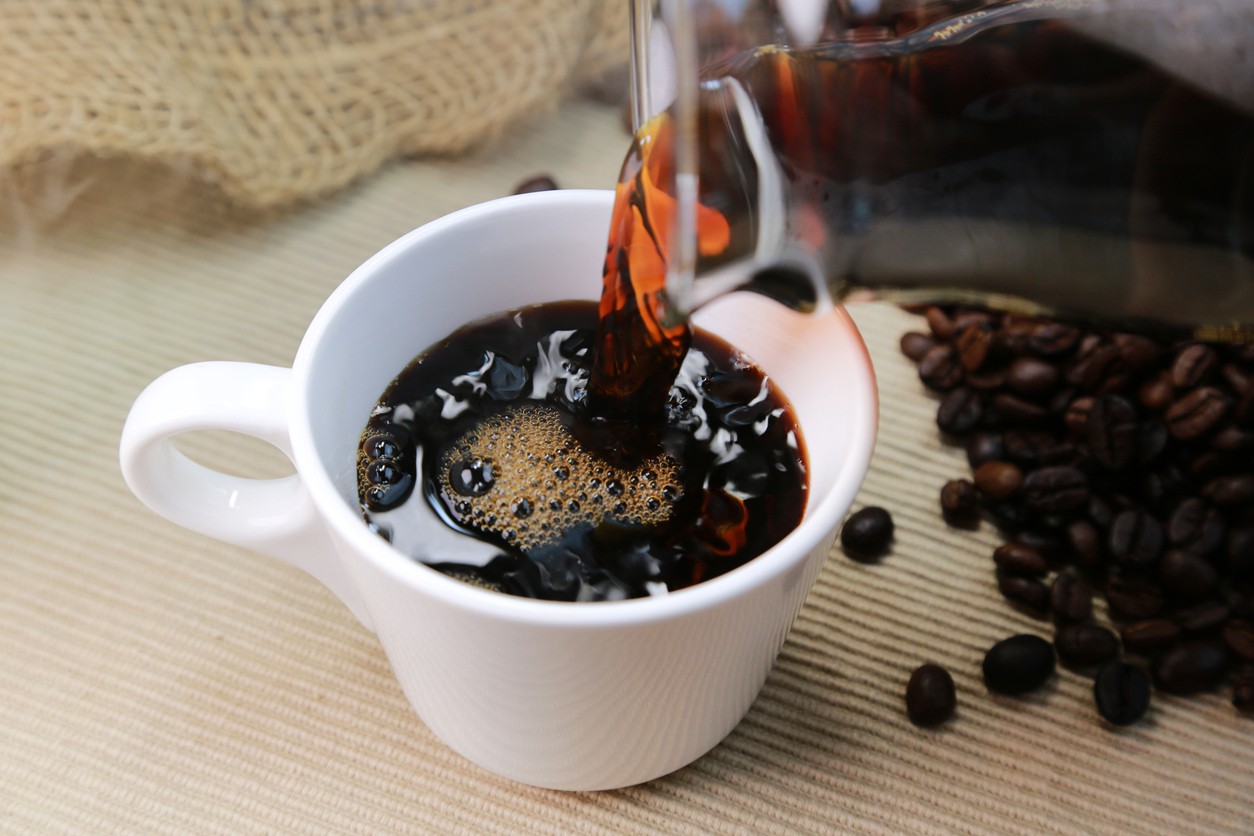 Use Less Coffee
Firstly, and most simply, you can reduce the amount of caffeine in a cup of coffee by reducing the amount of coffee you use. Most drinkers opt for around two tablespoons (10 grams) of coffee in an average cup. You can cut this weight down by almost 25% without a noticeable difference in flavor. Just like that, you'll also have reduced the caffeine content of your brew by the same percentage.
Try A Cold-Brew
Cold-brewed coffee is straightforward to make. Grind up your coffee beans and steep them in water for 12 – 18 hours, stirring occasionally. Filter the result and enjoy with ice and a splash of milk.
The caffeine content of cold-brewed coffee varies depending on the length of time it is steeped and the temperature. Generally speaking, though, a cup of cold brew will have significantly less caffeine than an equivalent cup of filter coffee and have a milder, less acidic taste, too.
Opt for a Coarser Grind
Most coffee grinders will offer you at least some control over the coarseness of your grind. Finer grinds create more surface area and result in a larger amount of caffeine being released during brewing. To reduce the caffeine in your cup, switch to a slightly coarser grind.
Don't go too far, though: finding the right grind for you is a balancing act. Using a ground that is too coarse might give your coffee a watery flavor.
Try an Espresso Instead.
Many coffee drinkers think of the espresso as a caffeine-rich choice – a tiny shot of coffee designed to wake you up when you need it most. Of all the drinks you can order at most coffee shops, though, an espresso is the one with the lowest caffeine content.
It's worth noting, of course, that the low caffeine content of espressos is partially due to their size. There's simply no room for a huge amount of caffeine with a significantly smaller serving size than most other drinks.
If you need a quick caffeine hit to wake you up in the morning but don't want to go overboard, espresso is a much better choice than a filter coffee or americano.
Mix in Some Decaf
Blending coffee beans from two different sources is a great way to change the flavor profile in your cup. It's also a great way of reducing caffeine content without eliminating it. Substitute some of your regular beans for a decaf brand of your choice.
Mixing your beans in this way gives you complete control over your caffeine hit and allows you to play with the flavor of your brew.
Drink Arabica, Not Robusta
Few coffee drinkers realize that arabica – a coffee bean that's so popular it's almost ubiquitous in coffee shops and on supermarket shelves alike – is naturally a relatively low-caffeine bean. The caffeine content in an average cup of arabica coffee comes in at around 75 – 100mg.
A cup of robusta coffee, on the other hand, can contain almost twice as much caffeine. If you're trying to limit your caffeine intake, pay attention to the type of coffee you're drinking, and opt for arabica when there's a choice of beans.
Choose Lighter Roasts
During the roasting process, coffee beans lose moisture and shrink. Having been roasted for longer, dark roast coffee beans are therefore smaller and lighter than their light roast counterparts. They still contain the same amount of caffeine, but the reduction in size means that, on average, more beans go into a single cup of coffee when using a dark roast compared to a light one.
Indeed, a scoop of dark roast coffee beans can end up yielding a drink that's up to 30% more caffeinated than a matching scoop of light roast beans. To keep your caffeine levels under control, opt for a light or medium roast.
How Much Caffeine Is In Coffee Conclusion

Reducing your caffeine intake doesn't have to mean giving up coffee altogether. Using the methods above, it's perfectly possible to adjust your caffeine intake to a level that suits you while still enjoying your morning brew.