Did you know Wawa iced coffee is poured out of a box? That's right! When you visit your local Wawa store and tap a delicious iced coffee, it's actually coming out of a box. Here's everything you need to know about the goodness we call Wawa iced coffee.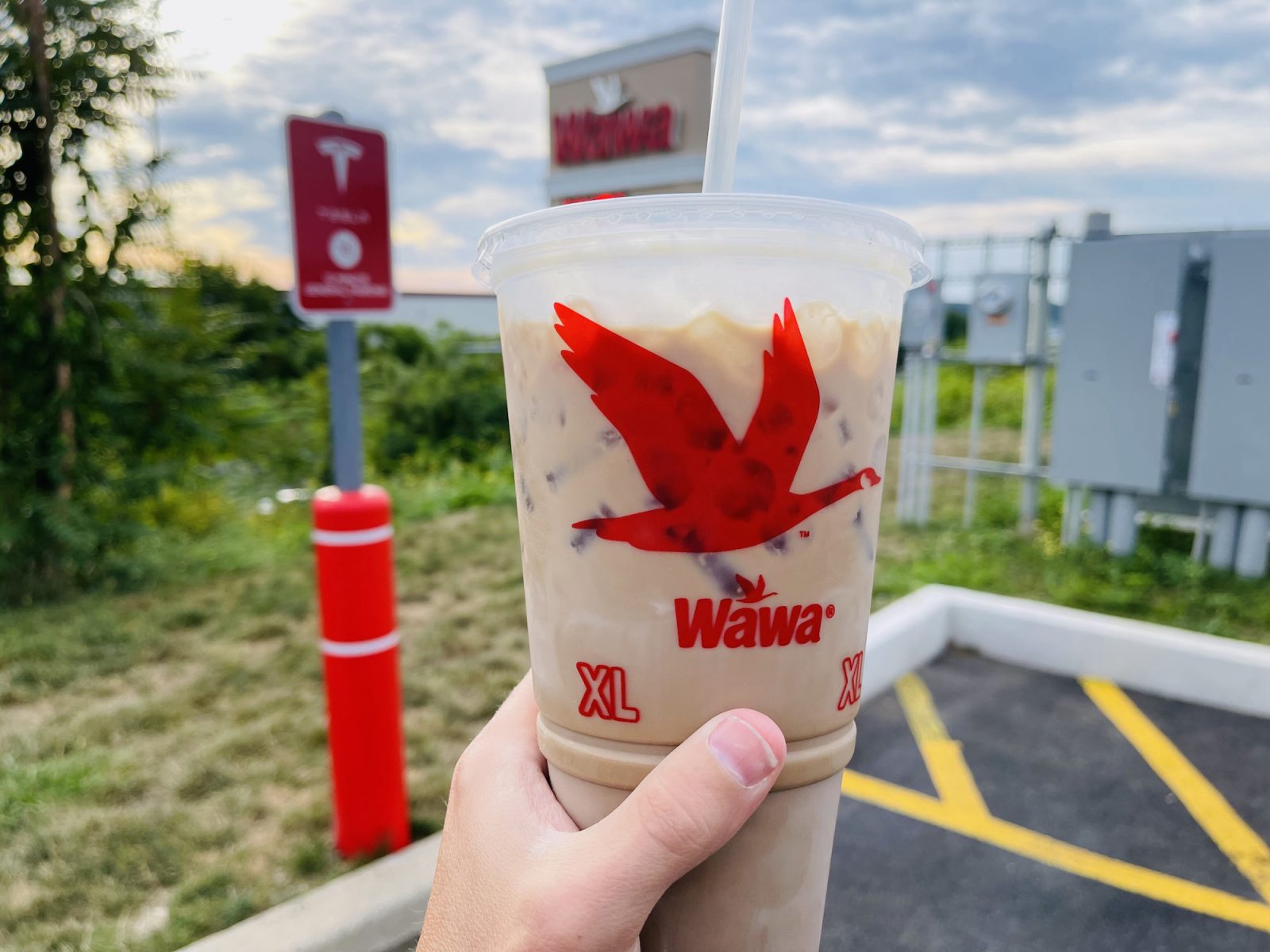 Wawa is a popular convenience store founded in 1964 in Folsom, PA, not far from Philadelphia. Beloved for its custom-made hoagies and breakfast offerings, Wawa is best known on the East Coast, particularly the mid-Atlantic region, for its rich, flavorful coffee. The company's name, pronounced "wah-wah," is an Ojibwe word that means goose, and its logo is a simple rendition of a goose that represents energy and vibrancy.
Wawa expanded to New Jersey and other states along the East Coast over the next few years, and they'll soon offer their inimitable coffee in a seventh state.
Wawa Iced Coffee Caffeine Content
How much caffeine does Wawa iced coffee actually contain?
To find out, we took a look at the nutritional information. A 16-ounce serving of Wawa's Iced Coffee contains 290 mg of caffeine.
That's quite a bit of caffeine, but it's not as high as other popular iced coffees. For comparison, a 16-ounce Dunkin' Iced Coffee has roughly 315 mg of caffeine, while a 16-ounce Starbucks Iced Coffee has 165 mg.
So if you're looking for a slightly less potent iced coffee than Dunkin', this iced coffee brand might be a good choice. Just be aware that it still packs a pretty decent caffeine punch.
Iced Coffee Cup Sizes
Although Wawa is best known for its hoagies and regular hot coffee, the iced coffee is what really sets this convenience store chain apart. Wawa offers an assortment of iced coffee flavors, as well as different cup sizes to accommodate any customer's preference. Cup sizes include:
Small – 16 oz.
Medium – 22 oz.
Large – 32 oz.
X-Large – 44 oz.
Wawa Iced Coffee Calories
Iced coffee at Wawa is undoubtedly our favorite self-serve iced coffee. However, with great taste comes great consequences. Calories can vary depending on the amount of ice, milk (plant-based or cow), and sugar you might add to your drink.
Wawa Regular Iced Coffee Calories
16 oz.- 190 calories
22 oz. – 260 calories
32 oz. – 380 calories
44 oz. – 520 calories
Does Wawa Have Decaf Iced Coffee?
Wawa offers a variety of food and drink options. One popular choice is iced coffee, but some customers may want to know if they offer decaf iced coffee.
The answer is no, Wawa does not offer decaf iced coffee. However, they offer many other iced coffee flavors, as well as hot coffee and tea options. If you're looking for a caffeine-free option, Wawa also offers several types of fountain drinks, like lemonade or orange juice. So, whether you're looking for a pick-me-up or a way to cool down, Wawa still has you covered.
Iced Coffee Flavors
Wawa offers an excellent choice of iced coffees, perfect for any coffee lover. From their original iced coffee to their seasonal flavors, there's something for everyone to enjoy.
Iced coffees at Wawa are made with a blend of sustainably sourced beans and slow-brewed overnight for maximum flavor extraction. They're the perfect way to cool down on a hot day or get your caffeine fix. They're refreshing and delicious, and there's sure to be a flavor you'll love.
Wawa iced coffees are available in a variety of flavors, including regular, French vanilla, caramel, mocha, salted caramel, salted caramel mocha, mocha mint, and more. Wawa also offers various flavored syrups you can add to iced coffees, such as chocolate, raspberry, and caramel.
Iced Coffee Prices
As coffee lovers, we all know that there's nothing quite like a freshly brewed cup of joe. However, sometimes we don't have the time to sit down and enjoy a hot cup of coffee. That's where iced coffee comes in! Iced coffee is the perfect way to enjoy your favorite beverage on a hot day.
So, how much does their iced coffee cost? Prices for Wawa coffee start at $1.85 for a small 16oz. cup. Prices increase incrementally for larger sizes.
Whether you're looking for a refreshing drink on a hot day or an afternoon pick-me-up, iced coffee is a perfect choice. With a variety of flavors to choose from and affordable prices, it's no wonder that the iced coffee is a popular choice among coffee lovers.
Dairy, Sweeteners, and Flavors
Wawa offers a variety of milk, sweetener, and flavor options that can be added to customize your experience.
Milks: Whole milk, skim milk, almond milk, soy milk, oat milk, and half-and-half are all great options for adding creaminess and body to your iced coffee.
Sweeteners: Sugar, honey, agave nectar, and flavored syrups can all be used to sweeten iced coffee.
Flavors: Vanilla, chocolate, caramel, and hazelnut are all popular flavorings that can be added to iced coffee.
Experimenting with different combinations of dairy, sweeteners, and flavors is the best way to find your perfect iced coffee recipe. Be sure to try out different combinations until you find the one that you love the most!