The Strawberry Coconut Refresher from Dunkin' was a clear shot at Starbucks Pink Drink regulars! Ready for another Starbucks Pink Drink review and more Pink Drink copycat recipes? Time to battle the pink drinks!
After an entire year on the Dunkin' menu, it's no secret that the Strawberry Dragonfruit Coconut Refresher aimed to capture those loyal Starbucks customers obsessed with the Pink Drink. So how did that work out?
Here's how Dunkin's "coconuts" compare in our Pink Drink Coconut Refresher review.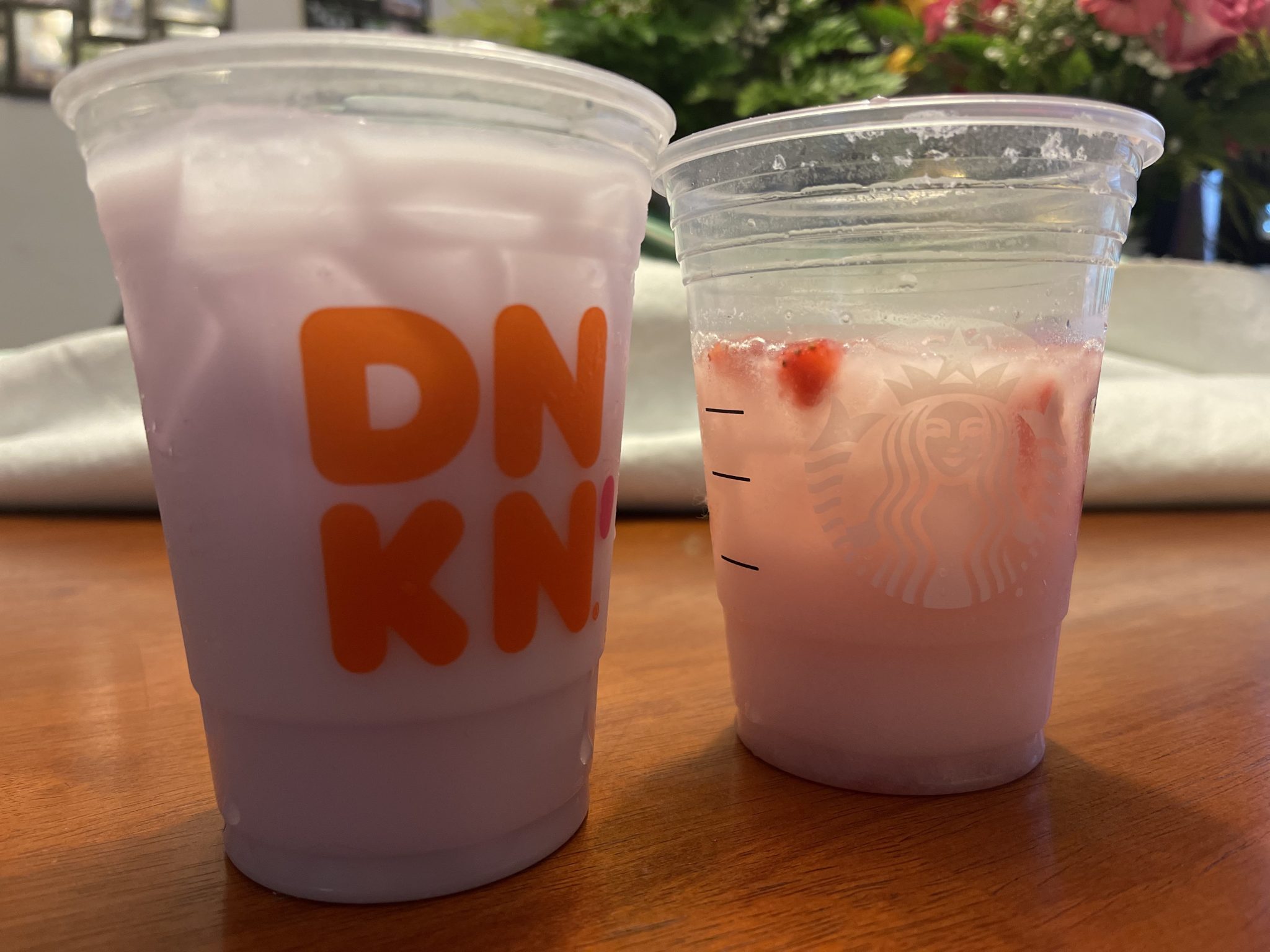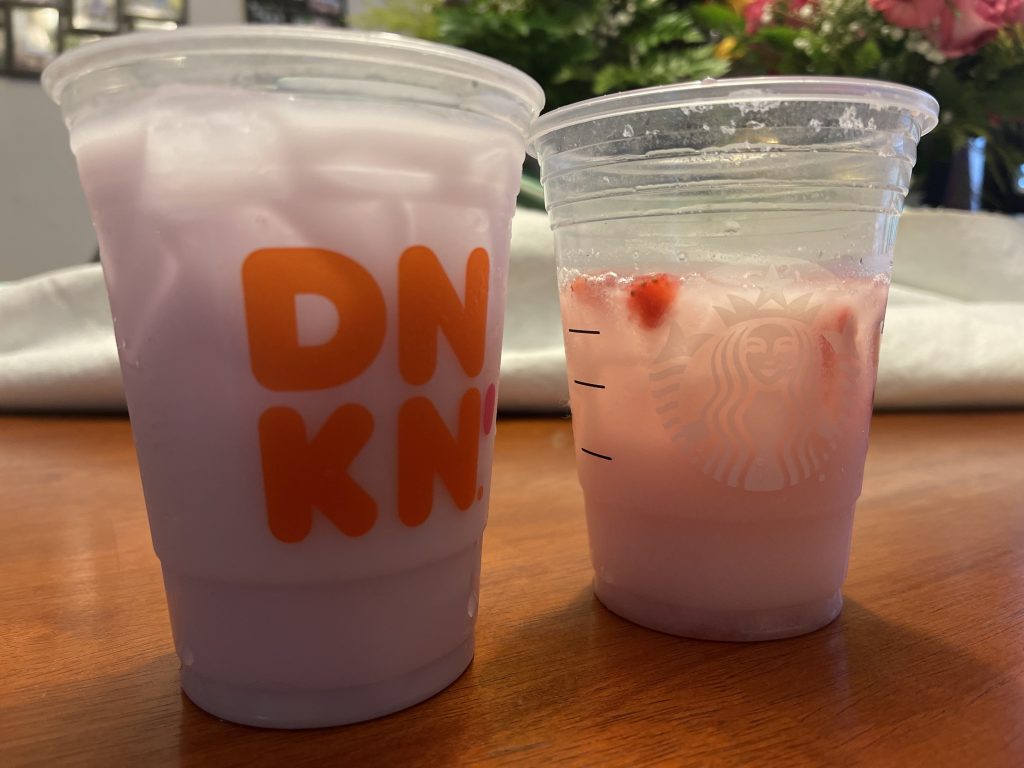 The Starbucks Pink Drink
The Starbucks "Pink Drink" was released in 2016 and has been a best seller on the menu ever since.
The Pink Drink was born from a Strawberry Acai Refresher, but with added coconut milk instead of water.
Fresh strawberries are entwined within the pink reflective ice, making this one of Starbucks' most visually appealing drinks you can buy. Refreshers generally can be very sweet and typically are; however, the coconut milk in the Pink Drink drastically reduces that sometimes annoying sweetness for a smooth, refreshing sip.
The Starbucks Pink Drink is a superior refreshing drink that you can enjoy year-round without worrying about calories.
Pink Drink Caffeine and Calories
Yes, there is caffeine in a Starbucks Pink Drink that comes from the green coffee extract in the very berry hibiscus instant tea refresher. And it's more than just a minimal amount of caffeine. A Starbucks Grande size will deliver about 50mg of caffeine in total, which could be enough to make some people feel jittery or anxious if they aren't coffee drinkers.
If you are worried about the calories of a drink that looks and tastes so good, we have great news. You can expect to net 140 calories in Grande size and about 200 calories in a Venti size. If you order a tall-size Pink Drink, you would just be missing out on too much goodness, so we don't mention it.
Pink Drink Copycat Recipes
If you cannot get to your local Starbucks to enjoy a Pink Drink, there are many DIY Copycat Pink Drink recipes on the internet. We found this recipe to be the most authentic and made with 100% natural ingredients. Buyer beware, the ingredients can get very expensive, so make enough Pink Drink for everyone!
Now onto the Dunkin' "Refresher!"
Dunkin's Strawberry Coconut Refresher
The Dunkin' Strawberry Coconut Refresher was released near the end of April 2021, along with many summer menu items, including the epic release of Sunrise Batch coffee. The release marked Dunkin's first-ever pink milk-based drink that is not classified as a smoothie.
The refreshing taste of Strawberry Dragonfruit is combined with Dunkin's signature coconut milk to create this delicious drink.
Dunkin' now offers a full line of refreshers, and we've compiled an ultimate guide of the Best Dunkin' Refreshers here.
Dunkin' describes its coconut refresher line as fruit-flavored drinks combined with coconut and B vitamins for a refreshing energy boost.
How much energy? Let's find out.
It can be complicated to compare Dunkin' cup sizes to Starbucks cup sizes due to cup variations and product limitations. The best way to compare ingredients between the two coffee giants is to download both apps and check out the nutrition facts.
A medium-size Strawberry Coconut Refresher delivers a total of 68mg of caffeine. That's nearly 20 more milligrams of caffeine vs. the Pink Drink. Dunkin's Pink Drink also takes victory in the calorie count category scoring about 170 calories for a medium-size.
Starbucks Pink Drink Review

The Starbucks Pink Drink has a lighter consistency and more organic make-up due to the freeze-dried strawberries accompanying the ice. Strawberry is the dominant flavor, and the overall taste DOES NOT remind you of a sugar bomb.
The Pink Drink finishes with a creamy milk taste that is absolutely refreshing!
These are why it's been a best seller for more than 5-years running.
Dunkin' Strawberry Coconut Refresher Review

The Dunkin' Coconut Refresher is a much sweeter drink with a more syrup-like consistency.
In our opinion, this drink DOES remind you of a sugar bomb packed with sweeteners and caffeine. The first sip is quite a shock of sweetness, followed by a syrup-like texture.
If you are into "lip gloss" drinks, this one is for you!
However, the longer you sip on this drink, the more the coconut milk will eventually push through and balance the sweetness.
Battle of The Pink Drinks Summary
If you have tried the Starbucks Pink Drink and the Dunkin' Coconut Refresher, give us your review below in the comments! We would love to hear your comparison.