Grinding your own coffee offers several advantages that enhance the overall coffee-drinking experience. One key benefit is the improvement in coffee quality, which is achieved through freshness.
It's simple, your best coffee is freshly ground!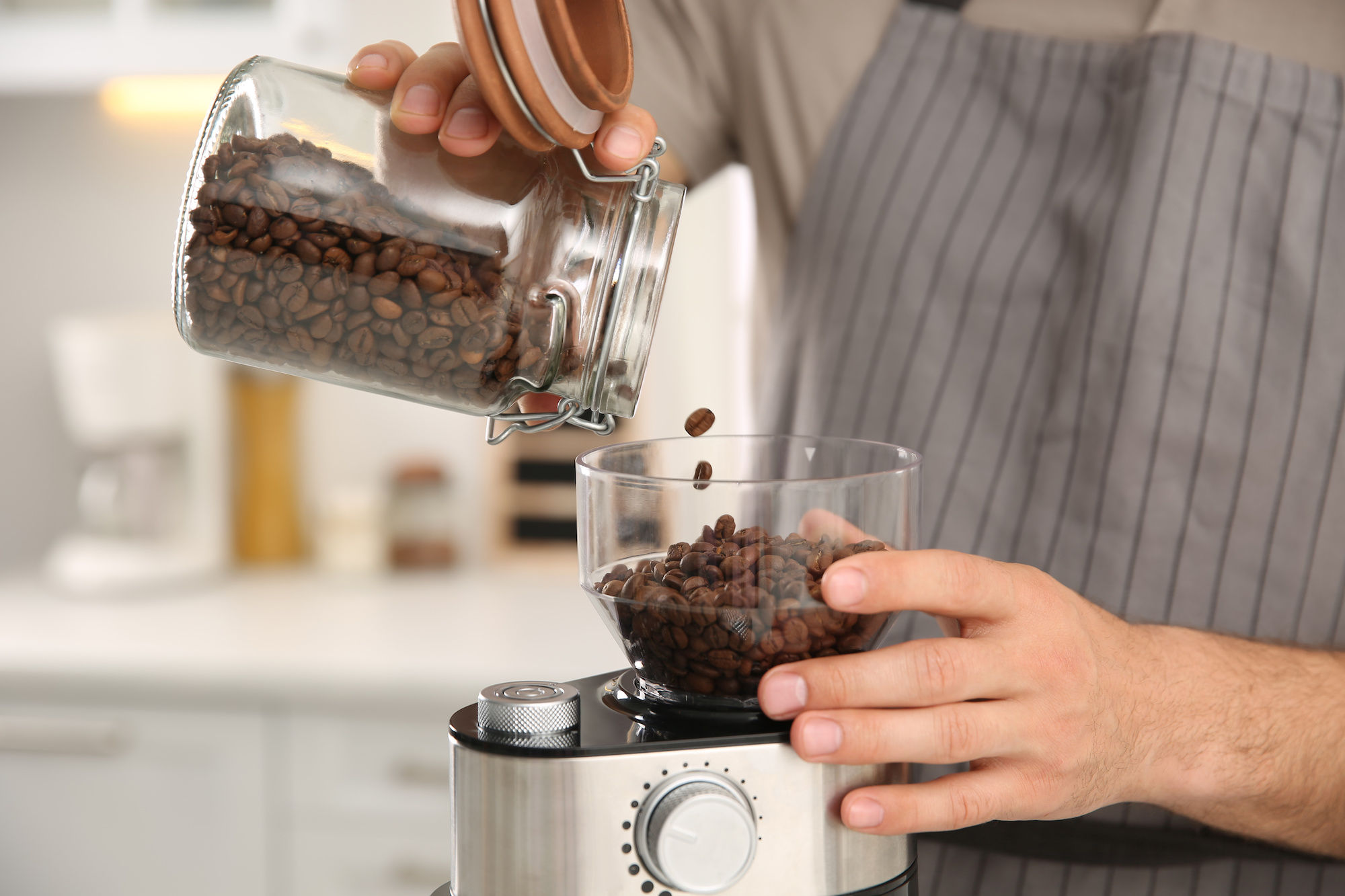 When coffee beans are ground, their surface area is greater, which can lead to a loss of flavor over time. By grinding your own beans just before brewing, you preserve the rich flavors, ensuring a delicious and aromatic cup of coffee.
Another benefit of grinding coffee at home is the ability to control the grind size. Different brewing methods require different grind sizes, and by grinding your own coffee, you can tailor the grind to your preferred brewing method, optimizing the flavor extraction process.
Additionally, grinding your own coffee promotes a cleaner cup of coffee, as there is a reduced risk of contamination from external factors that pre-ground coffee may be exposed to during storage.
Overall, grinding your own coffee unlocks the full potential of the coffee beans, delivering an unmatched flavor and aroma while allowing for customization of the brewing process. The benefits of this practice are sure to appeal to those who true coffee drinkers and care about their coffee experience.
Fundamentals of Coffee Grinding
Coffee grinding is an essential process that enhances the flavor and aroma of your morning beverage.
In other words, grinding your own coffee is the best way to a perfect cup of coffee — the best flavor.
To understand the process, one must be familiar with the key components involved, including coffee beans, grinders, and the various grinding mechanisms.
Coffee beans, the seeds extracted from the fruit of the Coffea plant, are usually roasted and then ground to create an aromatic and flavorful coffee. Grinding the beans makes it easier for hot water to extract the flavor compounds, oils, and caffeine during brewing. Whole beans can be ground using different types of grinders, such as electric or manual grinders.
Coffee Grinders Overview
There are two main types of coffee grinders – blade grinders and burr grinders.
Blade Grinders
Blade grinders use sharp blades to chop and pulverize the beans, while burr grinders utilize two abrasive surfaces to crush the beans uniformly. Among these, burr grinders are often preferred due to their specific grind size and better control over the grinding process.
Electric Coffee Grinders
An Electric grinder offers convenience and speed, as they can quickly grind large amounts of coffee beans. On the other hand, a manual coffee grinder requires more time and effort to grind coffee beans.
However, they give the user more control over the grind size, which can affect the taste and brewing method of the final beverage.
Manual Burr Grinders
Grinding mechanisms play an essential role in the quality of the ground coffee. A good grinder should be able to produce a consistent grind size, as uniform particle size will result in an even extraction during brewing.
Moreover, grind control is important for tailoring the coffee grounds to specific brewing methods, such as Frenchpress, espresso, or drip coffee.
Different Grinder Types and Their Impact
Grinding your own coffee can significantly improve the flavor and overall experience.
Burr Coffee Grinder
Burr grinders are widely considered to be the gold standard in the coffee world.
They use two abrasive surfaces, called burrs, to crush the coffee beans into a uniform size. Burrs can be made from steel or ceramic, and the quality and consistency of the grind will depend on the materials used.
Some popular burr grinders on the market include the Baratza Encore and the Breville Smart Grinder Pro.
These grinders offer a range of grind settings, from fine espresso grinds to coarser Frenchpress grinds.
The grind consistency and precision of a burr grinder can elevate the quality of your coffee, resulting in a better-tasting cup.
Blade Grinder
Blade grinders are more affordable and accessible to coffee lovers.
They use a spinning blade to chop the coffee beans, rather than crushing them like a burr grinder.
While blade grinders are more compact and may be more convenient for some users, they do not deliver the same consistent grind size as burr grinders.
The inconsistencies in grind size can lead to uneven extraction, affecting the overall taste of your coffee.
Blade grinders are generally not recommended for espresso machines, as the grind will likely not be fine enough for optimal extraction.
Choosing the Right Grinder
When selecting a quality grinder, it is essential to consider the type of coffee equipment you are using, your preferred brewing method, and your budget:
Espresso machine: A consistent, fine grind is critical for espresso machines. Burr grinders are the preferred choice for achieving the desired grind size and consistency.
Coffee lovers: If you take your coffee seriously and want the best tasting coffee, investing in a quality burr grinder can make a noticeable difference.
Budget considerations: While burr grinders are the ideal choice, if you are on a tight budget, a blade grinder can still improve your coffee game compared to pre-ground beans.
In conclusion, the type of grinder you use has a significant impact on the quality of your coffee. Burr grinders provide the best consistency and precision, while blade grinders may be more budget-friendly but deliver less desirable results.
Consider your priorities as a coffee enthusiast when choosing the right coffee grinder for your needs.
Unleashing the Full Flavor Profile
When it comes to fresh ground coffee, grinding your own whole beans can provide various benefits that elevate the overall flavor profile of your cup.
This section will highlight the importance of the right grind size and brewing methods, as well as the impact of freshness and aroma on the taste of your coffee.
Grind Size and Brewing Methods
Different brewing methods require different grind sizes to achieve optimal extraction and flavor. Adjusting the grind size ensures that you get the most out of your beans for each brewing method.
Here are common brewing methods and their right size grind:
Turkish coffee: Extra fine grind
Espresso: Finer grind
Moka pot: Fine to medium-fine grind
AeroPress: Medium-fine grind
Pour-over (Hario V60, Kalita Wave, Chemex): Medium grind
Drip coffee makers: Medium grind
Frenchpress: Coarse grind
Cold brew: Extra coarse grind
By grinding your own coffee, you can precisely control grind size to suit your preferred brewing method and optimize the extraction process, thereby enhancing the flavor of your coffee.
6 Amazing Benefits of Grinding Your Own Coffee
1. Freshness and Aroma
One of the primary benefits of grinding your own coffee beans is the freshness and aroma that comes with freshly ground coffee. Whole coffee beans store their natural oils and keep the coffee's fragrance and aroma intact.
When you grind whole bean coffee, these coffee oils are released, contributing to the richness and complexity of the flavor profile.
Preground coffee, on the other hand, loses some of its freshness and tastes stale due to the oxidation process over time.
Health and Quality Benefits of Grinding Your Own Coffee
Grinding your own coffee offers several advantages, both in terms of coffee quality and potential health benefits.
2. Better Flavor
One of the main benefits of grinding your own coffee is an improved coffee flavor.
By grinding your coffee right before brewing, you preserve the essence and fragrance of the coffee beans, which begins to decline once the beans are ground.
This results in better quality coffee with a richer aroma and taste.
3. Ability To Experiment with Grind Sizes
Grinding the beans yourself also gives you the opportunity to experiment with different grind sizes. Different grind sizes, or coarseness, produce different flavors and can significantly influence the sensory experience of each cup.
This control allows you to customize and achieve the desired coffee strength and flavor for each brewing method you choose.
4. Cleaner Cup of Coffee
In addition to great tasting coffee, grinding your own beans can contribute to a cleaner cup of coffee.
Ground coffee particles can sometimes contain impurities or hidden contaminants.
By purchasing whole bean coffee and grinding them yourself, you minimize the risk of consuming unwanted substances, especially if you opt for organic coffee from trusted sources.
5. More Antioxidants
When it comes to health benefits, fresh coffee is known to provide antioxidants that are beneficial for the body. Antioxidants in coffee can help neutralize free radicals and reduce inflammation.
Grinding your own coffee ensures a fresher cup, making it more likely that you will obtain a higher level of these key antioxidants.
6. More Caffeine For Your Brain
Moreover, the consumption of fresh, quality coffee can have positive effects on brain stimulation. Coffee is a source of caffeine, which can enhance focus, learning ability, and productivity.
By grinding your own coffee and preserving its maximum freshness, you can optimize the potential brain stimulation benefits it provides.
Practical Considerations for Grinding Your Own Coffee
Ease of Use
Grinding your own coffee may seem intimidating at first, but it becomes an easy and enjoyable process with time. Acquiring a good coffee grinder is essential for this purpose.
Electric grinders make the process faster and more efficient, while manual grinders offer a slower, more controlled approach. Both options have their advantages, and choosing one depends on your lifestyle and preferences.
Grinding your own coffee is typically more time-consuming than using preground coffee, but it provides a fresher and more satisfying taste.
Tips for Better Coffee Grinding
To get the best results from grinding your own coffee, consider the following tips:
Start with freshly roasted whole beans.
Experiment with different grind sizes (coarse, medium, or fine) to find your preference.
Grind only the amount of coffee you need for each brew to avoid waste and ensure freshness.
Keep your grinder clean to prevent residue build-up and contamination.
If traveling or camping, opt for portable grinder options for convenience.
Benefits of Grinding Your Own Coffee Summary
Grinding your own coffee beans offers several benefits that enhance the overall coffee experience. Firstly, it provides a higher quality coffee, as the freshness and flavor are preserved.
When coffee beans are ground just before brewing, their aroma is more prominent and the coffee's essence is retained, resulting in a more satisfying cup.
Secondly, grinding your own coffee allows for better control over the grind, which is essential for achieving the optimal extraction and taste.
Different brewing methods require different grind sizes, and having the ability to adjust this can drastically improve the final outcome of your coffee.
Moreover, grinding your own coffee beans contributes to cleaner coffee by reducing the risk of exposure to contaminants or stale grounds.
Grocery store bought pre-ground coffee can contain traces of impurities or become stale, negatively affecting the taste and freshness.
Lastly, freshly ground coffee offers potential health benefits, such as increased brain stimulation and antioxidant content.
By grinding your own beans, you can ensure that you are getting the most out of coffee's potential advantages.