The trees are blossoming, the flowers are popping up, the birds are chirping—spring has sprung!
Time to switch to iced coffee (if you ever took a break from it). Here are some super-easy ways to add a bit of flavor to your iced coffee or spring coffee drinks!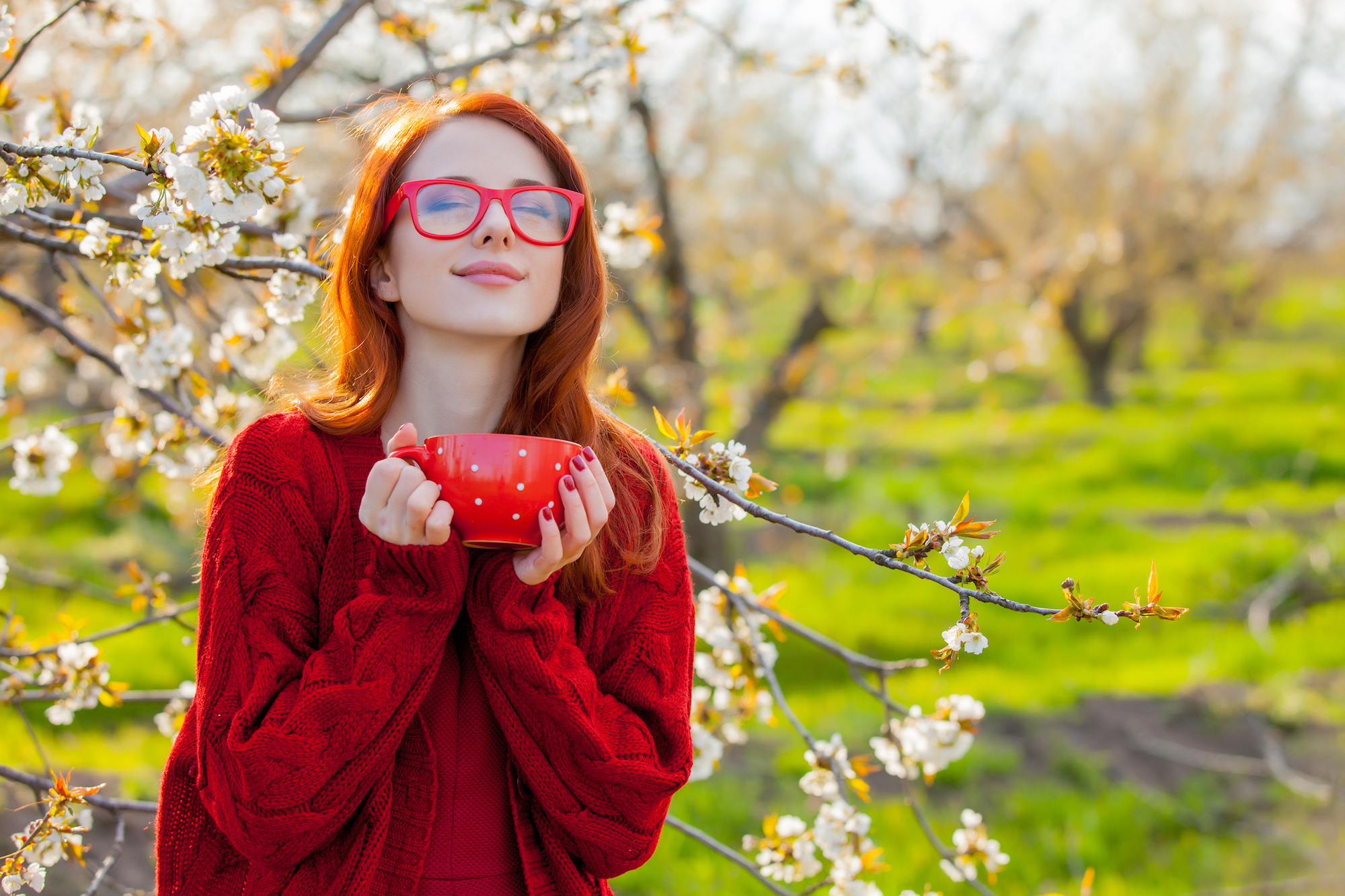 Many of these ideas involve making your own simple syrup.
Which is easy!
Simple Syrup Recipe (For Spring Coffee Drinks)
Add equal parts water and sugar to a small saucepan, bring to a boil, stir to combine, and reduce heat to medium, cooking until the sugar has dissolved.
(Usually you'll add your mix-in at the same time as the water and sugar.)
Let the mixture cool a bit, strain to remove the mix-in, and chill in the fridge.
Your Simple Syrup Is Versatile
Add a tablespoon of syrup to your glass of iced coffee, iced tea, lemonade, seltzer or club soda (your own homemade flavored soda!), or favorite adult beverage.
Store in the fridge for about a week or two.
1. Mint Simple Syrup
Try a refreshing mint simple syrup!
One cup water, one cup sugar, and 1/4 cup mint leaves will make about 16 one-tablespoon servings. Add to your regular glass of iced coffee.
Or become a mint iced coffee mixologist! Combine muddled mint, sugar, ice, coffee, and cream/milk in a cocktail shaker or mason jar and shake it up.
2. Honey
Can't get easier than this! Add a little honey and maybe even a pinch of sea salt to your usual glass of iced coffee. (The salt will neutralize the bitterness and enhance the coffee flavor.)
3. Vanilla
A bit of vanilla extract in your usual glass of iced coffee will do the trick for a quick flavor boost!
Or try making a simple syrup by adding a split vanilla bean along with the water and sugar in the saucepan before boiling, or you can add vanilla extract after the water-and-sugar mixture has cooled.
4. Rose Water
Try adding about a tablespoon of rose water to your iced coffee.
You can purchase rose water or rose tea tags, or you can make a simple syrup with rose water, rose petals, or dried rosebuds.
You could even pair the rose flavor with cardamom, vanilla, or lavender.
5. Lavender Simple Syrup
Lavender syrup for coffee is a refreshing way to spice up your favorite iced coffee or routine beverage.
Even if you are not a coffee person, you can add lavender syrup to many beverages, including soda, lemonade, iced tea., and even alcoholic mixers.
Here is the perfect way to add lavender simple syrup to your iced coffee and celebrate the warmer months.
6. Lemon
Yes, really—coffee lemonade! Think of it as an Arnold Palmer coffee.
You can make a simple syrup with freshly squeezed lemon juice or with lemon zest, or use lemonade that you have on hand. Aim for 1 part lemonade and 2 parts coffee.
Add a bit of sparkling water and enjoy!
Or even easier: a bit of lemon juice in your usual iced coffee. You could also do a mix of lemon juice and orange juice, or just orange juice.
7. Berry
You can go super easy and use a few drops of a berry extract. Or you could make a thin fruit puree or a berry simple syrup.
Feel free to mix a few different berries together. Add the puree or syrup directly to your glass of iced coffee, or use them as sweeteners in other drinks.
Try strawberry-basil, blueberry-mint, raspberry-lemon… you're only limited by your imagination!
Spring Coffee Drinks Summary
Happy spring sipping! Enjoy experimenting and finding out what flavors work best for you. Have fun and be creative! The possibilities are endless. So there you have it—plenty of ways to jazz up your usual glass of iced coffee and start sipping spring.