It's that time of the year again when Starbucks gives away their limited edition red cups! Discover the complete Starbucks Red Cup Day 2023 guide, including a list of this year's eligible drinks!
November 16, 2023, marks the beginning of the most wonderful time of the year for coffee lovers and Starbucks fans. And this year (2023), Starbucks is serving up some of its best drinks in a decade!
In this blog post, we'll share the eligible drinks for the upcoming Red Cup Day and answer all your questions about this event.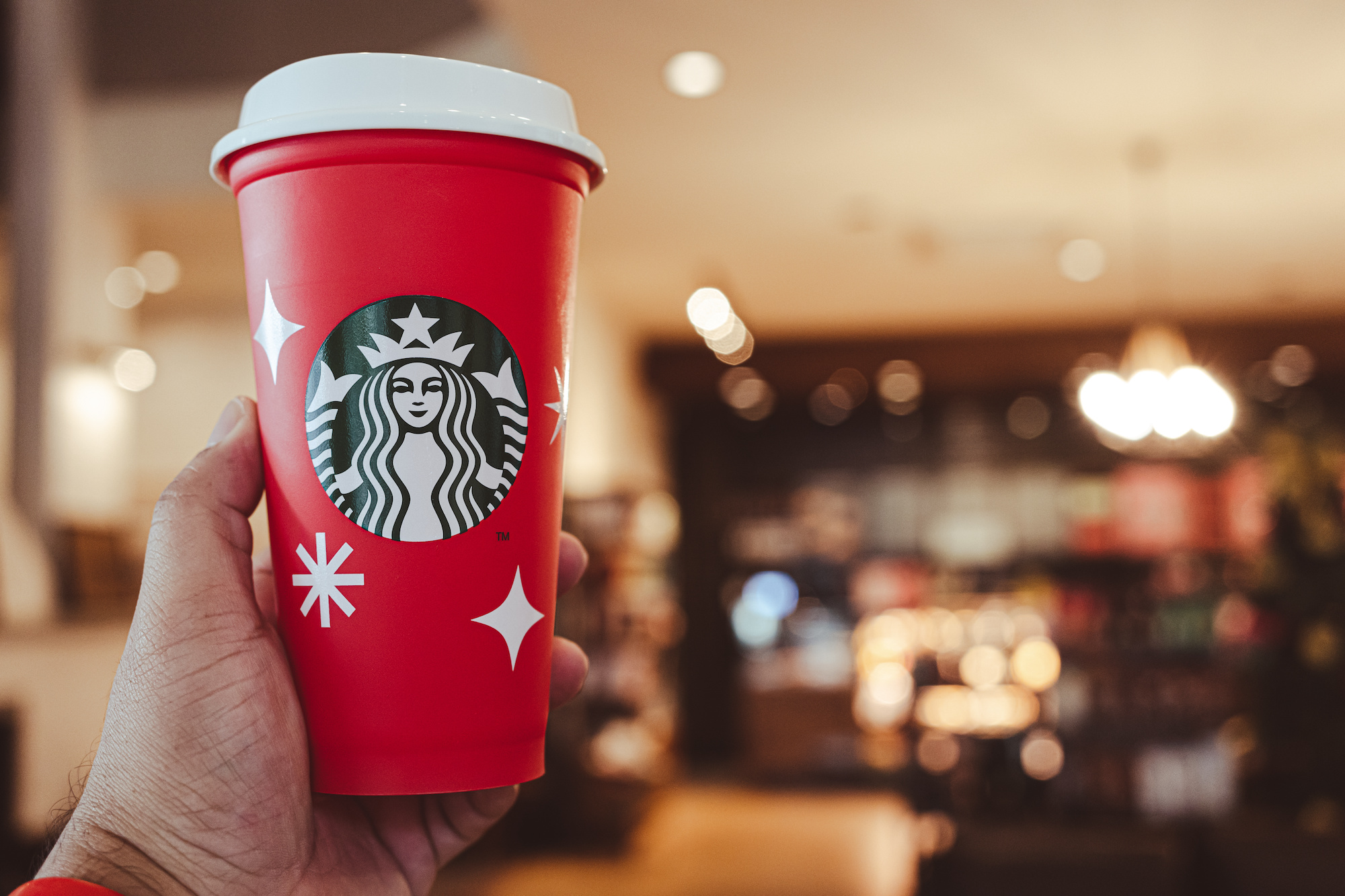 Starbucks Red Cup Day Date and Time
On Thursday, November 16, 2023, Starbucks locations nationwide will open for their annual Red Cup Day.
For every fall or holiday handcrafted beverage you purchase, you'll receive a free reusable red cup.
Related: Starbucks Red Holiday Cups Through the Years – For more than twenty years, Starbucks has celebrated the season with holiday cups.
This offer is available while supplies last, so make sure to mark your calendar and grab your favorite Starbucks beverage on this day.
But, not all drinks are eligible for a free red cup, and we've got the complete list for you.
Choose Eligible Drinks On Starbucks Red Cup Day 2023
Peppermint Mocha and White Mocha
Chestnut Praline Latte
Caramel Brulee Latte
Sugar Cookie Almondmilk Latte
Gingerbread Oatmilk Chai Latte
Hot Chocolate or White Hot Chocolate
Peppermint Hot Chocolate
Pumpkin Spice Latte
Iced Pumpkin Cream Chai Tea Latte
Apple Crisp Macchiato
Iced Apple Crisp Oatmilk Shaken Espresso
Drinks Not Eligible
It's important to note that tea or brewed coffee is not eligible for this promotion.
Additionally, baristas will not serve your beverage in the reusable red cup, but you'll receive it separately.
The eligible drinks are available in all sizes and forms (hot, iced, or blended), so you can indulge in your favorite Starbucks drink on Red Cup Day.
Get To Starbucks Early This Thursday!
Typically, Starbucks will be open from around 6 a.m. to 8 p.m. on regular days, but stores can open as early as 5 a.m. and stay open until 11 p.m. or later, depending on the location.
It's also essential to understand that the promotion is only available while supplies last.
The promotion will end once the Starbucks locations run out of red cups.
With that said, make sure to go early and grab your favorite drink to take advantage of the free, limited-edition reusable red cup.
Save At Starbucks This Holiday Season
The holiday season is here and that means festive drinks and treats from Starbucks.
But with those delicious drinks comes the pricey cost that can add up quickly. Fear not, coffee lovers, as we have found some ways to save money while still enjoying your favorite holiday drinks.
Here are some tips to help you save money at Starbucks this holiday season.
The easiest way?
Sign up for Starbucks rewards.
Starbucks's rewards program offers discounts, free drinks, and exclusive offers to its members.
Sign up for free, earn rewards, and redeem them on your holiday drinks while saving some money.
You can even earn points with every purchase and redeem them for free drinks, food, or any other treats.
Starbucks Red Cup Day 2023 Summary
Starbucks Red Cup Day on November 16, 2023, is an event that coffee lovers and Starbucks fans eagerly anticipate.
Enjoying your favorite Starbucks beverage and getting a limited-edition red cup is an excellent opportunity.
Set an alarm on your phone, go early, and pick up your favorite drink to take advantage of this promotion.
Don't forget to take a picture of your red cup and tag #bestcoffeerecipes on social media!