It's hard to believe that Christmas is almost here. Soon it will be winter and the holidays will be behind us. For more than twenty years, Starbucks has celebrated the season with holiday cups. The first was in 1997, and today, those initial holiday cups are hard to find—few were saved (who knew the impact they'd have?), electronic design files were lost (a 2001 earthquake), and it was not yet common to take food/coffee selfies (the word "selfie" wasn't even in use until the early 2000s.)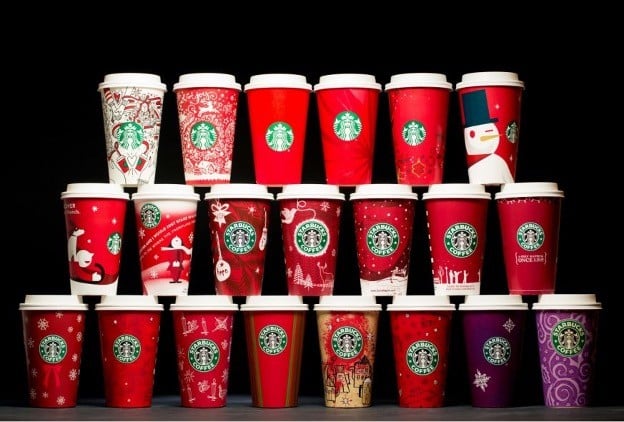 In August 1997, designer Sandy Nelson was new to the company, and the holiday cup design was one of her first assignments with the company: "We had what felt like a hundred cup designs pinned up on the wall. Then Howard [Schultz, then Starbucks CEO] came by, looked at them, and picked my design. I couldn't believe mine was chosen."
Starbucks First Holiday Cups
We think of red Starbucks holidays cups, but the first cups came in four jewel-toned colors (magenta, sapphire, emerald, and amethyst), with a design of swirls, holly leaves, and coffee beans.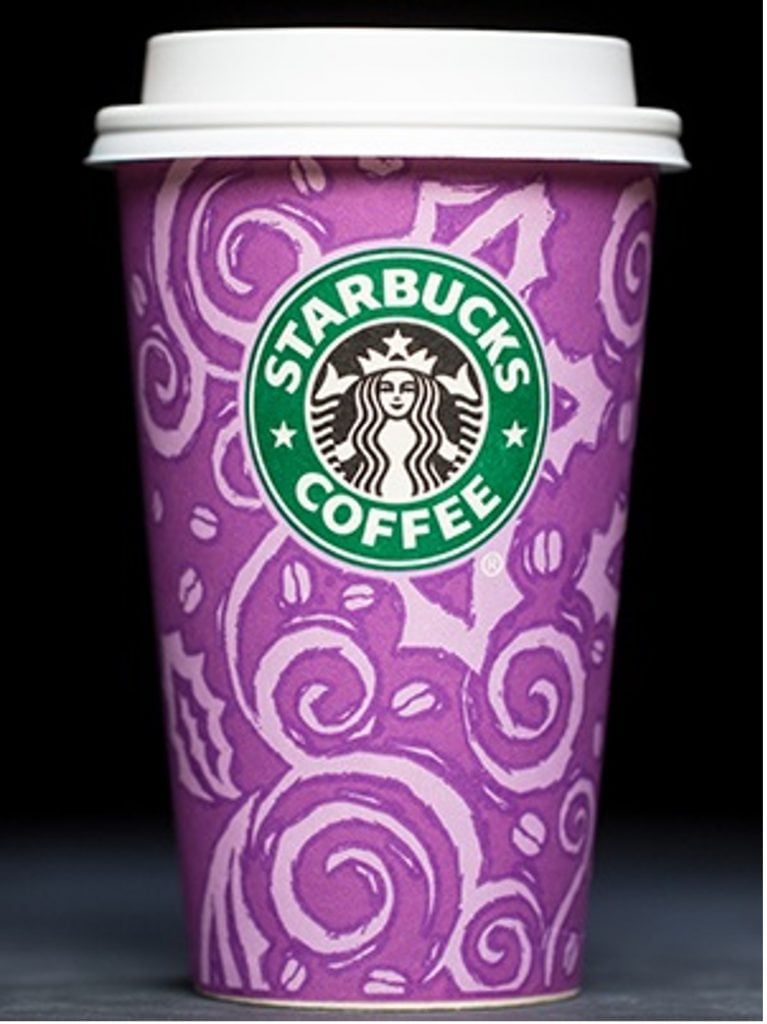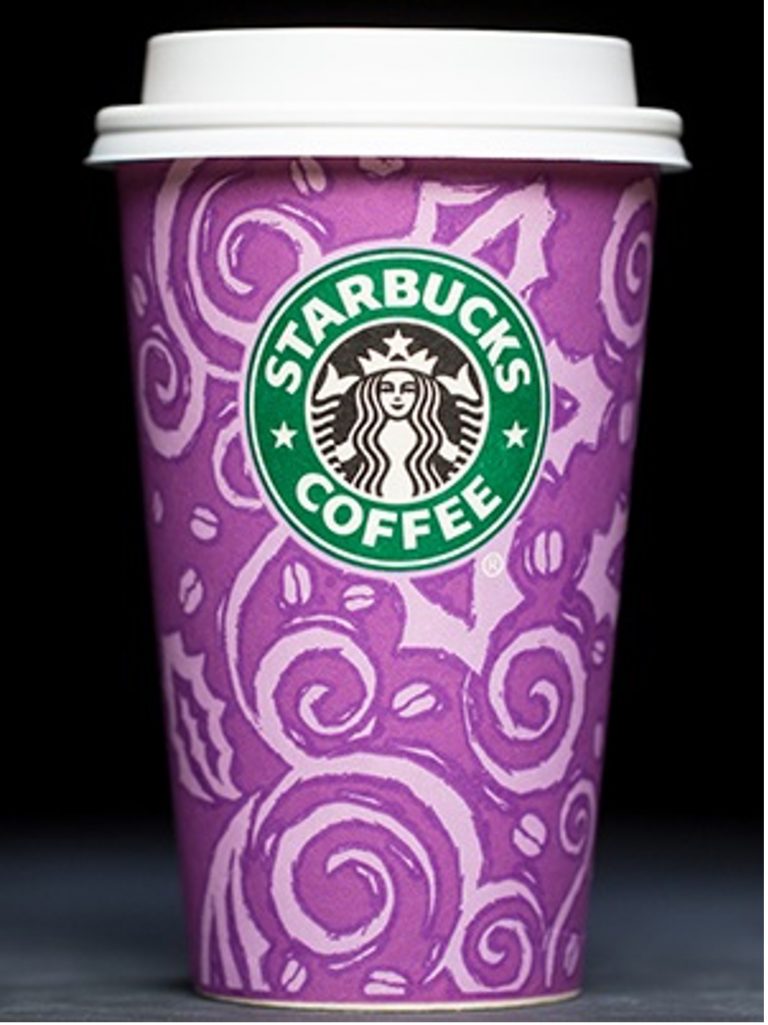 First Starbucks Red Cups
The red we know and love/hate came in 1999 and featured snowflakes, stockings, and other holiday images. That year, Jon Cannell, a member of the design team, called the candy-apple red "joyous" and said that "it really resonated with customers."
In 2000, the Gingerbread Latte made its first appearance with the red-and-brown-kraft-paper "Coffeetown" holiday cups.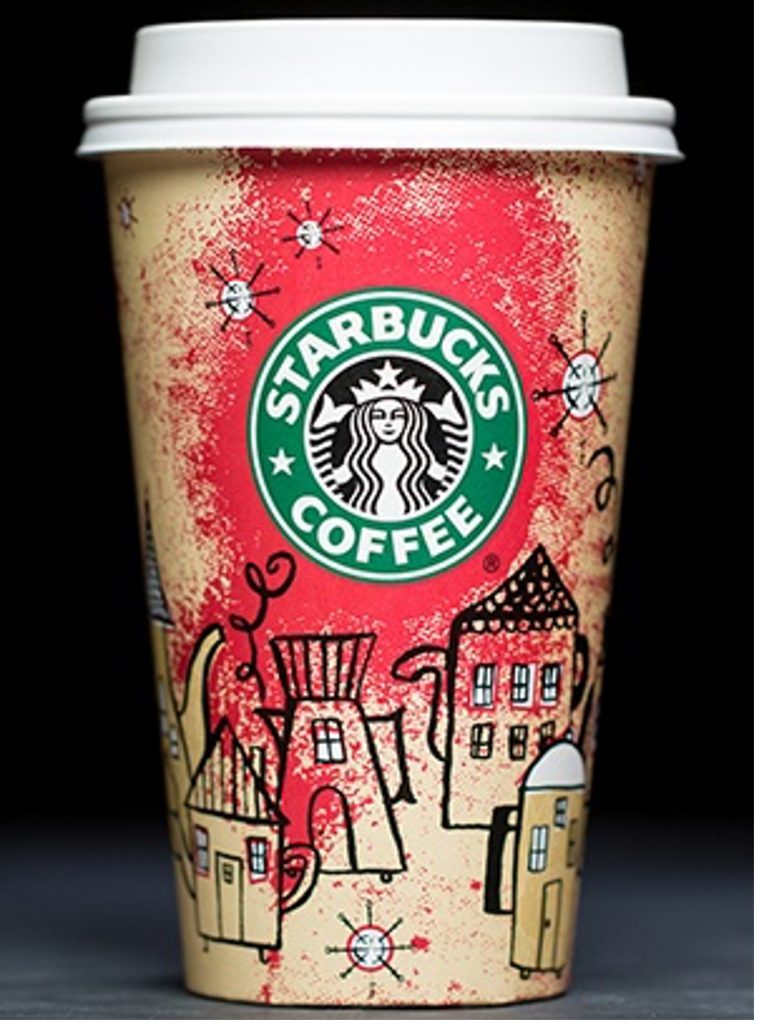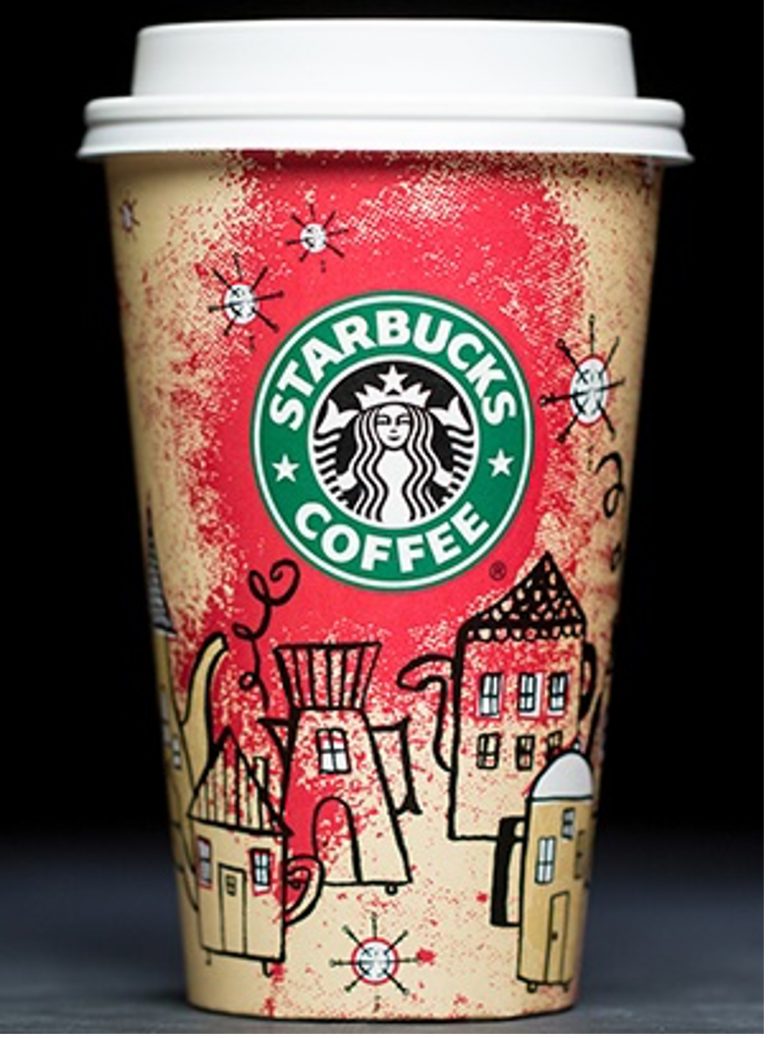 The next decade would feature cups that looked like a gift, with green and red ribbon; cups with whimsical holiday line art, a style that would come back in several years' designs; cups with many snowflakes; cups with illustrations resembling paper silhouettes in traditional holiday settings; and cups with cozy knit-sweater backgrounds.
In 2010, cups began to have a more modern look to the designs. 2013 featured a touch of gold on the red cup, and 2014's cups had bold brushstrokes and colors. In 2011, Starbucks Cup Magic, an augmented reality app that made the scenes on the cup, came to life.
The Starbucks Red Cup Christmas Controversy
And then there was 2015: the red cup that waged a "war on Christmas" was actually a poppy-and-cranberry-colored ombré. Christian internet evangelist Joshua Feuerstein's video went viral, and other conservatives also took up the cause. Starbucks responded by affirming "a culture of belonging, inclusion, and diversity" as one of the company's core values.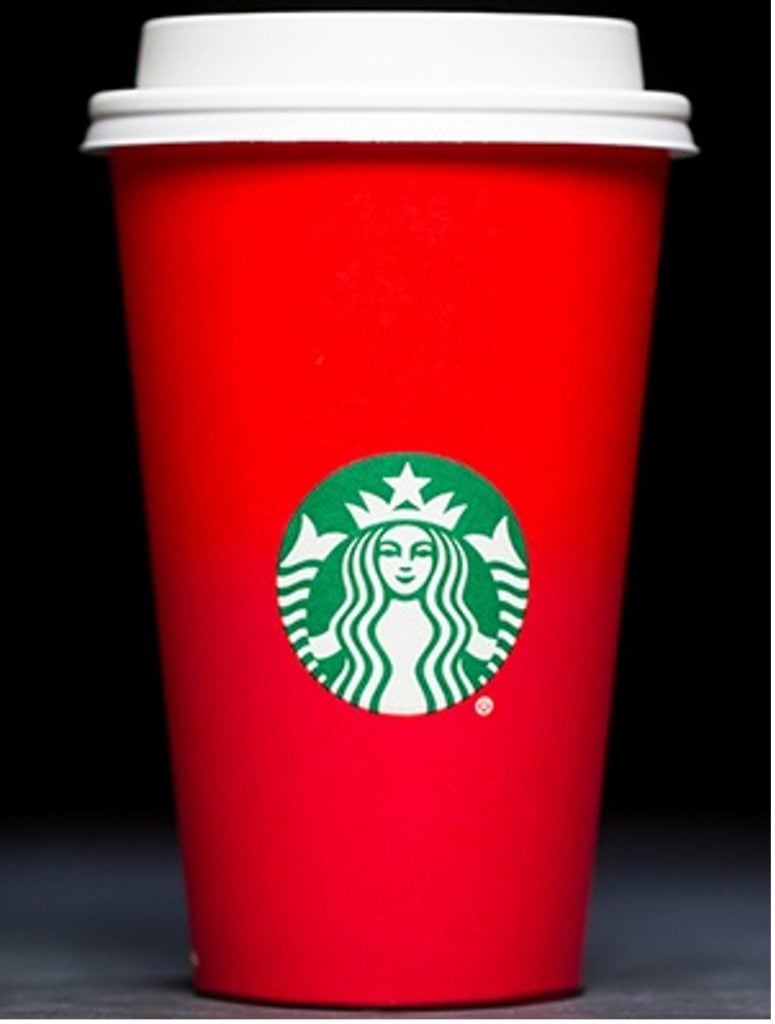 The year 2016 featured 13 designs by women from six different countries, all in white-on-red color schemes, and expressing "the shared spirit of the holidays as told by our customers." (There was controversy right before these came out: on November 1, right around the time the holiday cups are introduced, there was an uproar when stores began using a green cup with a "mosaic of more than a hundred people drawn in one continuous stroke"—a limited-edition cup symbolizing community and unity that came out right before the 2016 US election. The actual holiday cups came out shortly after.)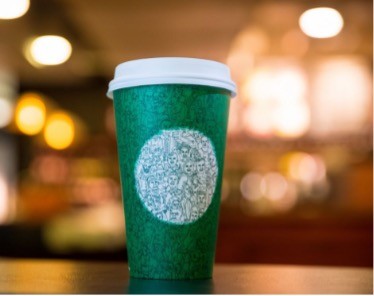 And then there was 2017 and another controversy, though much more muted this time: the cup included a drawing of a pair of hands connecting, and the genders were not clear, to which a BuzzFeed article asked a question already popping up on social media: "Definitely gay, right?" (Color-wise, the cup was a break from sixteen years of red backgrounds: it featured black line drawings, including a Christmas tree and presents and ornaments, on a white background with splashes of red and green—it was intended as an interactive cup customers could draw on.)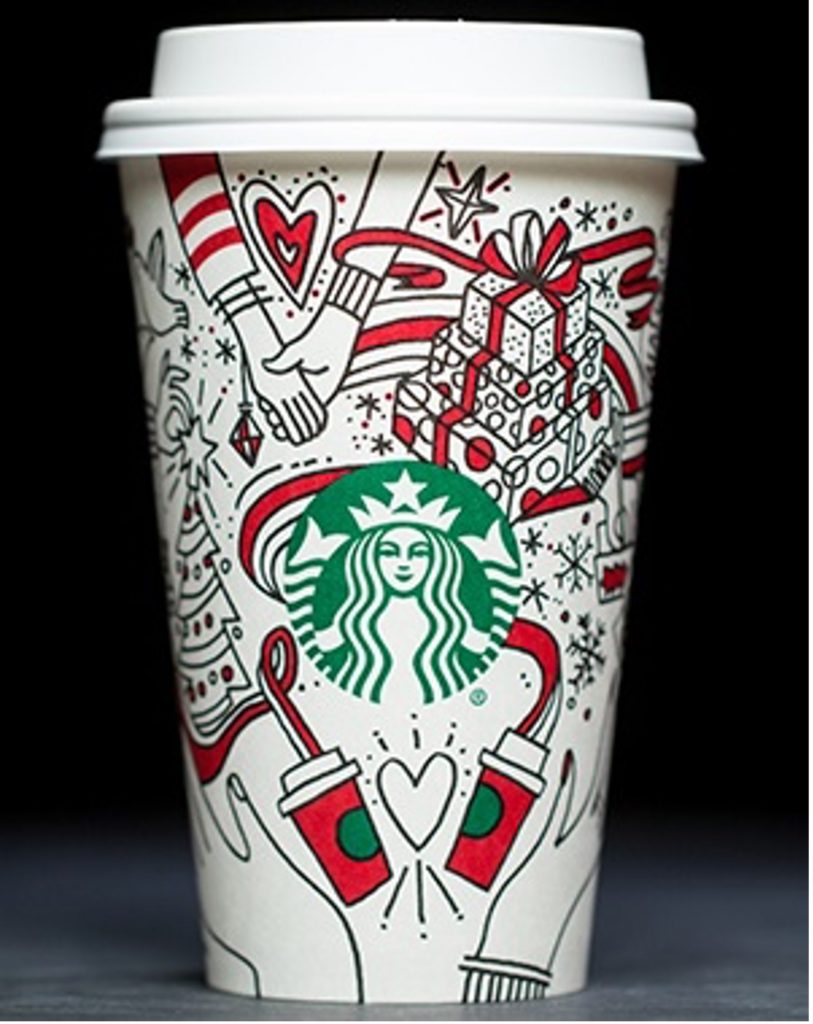 Another controversy popped up in 2018, but this time it was unrelated to the design—the lineup included a free reusable red cup with a 50-cent discount on drinks during certain hours of the day throughout the holiday season. (For the holiday designs, an all-red cup was back, along with a few other designs, including another all-green one.) The cup was available for one day only, and most locations ran out early in the day.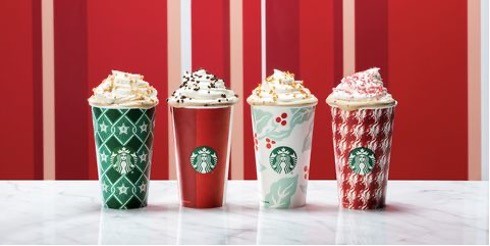 2019 included another reusable cup and simple, cheerful designs.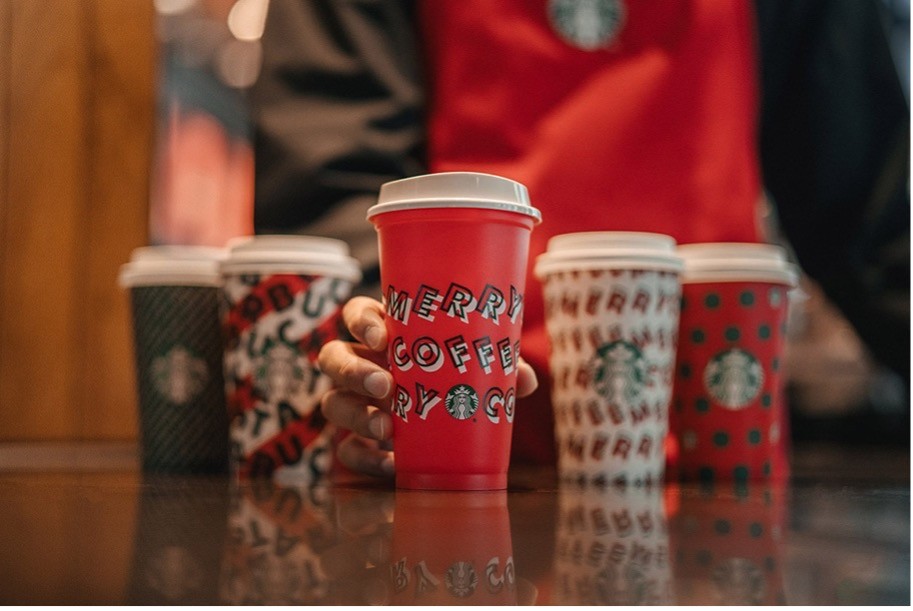 2020 Starbucks Holiday Cups
2020 was a year like no other. Orders could be made in the café, drive-through, or curbside pickup, with mobile orders rising. Starbucks again offered a reusable cup with discounts, and the holiday lineup featured more traditional yet whimsical designs.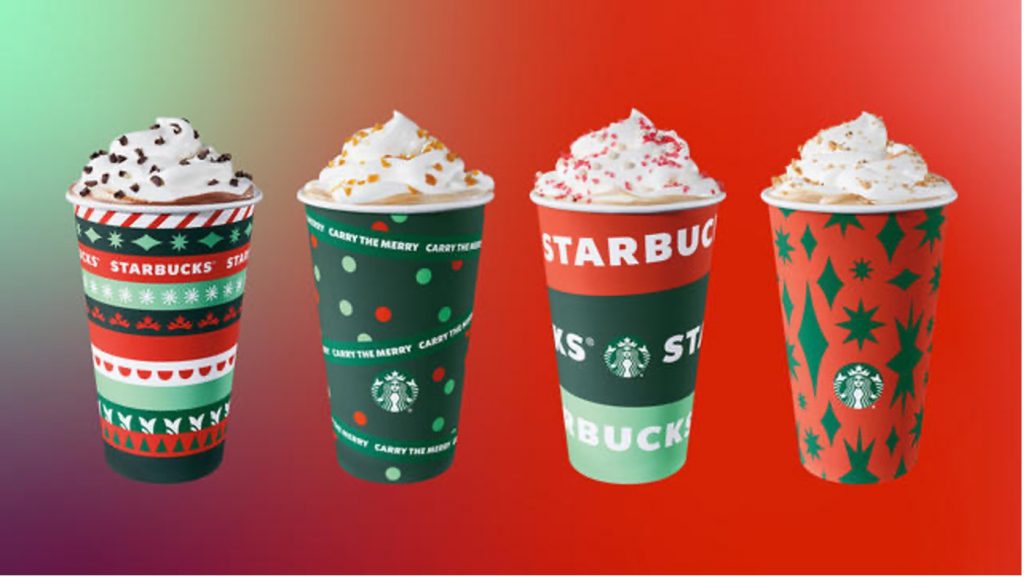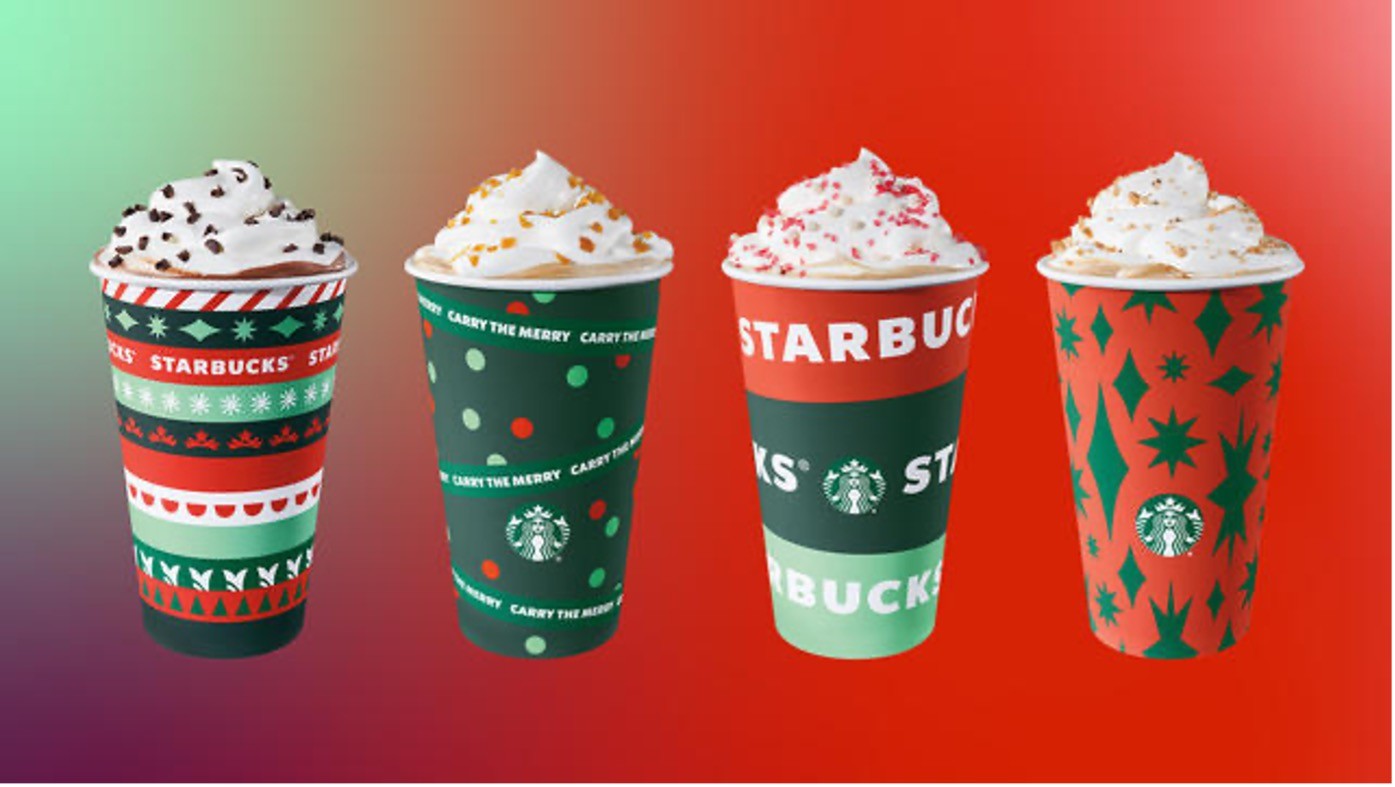 Countdown to Starbucks Red Cups 2021
This year, Starbucks is bringing back their festive red cups. Rumor has it that new designs will be unveiled Sunday, November 7, 2021. We'll update this post when we have more information about how you can get your hands on a cup of coffee with the new Starbucks red cups.

Sources:
Starbucks Stories – 20 Years of Holiday Cups
Starbucks Stories – Starbucks Green Cups
Vox – Holiday Cups Explained
Vox – Starbucks Green Cup Controversy