Want to know how to get this year's Starbucks free reusable red cup?
Each year on a specific day (known as "Starbucks red cup day"), Starbucks gives away a free reusable cup to customers who order a qualifying holiday drink.
Find out below what drinks qualify and when you can expect your free red cup.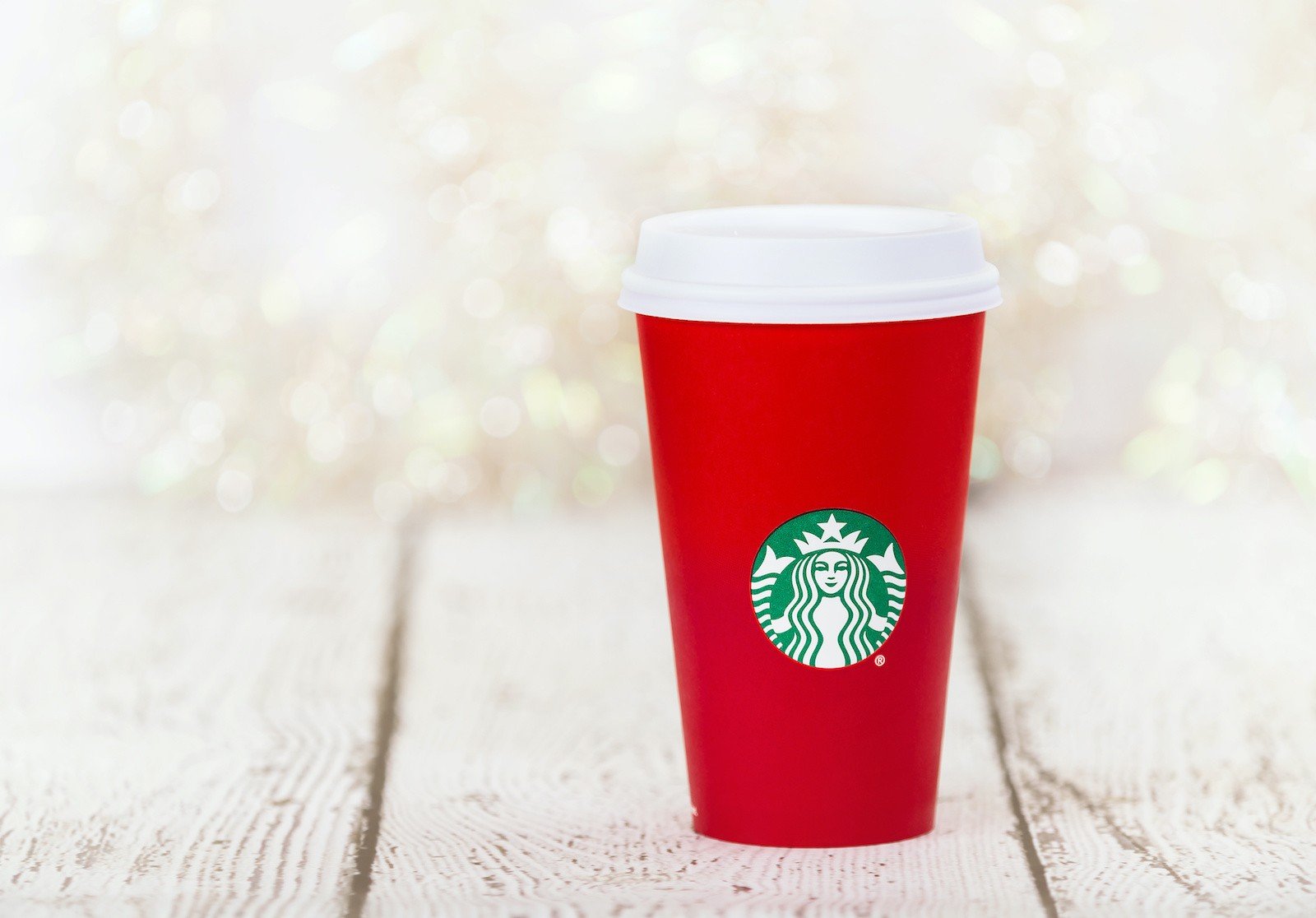 For coffee lovers everywhere, the holidays are approaching quickly, and we already have a preview of Dunkin's 2023 Holiday menu.
Starbucks customers who order a signature holiday drink on Thursday, November 16th, 2023 are eligible for one free reusable red cup.
RELATED: Starbucks Red Holiday Cups Through the Years
Starbucks Red Cup Day Eligibility
There are many beverages to choose from on Red Cup Day, including some of Starbucks' most popular seasonal drinks.
Some of the eligible drinks for the promotion include the Chestnut Praline Latte, Peppermint Mocha, Toasted White Chocolate Mocha, Pumpkin Spice Latte, and Caramel Brulee Latte.
Customers can choose to order these drinks hot, iced, or blended.
For those who prefer a Starbucks non-coffee drink, Starbucks also offers the Peppermint Hot Chocolate and a Toasted White Hot Chocolate.
These drinks are perfect for those who want to enjoy the holiday season without the caffeine.
Here are a few of the most popular returning holiday menu drinks that qualify below:
Peppermint Mocha
Caramel Brulee Latte
Chestnut Praline Latte
Toasted White Mocha
Want Pumpkin and a Red Cup?
Depending on the barista and how much supply each store is given, you may be allowed to STILL order a pumpkin drink and receive a free red cup.
It's a good idea to check with your barista and double-check check that your drink qualifies for the promotion.
Key Takeaways
Starbucks Red Cup Day is an annual event that marks the launch of the holiday drink menu.
The red cups are a symbol of the holiday season and a way for Starbucks to promote sustainability.
Red Cup Day beverages include popular holiday drinks such as the Peppermint Mocha, Caramel Brulée Latte, and Toasted White Mocha.
Free Red Cup While Supplies Last
To guarantee yourself a reusable holiday red cup, it's recommended to get to your local Starbucks early.
Starbucks is still facing a staffing shortage and dealing with supply chain issues that may limit open times and the number of red cups each store receives.
Summary
Today, Starbucks Red Cup Day remains a beloved tradition for coffee lovers everywhere.
Every year, fans eagerly await the release of the new holiday cup design, with many even collecting them as a way to remember the holiday season.
With its rich history and iconic design, the Starbucks red cup is sure to remain a holiday staple for years to come.
Frequently Asked Questions
When does Starbucks typically release their red cups for the holiday season?
Starbucks usually releases their red cups for the holiday season in early November. The exact date may vary each year, but it is typically around the second week of November. This year's date is slated for Thursday, November 16th, 2023.
What is the significance of the Starbucks red cup?
The red cups are a symbol of the holiday season at Starbucks. They are typically decorated with festive designs and are used to serve holiday-themed drinks.
The red cups have become a beloved tradition among Starbucks customers.
Does Starbucks offer any promotions or free cups on Red Cup Day?
Yes, Starbucks often offers promotions and free cups on Red Cup Day.
In the past, customers who purchased a holiday or fall beverage on Red Cup Day received a free limited-edition reusable red cup.
Promotions may vary each year, so it is best to check with your local Starbucks for details.
Are the Starbucks reusable red cups still available?
The availability of Starbucks reusable red cups may vary by location, so get there early on release day!