It seems like just yesterday that we were telling you about all of the tasty fall items that you could expect from Starbucks this year, and now the weather is getting chilly and it's time to welcome a new seasonal menu.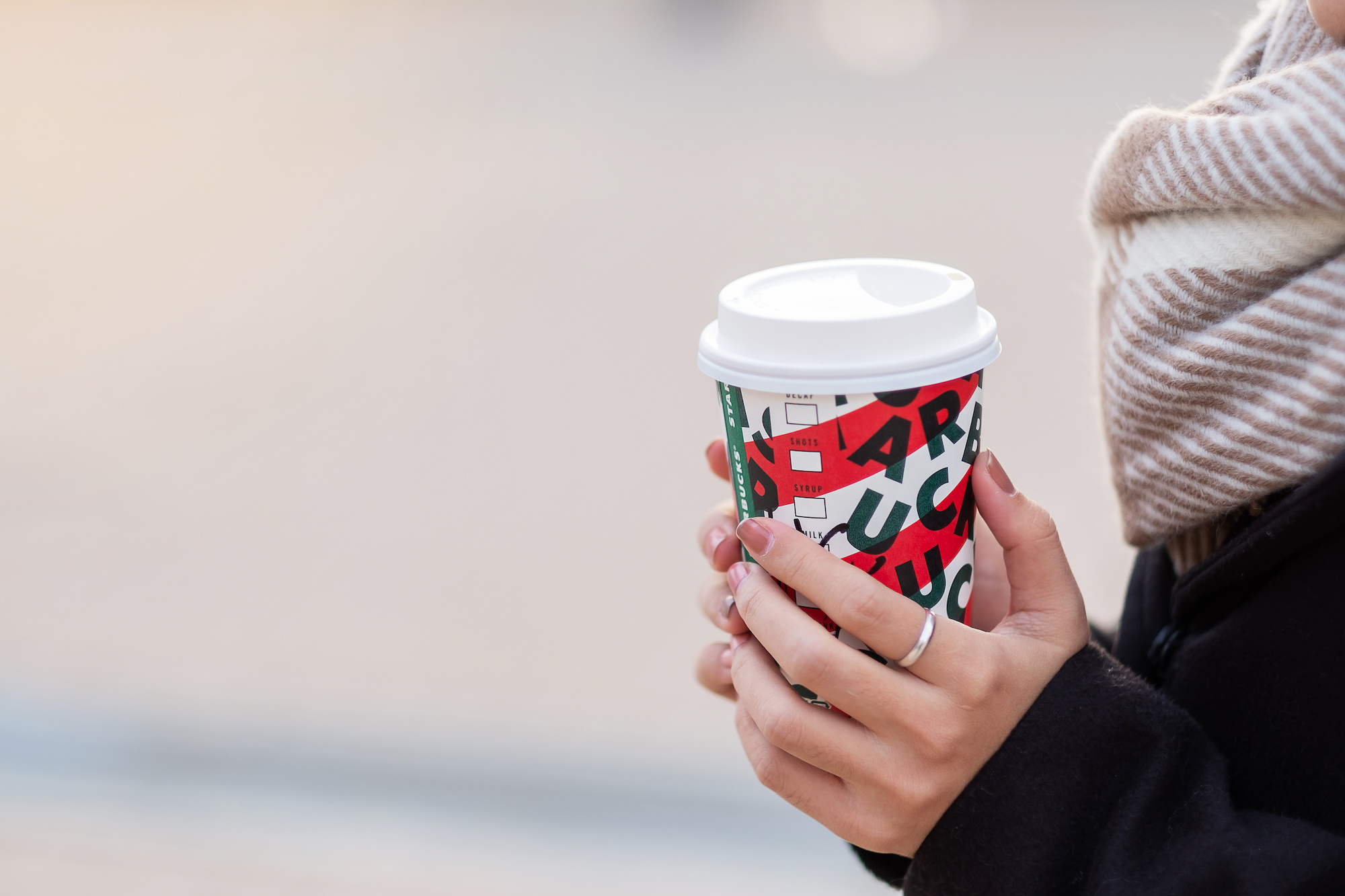 That's right, the holiday season is here, and you can start celebrating it with Starbucks.
Whether you like to stick to what you know with a classic Peppermint Mocha or you're ready to try something new, there's something on the Starbucks Holiday Menu 2023 for you.
Read on to learn about new menu items and returning favorites!
Starbucks Holiday Menu 2023 Best Drinks
Gingerbread Oatmilk Chai
The new Gingerbread Oatmilk Chai is definitely going to be one of the coziest drinks of the season.
It's available both hot and iced, so if you're a cold drink person even during winter, you're in luck.
This one is excellent for all of our lactose-intolerant pals who still want to enjoy a seasonal drink as it's meant to be prepared.
It's perfect for both winter and fall.
Peppermint Mocha
Did you know you can order a Peppermint Mocha any time of the year?
Yes, it's a drink that Starbucks advertises during the holiday season, but you can get your minty and chocolaty fix whenever you'd like.
However, if you're like us, you wait until the most wonderful time of the year gets closer before you buy one.
Lucky for you, that time is almost here. Get it hot, cold, or even in frappe form.
NEW Holiday Cold Foams
On December 4th of this year, you can start getting some tasty holiday cold foams! This is a new treat that we're all excited for.
We love adding cold foam to lattes. It adds a special "oomph" to all of our favorite drinks.
This year you can get peppermint, sugar cookie, caramel brûlée, and chestnut praline cold foams. We can't wait to try them all!
Sugar Cookie Almond Milk Latte
The Sugar Cookie Almond Milk Latte is returning for another holiday season this year.
This drink is polarizing, but it has a sweet and almost delicate taste that will be perfect for anyone who wants something more subtle than your average spicy chai concoction or a hyper-sweet peppermint mocha.
The almond milk makes it a bit less creamy than some of the other Starbucks lattes, but it also gives it a nice nutty flavor.
You can, of course, get this one either hot or iced depending on your preferences.
Caramel Brûlée Latte
The Caramel Brûlée Latte is back and better than ever for the holidays this year. This one doesn't taste quite as Christmas-y as some of the other seasonal drinks, but it's sweet and delicious.
This latte is available either hot or cold, but this one is truly better hot. It features tasty caramel brûlée sauce with espresso and your choice of milk.
On top, you get sweet whipped cream and some caramel brûlée bits to add some more sweetness and texture.
This one is always a winner.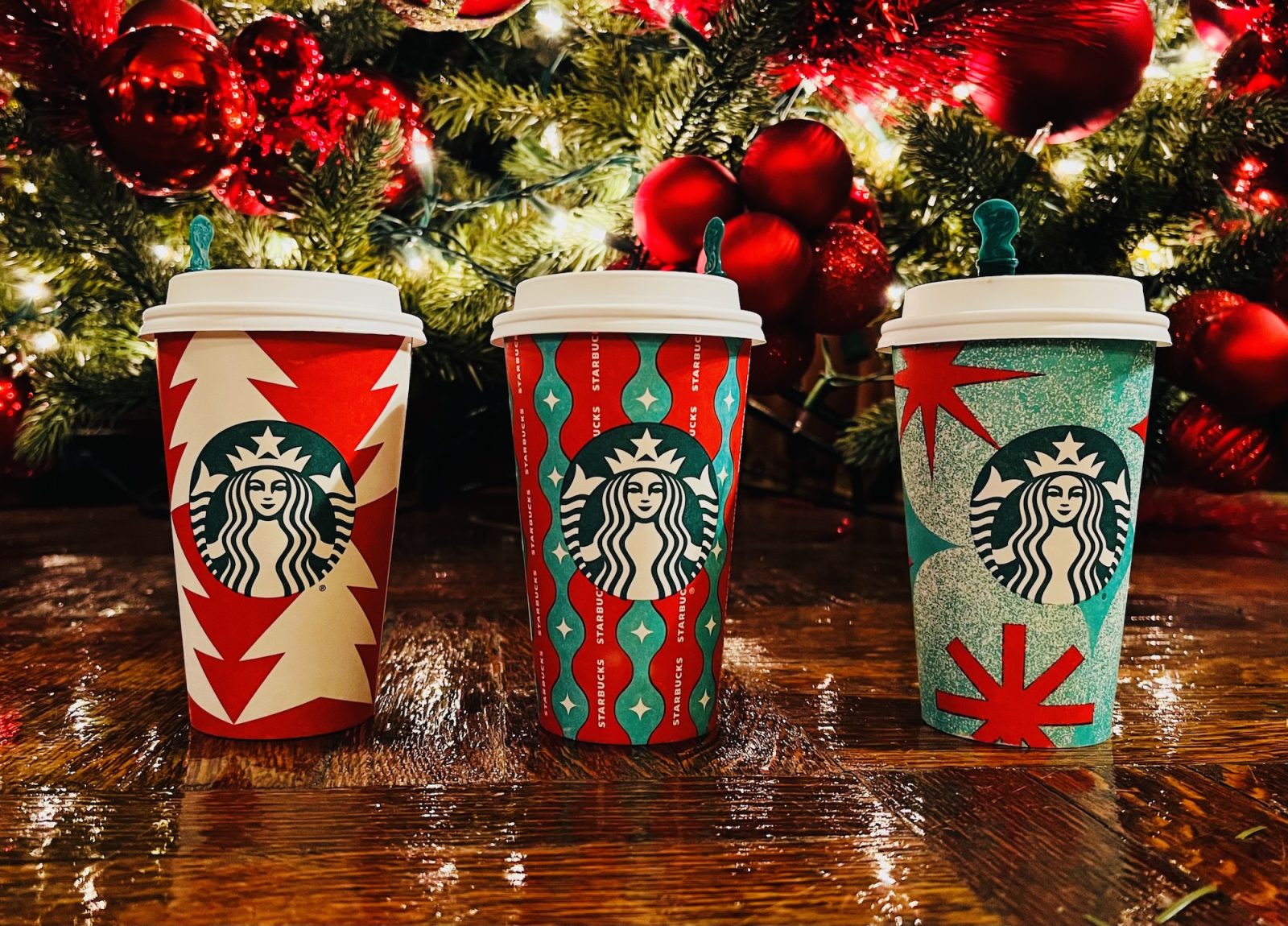 Chestnut Praline Latte
The Chestnut Praline Latte is another drink that's returning this year. It's full of the flavors of seasonal spices and carmelized chestnuts (just like chestnuts roasting over an open fire).
On top, you get tasty whipped cream and some praline bits to finish off the drink. It's available both hot and cold, but we love this one hot.
Starbucks Holiday Menu 2023 Food
Peppermint Brownie Cake Pop
Do you ever wish you could take a bite out of your peppermint mocha? Well, now you can.
The new Peppermint Brownie Cake Pop is the perfect holiday treat for you.
It's full of pepperminty and chocolatey goodness all in one tiny cake pop package.
It features peppermint chocolate cake, white chocolate frosting, and sweet peppermint pieces. It's the perfect sweet mid-day pick-me-up for the holiday season.
Snowman Cookie
The Snowman Cookie is the cutest seasonal item at Starbucks.
It's a simple shortbread cookie with white chocolate frosting and some sweet snowman decorations. It's perfect for pairing with your favorite Starbucks seasonal drink.
It may be basic, but it's a classic.
Sugar Plum Cheese Danish
Do you have visions of sugar plums? The Sugar Plum Cheese Danish may be right for you.
It's a sweet and tasty danish full of cream cheese filling.
On top, there's a special sugar plum spread. We love this as a quick and sweet breakfast paired with a simple cup of black coffee to balance out the sweetness.
Cranberry Bliss Bar
The Cranberry Bliss Bar is a simple and sweet snack that's back on the holiday menu.
It's a simple blondie cake with sweet and tart dried cranberries. On top, you get cream cheese frosting, orange zest, and even more cranberries.
This is another one that we like as a breakfast treat. It feels less seasonal than the other holiday items, but we enjoy it nonetheless.
New Starbucks Cups
Of course, we can't forget the new Starbucks cups.
Whether you're a collector who has to have them all, or you're looking for stocking stuffers, it's good to take a look at the new offerings.
There are 12 new available cup designs. We love the Geometric Glass Mug, the Iridescent Winter White Cold Cup, and the color-changing cups, but there are so many to choose from.
Check out your local Starbucks and see what's available before they're sold out!
Are You Ready for the Starbucks Holiday Menu 2023?
The Starbucks Holiday Menu 2023 has a few new offerings and a few long-time favorites.
Which seasonal menu item are you going to try first to kick off the holiday season?
We've got our eyes on the new Gingerbread Oatmilk Chai, but of course, we'll be grabbing a Peppermint Mocha at least once per week.
Tis the season, after all.