7 Brew Coffee has become a popular destination for coffee lovers seeking a wide variety of beverages and a convenient, friendly drive-thru experience. Whether you're longing for a morning pick-me-up or a refreshing cold drink, the 7 Brew cup sizes can meet the needs of everyone.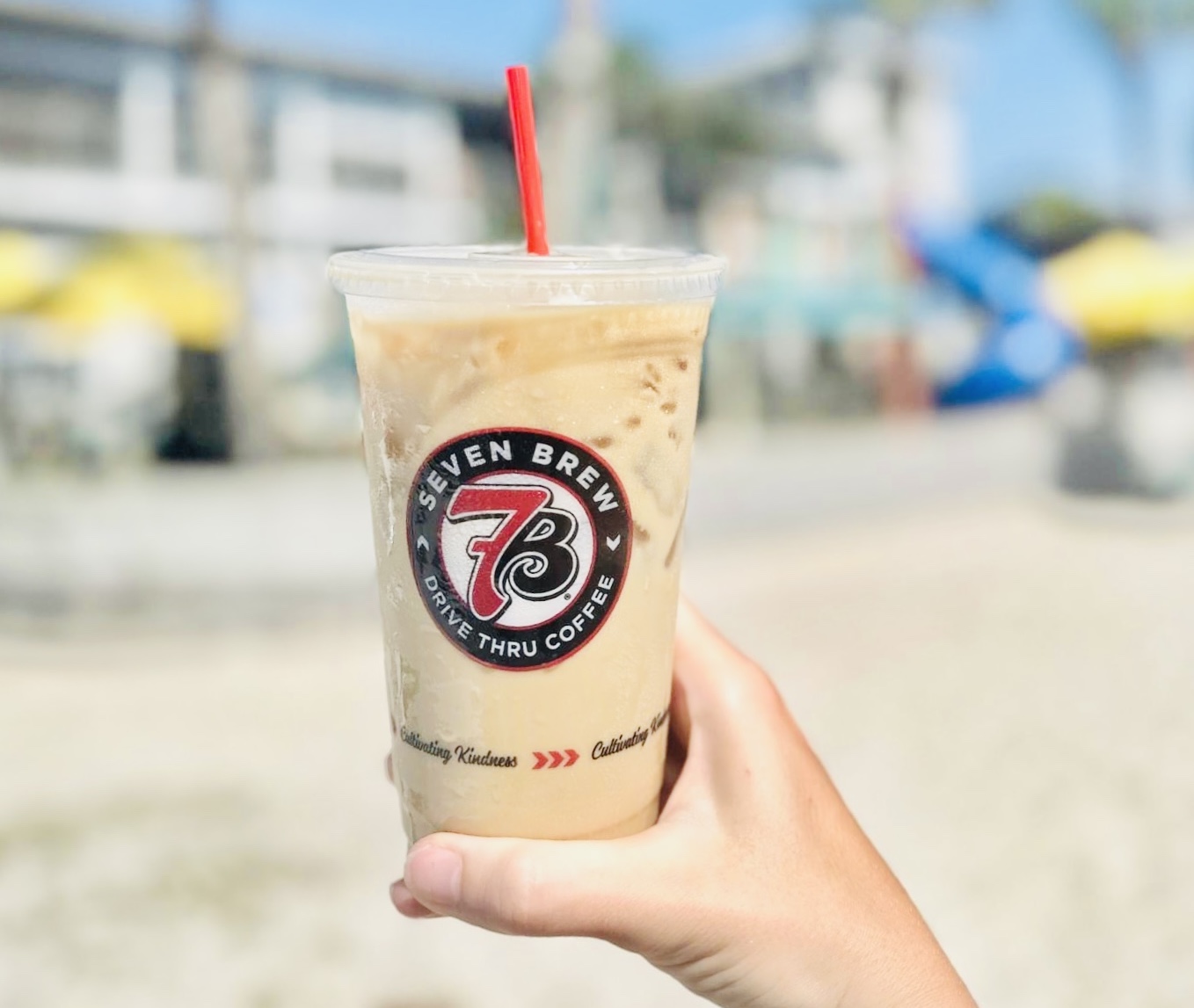 At 7 Brew Coffee, you will find a wide range of coffee, espresso-based drinks, smoothies, and other refreshments to satisfy every taste.
However, determining the appropriate cup size for your preferred beverage may not always be an easy task.
To better understand and navigate their offering, it helps to become familiar with their cup size options.
7 (Seven) Brew Cup Sizes
When it comes to 7 Brew cup sizes, the new coffee chain keeps it simple.
In fact, the cups sizes are WAY more simple than Starbucks cup sizes or Dunkin' cup sizes.
We are talking small, medium, and large for all drinks.
Period.
Here is the break down of both hot and iced cup sizes at 7 Brew.
7 Brew Iced Cup Sizes
Small Iced Cup – 16 oz.
Medium Iced Cup – 24 oz.
Large Iced Cup – 32 oz.
7 Brew Hot Cup Sizes
Small Hot Cup – 12 oz.
Medium Hot Cup – 16 oz.
Large Hot Cup – 20 oz.
7 Brew Cup Sizes Breakdown
Small Iced Cup – 16 oz.
At 7 Brew Coffee, the smallest iced cup size available is the 16-ounce option.
It is perfect for those who want a refreshing cold drink but don't require a large amount.
The small size allows customers to try a variety of flavors and combinations available on their menu without overloading on caffeine or sugar.
Medium Iced Cup – 24 oz.
The medium iced cup size at 7 Brew Coffee holds 24 ounces, providing a satisfying amount of their delicious cold drinks.
This size is popular among regular customers as it offers a balanced quantity for those who require more than the small 16-ounce option but don't want to go for the large size.
It provides enough room for ice, coffee, smoothies, or shakes to be enjoyed by customers during hot summer days or when in need of a caffeine boost.
Large Iced Cup – 32 oz.
For those seeking the most substantial size available, 7 Brew Coffee offers a Large Iced Cup that holds 32 ounces.
This cup size is perfect for customers who have long days ahead and need a substantial amount of their favorite drink to power through.
Additionally, the large size is also suitable for those who simply cannot get enough of 7 Brew Coffee's delicious cold beverages and seek the maximum quantity.
7 Brew Hot Cup Sizes
7 Brew Coffee offers a variety of hot beverages in different cup sizes to suit every customer's needs.
Small Hot Cup – 12 oz.
The small hot cup at 7 Brew Coffee holds 12 ounces of liquid, making it an excellent option for those who prefer a smaller beverage or are watching their caffeine intake.
This size is perfect for taking a quick coffee break or enjoying a cozy hot drink without being overwhelmed by a larger volume.
Good for smaller beverages
Ideal for limited caffeine intake
Perfect for quick breaks
Medium Hot Cup – 16 oz.
The medium hot cup at 7 Brew Coffee contains 16 ounces, providing a balanced size between the small and large options. It works well for those who like a more moderate amount of coffee or tea in the morning or throughout the day.
The medium cup is also ideal for people who want a substantial drink without committing to a large cup size.
Excellent balance between small and large options
Suitable for moderate coffee drinkers
Substantial drink without being too big
Large Hot Cup – 20 oz.
For those who appreciate a generous cup of coffee or tea, the large hot cup at 7 Brew Coffee holds 20 ounces.
This size is perfect for those with a longer commute, an extended work session, or simply for those who want to indulge in a larger amount of their favorite hot beverage.
Ideal for longer commutes or work sessions
Great choice for indulging in a larger drink
Satisfies increased caffeine needs
In conclusion, 7 Brew Coffee has various hot cup sizes available to cater to the unique preferences of their customers.
Whether you're looking for a small, medium, or large option, you can find the perfect size to enjoy your favorite hot drink at 7 Brew Coffee.