Dunkin' Iced Coffee has some of the highest caffeine content you'll find.. In fact, a large-sized (24 oz.) iced coffee has a whopping 396 mg, just shy of the recommended 400 mg maximum daily intake. So does Dunkin' have decaf iced coffee?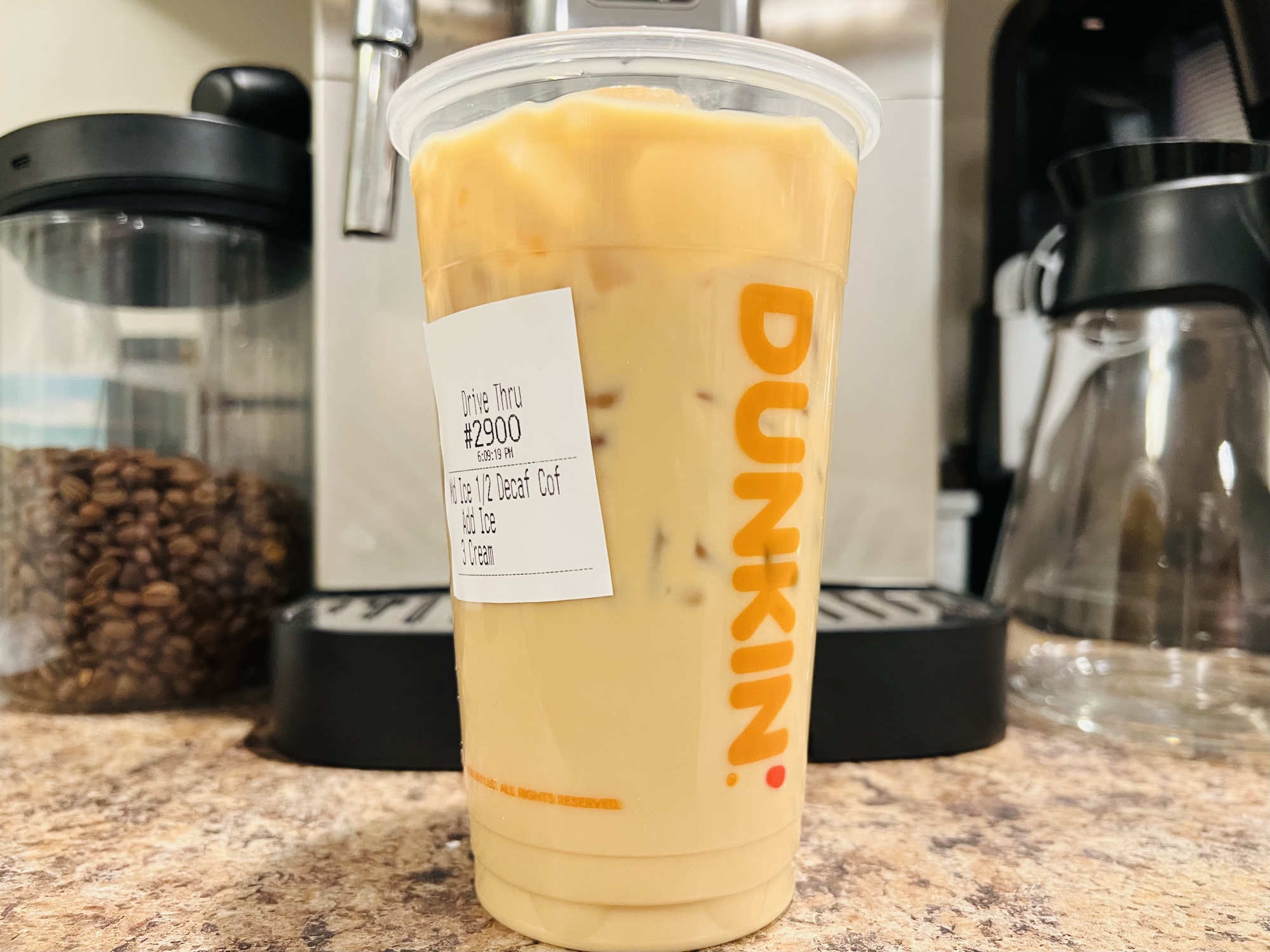 So what do you do if you're a fan of Dunkin' Iced Coffee but are trying to reduce the amount of caffeine you consume?
Fortunately, Dunkin' offers several options to allow you to enjoy the tasty cold beverage you love without the high caffeine content.
The half caff option in particular was my lifesaver when recurring severe migraines forced me to limit my caffeine consumption. Although there is no definitive answer regarding how caffeine affects migraines, studies suggest a little bit of caffeine may help ease a migraine episode, but too much may have the opposite effect.
Regardless of the reason you're steering clear of high-caffeine beverages, you can rest easy knowing that you don't have to sacrifice your Dunkin' Iced Coffee.
Dunkin' Decaf Iced Coffee
If you're trying to eliminate caffeine from your diet altogether, Dunkin' Decaf Iced Coffee is your answer.
Note, however, that even decaffeinated coffee contains a small amount of caffeine. An 8 oz. Dunkin' Decaf Iced Coffee contains about 10 mg of caffeine. Still, it's significantly less than the 198 mg of caffeine in a regular small Dunkin' Iced Coffee.
You can order any of the available iced coffee sizes as decaf just by asking. It's easy to order it on the Dunkin' app too.
Dunkin' Half Caff Iced Coffee
If your goal is to reduce caffeine, not totally eliminate it, consider the Dunkin' Half Caff Iced Coffee.
Dunkin' Half Caff is a 50-50 blend of decaffeinated and caffeinated beans and contains
25 mg of caffeine per 8 oz. cup. That's nearly 74% less caffeine than what you'll find in an 8 oz. cup of regular Dunkin' Iced Coffee, which contains 95 mg.
Does Dunkin' Have Decaf Iced Coffee Summary
Dunkin' Decaf Iced Coffee and Dunkin' Half Caff Iced Coffee will satisfy any iced coffee lover's cravings while significantly reducing the amount of caffeine you'll consume.
So whether you are trying to wean yourself off caffeine or just looking to cut down, check out the reduced-caffeine iced coffees and enjoy the beverage you love with far less caffeine.