Starbucks Baya Energy Drink Review 2022
If you were glued to the Men's NCAA Tournament this past weekend or watched any MLB games, you definitely saw the Starbucks Baya Energy Drink commercial at least 30-times.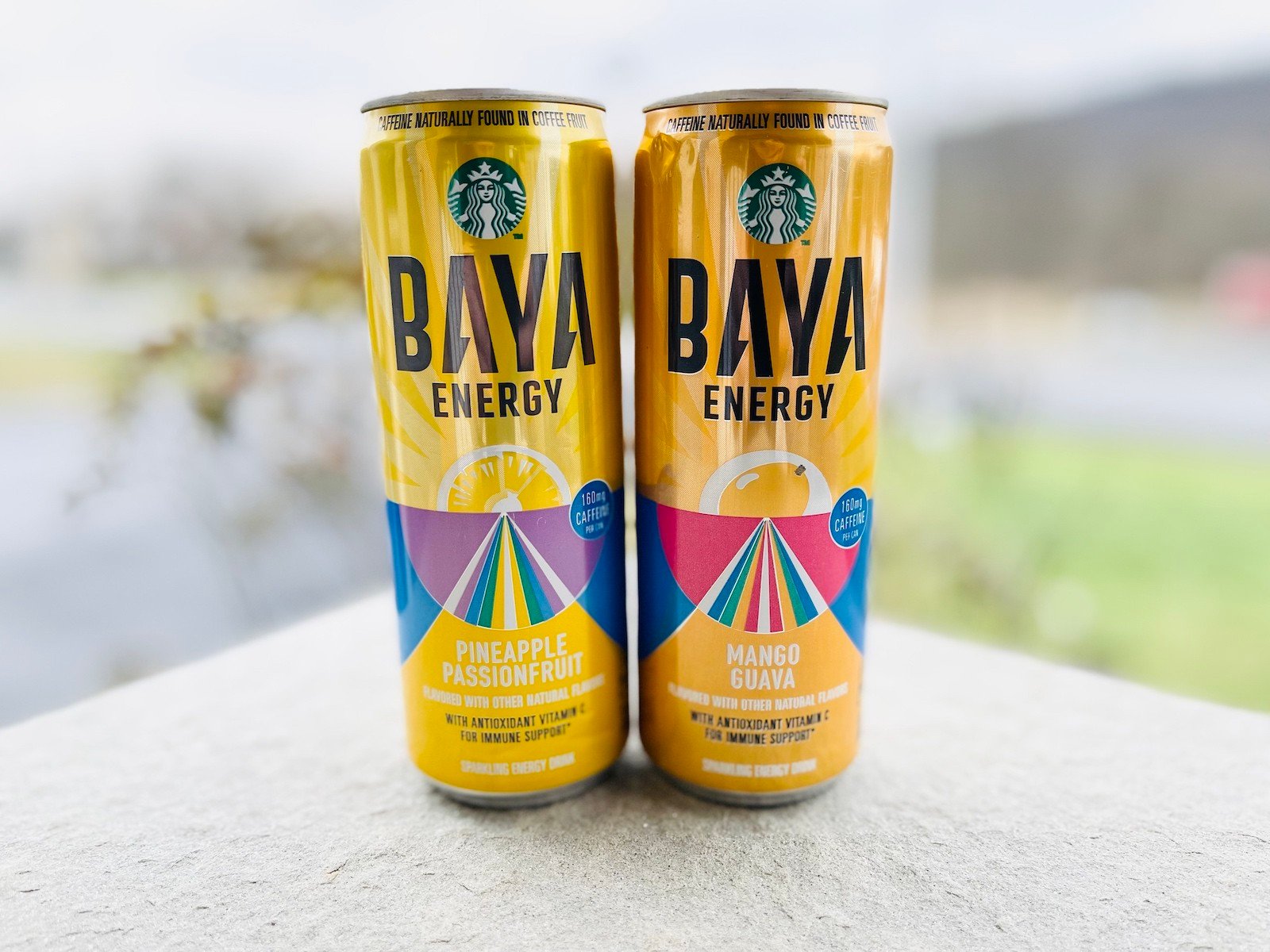 Even though the Starbucks Baya has been on the market for almost two months, we were intrigued to try it.
We also wondered, are these Starbuck refreshers in a can??
Here's what we found.

Starbucks Baya Caffeine, Sugar, and Calories
Unlike our similar review about hard coffees, no coffee beans or alcohol is found here!
The mission of the Baya is to provide a "boost of feel-good energy" from 160mg of caffeine naturally found in coffee fruit. Each 12 oz. can, contains sparkling water, natural fruit juice, 90 calories, less than 22 grams of sugar, and vitamin C antioxidants.

Even the amount of sugar is lower than most other energy drinks on the market.
Sounds like the perfect combination of "feel-good".
But is the Starbucks Baya energy drink a sure win? And where do White Claws come in?

Our Starbucks Baya Review
For our review, we were able to get our hands on the Starbucks Baya Energy Pineapple Passionfruit and Mango Guava flavors. The only flavor we could not find was the Raspberry Lime, and we've heard this one plays "hard to get".
Starbucks Baya Pineapple Passionfruit Review
If you enjoy Pineapple flavored White Claws, this is your go-to Baya! The balance of flavors and sparkling water is REALLY similar to a Pineapple White Claw. The Pineapple passionfruit flavor is smooth, rich, and does not taste like a sugary syrup. Someone finally ditched the sugar!

We grabbed a Pineapple White Claw and rotated our sips just for fun. The flavoring and texture of each drink are EERILY similar, even though the White Claw obviously contains alcohol. We give the new Starbucks Pineapple Passionfruit an A- for flavor and for being a solid, good-tasting energy drink.
Starbucks Baya Mango Guava Review
Three sips of this MANGO MOSTER had us checked out. If you don't truly love mangos or bold orange flavors, you might want to stay away from this flavor. The power of mango dominates ALL senses and has made this rendition of the Baya our least favorite – and we aren't the only ones! We give the Starbucks Baya Mango a D- for overwhelming flavor and just poor taste.

Starbucks Baya Review Summary
As our team works to capture the Baya Raspberry Lime, let us know your experiences with the new Starbucks Baya Energy Drinks in the comments below. Have you tried the two varieties mentioned above?