As the weather gets warmer and the days grow longer, an icy, energizing drink can bring newfound excitement throughout the day. Enter the Starbucks Frappuccino, an iconic beverage that has captured coffee lovers' hearts all around the globe.
This Ultimate Guide delves into the intricacies of the Starbucks Frappuccino, as well as insightful tips to customize your drink to the fullest.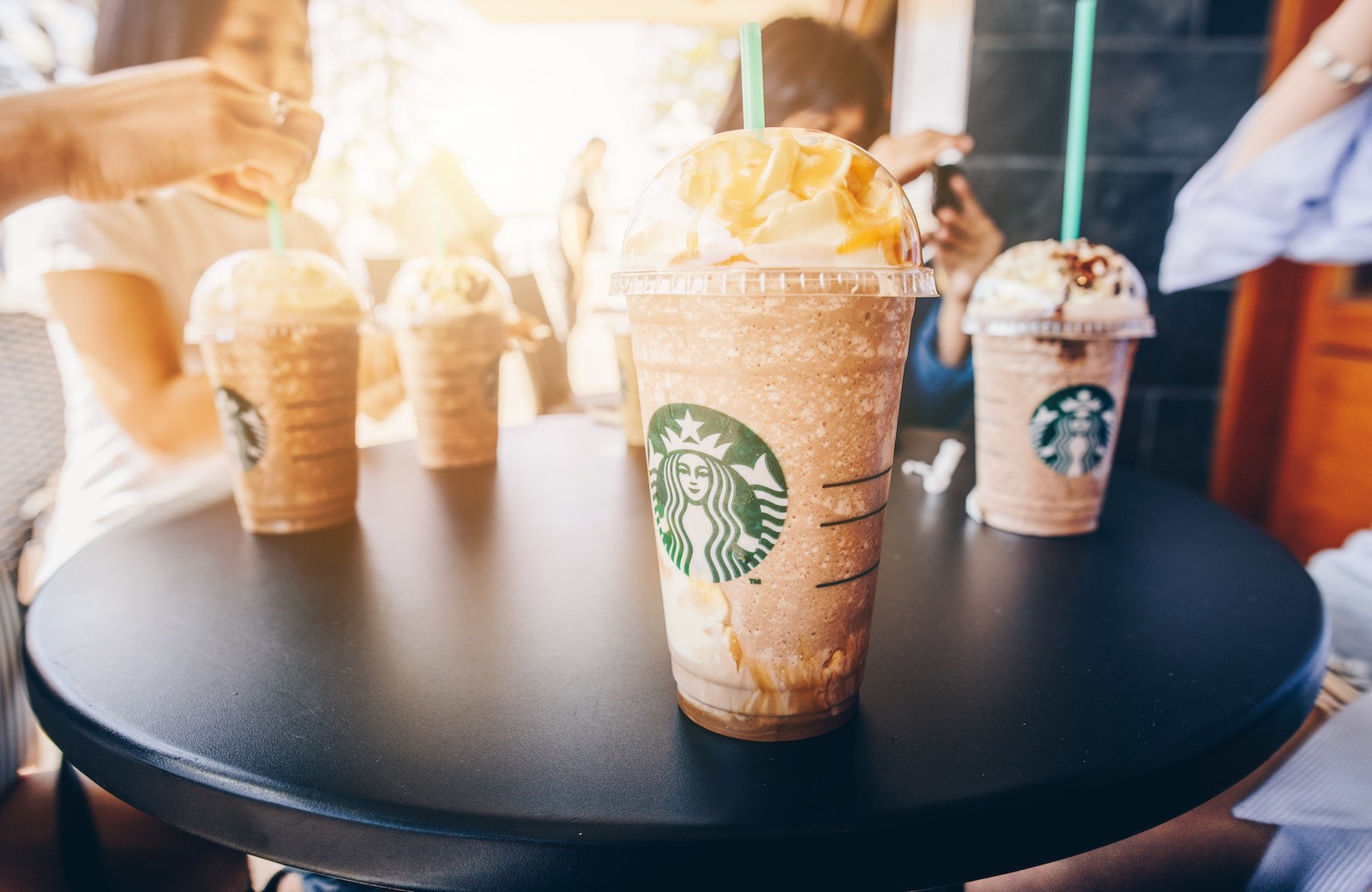 Starbucks' vast selection of Frappuccino flavors has something for everyone, catering to those who seek novelty, excitement, and variety in their beverages.
From classic staples to seasonal specials, there is always a Frappuccino to indulge in. With the help of this guide, discovering your new favorite flavor will be a delightful exploration.
Not only will this Ultimate Guide discuss popular flavors, but it will also reveal secrets about the Starbucks menu, such as delectable off-menu options and creative combinations.
It's no exaggeration to say that the Starbucks Frappuccino universe offers endless possibilities for those looking to stay energized with a flavorful, icy blend.
So, sit back and relax as the journey into the captivating world of Starbucks Frappuccinos begins.
Starbucks Frappuccinos: Origins and Basics
History of Frappuccinos
Starbucks introduced the first Frappuccino® blended beverages in 1995 with two original flavors: Coffee and Mocha.
These early Frappuccinos were made with a proprietary blend of coffee, milk, and ice.
The company continued to innovate in the following years; in 1999, the Caramel Frappuccino® with whipped cream and caramel drizzle was introduced, served with a green straw and domed lid for the first time.
Over the years, Starbucks has expanded its Frappuccino offerings, allowing customers to enjoy more than 36,000 different combinations of flavors and ingredients. Today, the Frappuccino is considered a signature beverage of the company and beloved by many.
Coffee vs Crème Frappuccinos
Frappuccinos can be categorized into two main types: Coffee Frappuccinos and Crème Frappuccinos.
Coffee Frappuccinos contain a coffee base and include popular flavors such as:
Crème Frappuccinos, on the other hand, were introduced in 2002 as a non-coffee alternative. These blended crème beverages feature a variety of flavors and ingredients without the coffee component. Some popular Crème Frappuccino flavors are:
Both types of Frappuccinos typically consist of a base, ice, and blended components, which may include syrups, sauces, fruit purées, or other ingredients.
They can be customized further with whipped cream, toppings, or additional sauces to cater to individual preferences.
In conclusion, Starbucks Frappuccinos have a rich history and come in multiple varieties, catering to both coffee and non-coffee drinkers alike.
With endless possibilities for customization, they have become a popular choice for people seeking a cold and refreshing beverage option.
Popular Frappuccino Flavors
Mocha Frappuccino
The Mocha Frappuccino is a popular choice for those who love the classic combination of coffee and chocolate. This delicious blend consists of Starbucks coffee, mocha sauce, milk, and ice, topped with a generous amount of whipped cream and an extra drizzle of mocha sauce.
Its rich and chocolaty taste with the smoothness of whipped cream makes it a favorite among coffee enthusiasts.
Caramel Frappuccino
A widely loved choice, the Caramel Frappuccino is perfect for coffee lovers with a sweet tooth. This indulgent treat is made by blending caramel syrup with coffee, milk, and ice, then topped with whipped cream and more caramel syrup drizzled on top.
Its creamy texture and toasty caramel flavor add to its appeal and popularity.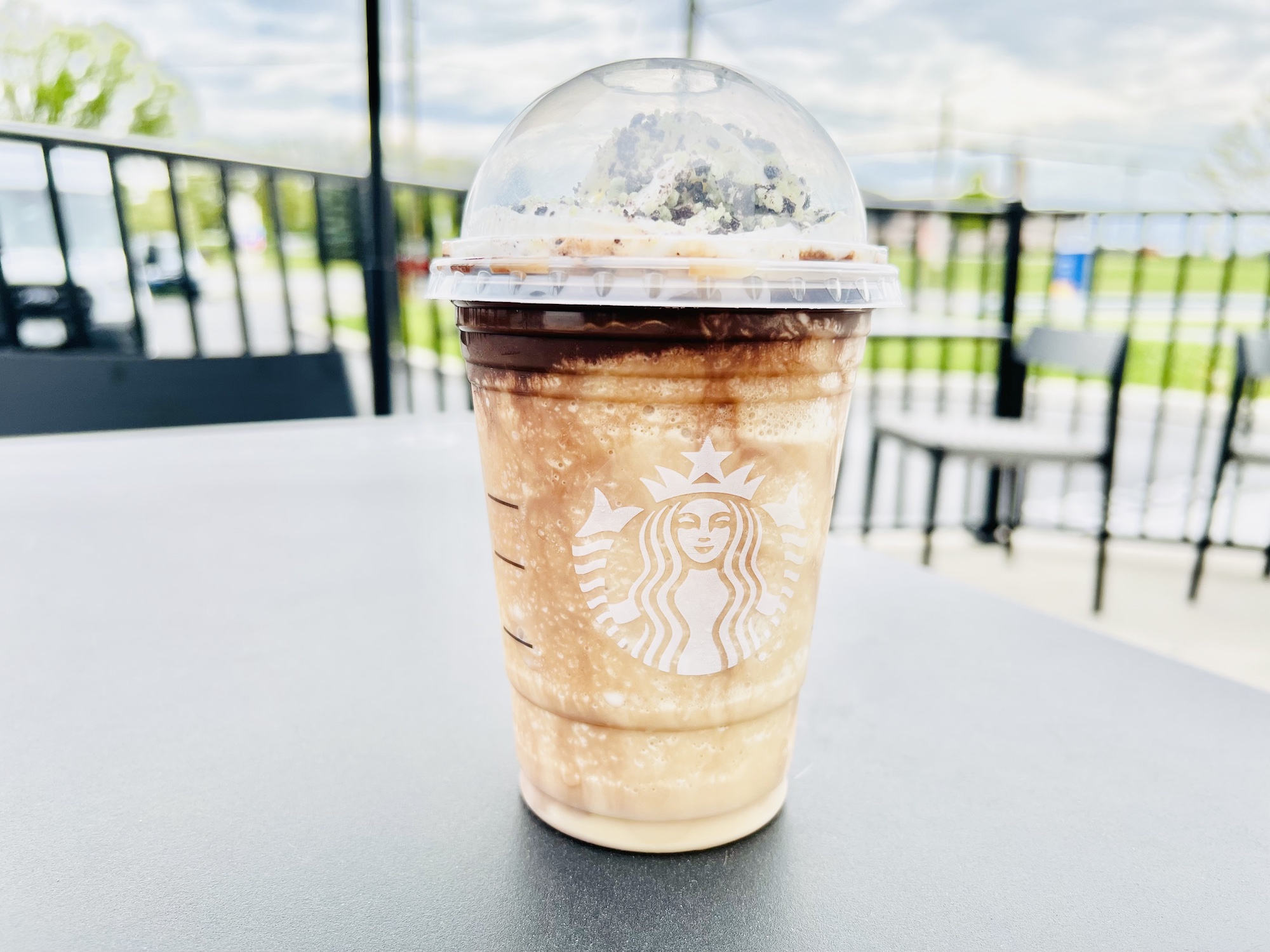 Java Chip and Java Mint Frappuccinos
The Java Chip Frappuccino is a delightful way to enjoy coffee and dessert in one cup. It features a combination of coffee, milk, mocha sauce, and java chip chocolate pieces blended with ice, then finished off with whipped cream and a mocha drizzle.
This chocolatey drink with a crunchy bite of java chip adds an extra layer of satisfaction to the sweet and caffeinated experience.
White Chocolate Mocha Frappuccino
For those looking for a lighter, yet equally indulgent option, the White Chocolate Mocha Frappuccino is an excellent choice.
It is made with Starbucks coffee, white chocolate mocha sauce, milk, and ice, then topped with whipped cream for a velvety and sweet treat. Its delicate white chocolate flavor makes it a unique and delicious choice among Frappuccino flavors.
Espresso Frappuccino
For a more intense coffee experience, the Espresso Frappuccino is the way to go. This flavor highlights the bold taste of Starbucks espresso blended with ice, milk, and a touch of sugar. It is topped with whipped cream, offering a smooth and creamy finish.
Its strong, rich coffee taste appeals to those who prefer their Frappuccinos with a more pronounced coffee flavor.
Mocha Cookie Crumble Frappuccino
Lastly, the Mocha Cookie Crumble Frappuccino is a playful and delicious drink favored by many. Combining mocha sauce, cookie crumbles, and Starbucks coffee with milk and ice, this beverage offers an exciting experience with crunchy cookie bits in each sip.
Topped with whipped cream and more cookie crumbles, it is an ideal choice for fans of chocolate desserts and coffee alike.
In summary, these popular Frappuccino flavors cater to a variety of tastes and preferences, showcasing the versatility and creativity of Starbucks in providing delightful icy beverages to coffee lovers all around the world.
Customization Options
Alternative Milk Options
Starbucks offers a variety of alternative milk options for customers to personalize their Frappuccinos. These include:
Non-dairy alternatives: soy milk, coconut milk, and almond milk
Oat milk: available in select locations
These options allow customers to enjoy a dairy-free Frappuccino while still retaining the creamy texture of a milkshake.
Adjusting Sweetness
Customers can easily adjust the sweetness level of their Frappuccino to suit their preferences. Here are a few ways to do this:
Request fewer pumps of syrup in your beverage
Choose a sugar-free syrup option, such as Vanilla or Cinnamon Dolce
Opt for the Skinny Mocha Sauce instead of the regular Mocha Sauce
Adding or Removing Caffeine
Frappuccinos can be adjusted to have more or less caffeine, depending on individual tastes and needs. Some options include:
Add a shot of espresso to your Frappuccino for an extra caffeine boost (additional charge may apply)
Request a decaf coffee base for a caffeine-free Frappuccino
Choose a Creme base instead of a coffee base for an iced, caffeine-free treat
Extra Toppings
Starbucks allows customers to add a variety of extra toppings to their Frappuccinos for a personalized touch. Some popular options include:
Whipped cream
Caramel drizzle
Mocha drizzle
Chocolate chips
Cinnamon powder
These customization options provide endless possibilities for creating the perfect Frappuccino tailored to the individual's taste and preferences, ensuring an enjoyable and satisfying experience.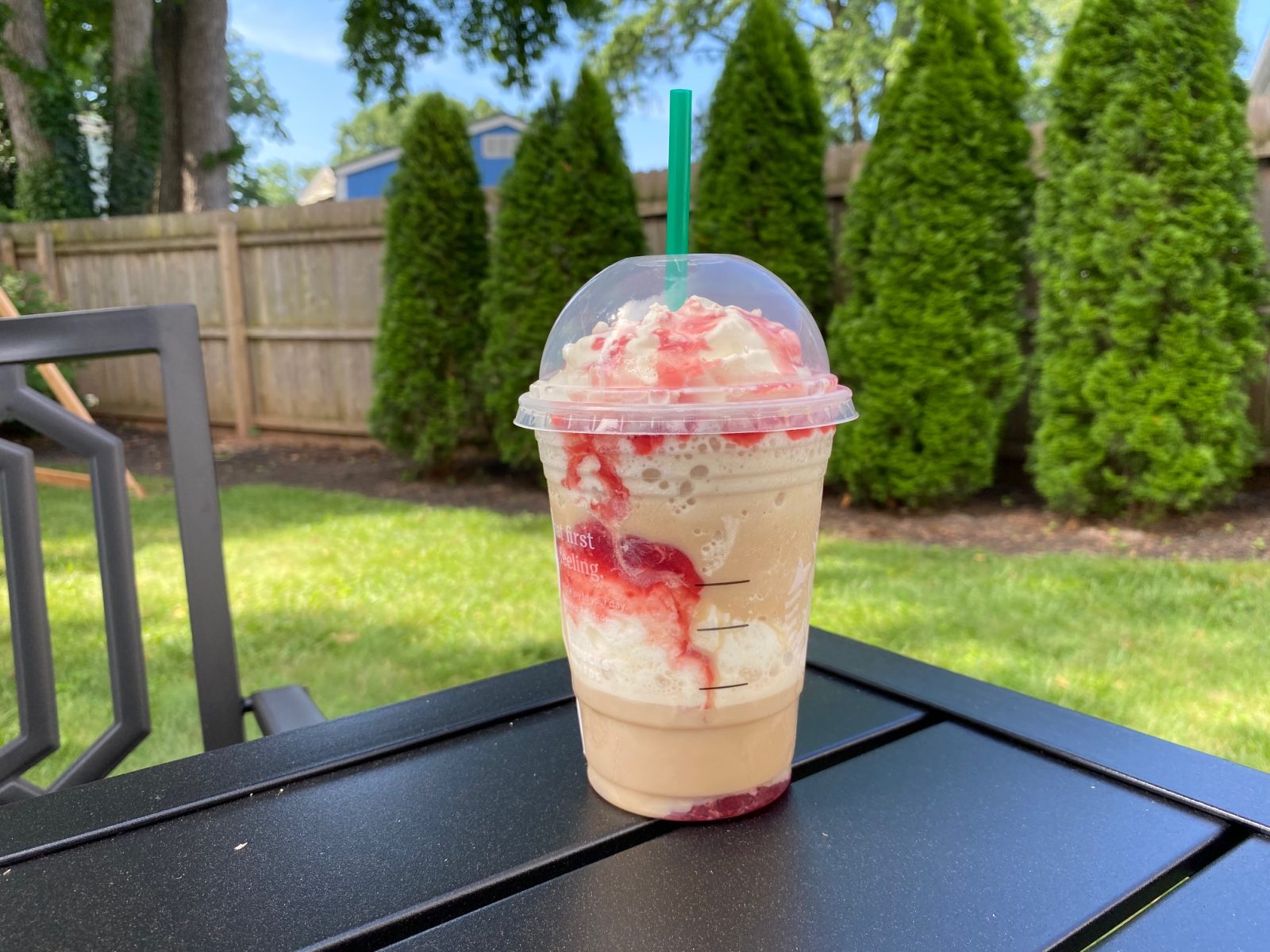 Limited Time and Seasonal Frappuccinos
Starbucks often releases limited time and seasonal Frappuccinos that cater to different preferences and add variety to their menu. These beverages often feature unique combinations of flavors and are eagerly anticipated by customers. This section will highlight three of these seasonal Frappuccinos: Pumpkin Spice Frappuccino, Toasted White Chocolate Mocha Frappuccino, and Holiday Frappuccinos.
Pumpkin Spice Frappuccino
The Pumpkin Spice Frappuccino is a popular autumn offering that features a blend of pumpkin, cinnamon, nutmeg, and clove flavors, topped with whipped cream and pumpkin pie spice. This festive beverage is a perfect choice for those who enjoy the warm and comforting flavors of fall.
Key Ingredients: Pumpkin puree, cinnamon, nutmeg, cloves
Availability: Fall season
Toasted White Chocolate Mocha Frappuccino
During the winter season, Starbucks offers the Toasted White Chocolate Mocha Frappuccino. This delectable beverage combines white chocolate crème Frappuccino with toasted white chocolate mocha sauce, garnished with whipped cream and candied cranberry pieces.
Key Ingredients: White chocolate crème, toasted white chocolate mocha sauce, candied cranberry pieces
Availability: Winter season
Holiday Frappuccinos
To celebrate the holidays, Starbucks introduces a variety of limited-time festive Frappuccinos. These beverages often feature flavors such as peppermint, eggnog, and gingerbread. One example is the Double Chocolaty Chip Crème Frappuccino, which blends mocha sauce, chocolate chips, and rich fudge into a creamy, decadent treat.
Key Ingredients: Varies depending on the specific holiday Frappuccino
Availability: Holiday season
Kids and Dessert-Friendly Frappuccinos
Chocolate Cookie Crumble Crème Frappuccino
The Chocolate Cookie Crumble Crème Frappuccino is a delightful treat for kids and dessert lovers alike. This caffeine-free beverage is perfect for children, offering a delicious alternative to more traditional caffeinated Frappuccinos.
Made with a blend of milk, ice, and chocolate cookie crumbles, this Frappuccino creates a rich, creamy texture that's sure to satisfy any sweet tooth.
Topped with a generous swirl of whipped cream and a sprinkle of chocolate cookie crumbles, this dessert-like drink not only tastes great but also looks visually appealing. When ordering this beverage, feel free to customize it by requesting additional toppings, such as colorful sprinkles or a drizzle of caramel sauce, to make it an extra special treat for your little ones.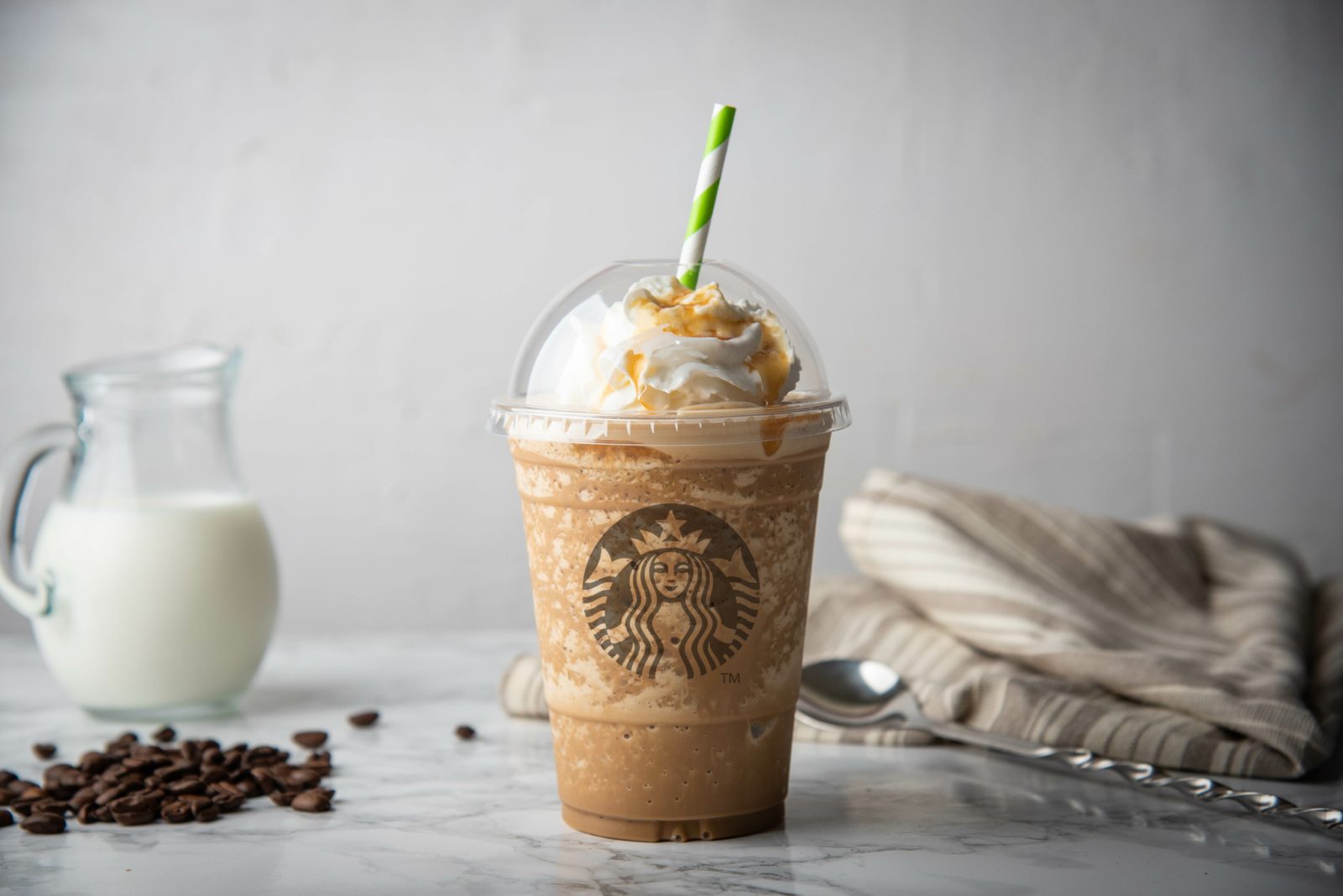 Caramel Ribbon Crunch Crème Frappuccino
Another kid-friendly and dessert-worthy Frappuccino option is the Caramel Ribbon Crunch Crème Frappuccino.
This delectable beverage offers a harmonious blend of caramel-flavored syrup, milk, and ice to create a uniquely scrumptious experience.
Similar to the Chocolate Cookie Crumble Crème Frappuccino, this drink is also caffeine-free, making it an ideal choice for those who prefer to avoid caffeine or are catering to children's preferences.
Not only does the Caramel Ribbon Crunch Crème Frappuccino taste amazing, but it also features an eye-catching presentation. With its layers of caramel sauce, whipped cream, and crunchy caramel sugar topping, this drink is a feast for both the eyes and the taste buds.
For added customization, consider requesting extra toppings, such as chocolate chips or even more caramel sauce, to truly make this beverage a personalized, dessert-inspired treat.
How to Choose the Right Frappuccino
Flavor Preferences
When selecting a Starbucks Frappuccino, consider your personal taste preferences. Some popular options include the Pumpkin Spice Frappuccino, the Java Chip Frappuccino, and the Vanilla Bean Crème Frappuccino.
In addition, seasonal flavors and limited-time offerings may appeal to those seeking a unique taste experience. Explore the complete menu and try different flavors to discover your favorites.
Dietary and Allergy Considerations
Be mindful of any dietary restrictions or allergies when choosing a Frappuccino. Many sauces, such as white mocha, smoked butterscotch, and pumpkin spice, contain dairy. However, Starbucks offers alternative milk options like oat, soy, almond, and coconut milk to accommodate those with dairy allergies or preferences.
Additionally, make sure to avoid whipped cream and dairy-based toppings like caramel drizzle or chocolate chips if necessary.
Caffeine Content
Caffeine content is an essential factor to consider when selecting a Frappuccino.
Some blends, like the Coffee Frappuccino, have higher caffeine levels, making them a great pick-me-up option. Others, like the Vanilla Bean Crème Frappuccino, contain no caffeine and are more suitable for those trying to limit or avoid caffeine intake.
Always check the menu for specific caffeine content before making your choice.
Energy Needs
Lastly, consider your energy needs when choosing a Frappuccino.
Some options, such as the Java Chip Frappuccino or the Mocha Cookie Crumble Frappuccino, may provide a better energy boost due to their caffeine content and texture.
On the other hand, those looking for a less intense, lighter option might prefer the Vanilla Bean Crème Frappuccino.
Keep these factors in mind when selecting a Starbucks Frappuccino to ensure you make a choice that suits your taste buds, dietary needs, and energy requirements.