If you want an exotic drink that will make your taste buds tingle you're in for a treat. Vietnamese iced coffee is exactly what you've been looking for. It's a traditional coffee recipe originating from Asia. But we can also thank the French for introducing coffee to Vietnam for this lovely recipe.
But what is amazing about Vietnamese iced coffee is that it is so easy to prepare and you can have your drink prepared in a matter of minutes. All you need is a French drip filter which you can find almost anywhere online, and if you have Vietnamese stores nearby it will be even easier for you to buy one.
But don't worry too much about not having the filter, because there are variety of filters available and you can still improvise. Next you'll need dark roast coffee, preferably medium grind or medium-coarse grind. The last item to have ready is sweetened condensed milk. Of course don't forget the ice, because we're making Vietnamese iced coffee.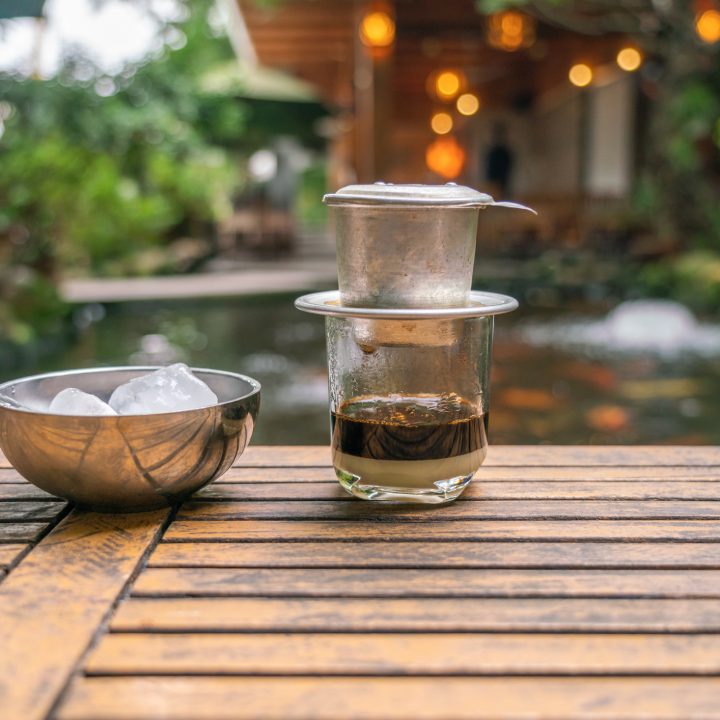 Vietnamese Iced Coffee Recipe
A Traditional Vietnamese Iced Coffee Recipe.
Ingredients
French press or Vietnamese phin coffee filter
3 tbsp. of Vietnamese coffee or French Roast
2 ounces of sweetened condensed milk
ice cubes
Instructions
Pour your coffee grounds into the filter. Place your device above a ceramic mug.

Boil water in a small pan and pour just a few ounces over the filter until the coffee blooms.

Wait a few seconds, and continue pouring the rest of water over the filter until filling the ceramic mug.

Let the coffee cool and pour over ice.

Add your condensed milk of choice to sweeten the drink to perfection.

Nutrition Information:
Serving Size:

12 oz
Amount Per Serving:
Calories:

210