As Starbucks continues to introduce more and more delicious-looking drinks, it can be hard for those of us looking for low-calorie drinks to find anything we can actually enjoy on the menu.
(After all, who wants to go to Starbucks and simply order a Venti water to stick to their low-calorie diet?)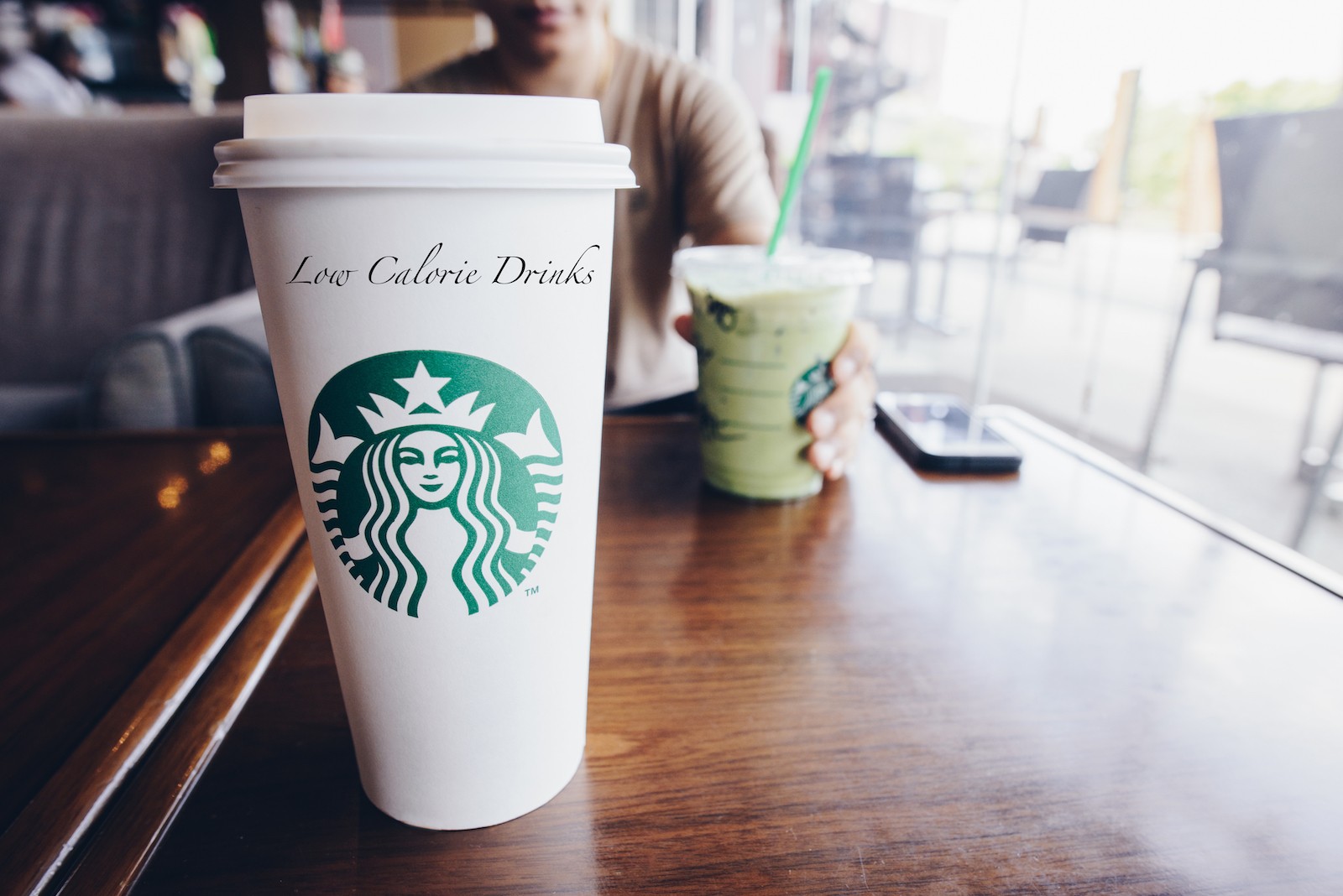 Thankfully, there are ways to enjoy the Starbucks menu year-round while still choosing low-calorie drinks.
You just have to know where to look and how to order.
How to Order Low-Calorie Starbucks Drinks
Just about any Starbucks drink can be turned into a low-calorie option with just a bit of recipe tweaking.
The key lies in the drink sweeteners, which are often full of calories and unnecessary sugars.
Here's how to order low-calorie Starbucks drinks.
Ask For Sugar-Free Syrup
Not only will asking for sugar-free syrup deliver the same great Starbucks taste, but it'll shave off calories, too.
Choose Low-Calorie Milk Alternatives
You can also opt for lower-calorie milk alternatives, such as soy, almond, coconut, or oat milk.
Also, if milk alternatives aren't your thing, you can go with non-fat milk.
Ditch the Whipped Cream
Forgo whipped cream! If the drink comes with whipped cream, just forget about it to save yourself some calories.
Order Your Drink "Light" or "Skinny"
If any of this sounds like too much work or sounds too intimidating up at the counter (which, let's face it, when the line is long, it can be pretty stressful to even get your order out), try simply ordering a tall or asking for it "light" or "skinny."
Low calorie creamer is a must!
These menu options will save you calories by allowing the baristas to do all the calorie-cutting for you.
Next, let's discuss 8 low-calorie Starbucks drinks that will be sure to save calories in 2023.
8 Low-Calorie Starbucks Drinks for 2023
If you'd rather not try and hack the menu and prefer to order the drink as-is, here are eight possible options from all over the menu that deliver unbeatable low-calorie Starbucks drinks.
1. Tea (Hot or Iced)
Truthfully, any one of Starbucks' tea options fits the low-calorie bill. Whether you're ordering it hot or iced, a Starbucks tea with no sweeteners, juices, or milk will come in at exactly zero calories.
Even with added sweeteners, such as in the Teavana Shaken Iced Tea, you're only looking at about 60 calories total.
2. Black Coffee (Hot or Iced)
The story is the same with black coffee. Whether you're ordering a Starbucks roast hot or iced, such as the Pike Place Roast, as long as there's no milk, syrups, or sweeteners added, your drink will only clock in at about 5 calories.
If you decide to add in a splash of milk, it only elevates the total calorie count up to 25 calories.
3. Espresso Drinks (Hot or Iced)
Starbucks espresso drinks have a slightly higher calorie count than straight black coffee or tea, but it's not by very much at all.
A Starbucks Doubleshot on Ice, for example, contains a couple of shots of espresso with light sweetener and a splash of milk, coming in at only 70 calories.
4. Starbucks Lattes (Hot or Iced)
Low-calorie Starbucks lattes might appear to be a little trickier, simply because they're made to include syrups and milks. Thankfully, this doesn't mean the calorie count has to be high.
The Hot or Iced Skinny Mocha, for example, comes with mocha syrup, espresso, and non-fat milk, all for under 100 calories.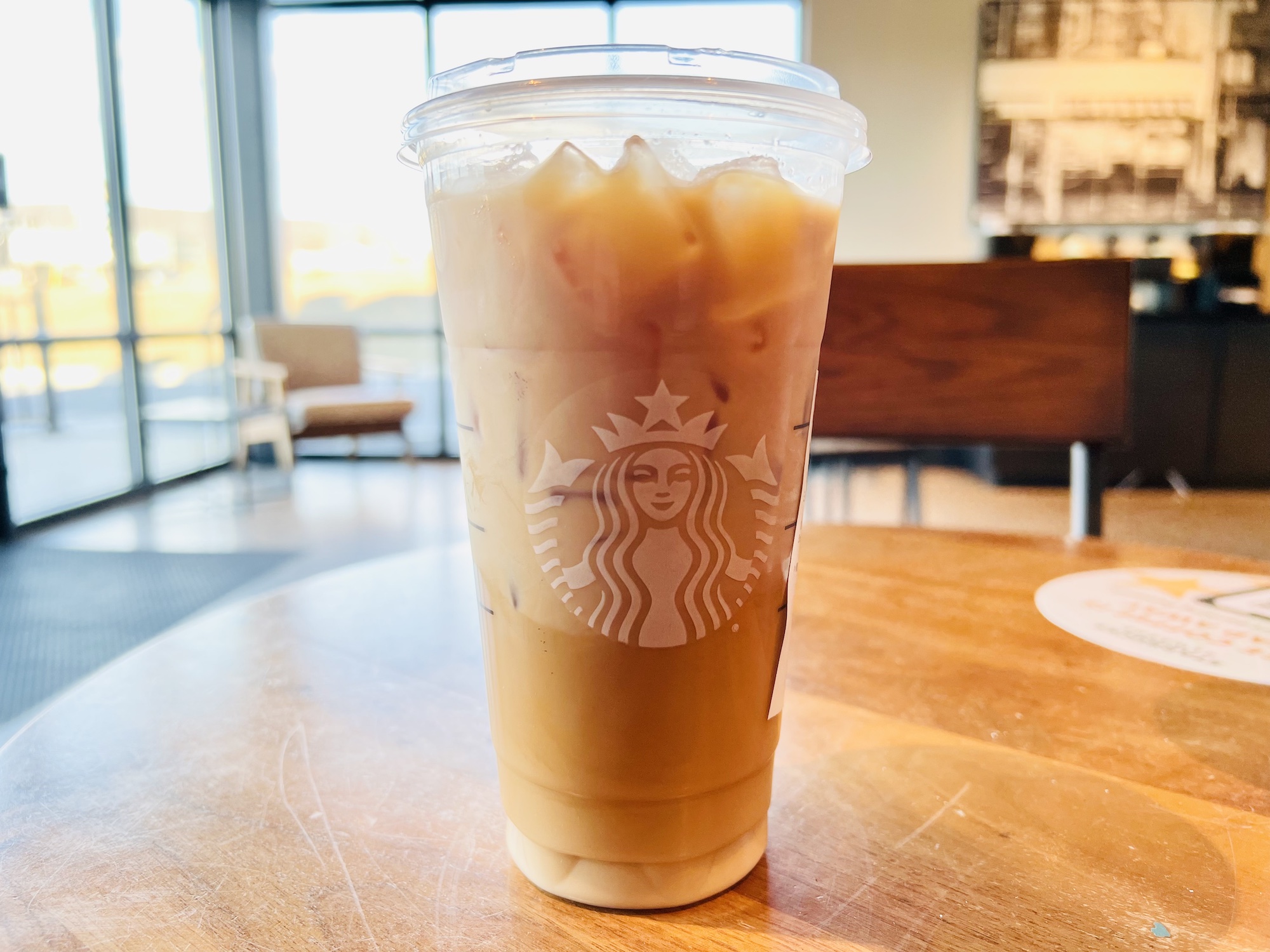 5. Starbucks Cold Brews
Despite the difference in name, Starbucks Cold Brew Coffee is just as low calorie as a hot or iced black coffee.
It's made differently, by steeping for nearly 24 hours instead of simply being brewed and served hot or over ice immediately. However, the result is the same when it comes to calories.
Adding in a splash of milk or a bit of their ever-popular cold foam doesn't change that calorie count by much, only bringing things up to about 90 calories for the tall size.
6. Low-Calorie Miscellaneous & Matcha
Starbucks has seen a lot of success with non-coffee drinks in recent years with recent additions like the Iced Guava Passionfruit Drink and the Iced Pineapple Matcha Drink.
If you are into trying more adventurous drinks, the Violet Drink, for example, combines coconut milk with ice and berry hibiscus to form a unique flavor that only contains 90 calories.
7. Variety of Low-Calorie Starbucks Refreshers
The Starbucks Refresher has been a hidden gem on the Starbucks menu for years now. As it turns out, they're relatively low-calorie, too.
The Kiwi Starfruit Starbucks Refresher, for example, contains just 70 calories for a tall.
They have several other great options under this Refresher banner, most at this same low-calorie count.
8. Low-Calorie Starbucks Frappuccinos
At first glance, the iconic Starbucks frappuccino seems like the hardest drink to make low-calorie.
How in the world can a Starbucks frappuccino be made low-calorie? As it turns out, it's not as hard as you might think.
The Espresso Light Frappuccino Blended Coffee clocks in at just 80 calories, which honestly can't be beaten for something so seemingly indulgent.
This drink is filled with sugar, syrup, chocolate, caramel, and all sorts of other ingredients that scream dessert.
Low Calorie Starbucks Drinks Summary
Do you have a favorite low-calorie Starbucks drink you would like to share?
How about a low-calorie Starbucks secret menu item?
Let us know in the comments below!