You might feel slightly overwhelmed by the syrup options, especially if you are new to Starbucks.
Never fear! This guide will help you navigate the wide world of Starbucks syrups and help you find the perfect flavors for your next coffee.
Here are the 10 best Starbucks syrups to try in your next drink!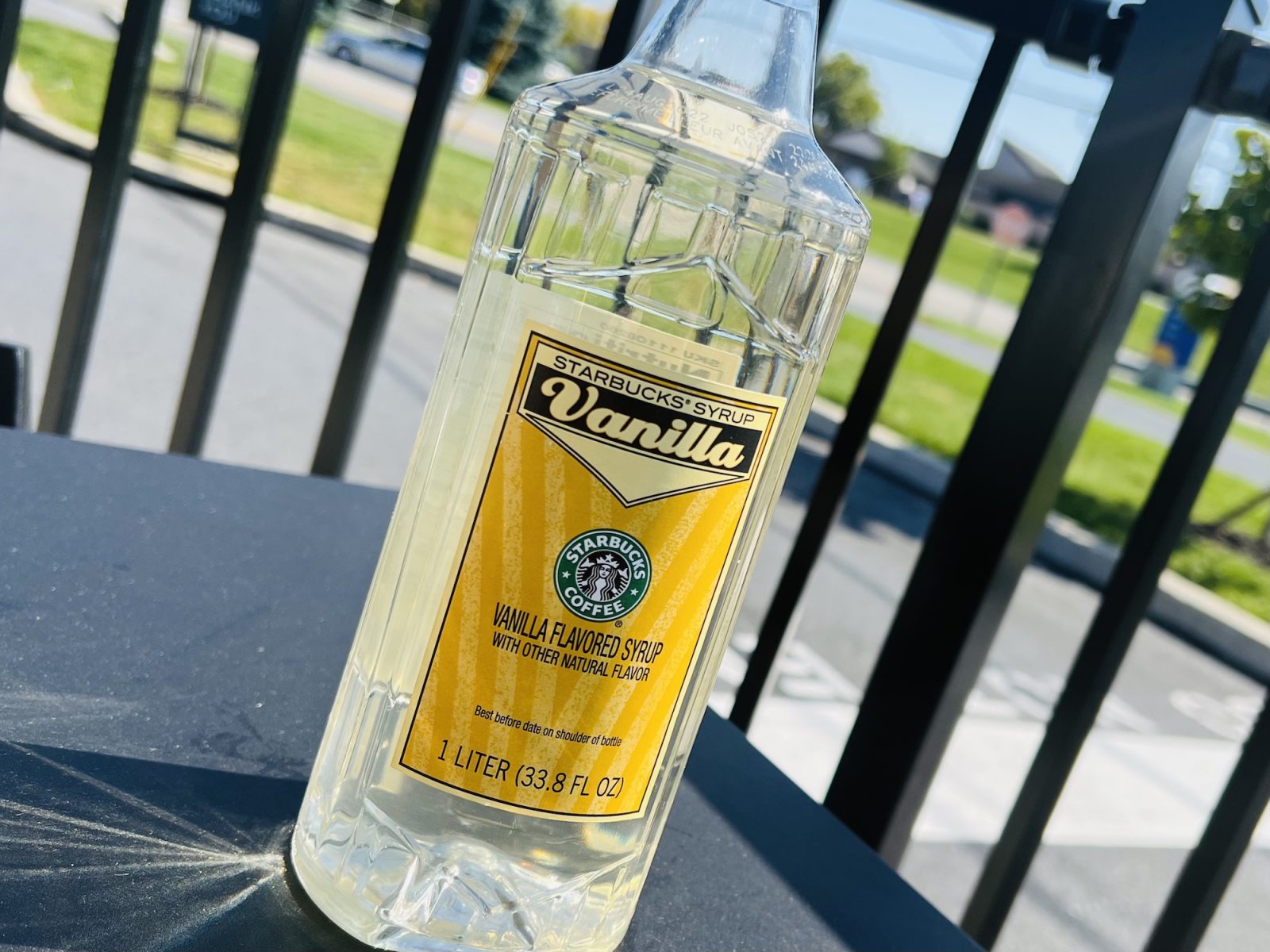 The 10 Best Starbucks Syrups Right Now
Vanilla Syrup
Vanilla syrup is the most popular syrup selection at Starbucks. It's perfect for just about any drink and a little sweeter for those who like Starbucks coffee.
Starbucks vanilla syrup is also excellent for at-home lattes, iced coffee, teas, and cocktails. Add vanilla syrup to hot chocolate or tea for an extra special treat.
Hazelnut Syrup
Hazelnut Syrup is another very popular syrup at Starbucks. It blends well with coffee, lattes, teas, and frappuccinos. This syrup is for you if you're looking for a similar nutty flavor to the Nutty Pumpkin coffee from Dunkin'.
Order a blonde hazelnut latte to experience Starbucks hazelnut at its best!
French Vanilla Syrup
What's more popular than hazelnut and vanilla?
French vanilla. By like 1000%…
Did you know? Vanilla+Hazelnut=French Vanilla?
When ordering your next drink, ask for a side of hazelnut and vanilla syrup to create the classic Starbucks French Vanilla. The rich flavor will make you want more!
Peppermint Syrup
This seasonal favorite is first on the list to return in 2022 and is the defining ingredient in the Starbucks Peppermint Mocha. Peppermint syrup makes this drink a holiday staple thanks to its delicious flavor.
The taste of candy canes melds seamlessly with iced coffees and espresso, making this syrup especially enjoyable during cold holidays.
Peppermint is the perfect companion for your next hot chocolate.
Starbucks Classic Syrup
Starbucks Classic Syrup is made with water, sugar, and natural flavoring.
That's it!
Just simple ingredients make up classic syrup to create a delicious way to enhance your coffee drink.
As the name implies, this syrup is the classic choice for flavoring iced coffee, lattes, mochas, and frappuccinos.
Brown Sugar Syrup
Have you tried the Iced Brown Sugar Oatmilk Shaken Espresso? If so, you've enjoyed Starbucks brown sugar syrup.
Brown sugar syrup is comprised of brown sugar, water, and natural flavors. Try adding brown sugar syrup to your next black coffee to experience the full profile of this incredible fall and winter flavor!
Apple Brown Sugar Syrup
The apple brown sugar syrup was responsible for creating a plethora of new secret menu items and was a top-selling syrup in 2021.
The syrup has returned as the foundational ingredient in the incredibly popular Apple Crisp Macchiato, which also returned to Starbucks fall menu in 2022.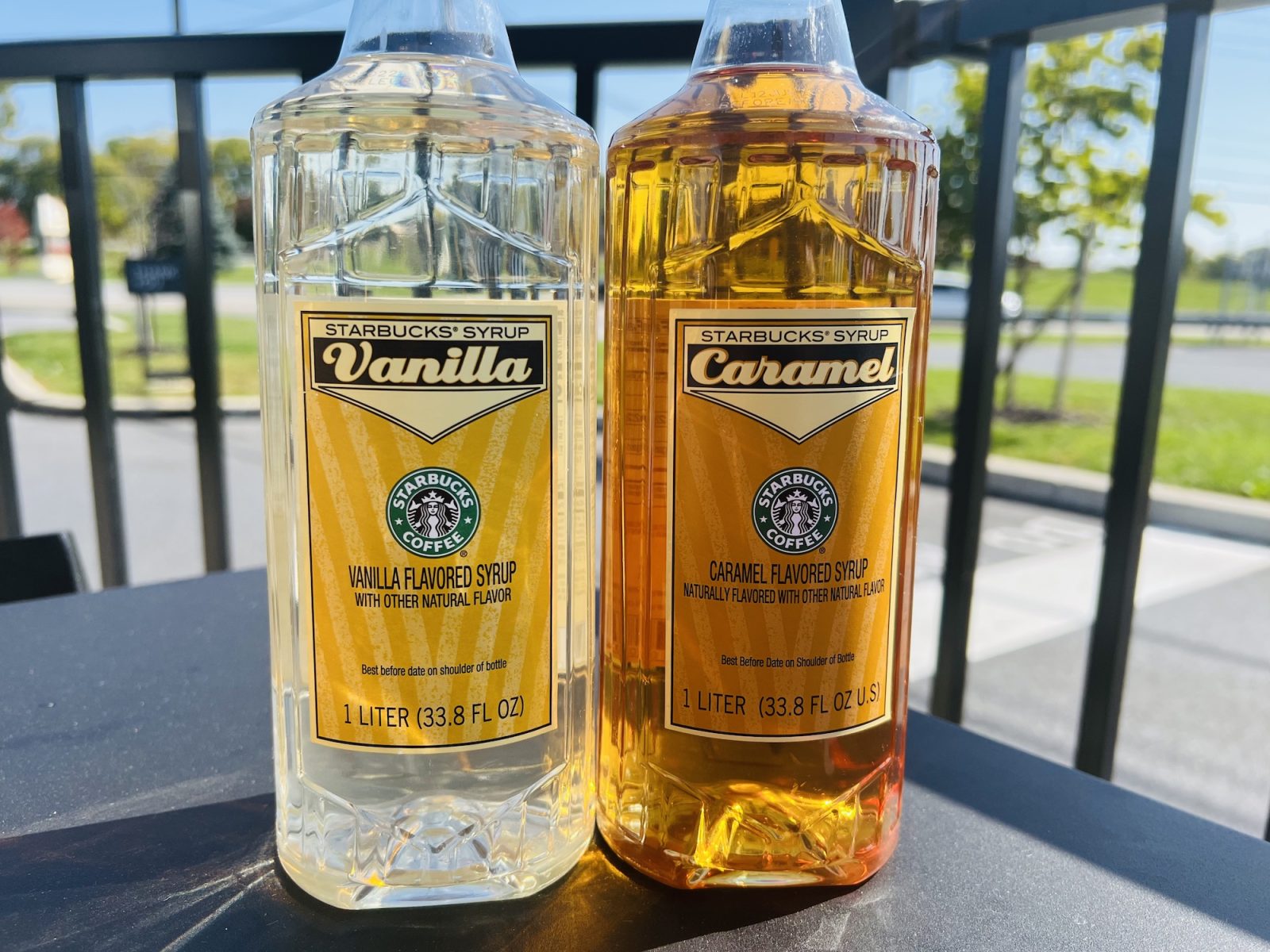 Caramel Syrup
The list of Starbucks caramel drinks is quite impressive! Caramel syrup is ideal for those who like their coffee on the sweeter side.
It's also perfect for adding a touch of sweetness and caramel flavor to frappuccinos. Find caramel syrup in one of the hottest Starbucks drinks, the Caramel Frappuccino.
Cinnamon Dolce Syrup
Cinnamon Dolce syrup is a great way to add cinnamon flavor to your coffee, latte, or frappuccino.;
The Cinnamon Dolce syrup is made with cinnamon, cloves, and vanilla and is a foundational ingredient in the Starbucks Cinnamon Dolce Latte!
Toffee Nut Syrup
The toffee nut syrup from Starbucks is a great way to add sweetness and nuttiness to your coffee or frappuccino.;
Toffee nut combines notes from both chewy toffee and roasted nuts! The syrup is made with toffee bits and is used to make the Starbucks Toffee Nut Latte.
Raspberry Syrup
If you are a non-coffee drinker, Starbucks raspberry syrup is a perfect alternative syrup that is added to iced teas and those blended creme frappuccinos.;
If you're looking to add a little sweetness to your next iced caffeine fix, try raspberry syrup for the perfect balance of tart and sweet.;
How To Buy Starbucks Syrups
If you want to indulge in your favorite Starbucks flavors at home, here are a few ways to purchase authentic Starbucks syrups.
At Starbucks
The best way to get your hands on some exclusive syrups is by visiting your local Starbucks. You can buy them at the counter, but only if there is enough in stock at that location!
However, the selection is extremely limited and all seasonal syrups, like peppermint, are off-limits.
Starbucks Syrups at Amazon
Amazon has a fantastic selection of Starbucks syrups. If you can't make it to a local Starbucks, Amazon is an excellent option if you don't mind paying a few dollars more for your favorite syrup.;
Starbucks Syrups Summary
No matter your flavor preference, there's a syrup for you. So next time you're in line at Starbucks, don't be afraid to experiment!
And if you're feeling adventurous, ask your barista to mix and match different syrups to create your unique flavor combination.
What are your favorite syrups? Let us know in the comments below and happy sipping!