Do you love the best Starbucks iced coffee? We do! Most people will enjoy iced coffee year-round, or some folks will switch from iced coffee to their favorite hot coffees as the weather turns colder. Nope, not us. There is nothing better than a Starbucks iced coffee to wake you up in the morning so you can press on with your day.
Starbucks is home to a great iced coffee menu. They feature an array of cold coffee-based drinks to accommodate just about any personality or flavor, and you can customize your iced drink any way you would like! The options are endless with iced coffee, and the Starbuck secret menu has proven that theory over the years. Here is everything you need to know about the best Starbucks iced coffee drinks!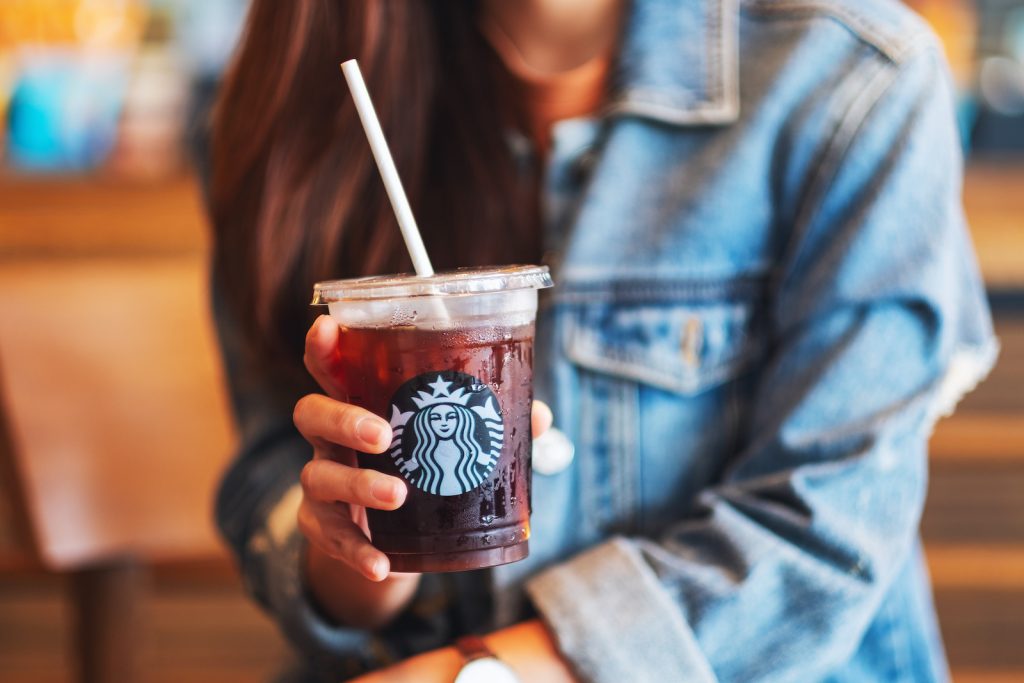 What Is Starbucks Iced Coffee?
The term "iced coffee" is often used to describe three main types of cold coffee-based drinks. At Starbucks, these include traditional iced coffee, cold brew, and also iced espresso drinks. These three categories of cold coffee are always available, so understanding these options can help you find and order a new favorite iced coffee.
Traditional Starbucks Iced Coffee
Traditional iced coffee at Starbucks is essentially a cooled-down, once-hot drip coffee. Ice is added before serving and can be customized by choosing add-ons from the following categories:
sweeteners (including classic syrup)
flavors
toppings
add-ins (milk, creamer, etc.)
What is Starbucks Classic Syrup?
The standard syrup served with the traditional coffee is called "Classic" syrup, which is unflavored and sweetens the beverage. Baristas add this syrup at the end, so getting a traditional iced coffee with no added sweetness is possible. If you are hoping to save some pennies, the traditional iced coffee is one of the cheapest coffee options on the Starbucks menu.
Starbucks Cold Brew
The Starbucks cold brew coffee has a bolder flavor and more caffeine than traditional iced coffee. A Starbucks grande size of cold brew contains 205 mg of caffeine, while a grande size of traditional Starbucks iced coffee only contains 165 mg of caffeine.
The Starbucks cold brew concentrate ratio is to blame for the added caffeine levels as it contains 2.5 times higher coffee-to-water ratio while steeping. Baristas leave the coffee to steep in cold water for 20 hours, which allows it to infuse with natural flavors. Hot water is never used to make cold brew coffee, and the resulting beverage is much less acidic tasting.
Starbucks Nitro Cold Brew
Starbucks serves a standard cold brew coffee and a "nitro" cold brew. They infuse the nitro cold brew with nitrogen bubbles, resulting in a smoother, colder, and naturally sweeter coffee. The nitrogen process makes the coffee extra cold and doesn't require ice. Without ice, more coffee fits in the cup, resulting in more caffeine per cup size. You can expect about 280 mg of caffeine in a grande size nitro cold brew.
Iced Espresso Drinks
The most popular iced coffees at Starbucks are iced espresso drinks. Fresh espresso shots are added to ice, followed by milk, plant-based milk, or water. Although iced versions of standard espresso drinks such as flat whites, mochas, and lattes are available, iced espresso drinks can be highly versatile.
Be Adventurous! The best Starbucks iced espresso drinks are crafted with a range of syrups, sauces, and toppings. Some examples of these are detailed below: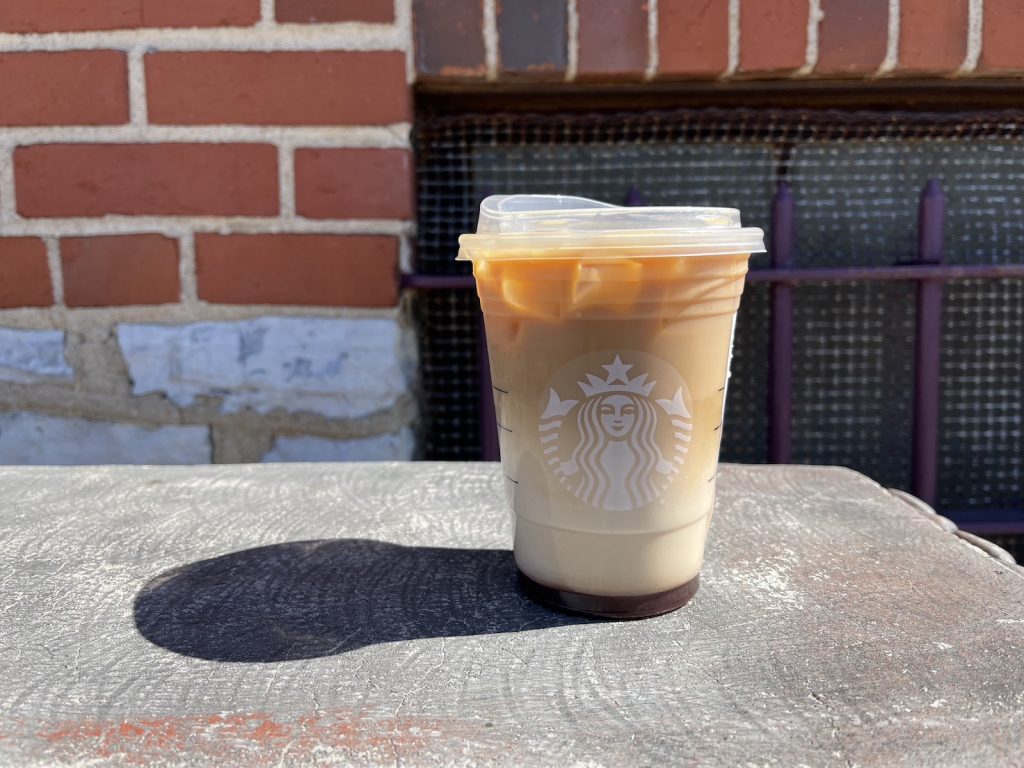 Salted Caramel Cream Cold Brew
Salted caramel has been a best-selling flavor in both food and drink for a while now. The salted caramel cream cold brew brings this flavor to coffee, resulting in a taste sensation. The Salted Caramel Cream Cold Brew is made by infusing caramel flavor and topping with salted vanilla sweet cream cold foam. If you can't get enough vanilla sweet cream cold foam, here's how to make it at home.
Iced Caramel Macchiato
This Starbucks classic is a sweet beverage that is packed with flavor. The grande Iced Caramel Macchiato contains 150 mg of caffeine and has only 250 calories. Baristas prepare this drink by adding espresso shots to milk, ice, and vanilla syrup. To finish, the barista adds an indulgent caramel sauce, which adds a pleasant caramel richness.
Iced Cinnamon Dolce Latte
Cinnamon NEEDS to be somewhere on the best Starbucks iced coffee list. Cinnamon flavoring adds a new dynamic to coffee. It's another versatile flavor perfect for a summer or winter day. The Iced Cinnamon Dolce Latte is a cinnamon sensation and made by adding cinnamon dolce syrup to ice, espresso, and milk. To enhance the flavor, whipped cream and cinnamon are added as toppings—a few more calories (300 calories) but well worth the treat.
Iced Chocolate Almondmilk Shaken Espresso
This drink is relatively new on the Starbucks menu, but it's gaining popularity quickly. The "Almondmilk" presents the espresso with a distinct almond taste, balancing well with chocolate flavoring. Unlike other drinks, the chocolate flavor comes from malt powder instead of syrup and is added to espresso, ice, and almond milk. Finally, the drink is shaken like a cocktail. If you are looking for a low-calorie Starbucks drink, you can enjoy the chocolate and espresso nature for around 110 calories.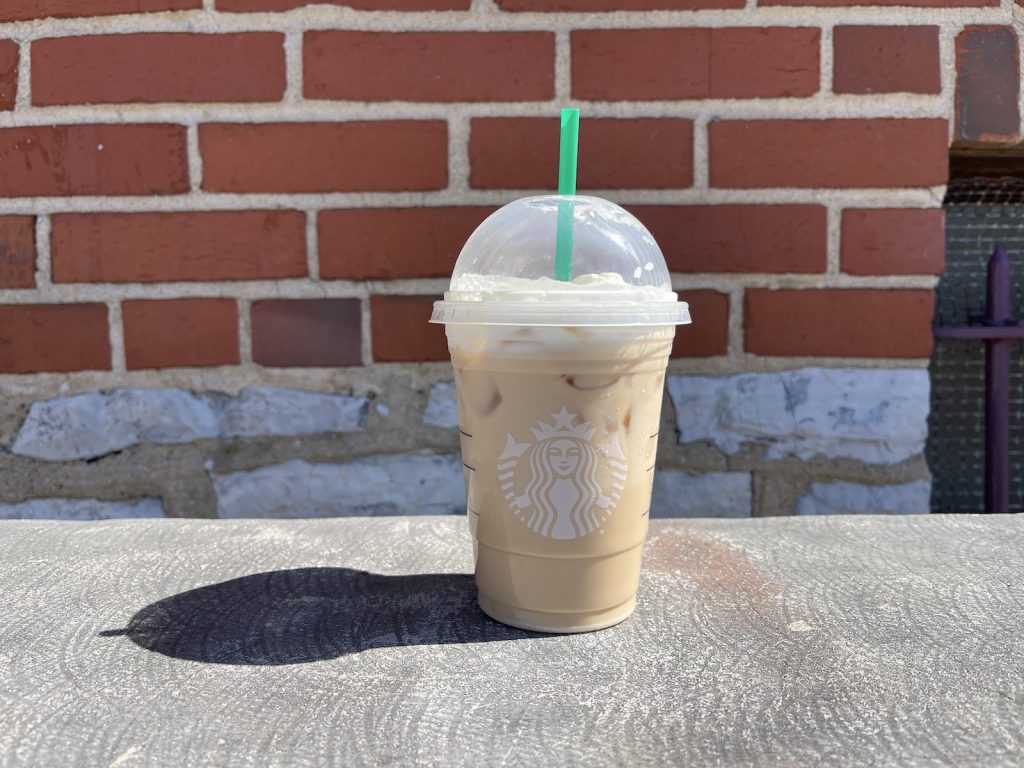 Iced White Chocolate Mocha
Most people are familiar with mochas, but white chocolate mochas are a relatively new concept. This drink is very decadent and is a white chocolate lover's dream, made by adding espresso to white chocolate sauce, milk, and ice before topping with sweetened whipped cream. Watch out for the calories! A "grande" sized contains 150 mg of caffeine, 48g of sugar, and 420 calories.
TikTok Iced White Mocha
Try the TikTok Iced White Mocha from the Starbucks Secret Menu if you are not totally into chocolate. The TikTok Iced White Mocha is dubbed one of the best Starbucks drinks you can order! Make sure you have enough money in the kitty, as this drink in a venti size can cost nearly $8. Here's how to order the TikTok Iced White Mocha:
A venti iced coffee

Four pumps of white mocha

sweet cream cold foam

More Best Starbucks Iced Coffees
Iced Flat Whites
Starbucks Blonde Vanilla Latte
Honey Oatmilk Latte (limited availability)
Irish Creme Cold Brew
Vanilla Sweet Cream Nitro Cold Brew
Honey Almondmilk Nitro Cold Brew (limited availability)
Iced Caffe Americano
Iced Chocolate Almondmilk Shaken Espresso
Best Starbucks Drinks Iced Coffee Summary
There is an enormous range of iced coffees available at Starbucks, and those listed above are a select few. If you are searching for Starbucks iced decaf drinks, most of the mentioned iced varieties above can be ordered as decaf! Have your own list of the Best Starbucks Iced Coffee drinks? Let us know in the comments below!