Are you looking for a rich, flavorful iced coffee with just the right amount of character but zero guilt?
With just three basic ingredients, and almost no calories and fat, the iced Americano is a health-conscious coffee-lover's dream. Despite its simplicity, it's one of the most refreshing caffeinated beverages ever invented.
That's why it's no surprise that the Starbucks Americano is legendary among the most popular drinks on the menu.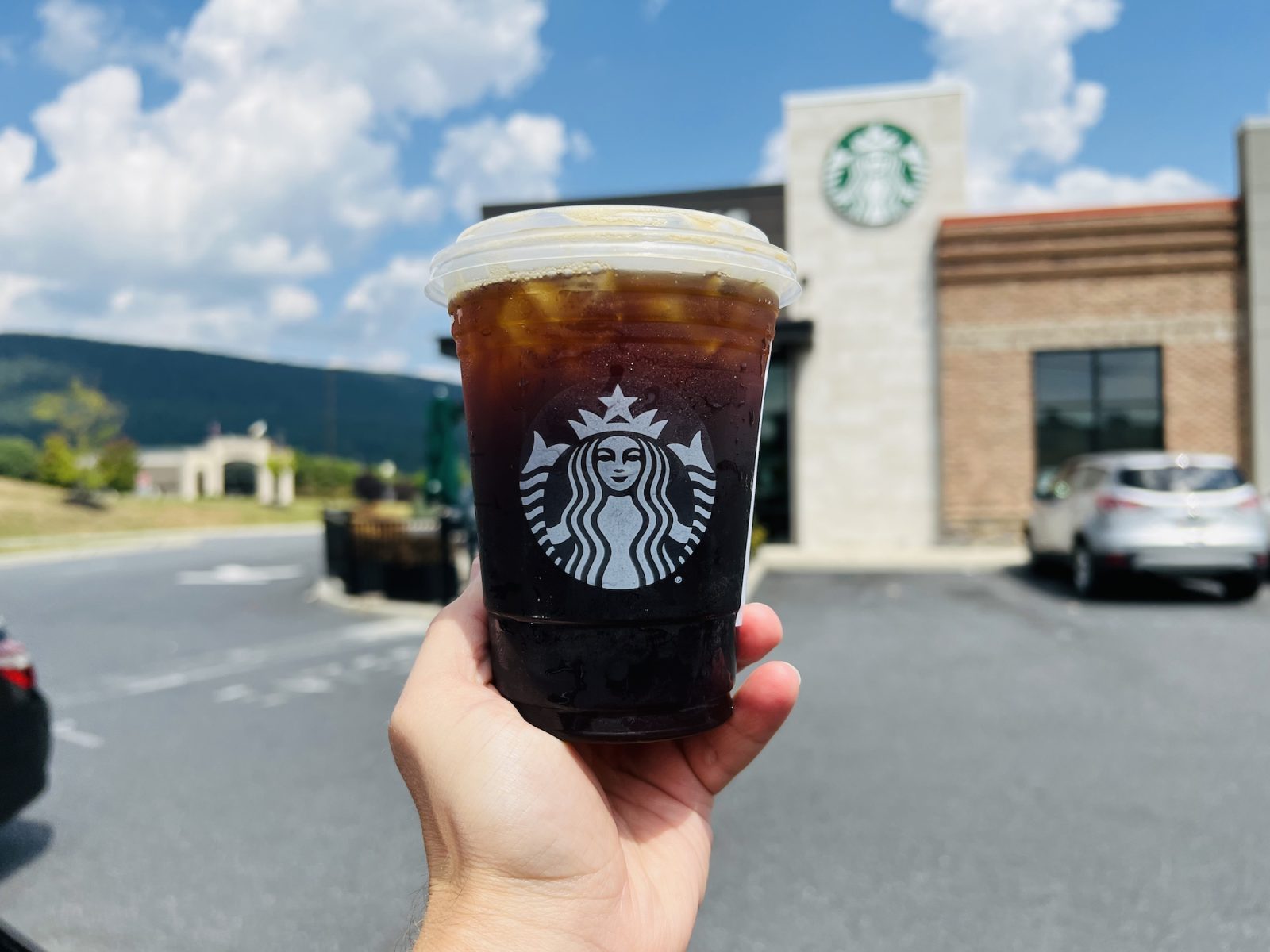 So let's take a look at the history of this beloved beverage, and learn how you can make a Starbucks Iced Americano right in your own home.
What Is an Iced Americano?
There are many different types of iced coffee drinks, from café mazagran to the classic frappé, but the iced Americano is probably the simplest.
In essence, it's a watered-down espresso, since the idea is to make the espresso using just chilled water. And if that sounds dull and uninteresting, you couldn't be more wrong.
The truth is, the iced Americano is both rich and bitter, with a unique flavor you won't soon forget.
Best of all, the drink contains just enough caffeine to get your day started on the right foot, with a refreshing coolness that's ideal for a warm day.
If hot coffee is the perfect drink for the winter, the iced Americano is its summertime counterpart.
The History of the Iced Americano
The story behind the iced Americano is at least as fascinating as the drink itself.
It's thought that the drink goes back to the immediate postwar period in Italy, when the American G.I.s were in town in the aftermath of the Second World War.
Some say the drink goes back to an even earlier period, to the First World War, but we'll stick with the official story.
In any case, the Americans loved coffee, and there was no better place for a coffee-lover to be than in Italy. However, the Italians offered two types of coffee: espresso and cappuccino.
The G.I.s found the flavor of espresso to be a little too intense for their tastes; cappuccino was more to their liking, but they preferred the larger sizes of the espresso drinks.
So, local cafes devised a brilliant solution: they began serving espresso shots diluted with hot water to make the classic Americano.
From there, it wasn't much of a stretch to create the iced Americano, which is nothing more than the Americano concocted with cold instead of hot water.
The Starbucks Iced Americano
The Starbucks Iced Caffè Americano is one of the simplest yet most popular drinks that the barista has to offer.
For one thing, it consists of only three ingredients: espresso, cold water, and ice. Actually, since ice is water, there are really only two ingredients. But you get the picture—it's a refreshingly simple recipe.
However, the basic Starbucks Americano is bitter, which is not to everyone's liking. You can specify the addition of milk or syrup to offset this.
But if you're a real coffee aficionado, the iced Americano lets you really enjoy the quality of Starbucks coffee in a way that few of their other offerings allow.
And we shouldn't overlook the health benefits of this drink. For those calorie-counters out there, the Starbucks Iced Americano has only 11 calories (!) and zero fat. What's not to love about that?
You can enjoy your iced Americano and be guilt-free while doing it, since you don't have to worry about packing on calories and fat.
And that makes it the perfect pre-workout drink, since it gives you an energy boost without excess calories that you'll have to burn off later.
Ordering the Starbucks Americano
You can order the iced Americano at Starbucks in three sizes: the tall (12 ounces), the grande (16 ounces), or the venti (24 ounces).
A tall Americano will consist of 2 espresso shots, the grande will have 3, and the venti has 4 espresso shots.
If you're feeling particularly adventurous, you can ask to have your espresso made as a short shot (ristretto) or a long shot, and you can choose decaf or blonde espresso.
Or course, depending on your tastes, you can always ask for an extra shot or two of espresso for a somewhat more caffeinated drink, and you can specify the addition of milk or syrup if you'd like.
How to Make an Iced Americano
The beauty of the traditional iced Americano is that it is ridiculously easy to make.
As we've made clear, the ingredients for this popular drink are exceedingly basic: just some espresso shots, cold water, and ice.
To get started, you'll need to use an espresso or Nespresso machine to make the espresso. If you can't make espresso, a French press is a good alternative—but don't use filtered coffee.
Pour three espresso shots into a cup, and then add to that ⅔ cups of cold water. For a better taste, use filtered water if you can.
Then top it all off with some ice to achieve the desired effect of the classic iced Americano.
You can always experiment with sweeteners, too. Simple syrup is the best choice, since it mixes most easily with a cold drink; vanilla or caramel are popular flavors.
Or, rather than syrup, you can add some milk if you prefer.
The Perfect Iced Coffee
The verdict is clear: the Starbucks Iced Americano is one of the most popular iced coffee drinks around the world. It's healthy, it's tasty, and it provides just the boost of energy for your morning routine.
This is why so many people love the Starbucks Americano, which is a refreshing take on this classic coffee drink.
But you don't have to visit your local Starbucks to enjoy this beverage—the iced Americano is an easy recipe that you can brew up in your own kitchen in a matter of minutes.
So start making your own iced Americanos today, and feel free to contact us with any tips and suggestions you might have about making the best iced Americano.