How to make a new trendy Dalgona coffee recipe. This is whipped instant coffee with water and sugar, poured on milk with ice cubes.
Whipped coffee recipes or the infamous Korean Dalgona coffee recipe is a topic that has sky-rocketed DIY coffee internet searches during the Covid-19 pandemic. Rightly so, this is a very refreshing drink that is fast and simple to create.
What Is Dalgona Coffee or Whipped Coffee?
Whipped coffee or Dalgona coffee is made by whipping equal proportions of instant coffee, granulated sugar, and hot water until it becomes creamy and then adding it to cold milk with ice cubes. Since instant coffee is a primary ingredient, we recommend Douwe Egberts Pure Gold Instant Coffee from Amazon as it has the best reviews out of all instant coffee varieties.
The best part of the Dalgona coffee recipe is that it only has 4 ingredients!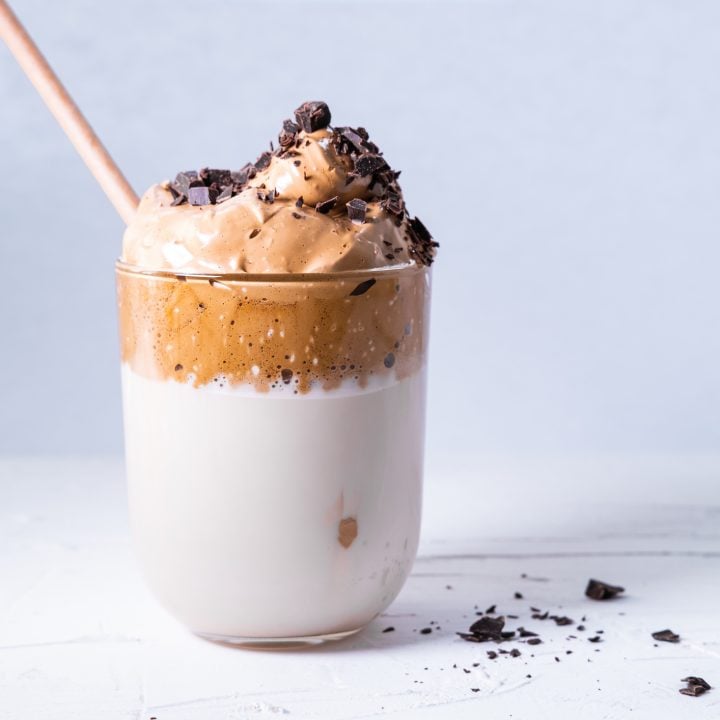 Dalgona Coffee Recipe
The best part of the Dalgona coffee recipe is that it only has 4 ingredients.
Ingredients
4 tablespoons instant coffee
4 tablespoons granulated sugar
4 tablespoons of hot water
1.5 cups of chilled milk
Instructions
Mix the instant coffee, granulated sugar and hot water together in a 6-ounce glass custard cup. Use a spoon and keep blending until the mixture becomes thick and creamy.
Prepare the cold milk and ice cubes in a novelty glass or glass coffee mug.
Pour the milk over the ice cubes and add the topping from the glass custard cup.
Mix slightly with the milk.
Sip and enjoy your Dalgona iced coffee.
Nutrition Information:
Serving Size:

12oz
Amount Per Serving:
Calories:

250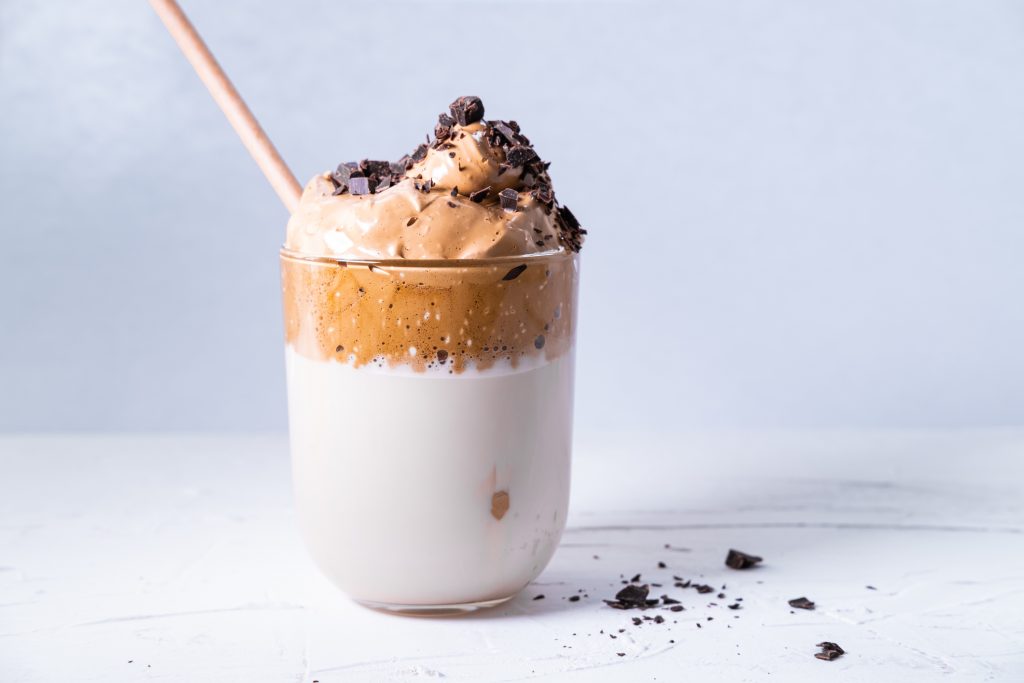 Dalgona Coffee Recipe Tips
Ice cubes infused with coffee beans, or chocolate espresso beans. We love the idea of coffee bean infused ice cubes. Give this a try!
Eliminate freezer burn. When using the ice cubes from your freezer, give the cubes a quick rinse. This helps eliminate the "freezer burn taste".
Use chocolate chips. Sprinkle chocolate chips or flakes on top of the creamy mixture after adding to the milk.
It is important to note that instant coffee is made to dissolve, which is why instant coffee is ideal for this recipe. However, if instant coffee isn't available you can use brewed coffee instead. View our Dalgona Coffee without Instant Coffee Recipe.