Panera Bread has recently introduced a new line of beverages called the Charged Lemonades, which have quickly gained popularity due to their unique combination of flavors and energizing ingredients. These refreshing drinks boast both exciting taste profiles and an energy boost thanks to clean caffeine sourced from guarana and green coffee extract. Let us break down Panera Charged Lemonade caffeine content, calories and everything you need to know!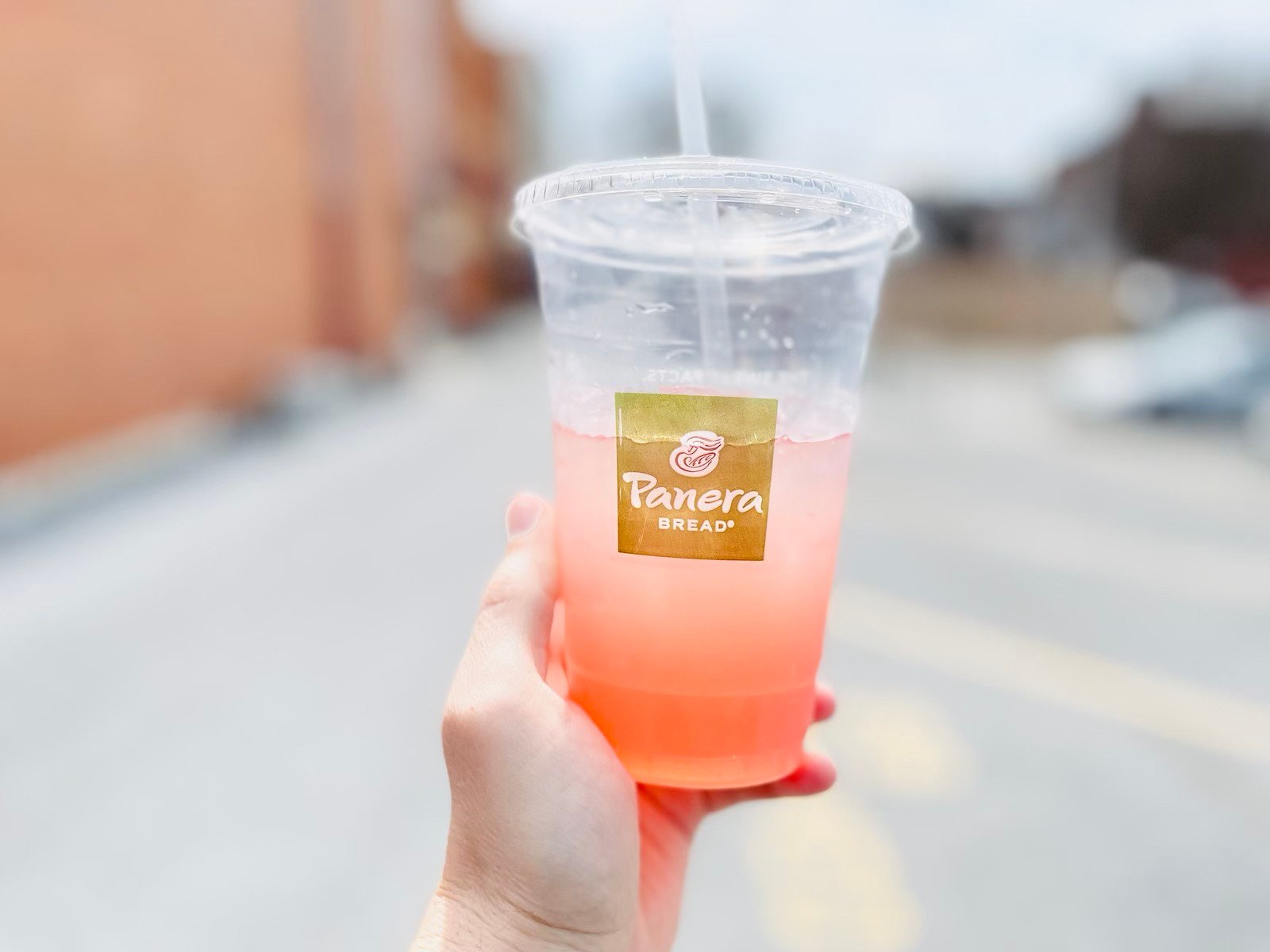 Panera Charged Lemonade Basics
The Charged Lemonades are available in three delicious flavors: Mango Yuzu Citrus, Strawberry Lemon Mint, and Fuji Apple Cranberry. Each of these flavors contains a significant amount of caffeine, ranging between 259-260 milligrams per large serving.
This has caught the attention of many consumers, as the caffeine content is comparable to that of four servings of espresso.
As summer approaches, these cold and caffeinated lemonades are grabbing the spotlight not only for their invigorating flavors but also for their potential as the ultimate pick-me-up, especially for those seeking an alternative to traditional energy drinks or coffee.
While the Charged Lemonades have captured the interest of many customers, it is important to be aware of their caffeine content and how it may affect one's daily intake.
Flavors
There are three great flavors available in Panera Bread's Charged Lemonades lineup:
Mango Yuzu Citrus Charged Lemonade: This flavor brings together the tropical taste of mango with the bright notes of yuzu citrus. The combination creates a delicious and invigorating beverage perfect for those warm summer days.
Strawberry Lemon Mint Flavor: The classic combination of strawberry and lemon with a twist of mint makes for a revitalizing and enjoyable flavor. This drink offers a balance of sweetness, tartness, and a hint of coolness from the mint.
Apple Cranberry Charged Lemonade: The fusion of Fuji apple and cranberry combines to deliver a tantalizing flavor, with the perfect blend of sweet and tart. This variation of the Charged Lemonade is perfect for those seeking a crisp and refreshing beverage.
Each of these Charged Lemonades offers customers a delightful and energy-boosting experience while maintaining the refreshing characteristics of traditional lemonade. Panera Bread's Charged Lemonades are sure to be a popular choice for those seeking a unique and invigorating drink option.
Panera Charged Lemonade Caffeine Content
Caffeine Sources
Panera Bread Charged Lemonades are energy drinks made with caffeine obtained from guarana and green coffee extract. These provide a natural source of energy to the beverages. Panera Bread states that the standard size of their Charged Lemonades contains as much caffeine as their Dark Roast coffee, which is approximately 260 milligrams.
A large 30 fl. oz. version of the drink contains 390 milligrams of caffeine. This makes their caffeinated lemonades a suitable alternative to traditional espresso-based drinks or green tea for those seeking a caffeine boost.
Strawberry Lemon Mint – 20 fl oz: 260mg caffeine
Strawberry Lemon Mint – 30 fl oz: 390mg caffeine
Mango Yuzu Citrus – 20 fl oz: 260mg caffeine
Mango Yuzu Citrus – 30 fl oz: 390mg caffeine
Fuji Apple Cranberry – 20 fl oz: 259mg caffeine
Fuji Apple Cranberry – 30 fl oz: 389mg caffeine
Guarana Extract
Guarana extract is used both as a source of caffeine and as a natural flavor in Panera Bread Charged Lemonades. This plant is native to the Amazon basin that contains natural stimulants, including caffeine.
The extract is derived from the seeds of the guarana fruit and serves as a source of caffeine in Panera Bread's caffeine-infused lemonades.
Sugar Content
Panera Bread's Charged Lemonades are sweetened with sugar and agave syrup. The Strawberry Lemon Mint Flavored Charged Lemonade contains water, sugar, lemon juice, lemon juice concentrate, and agave, among other ingredients.
Additionally, the caffeinated syrup used in the drink is made with water, apple juice concentrate, and sugar.
While exact sugar content is not disclosed, it is important for consumers to be aware of the added sugar in these drinks when considering their overall daily sugar intake.
Comparisons to Other Beverages
Panera Bread's new lemonades have gained attention due to its surprising caffeine content. To give readers perspective on how it compares to other popular caffeinated beverages, this section will provide a comparison with coffee, Red Bull, Starbucks, and other common coffees and teas.
Charged Lemonade vs. Espresso: Panera's Charged Lemonade contains more than four times the caffeine of a single espresso shot. A single espresso has about 63 mg of caffeine, while the lemonade packs a hefty 250 mg.
Charged Lemonade vs. Red Bull: The Charged Lemonade also surpasses the caffeine content of a 12-ounce Red Bull, which contains 111 mg of caffeine. This means that Panera's beverage has over twice the amount of caffeine found in the energy drink.
Charged Lemonade vs. Starbucks: Comparing Panera's Charged Lemonade to Starbucks beverages, it has more caffeine than a 12-ounce Starbucks Caffè Americano, which has approximately 150 mg of caffeine. However, it has slightly less caffeine than a 20-ounce Starbucks Venti Cold Brew, which contains around 280 mg of caffeine.
Charged Lemonade vs. Other Coffees and Teas: The caffeine content in the Charged Lemonade also surpasses many other common coffee and tea options. For example, filter coffee typically has around 95 mg of caffeine per 8-ounce cup, while black tea contains about 47 mg, and green tea holds between 20 to 45 mg of caffeine per 8-ounce serving.
Panera Charged Lemonade Calories
Alongside their energizing effects, it is important to consider the calorie content of each drink. Panera Charged Lemonade calories in each flavor without ice:
Strawberry Lemon Mint:

20 fl oz: 280 calories
30 fl oz: 430 calories

Mango Yuzu Citrus:

20 fl oz: 350 calories
30 fl oz: 530 calories

Fuji Apple Cranberry:

20 fl oz: 290 calories
30 fl oz: 430 calories
As you can see, Mango Yuzu Citrus contains the most calories out of all three flavors without ice.
Summary
Panera Bread introduced Charged Lemonades as a new addition to their beverage offerings. These energizing drinks come in three unique flavors: mango, cranberry, and strawberry mint.
Have you tried the new lemonades by Panera Bread?
Let us know your thoughts or review in the comments section below.