With so many places to order your iced coffee, have you forgotten Panera? Panera offers dark roast iced coffee that pairs perfectly with of their any breakfast or lunch bites.
Never ordered Panera iced coffee? Read below to explore everything you need to know about the iced coffee on the Panera coffee menu and how to order it.
Panera Bread Iced Coffee Review
Panera iced coffee is made from a dark roast blend, creating a rich, bold, and full-bodied flavor.
This iced coffee has a slightly smoky accent and sweet chocolate notes. Panera harvests their dark roast coffee beans used for their iced coffee from Central and South America.
Currently, the dark roast blend is the only iced coffee on the Panera coffee menu.
Panera Coffee Flavor Shots & Espresso
While Panera's iced coffee tastes great as is, the Panera coffee menu also offers a few add-ons. If you're in need of a strong boost of caffeine, consider adding an espresso shot for $0.99 into your iced coffee.
You can also add a flavor shot to your Panera iced coffee for $0.79.
Adding a flavor shot is perfect for those of you who enjoy a sweetened iced coffee drink. Currently, Panera offers four flavors of flavor shots which include:
Madasgascar Vanilla
Bittersweet Chocolate
Caramel
Cinnamon
(Note that these are not included for free in the Unlimited Sip Club).
Panera offers a coffee fix-in bar in store that allows you to dress your iced coffee up as you wish (creamer, sugar/sweetener, etc).
If ordering from the app or the touch screens in-store, you can request that the Panera team adds these into your coffee by selecting "customize".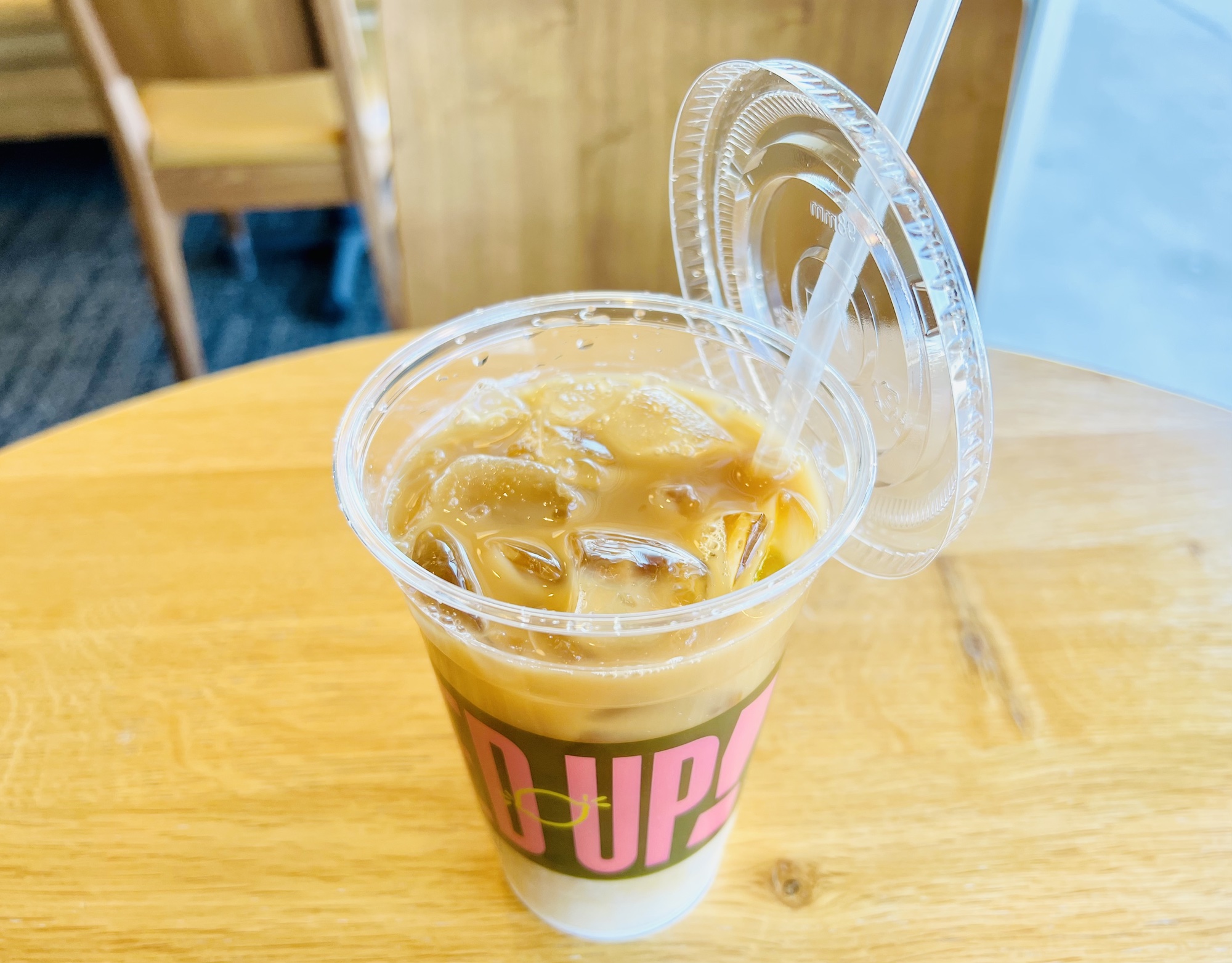 Panera Iced Coffee Cup Sizes
Currently, Panera offers two sizes of its dark roast blend iced coffee. The regular size (standard) and a large size.
Members of the Unlimited Sip Club can get either size for free with a membership!
How Much Caffeine Is In Panera Iced Coffee?
Each regular size (standard) of iced anera coffee contains 156 mg of caffeine.
A regular size contains 10 calories and 2 grams of carbs (when ordered black). In comparison, Panera's Cold Brew contains 162 of caffeine.
Is Panera Iced Coffee Part of the Panera Coffee Subscription?
If you're a fan of Panera iced coffee, you'll definitely want to check out the Panera Coffee Subscription. For $11.99 per month, iced coffee is included.
Get as many iced coffees per day as you wish!
Panera unlimited coffee is a solid choice for frequent coffee drinkers or those who eat at Panera regularly.
If you're not sure if you'll like the Panera unlimited coffee, sign up for a free month or two to check it out. You can cancel for free at any time.
Try Dark Roast Iced Coffee
Give Panera's dark roast iced coffee a shot next time you're near one.
It might just rise to the top as one of your go-to spots for a cold iced coffee!