The holidays are upon us once again, and that means it's time to start thinking about what festive drinks we'll be sipping on from Starbucks this year. While the coffee chain hasn't released its official holiday menu for 2022 just yet, we've got a pretty good idea of what to expect based on a few insights from our favorite baristas.
Here are the Starbucks holiday drinks launching on November 2nd, 2022, (with red cup day on November 17th, 2022).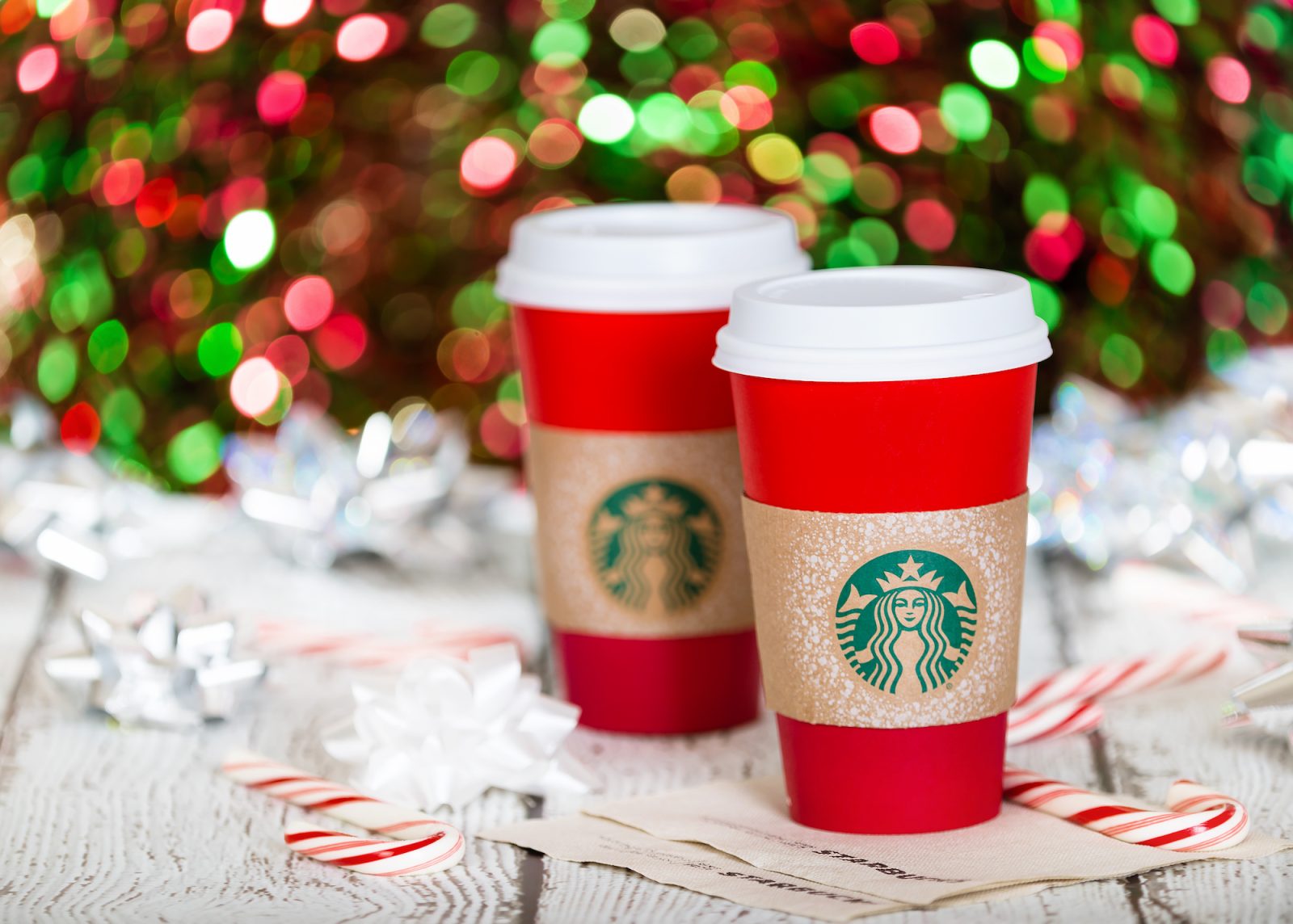 Starbucks Holiday Menu 2022 Drinks
Peppermint Mocha
This seasonal favorite is first on the list to return and has been one of our favorite mocha drinks since the beginning.
The Starbucks Peppermint Mocha has become a staple of the holiday season.
Thanks to its delicious flavor and festive appearance, this drink is a favorite among coffee lovers and non-coffee drinkers alike.
If you enjoy the taste of candy canes and hot espresso, the Peppermint Mocha is a sure bet!
Caramel Brulée Latte
The Caramel Brulee Latte is the perfect blend of coffee and sweetness for all caramel lovers out there. Caramel coffee drinks make up some of the most ordered drinks on the Starbucks menu, and the Caramel Brulee Latte likewise.
Starbucks begins with espresso, steamed milk, and rich caramel brulée sauce – creating one of the most balanced and smooth caramel drinks we have ever devoured. Whipped cream and toppings of even more caramel brulée bits float on top, making the Caramel Brulee Latte the perfect Christmas latte for caramel lovers.
Chestnut Praline Latte
Are you feeling a bit nutty around the holidays?
The Chestnut Praline adds to the nuttiness (at Starbucks, that is…) during one of the busiest times of the year.
The Chestnut Praline Latte serves up a robust nutty flavor that will leave you wanting more after seeing the bottom of your cup.
The BEST part?
It's not sugary sweet like everything else that screams Christmas!
The "CPL" is a solid latte choice made with Starbucks' signature espresso, added flavors of caramelized chestnuts and spices.
Whipped cream is swirled on top and decorated with spiced praline crumbs! Wow!
You can capture a similar taste by adding Chestnut Praline flavor in an iced coffee or ordering a Chestnut Praline Frappuccino.
The Chestnut Praline Latte is a must-try Christmas Starbucks drink with no regrets!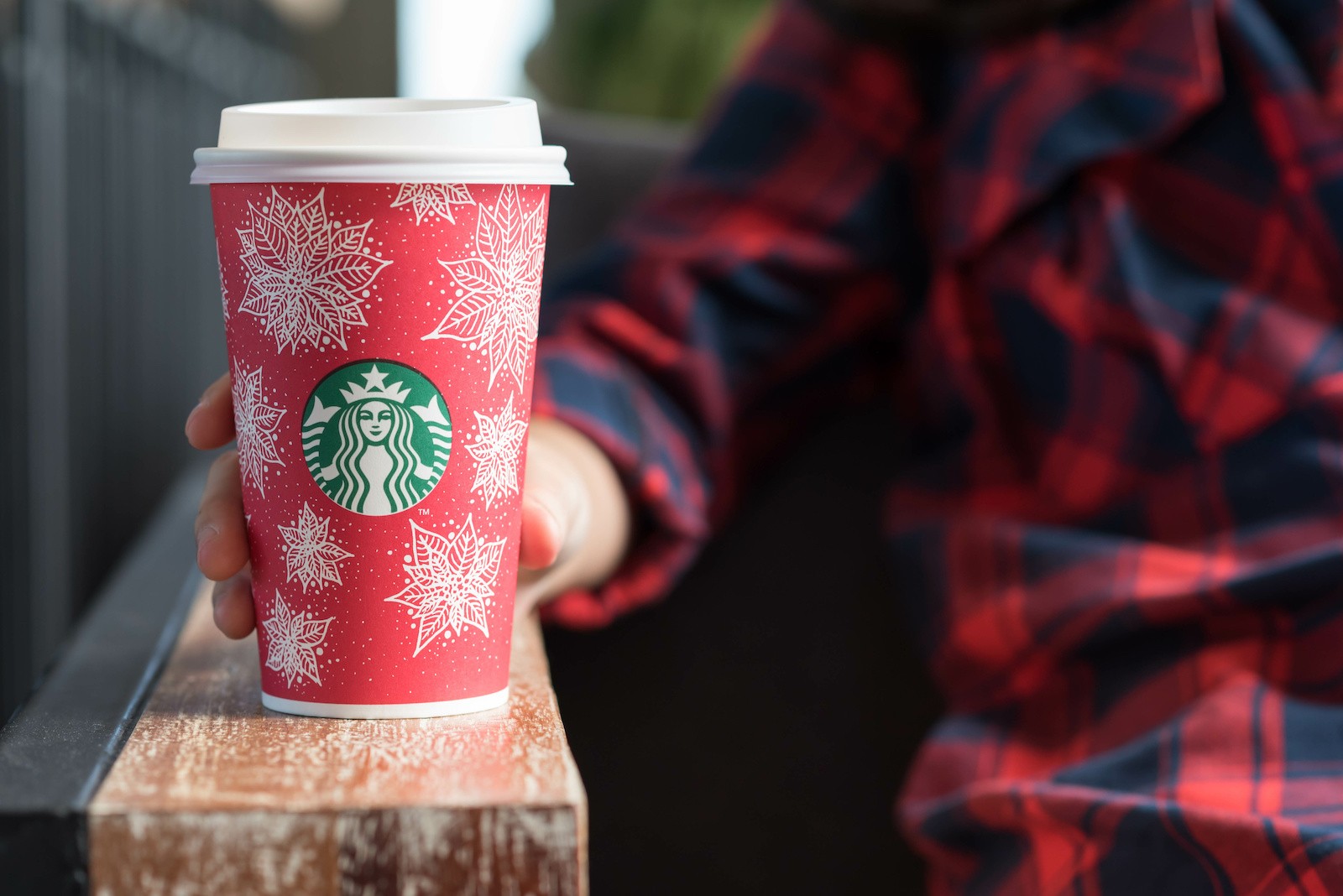 Sugar Cookie Almondmilk Latte
The Sugar Cookie Almondmilk Latte was the HEADLINE DRINK last year (2021) and will return to the Starbucks holiday menu in 2022.
Who doesn't love a traditional made-from-scratch sugar cookie?
The Sugar Cookie Almondmilk latte features the newly famous cookie-flavored signature syrup combined with blonde espresso and steamed almondmilk.
We LOVE blonde espresso!
Starbucks adds a nice festive touch and drops sparkling red and green sprinkles on top.
Craving milk and cookies?
Try swapping the almondmilk with regular milk for an authentic milk and cookies experience.
Irish Cream Cold Brew
We still think this is a St. Patty's Day drink, but what the heck.
After giving the Irish Cream Cold Brew a shot last year, we realized this particular cold brew make-up is perfect for the holiday season.
The "ICCB" is a very relaxing drink that reels you back to earth during the unpredictable craziness of the holidays. Vanilla sweet cream cold foam with a hint of cocoa endorses this Christmas drink as the perfect sip on Christmas morning or in front of the fireplace.
We have designated this great cold coffee as our choice for Christmas morning.
Toasted White Chocolate Mocha
Described as a "Merry" treat, the White Chocolate Mocha does not mislead!
Espresso paired with flavors of caramelized white chocolate, steamed milk, and whipped cream makes you feel quite "merry" and "bright"!
Festive holiday sugar sparkles and crispy white pearls send you spiraling into that desired white Christmas mindset.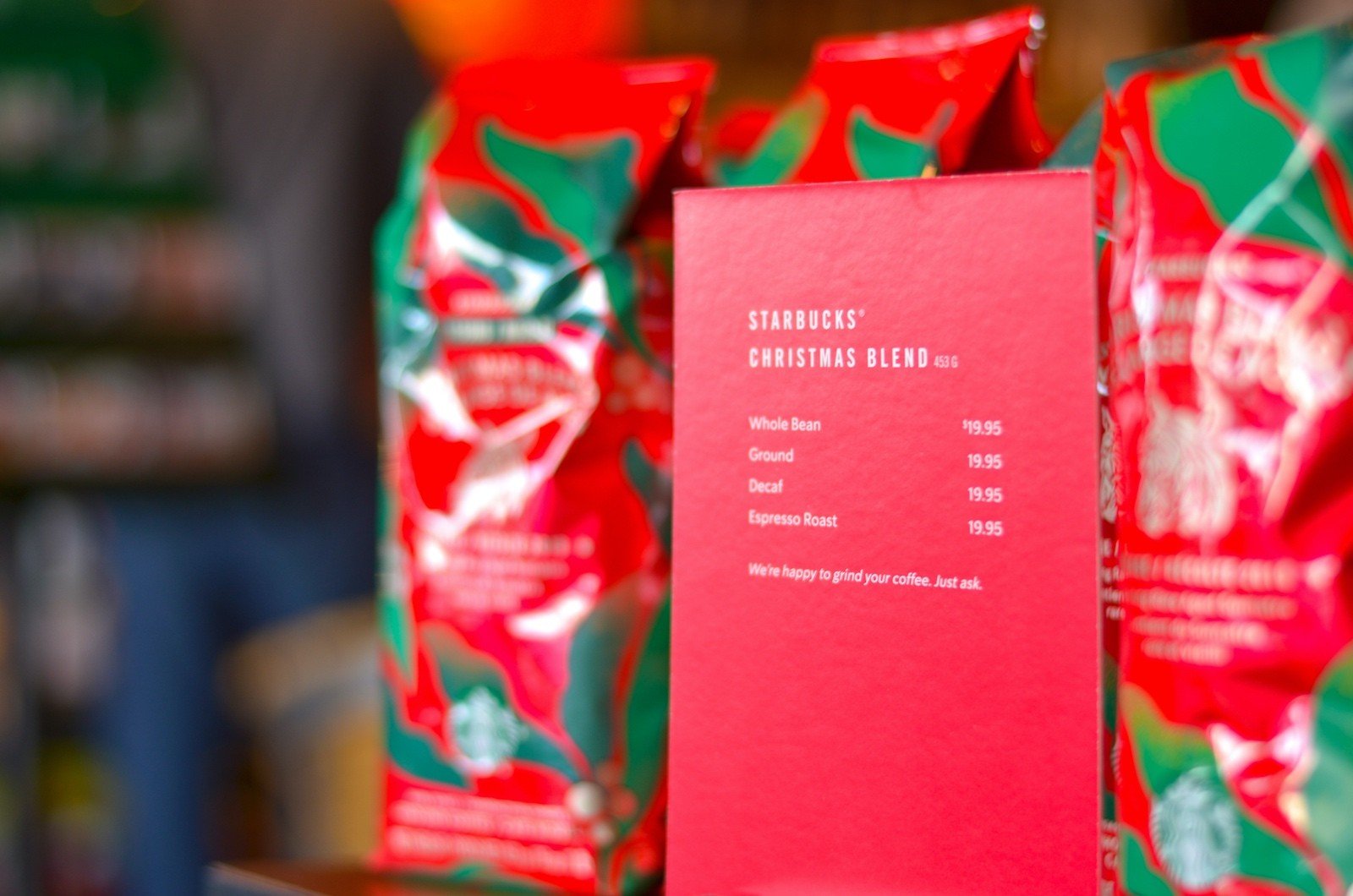 Starbucks Holiday Menu 2022 Summary
The above drinks will hit Starbucks stores nationwide on November 2nd, 2022 or sooner!
We were very excited to learn about the new Starbucks Holiday menu for 2022, but it turns out that all of last year's items are back again, with no new added drinks.
Here were some hopefuls that didn't make the cut once again. And no Eggnog Latte AGAIN!
No Eggnog Latte
The Eggnog Latte was a must-try for anyone who loves the taste of eggnog. This creamy drink was made with espresso, steamed eggnog, and a dash of nutmeg for some extra flavor.
Unfortunately, there is no evidence that this coveted latte will ever return to the Starbucks holiday menu.
No Gingerbread
Made with gingerbread syrup and topped with whipped cream and candied ginger, this drink was sure to please anyone with a sweet tooth.
Once again, Starbucks has overlooked bringing back the taste of gingerbread in 2022. Dunkin' has also ignored any return of gingerbread.
Other Holiday Items Back In 2022
The Reindeer Cake Pop and Starbucks Christmas Blend Packaged Coffee are back among other items that include:
New! Chocolate Pistachio Swirl
Sugar Plumb Cheese Danish
Snowman Cookie
Cranberry Bliss Bar