It's hard to believe that a drink as delicious and refreshing as paradise could even exist. The new Starbucks drink called the "Paradise Drink" will make you feel like you are in paradise — literally. This paradise in a cup is SO refreshing, the infamous Starbucks Pink Drink may have a new rival on the best-selling list. Here is what makes this drink SO GOOD in our Starbucks Paradise Drink Review.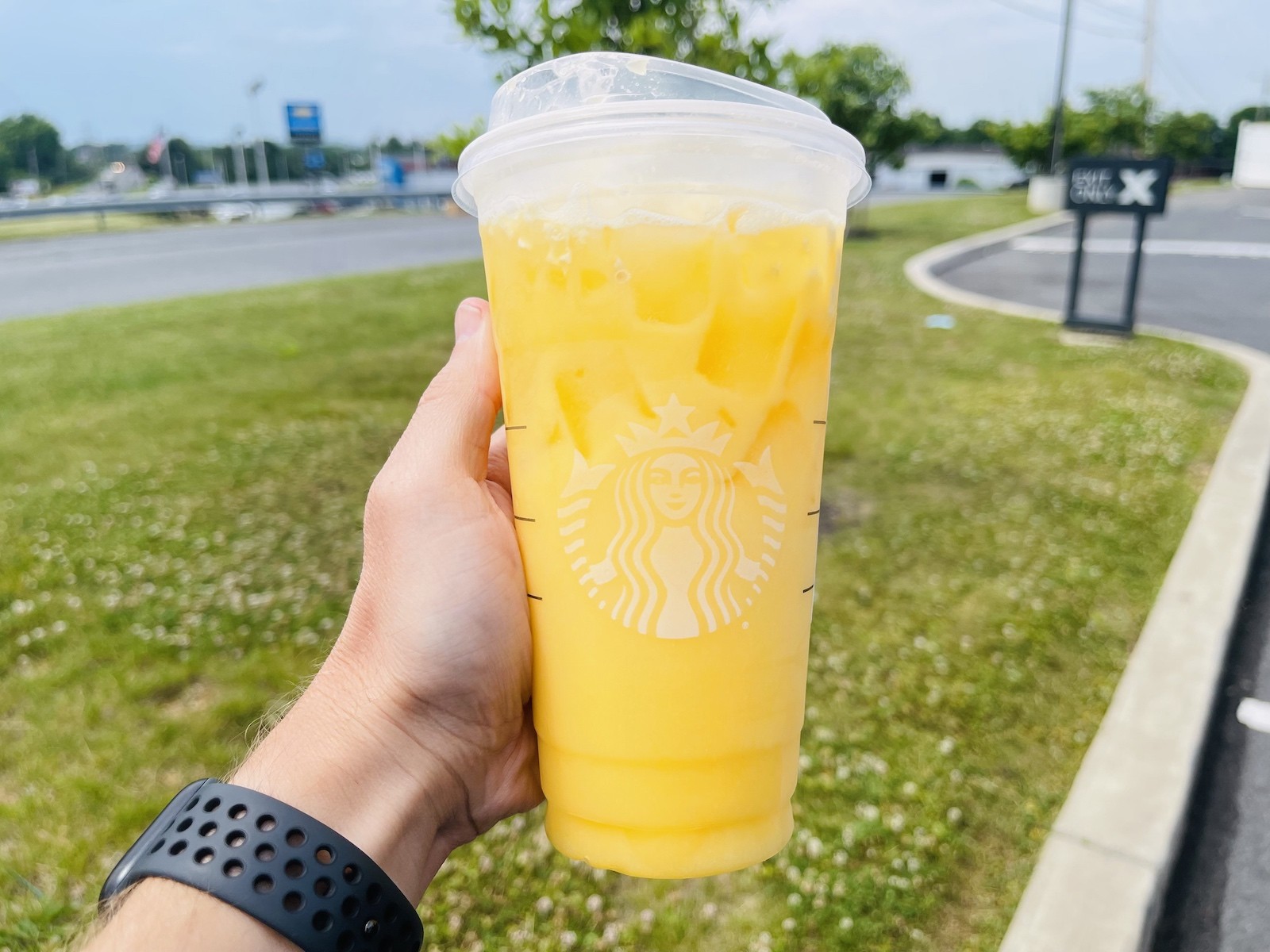 The new Starbucks Paradise drink was released on June 21, 2022, as part of a new Starbucks line-up that includes a variety of pineapple passion fruit refresher drinks –and they're calling them "Summer's Brightest Drinks!"
Our Starbucks Paradise Drink Review
The first thing we noticed about the baristas' new creation was its weight; it felt more substantial than other drinks and even heavier than the Pink Drink. Rightly so, as this Starbucks drink is packed with ice and nearly two inches of pineapple chunks on top.
Secondly, this is drink is SUPER bright yellow, and the only color of its kind, and it tastes great!
As you begin to sip, the creamy coconut milk balances the sweetness of the pineapple juices perfectly, making this refresher not over-abundantly sweet and just downright refreshing!
Pineapple chunks slip through the strawless lid, enhancing flavor and adding unbelievable freshness!
No straws are allowed with this drink, or you'll miss out.
Does The Starbucks Paradise Drink Have Caffeine?
Need an afternoon or early morning boost? The Paradise Drink is the perfect balance of fruit and caffeine to start your day!
In a Venti size, the Starbucks Paradise Drink contains nearly 85mg of caffeine, the amount of standard brewed coffee, and the same caffeine content of the Pink Drink.
Same Cost As A Pink Drink

Whenever we hear "paradise", our wallets tend to take quite the hit. However, we paid under $5 for our Paradise Drink in a Venti size — the exact cost of a Venti Pink Drink.

The Starbucks Drink of the Summer

If you are ready to try the new Starbucks Paradise Drink, we recommend ordering a Trenta size with extra ice, as it comes standard with two scoops of pineapple.
We hope you enjoyed our Starbucks Paradise Drink review. Let us know what you think of the Starbucks Paradise drink in the comments below.

We are sure it will be THE Starbucks drink of Summer 2022!