It's that time of year again when Starbucks' bakery gets a delicious new twist, inspired by holiday favorites. As great as Starbucks' regular bakery treats are, these sweet treats are perfect to pair with a warm winter drink to sustain you throughout your holiday shopping.
Alongside this year's Starbucks holiday menu drinks, there are five sweet treats to choose from, including cookies, danishes, and cake pop varieties.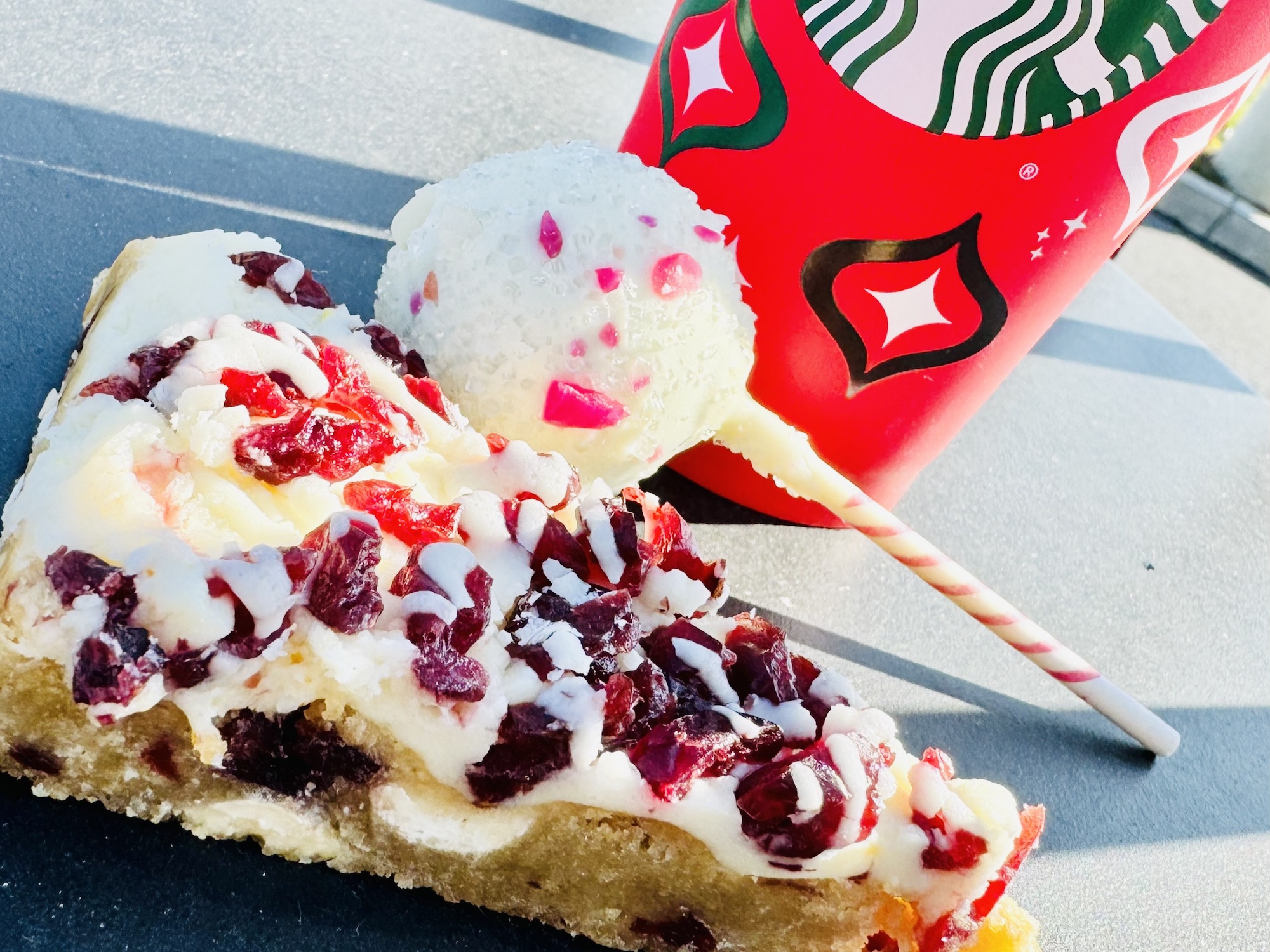 Below, we'll dive into Starbucks' 2023 bakery items you won't want to miss.
1. Starbucks Holiday-Inspired Cake Pops
Starbucks' cake pops are one of the chain's classic bakery treats and something that sets them apart from other coffee chains. This year, the holiday bakery menu includes a holiday-inspired variety: peppermint brownie cake pop.
This white and red cake pop features an inside of a chocolate peppermint cake which is coated in white chocolate frosting and little bits of candy cane.
The peppermint brownie cake pop is rich and delicious (plus aesthetically pleasing).
This cake pop differs from ones Starbucks has offered in past years, such as the Reindeer cake pop which had a vanilla cake inside instead.
Each peppermint brownie cake pop contains 160 calories, 19 grams of sugar, and 6 grams of fat.
The perfect Starbucks holiday bakery item for the kids!
2. Starbucks Gingerbread Loaf
You can't go wrong with any of Starbucks' loaf cakes, but the gingerbread variety is perfect for the wintertime.
The gingerbread loaf cake has a strong ginger-spice flavoring, complete with vanilla icing on top.
If you really want a whole gingerbread feast, pair this delicious gingerbread loaf with a gingerbread drink too, such as the iced gingerbread oat milk chai (also available in hot drinks).
A slice of the gingerbread loaf contains 380 calories, 43 grams of sugar, and 12 grams of fat.
3. Starbucks Snowman Cookie
Nothing says "Christmas time" like a great holiday cookie. Starbucks' snowman cookie is a great option to meet your cravings for a sweet treat.
This snowman-themed sugar cookie is buttery and delicious, made from a shortbread cookie dough.
The icing on this snowman cookie is white chocolate, adding the perfect topping with a touch of extra sweetness.
If you're heading to Starbucks with your kids, this is a kid-friendly treat that is guaranteed to please.
Each snowman cookie has 390 calories, 25 grams of sugar, and 21 grams of fat.
Our favorite Starbucks Holiday bakery item of 2023!
4. Starbucks Cranberry Bliss Bar
The cranberry bliss bar is a go-to Starbucks bakery treat for when you want something a little different.
This unique sweet treat is a blondie cake, made with dried cranberries and a delicious layer of cream-cheese icing on top.
The icing on top also has orange zest flecks and more dried cranberries on top.
The cranberry bliss bar is a returning favorite year – and for good reason. It's sweet without being too sweet, and something you can't find everywhere during the holiday season.
Each cranberry bliss bar has 290 calories, 28 grams of sugar, and 15 grams of fat.
5. Starbucks Sugar Plum Cheese Danish
Starbucks' classic cheese danish has been a favorite for years, made with a flaky and doughy croissant and a creamy cream cheese center.
The sugar plum cheese danish takes the standard cheese danish to a new level.
This holiday-inspired twist is topped with a spiced sugar plum spread.
Each sugar plum cheese danish contains 330 calories, 16 grams of sugar, and 15 grams of fat.
Starbucks Holiday Bakery Item Summary
Which Starbucks holiday food do you like the best? Try them all and let us know what you think.