It would be unusual not to include your kids in your morning routine heading to the Starbucks drive-thru. If you haven't noticed, your kids are thirsty human beings too (sometimes more than others)! Here is a list of the 7 Starbucks drinks for kids when you hear them speak up from the back seat.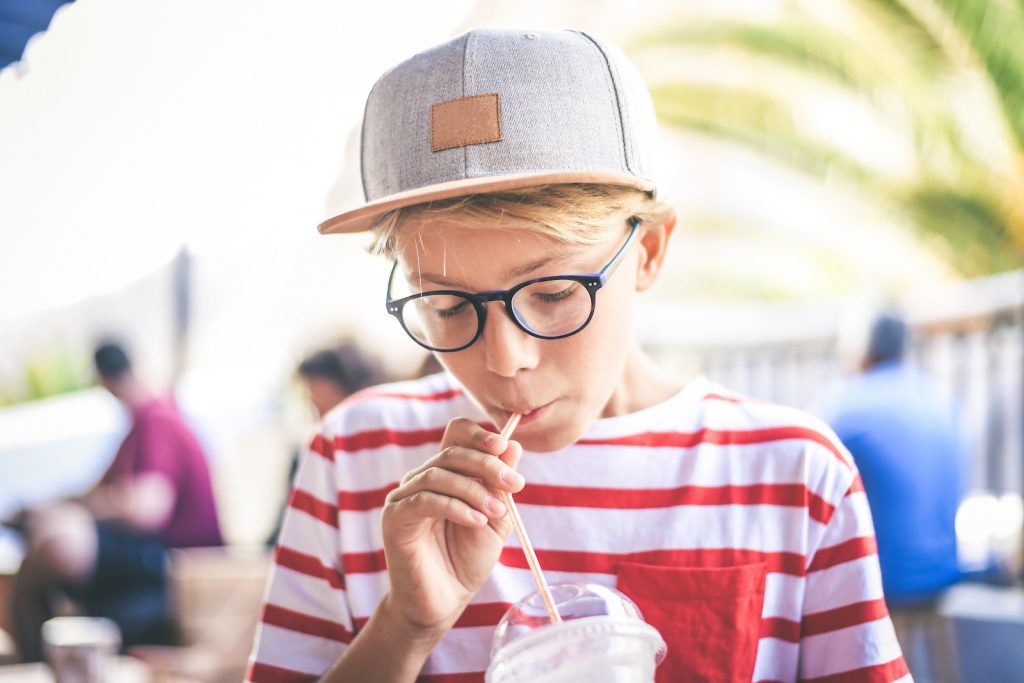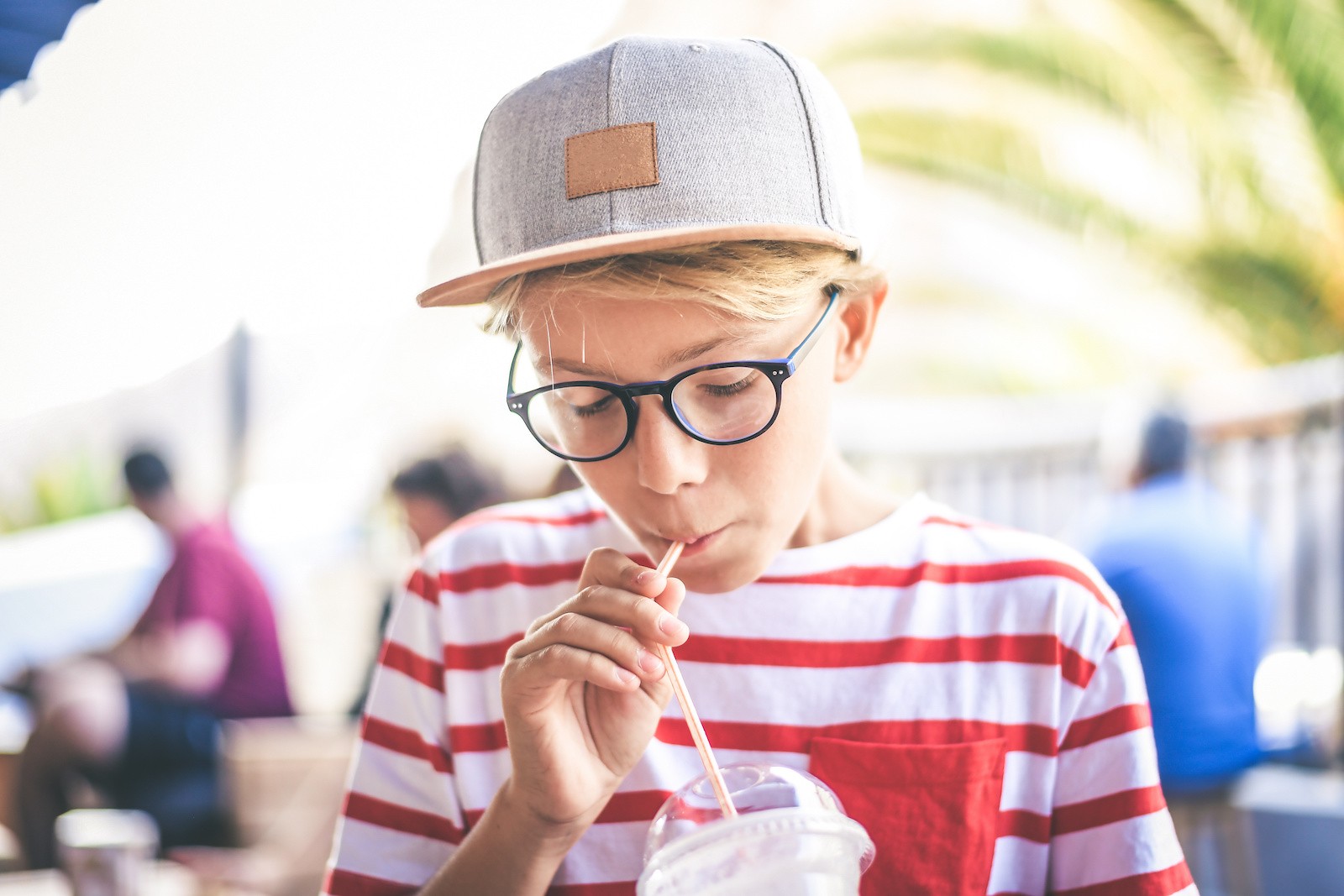 1. Cotton Candy Frappuccino
Check out the Cotton Candy Frappuccino from the Starbucks Secret Menu. The Cotton Candy Frap is a fun drink that your kids will love, and it's super simple to order. Order a vanilla bean and add raspberry syrup (1 pump tall, 1.5 pumps grande, 2 pumps venti). The bonus? This Starbucks drink for kids is caffeine-free!
2. Skittles Frappuccino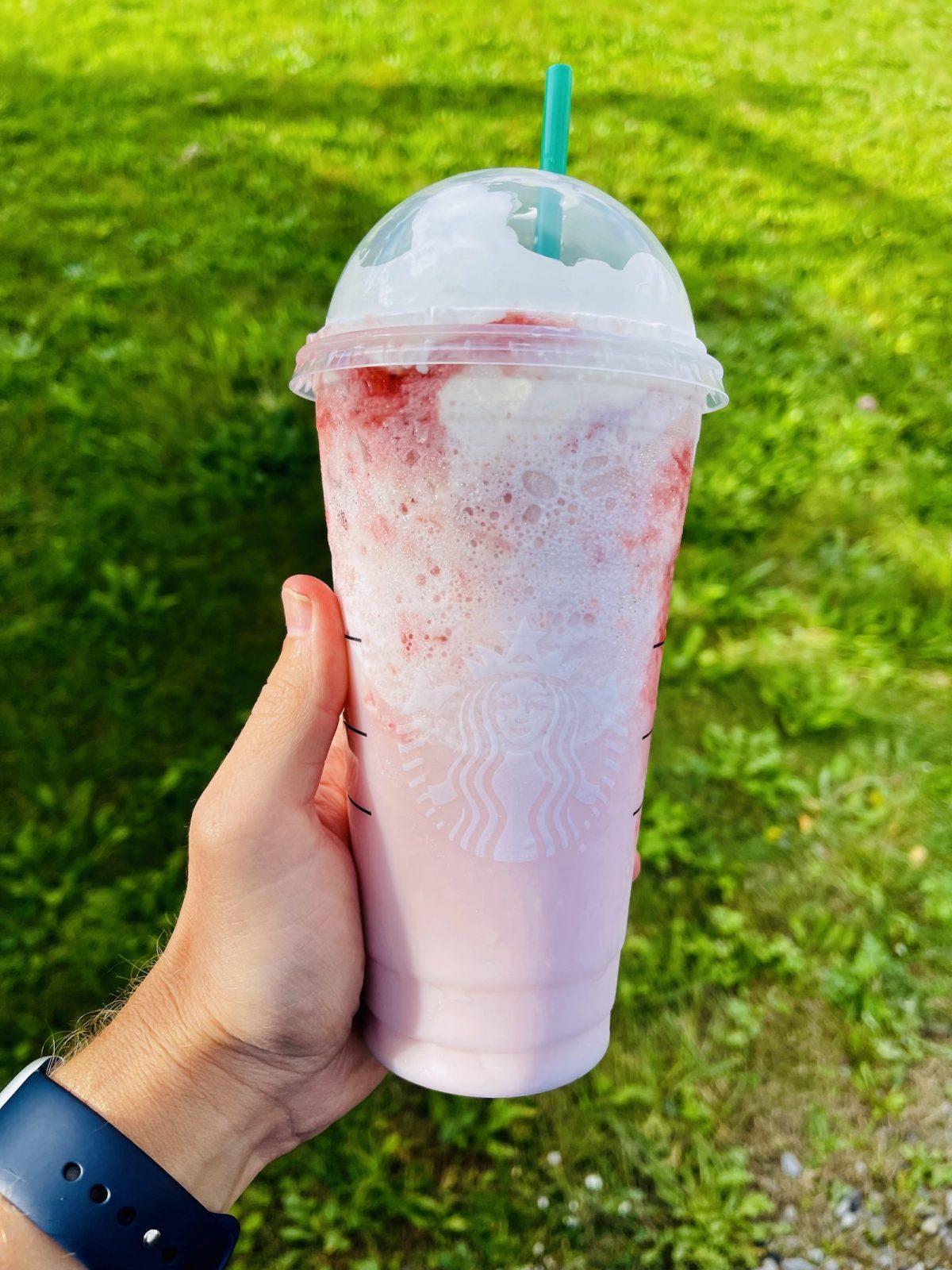 A fruity explosion your kids will love, the Skittles Frappuccino literally melts in your mouth. This is also a Starbucks secret menu item, and you can order this drink by asking your barista for:
A Venti strawberry creme frap
Four pumps of vanilla syrup
One-and-a-half pumps of raspberry syrup
Whipped cream on top
RELATED: Starbucks Skittles Frappuccino Ordering & Review
3. Hot Chocolate
Every kid loves hot chocolate. You can rely on hot chocolate at Starbucks at least 9 months out of the year when it's not blazing hot outside. If you are worried that the hot chocolate is too hot to handle, let the Barista know the drink is for your kids. They will make temperature adjustments upon request to ensure your child can enjoy the hot chocolate safely at lower temperatures.
4. Vanilla Bean Frappuccino
Your kids will embrace the ubiquity of a Vanilla Bean Frappuccino. The Vanilla Bean Frap at Starbucks tastes very similar to vanilla ice cream and is perfect for your kids because you can add on just about any other ingredients to make it fun. Since Vanilla Bean Fraps have a cream base instead of the usual coffee base, they do not contain caffeine. Try powdered sugar funnel cake topping, extra whipped cream, strawberry drizzle, or flat-out ask for sprinkles. Most Starbucks locations have sprinkles in some capacity.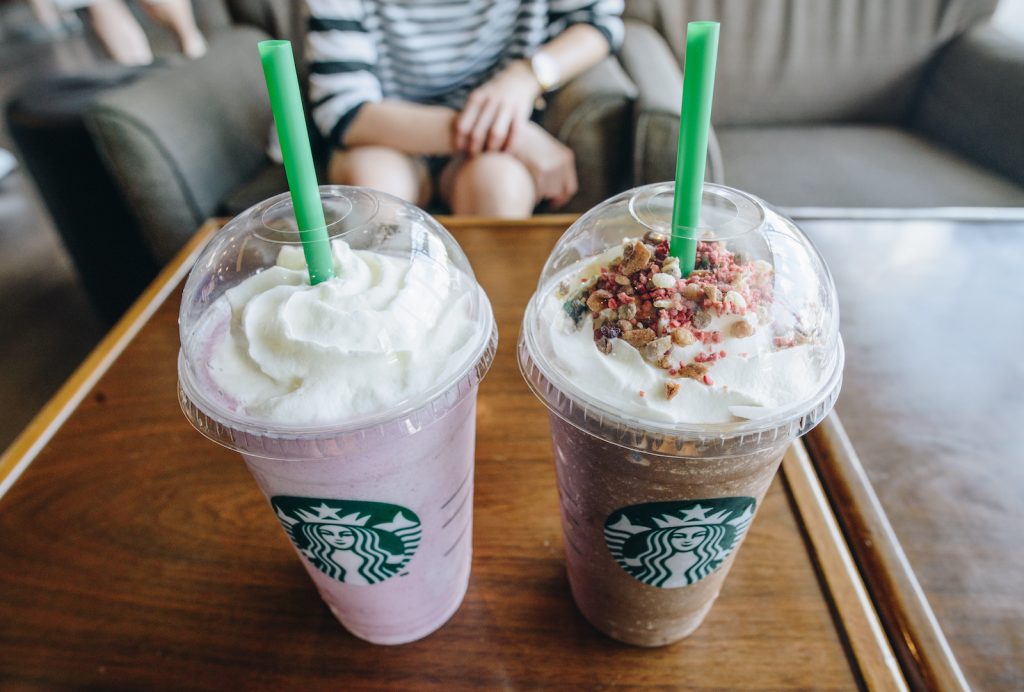 5. Strawberry Frappuccino
Once you introduce your kid to the Strawberry Frap, the question of what to order your kids at Starbucks maybe forever answered. The Strawberry Frap is made with Summer's favorite berry (the Strawberry) in a puree form, milk and ice blended, with whipped cream. You can't go wrong with the Strawberry Frap for your kids, and again, there is no caffeine on board.
6. Strawberry Funnel Cake Frappuccino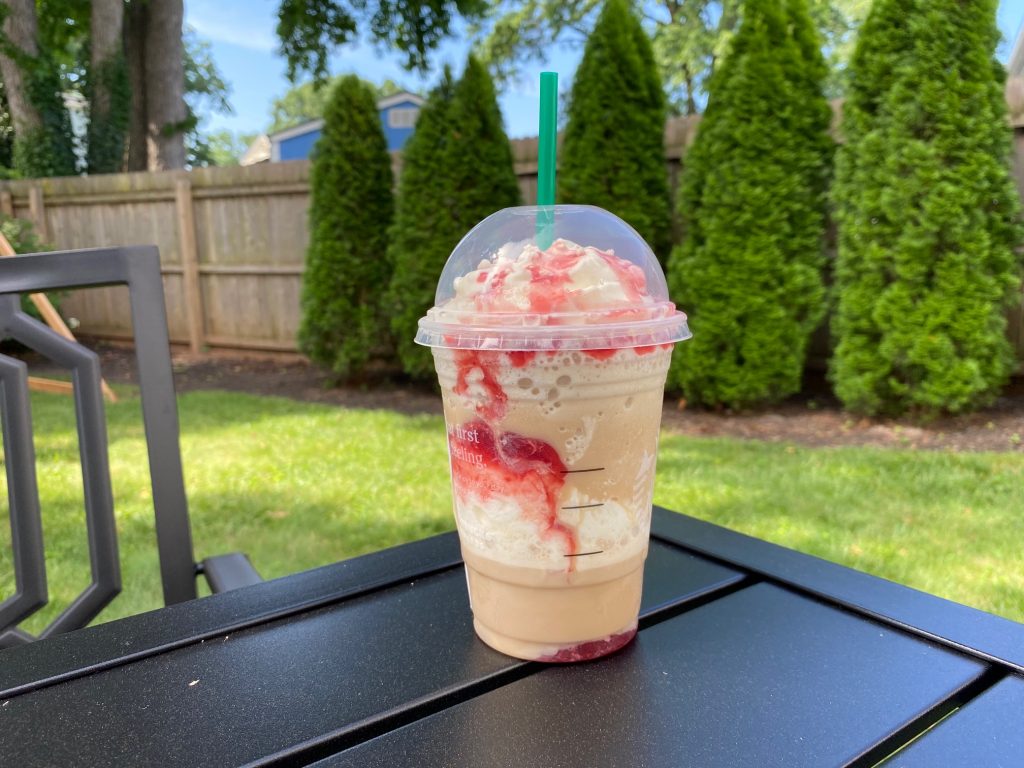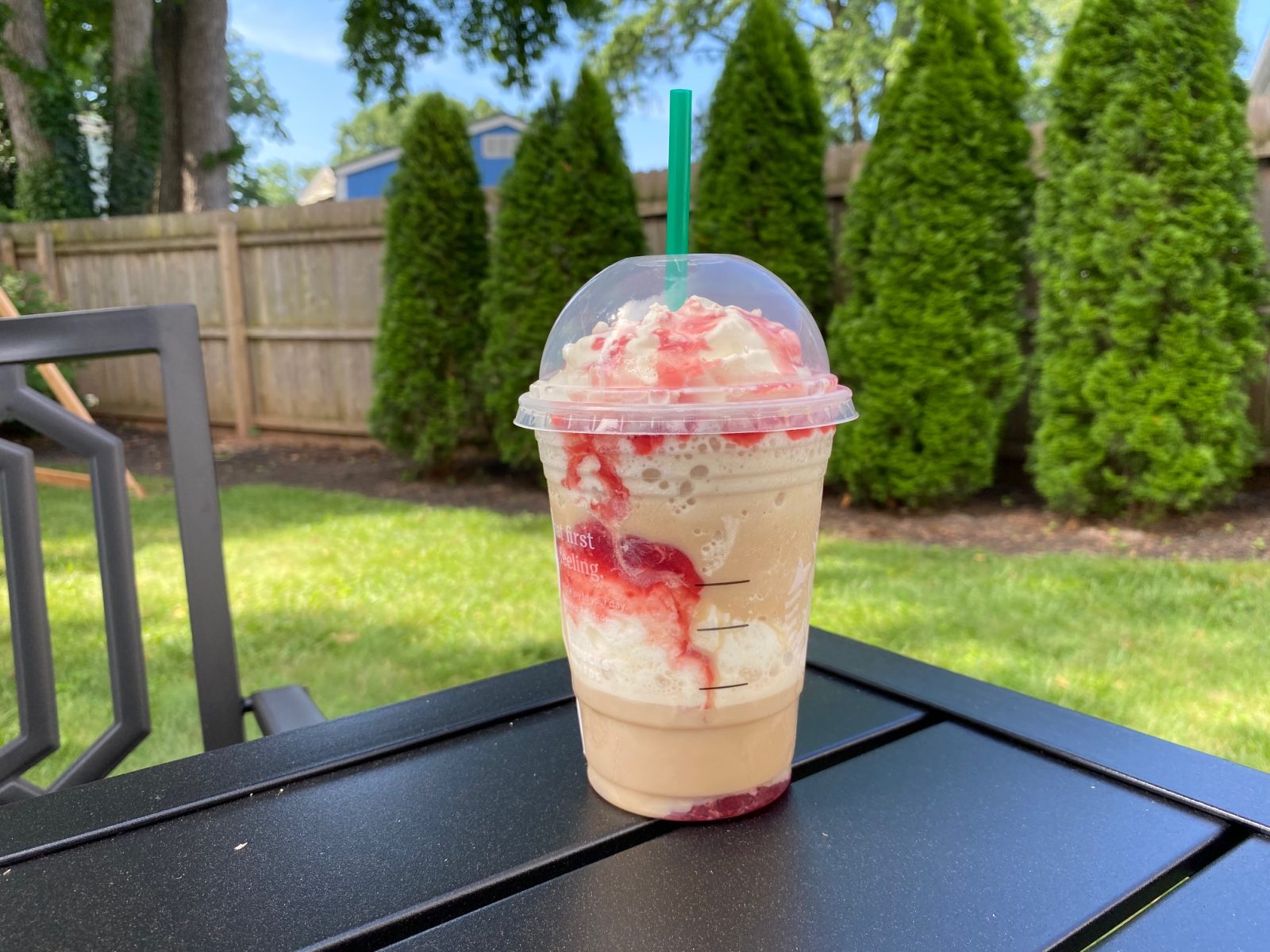 If your kids love funnel cakes, and you're not worried about sugar, the Strawberry Funnel Cake Frap is quite rewarding. This newer summer drink is made with frappuccino roast coffee, funnel-cake-flavored syrup, milk, and ice, with layers of strawberry puree and whipped cream powdered-sugar-funnel-cake pieces on top.
7. Double Chocolaty Chip Crème Frappuccino
I think it's safe to say this is my favorite non-coffee-based Frap at Starbucks…so what if I'm not a kid! If your kids love chocolate, this is HOME and a real treat. You'll want to limit how many of these your kids drink in a week, as it contains more than 400 calories in a grande size.
Other Starbucks Drinks for Kids and Ordering Tips
We didn't include the Starbucks refreshers in our top 7, only because they contain a decent amount of caffeine. However, Refreshers can be ordered in low-calorie and low-sugar varieties.
At most Starbucks locations, you can order a "Short" size. The "Short" size is smaller than a "Tall" containing only 8-ounces — perfect for a small child.
Remember always to let the Barista know the drink is for a kid; they will adjust temperatures, add fewer pumps of syrup, or make the drink extra fun for your kids to enjoy.
Finally, most Starbucks locations carry juice boxes, and most commonly, apple juice.
RELATED: Starbucks Cup Sizes Vs. Dunkin' Cup Sizes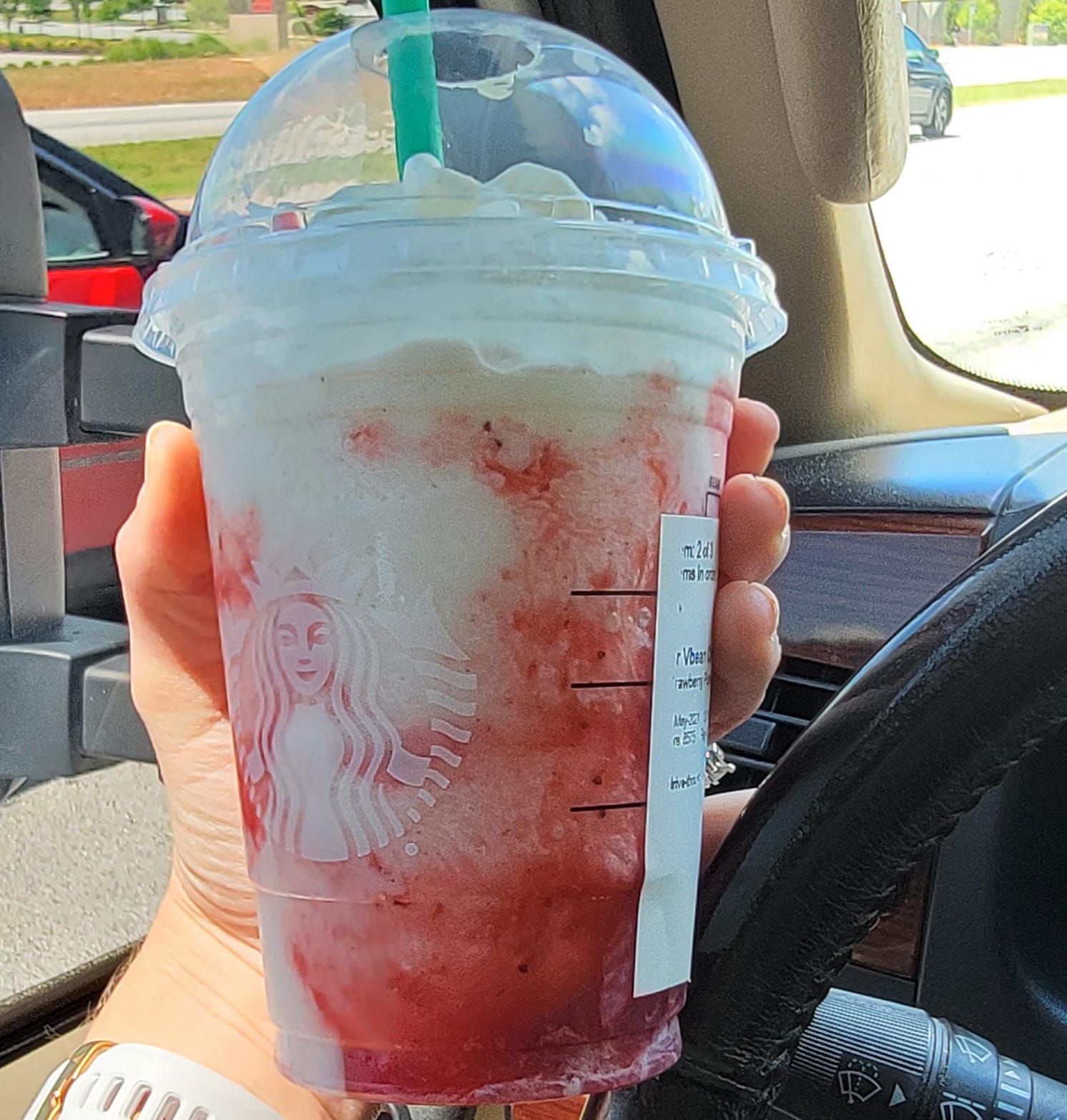 Starbucks Drinks for Kids Summary
We have heard of hundreds of secret menu drinks your kids will love. Here is a quick list of a few honorable mentions:
Vanilla Bean Frappuccino With Raspberry Syrup
Monster Cookie Crunch Frappuccino
Double Chocolate Chip Frap
Vanilla Bean Frap With Strawberry Puree
Strawberry Açaí Refresher With Lemonade Instead Of Water
Mango Dragon Fruit Refresher
Double Blended Lemonade With A Puree For Color Fun
We hope this article helps you find the perfect Starbucks drinks for your kids. If you occasionally order a Starbucks drink that your kids love, please share in the comments below.