Want free Starbucks coffee every day in January 2023?
Get coffee every single day with the new Starbucks January 2023 Refill Tumbler!
That's 31 days of free Starbucks coffee!
Here is everything you need to know about the new Starbucks Refill Tumbler.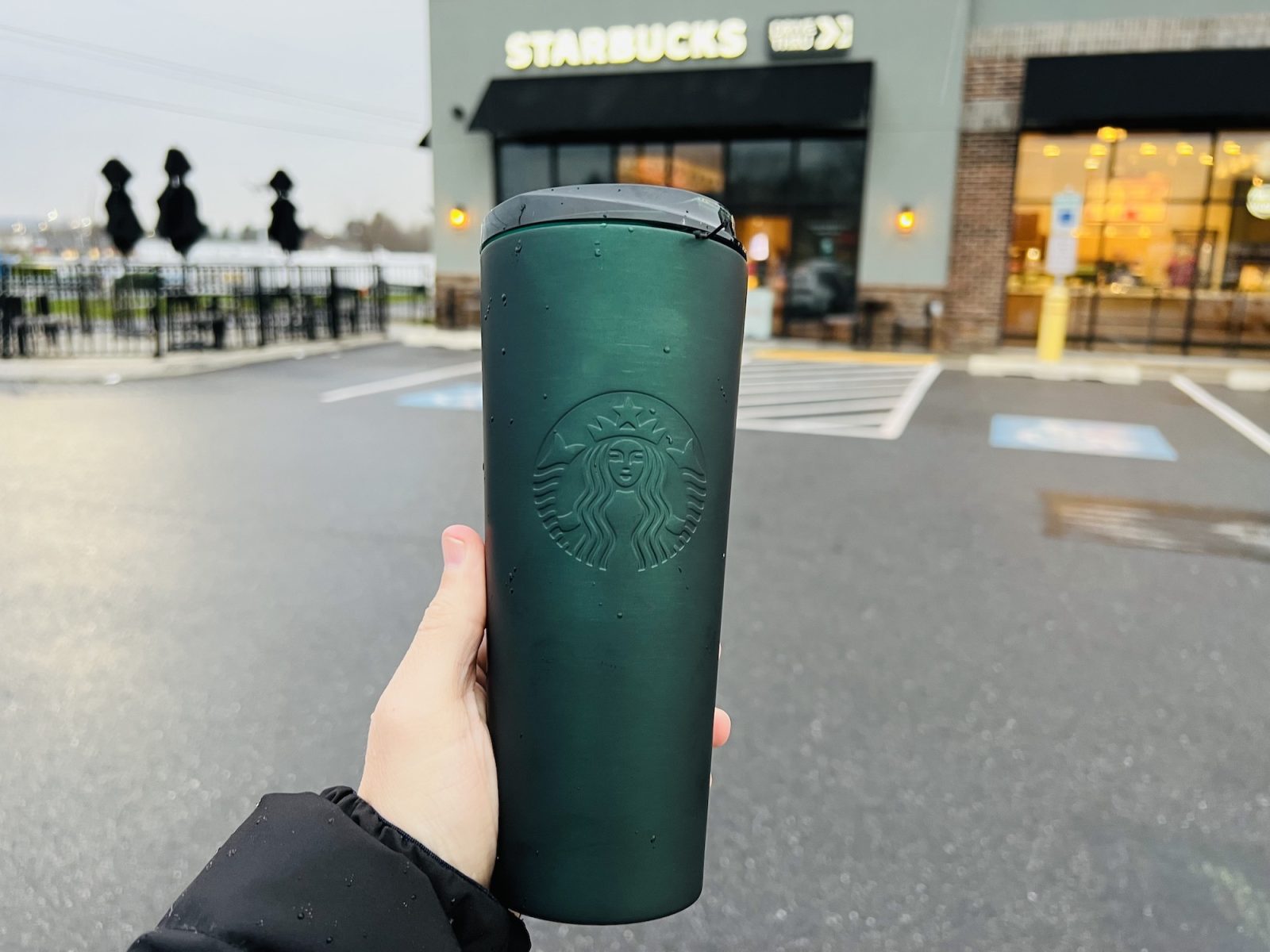 Starbucks 2023 Refill Tumbler
The new refill tumbler for 2023 is designed in a sleek, matte dark green and is officially expected to hit stores on November 15th, 2022.
Exactly TWO days before Starbucks red cup day!
So, in other words, you can get the new tumbler right now!
The new tumbler holds 16 ounces, equivalent to a Starbucks grande-size beverage.
This is a fantastic deal, and you don't want to miss out — so get to Starbucks NOW before they are gone!
How Much Is The Starbucks Refill Tumbler?
With a regular Starbucks tumbler costing about $25.00, the new 2023 Refill Tumbler requires an initial investment of $64.95 plus tax.
With the average coffee around $4.00, it would only take approximately 12-14 visits to recoup your money.
Still, a fabulous deal!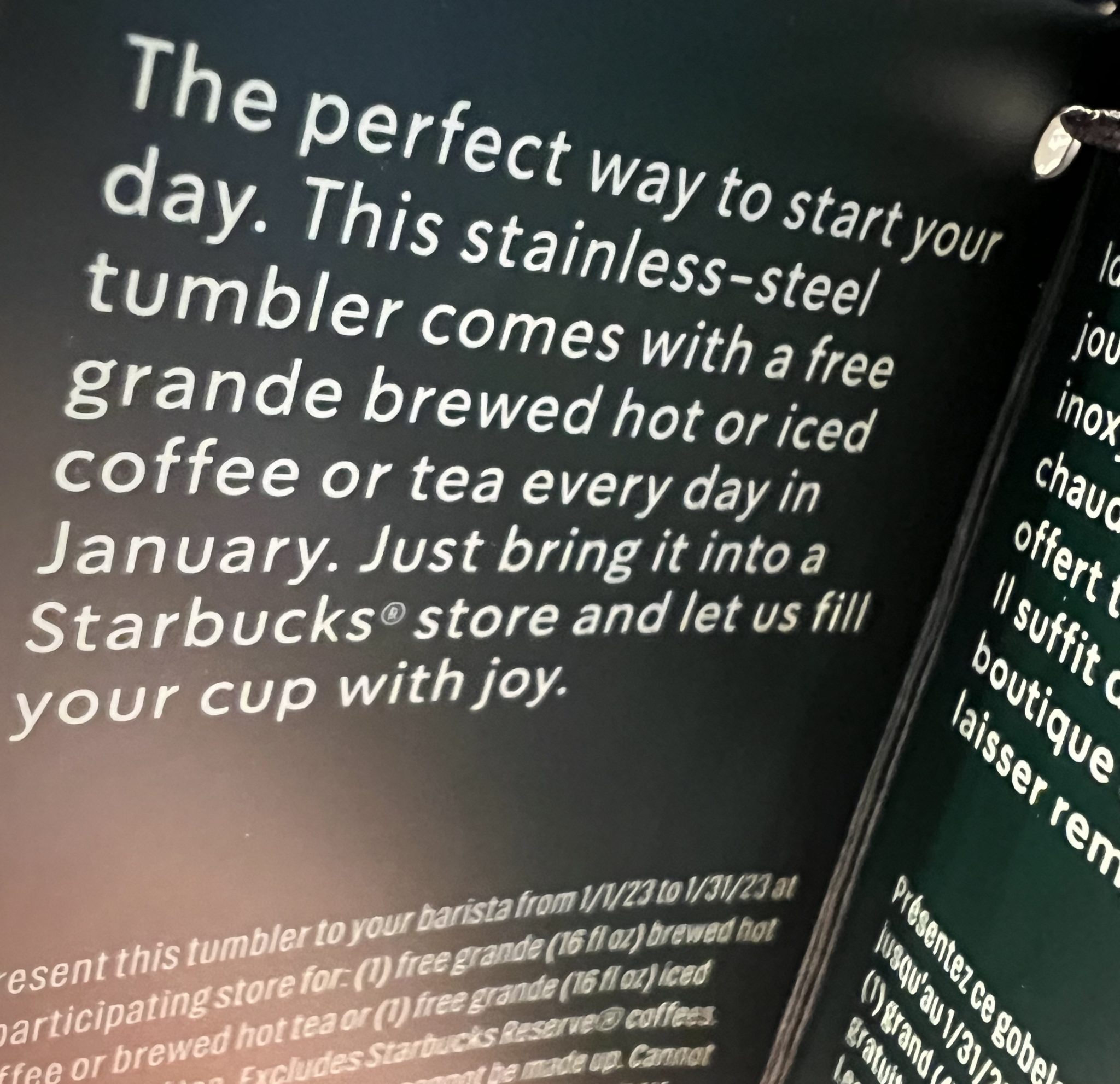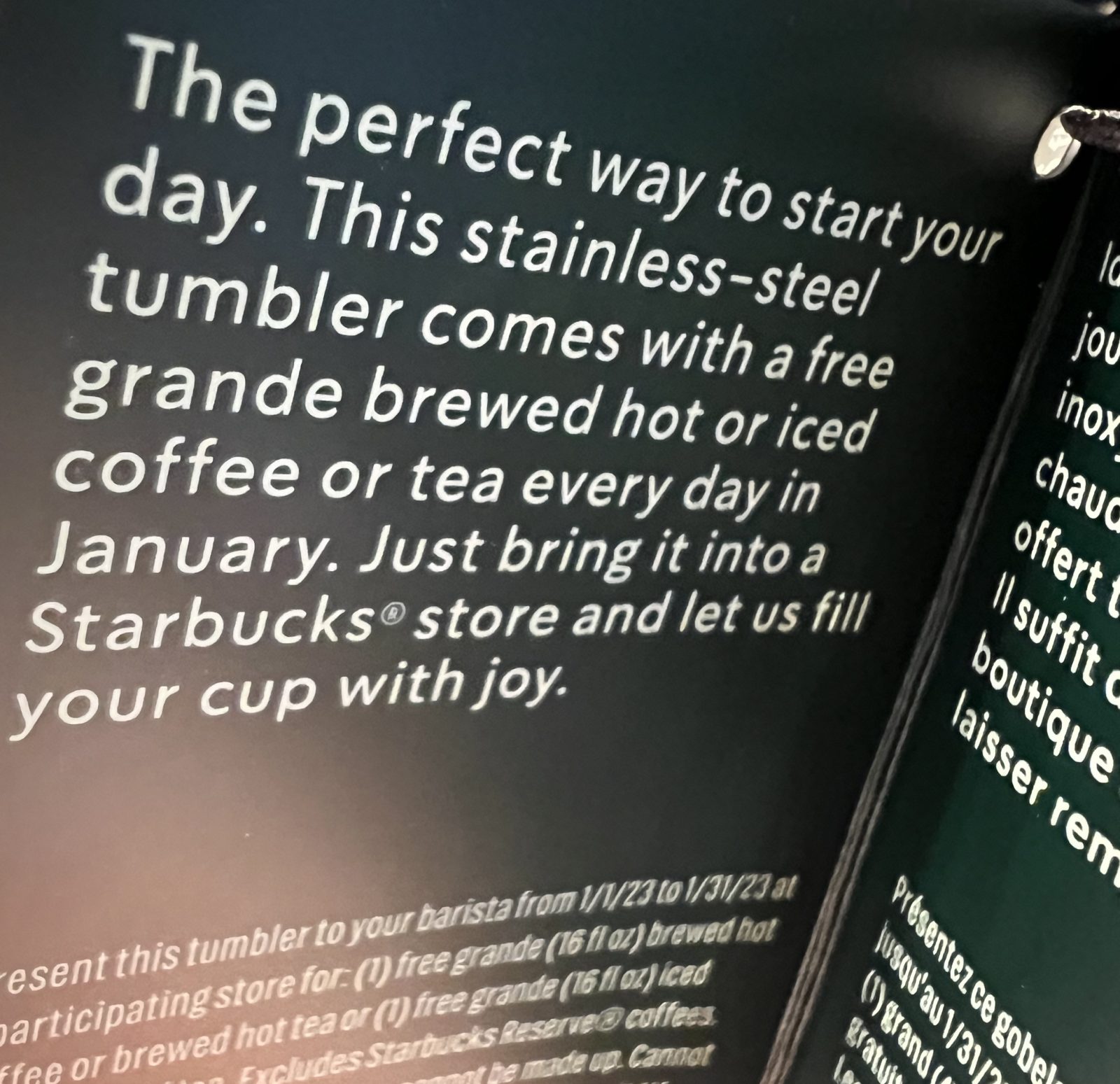 How To Get Your Free Daily Starbucks Drink
Once the midnight celebration begins in NYC on New Year's Eve, just bring your refillable tumbler to any participating Starbucks location and ask for your free grande brewed coffee or tea.
Not literally, as most Starbucks locations close early on New Year's Eve.
But you get my point.
Drinks That Qualify
You can get your drink hot or iced, and the drink must only be brewed coffee or tea.
The offer excludes Starbucks Reserve coffees, and you can only refill once daily.
Special drink customizations are also extra.
But seriously, this great deal is available for the entire month of January 2023, so take advantage of it!
Note: Free refills are for brewed HOT coffee, brewed HOT tea, ICED coffee, and ICED tea only.
Why You Should Get the Starbucks Refill Tumbler
Not only does the special holiday tumbler entitle you to a free coffee every day for an entire 31 DAYS, but it also comes in a beautiful dark green color that is perfect for the upcoming holiday season.
If you are decorated Starbucks Cup Hunter, this new tumbler will be quite the addition to your crazy collection.
Starbucks Refill Tumbler Summary
The holidays are just around the corner, and what better way to celebrate than starting the New Year (2023) with 31 days of free Starbucks drinks?
Get the Starbucks Refill Tumbler NOW and start 2023 with a great gift to yourself!
Mark your calendars and remember to fill up your tumbler every day this January!