As firefighters and first responders, we know how quickly a good night's sleep can vanish.
First responders and medical workers can sometimes go days without sleep and need to stay alert and focused, especially during times when it matters most.
Firefighters, EMS, and healthcare workers need good coffee!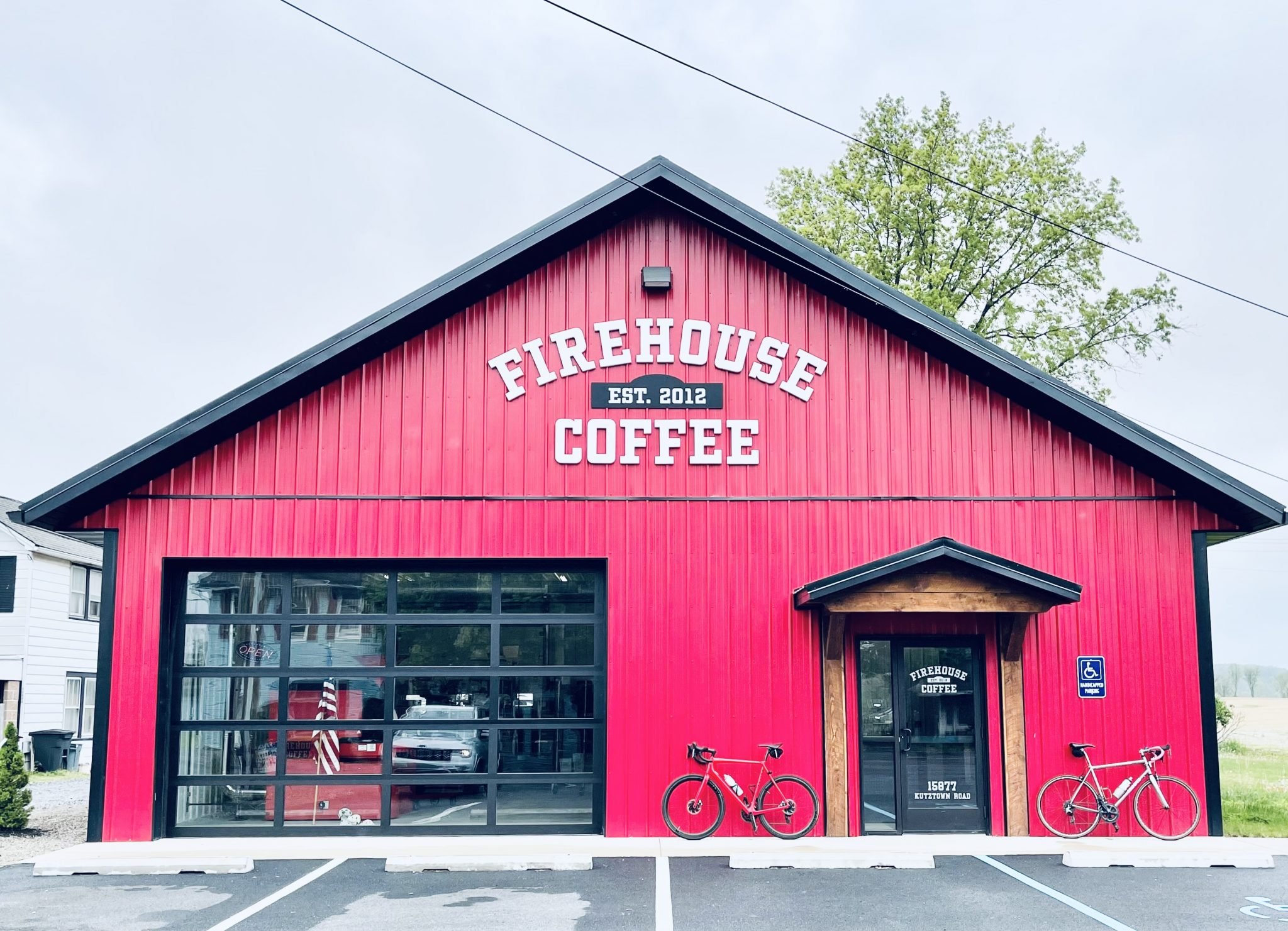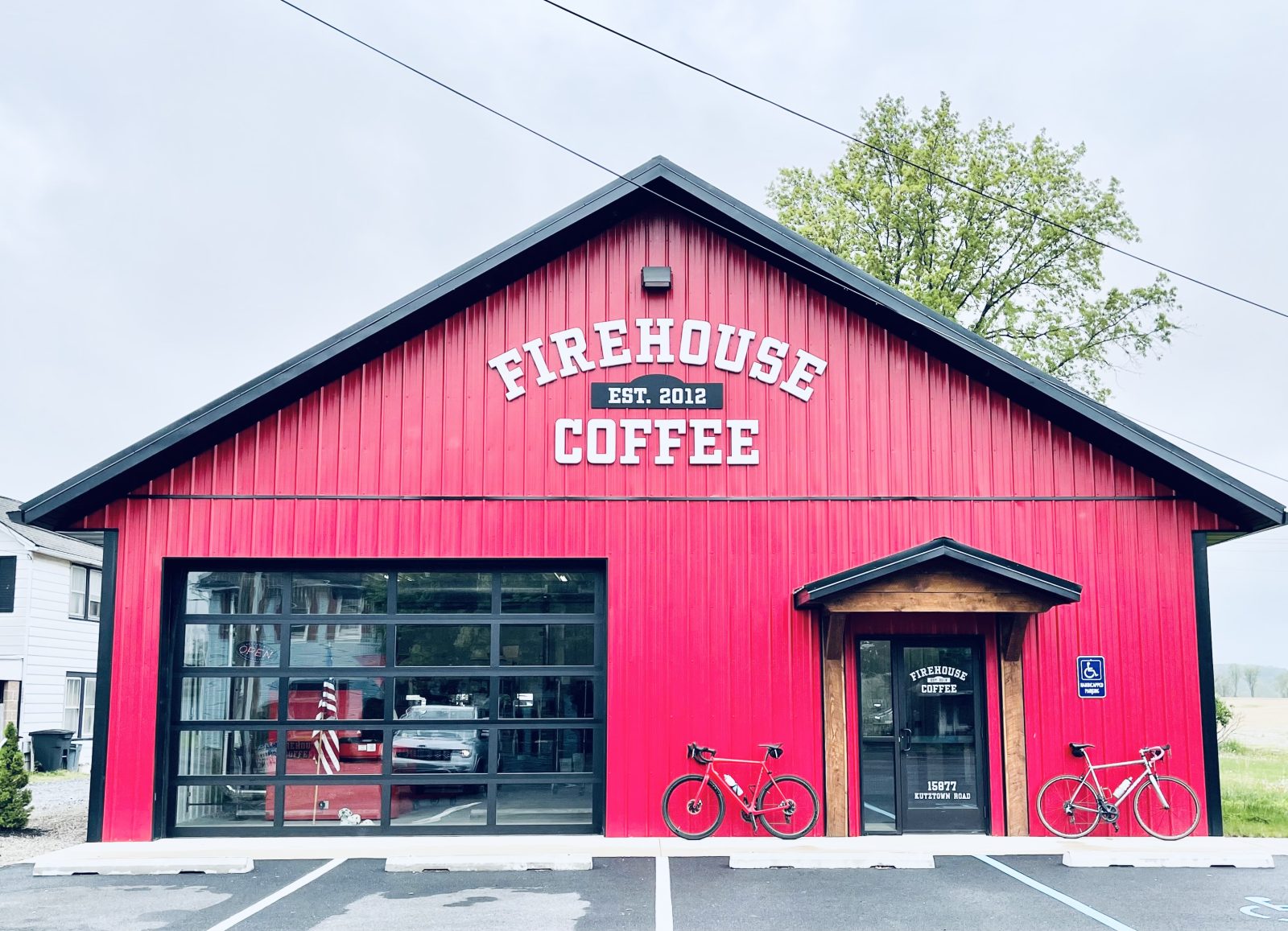 Firehouse Coffee answers the call for the quality coffee firefighters and first responders desire.
Need a unique gift for the emergency responder or healthcare worker in your life? Firehouse Coffee offers an array of mugs and themed gift baskets. Unsure of the recipient's favorite roast? Gift certificates are available too.
You can purchase online and send anywhere in the U.S.
A Visit to Firehouse Coffee
Firehouse Coffee is located in Maxatawny Township, Pennsylvania, surrounded by rich farmland, industry, and beautiful parks.
You may have even heard of neighboring Kutztown University, offering some of the top education programs in the country.
When you visit Firehouse Coffee, you'll be welcomed by the aroma of freshly roasted coffee in a shop that pays tribute to fire responders with its bright red design.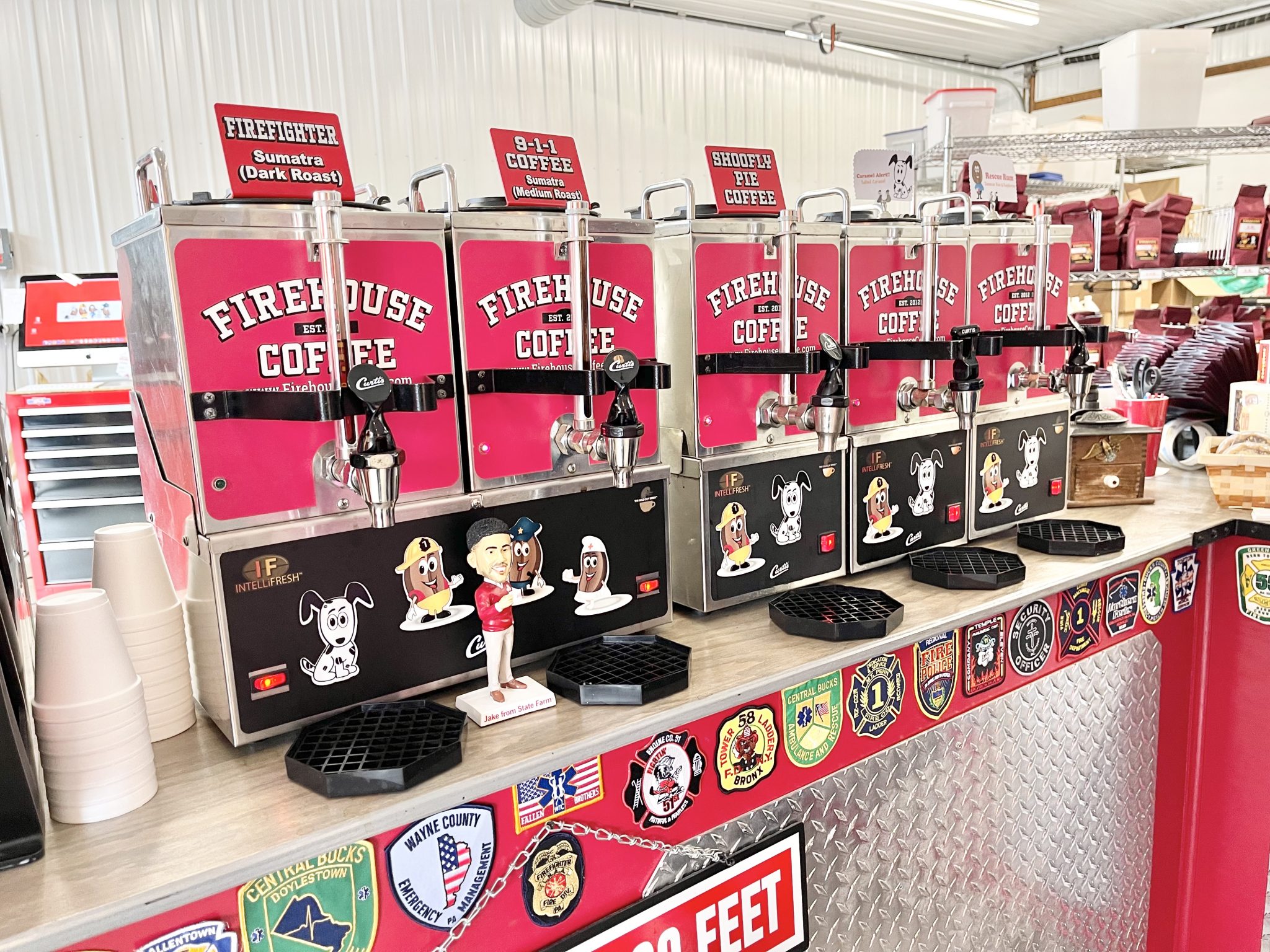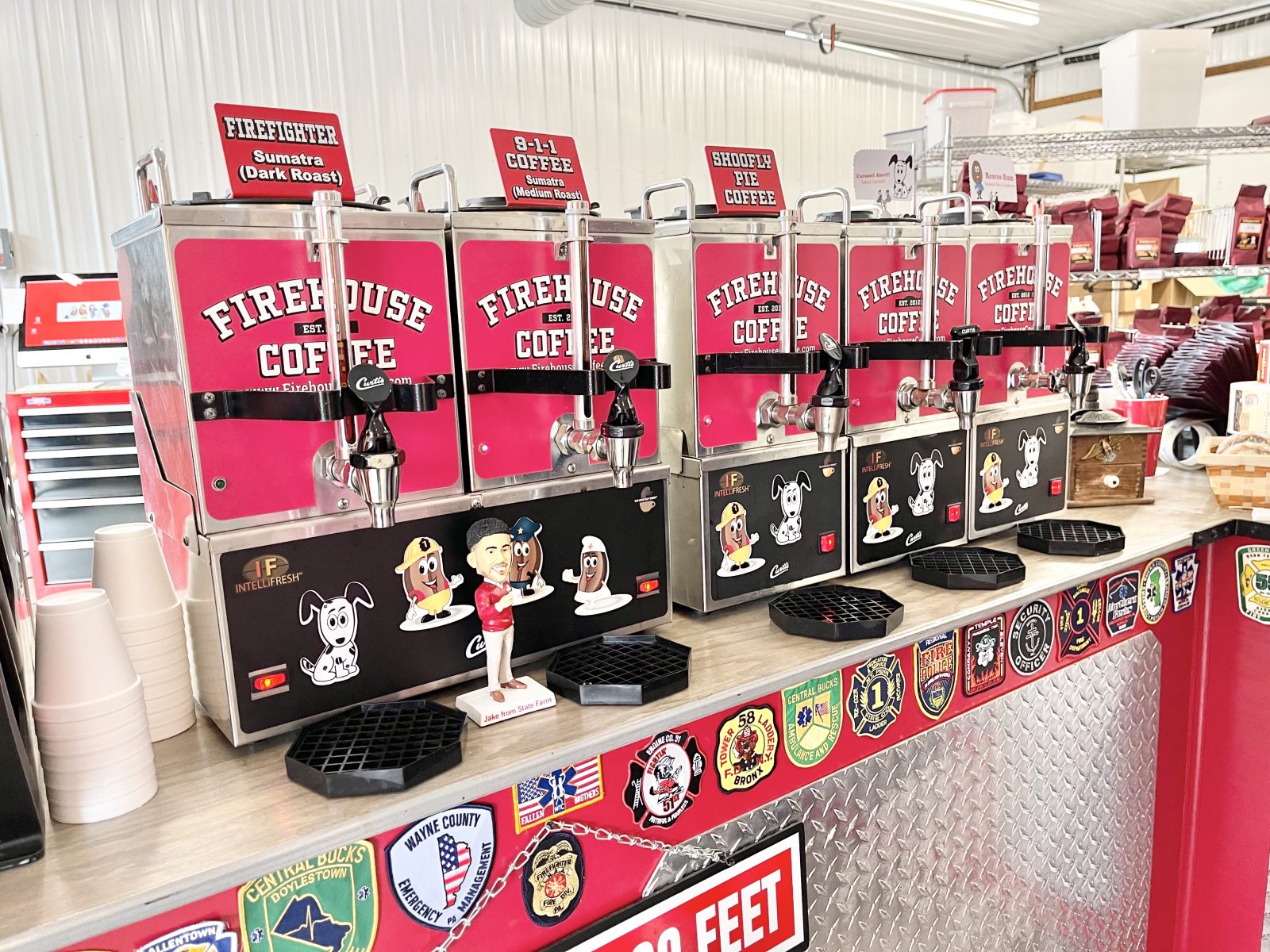 We Love Self-Serve
The self-service coffee bar not only features numerous varieties of fresh-brewed coffee to fill your cup, but its design also incorporates the firehouse theme, including logos from fire companies and first responder crews.
During our visit, we were able to choose from five amazing varieties, including:
Firefighter Coffee – Sumatra Dark Roast
9-1-1 Coffee – Sumatra Medium Roast
Shoofly Pie Coffee – Flavored Coffee
Caramel Alert – Salted Caramel Flavored Coffee
Rescue Rum – Wild Rum and Raspberry
It was difficult to choose, so we tried them all!
The 9-1-1 Coffee Medium Roast Sumatra was our favorite. This coffee is brewed from gourmet roasted Sumatra beans that feature a smooth character, earthy undertones, and low acidity. It was so good that it was easy to down a 16-ounce cup of this brew in less than five minutes!
Mike Adams, First Responder and Firehouse Coffee Owner
When you visit Firehouse Coffee, you will likely meet owner Mike Adams.
When he's not chatting with customers you'll find him roasting coffee. He imported his roaster directly from the Netherlands. You can't miss this monstrous red machine!
As a flight medic and first responder, Mike knows that first responders are always looking for a great cup of coffee.
He founded Firehouse Coffee to meet that need — and he's done it well.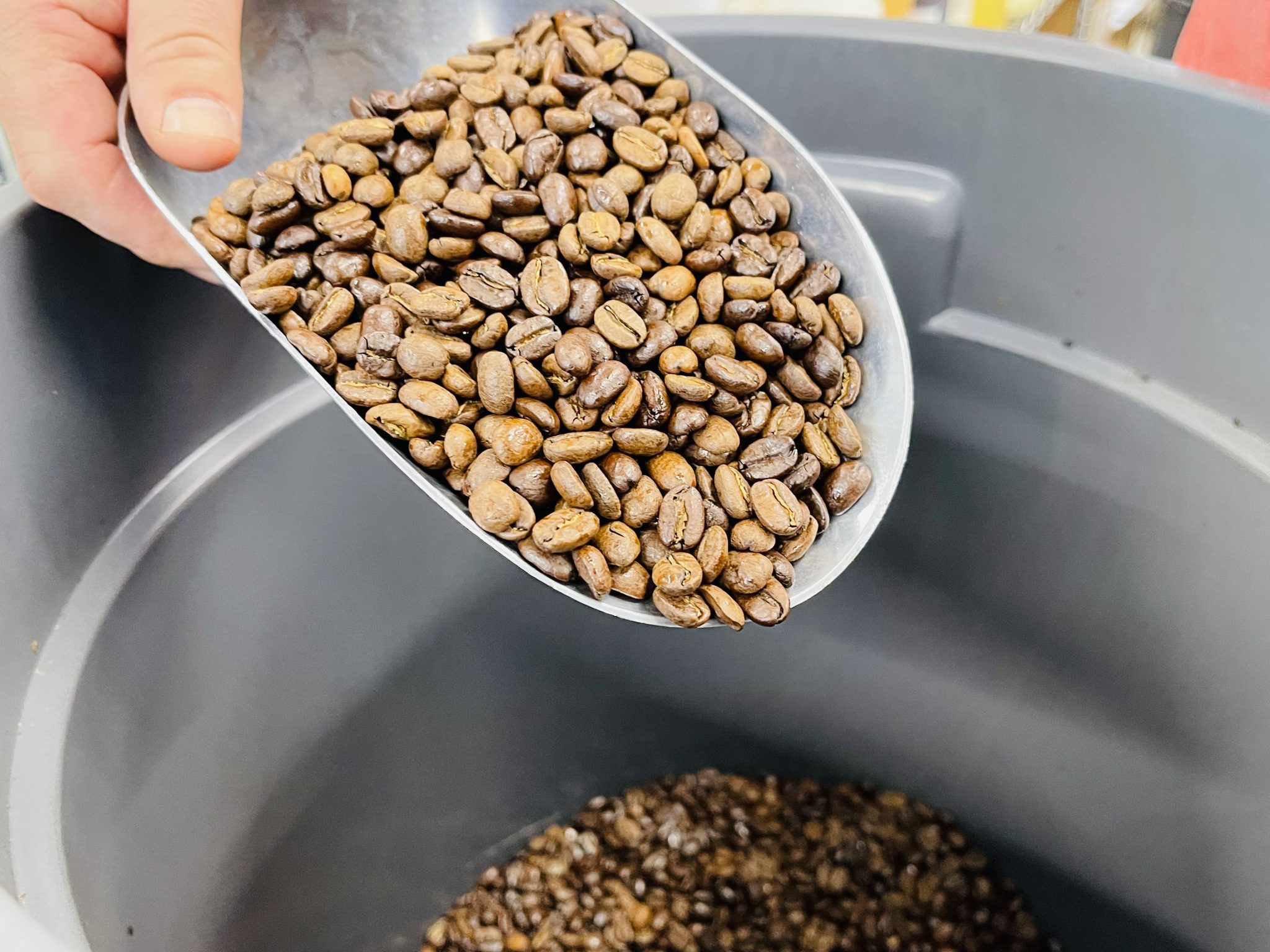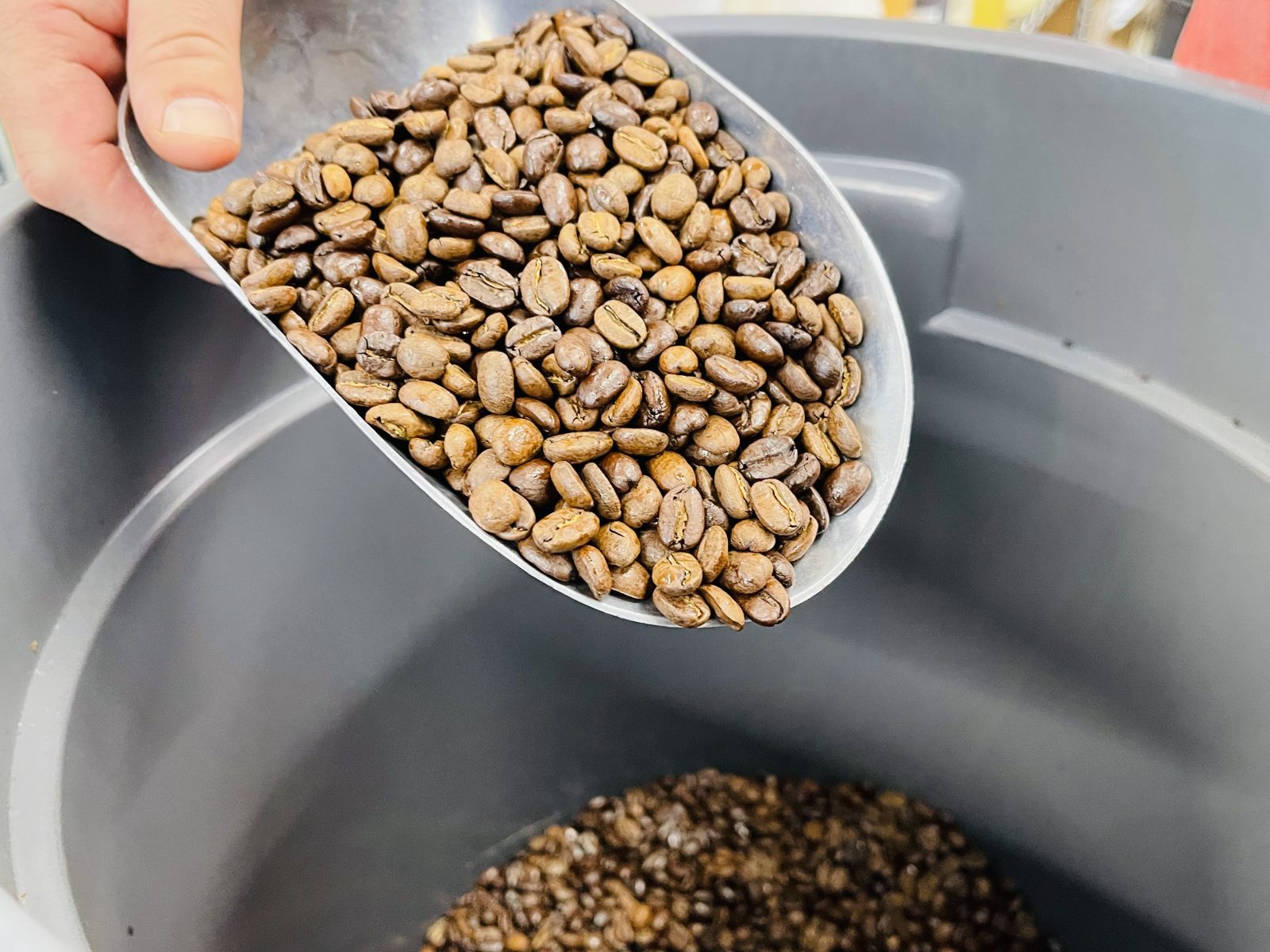 Firehouse Flavored Coffee
Finely crafted gourmet coffee

During our visit, we were impressed by the wide variety of coffee choices, including flavored coffee, flavored decaf, and even single-serve K-cups.
Trauma Mama is a flavored coffee that features wild rum and caramel flavors and is a favorite of EMTs, paramedics, firefighters, police officers and healthcare workers everywhere.
Another popular and tasty flavored coffee is Ruptured Raspberry. It has a chocolate-raspberry truffle coffee vibe. For raspberry coffee lovers it's a must-try!
Hazmat Hazelnut features cinnamon and hazelnut, while Shoofly Pie Coffee offers sweet molasses and a vanilla profile with a name that pays homage to a favorite sweet and sticky Pennsylvania Dutch dessert.
Firehouse Coffee also has a wide selection of medium-roasted coffees that can be purchased online, including K9 Kenya and Hospital roast. Other medium-roast coffees include Columbia CPR and Sumatra 911.
Need decaf?
Firehouse Coffee also offers a decaffeinated house, breakfast blend, and flavored decaf coffee.
These selections make Firehouse Coffee a one-stop shop for gourmet roasted coffee.
First Responder and Firefighter Gifts
Finding gifts for the first responder in your life is easy, thanks to the selection offered by Firehouse Coffee.
Nothing shows you care like an assortment of first responder favorites, from medium roasts and unique flavors, such as bacon and maple syrup-flavored Backdraft, to bold dark roasts and espresso.
Clever themed firefighter gift baskets
Looking for something truly out of the box?
Firehouse Coffee's gift baskets fit the bill. Offerings include the Ambulance Gift Basket and Bedpan Basket, which is sure to brighten a medical worker's day. Baskets are customizable with the coffee and grind of your choice and include gourmet biscotti and chocolates, as well as a mug.
Firehouse Coffee also offers custom coffee gifts for such occasions as weddings and baby showers.
Firehouse mugs and tumblers
No coffee shop would be complete without mugs. These mugs are a perfect gift for an EMT, firefighter, police officer, or medical professional. The selection includes regular mugs, reusable travel mugs, and tumblers.
Visit Firehouse Coffee and Shop Online
You can visit Firehouse Coffee at 15877 Kutztown Rd, Maxatawny, PA 19538, or shop online today.
You can also sign up for their Coffee Alert newsletter to be the first to hear about new coffee flavors and special promotions.
We highly recommend it!