Fall has arrived at Dunkin', and with it comes the huge-surprise release of Dunkin's Ice Spice Munchkins Drink.
As the days grow shorter and the weather begins to cool down, there is no better way to enjoy the transition into autumn than a sip of pumpkin munchkins.
Or is it?
Here is everything you need to know in our Dunkin' Ice Spice Munchkins Drink Review.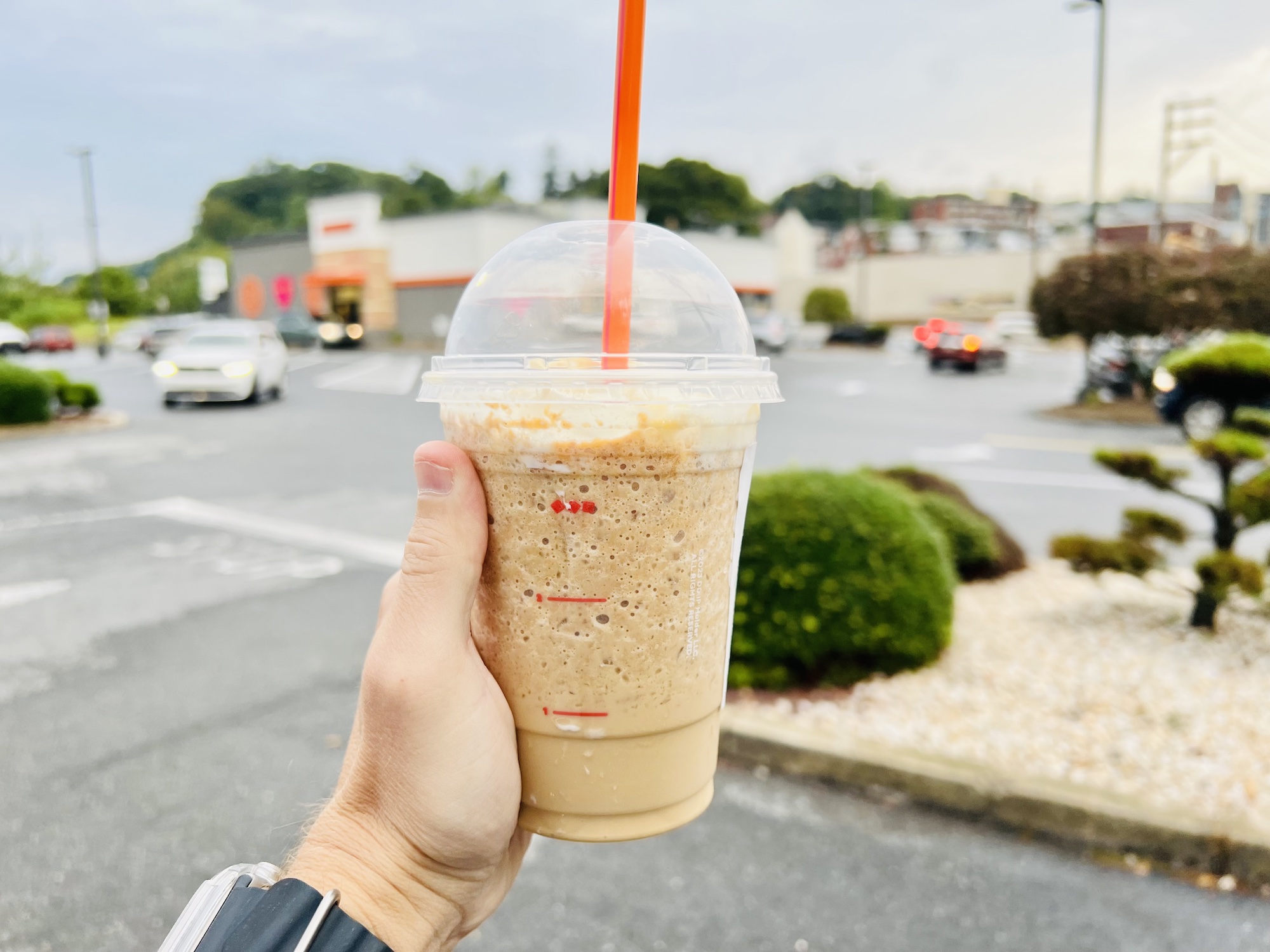 This unique beverage has sparked quite a buzz, with reviews popping up on social media platforms like TikTok singing its praises.
Priced at $5.39 in some locations, the Ice Spice Munchkins Drink boasts a light-brown hue served with whipped cream and a caramel drizzle.
Initial reactions to this innovative tempest in a cup have been overwhelmingly positive!
So, we thought it was worth a shot.
Dunkin' Ice Spice Munchkins Drink Overview
Launched on September 13th, the new Ice Spice Munchkins Drink combines Frozen Coffee with Pumpkin Munchkins.
The Pumpkin Munchkins are blended directly into the frozen coffee. The first time food has made it into a Dunkin' beverage.
It seems crazy and a weird combo all at the same time.
Finally, the Iced Spice is expertly finished with whipped cream and caramel drizzle – sorta reminding us of the iconic Starbucks PSL.
Minus the donut chunks of course.
Taste Profile and Ingredients
Core Ingredients
The Dunkin' Ice Spice Munchkins Latte Drink is a unique blend of frozen coffee, Pumpkin Munchkins, whipped cream, and caramel drizzle. This limited-time beverage stands out as the first Dunkin' drink featuring a baked good as a core ingredient.
Frozen coffee
The base of the drink is Dunkin's signature frozen coffee, which provides a strong and refreshing foundation.
Pumpkin Munchkins
The drink features pumpkin cake Munchkins, blended with frozen coffee to create a creamy and flavorful mixture.
Whipped cream
The drink is topped with a generous layer of whipped cream, adding an airy and smooth texture.
Caramel drizzle
A light caramel drizzle complements the pumpkin and coffee flavors, providing an extra touch of sweetness.
Dunkin' Ice Spice Munchkins Drink Review
The blended pumpkin cake Munchkins give the drink a failed attempt of a cookies and cream milkshake texture, while the pumpkin spice flavor overtakes the drink because of the amount of pumpkin.
The caramel drizzle adds subtle notes of sweetness that perfectly balance the bold flavors of the pumpkin spice and frozen coffee. And the whipped cream is a nice add.
We actually LOVED this drink at first, but as we began to finish, those chunks of munchkins became quite overwhelming and mushy.
Our recommendation is to make this one a QUICK SIP but it is worth a try!
Dunkin' Ice Spice Munchkins Overview
To summarize, the Ice Spice Munchkins Drink offers a unique twist on fall flavors by combining Dunkin's frozen coffee with Pumpkin Munchkins, topped with whipped cream and caramel drizzle.
While it shares similarities with the Starbucks PSL flavor and Dunkin's frozen coffee, its addition of Pumpkin Munchkins makes it stand out like an odd duck.