If you're trying to stick to a budget, you probably don't want to cut your favorite coffees out of your life. Here are 7 Ways To Save Money At Starbucks.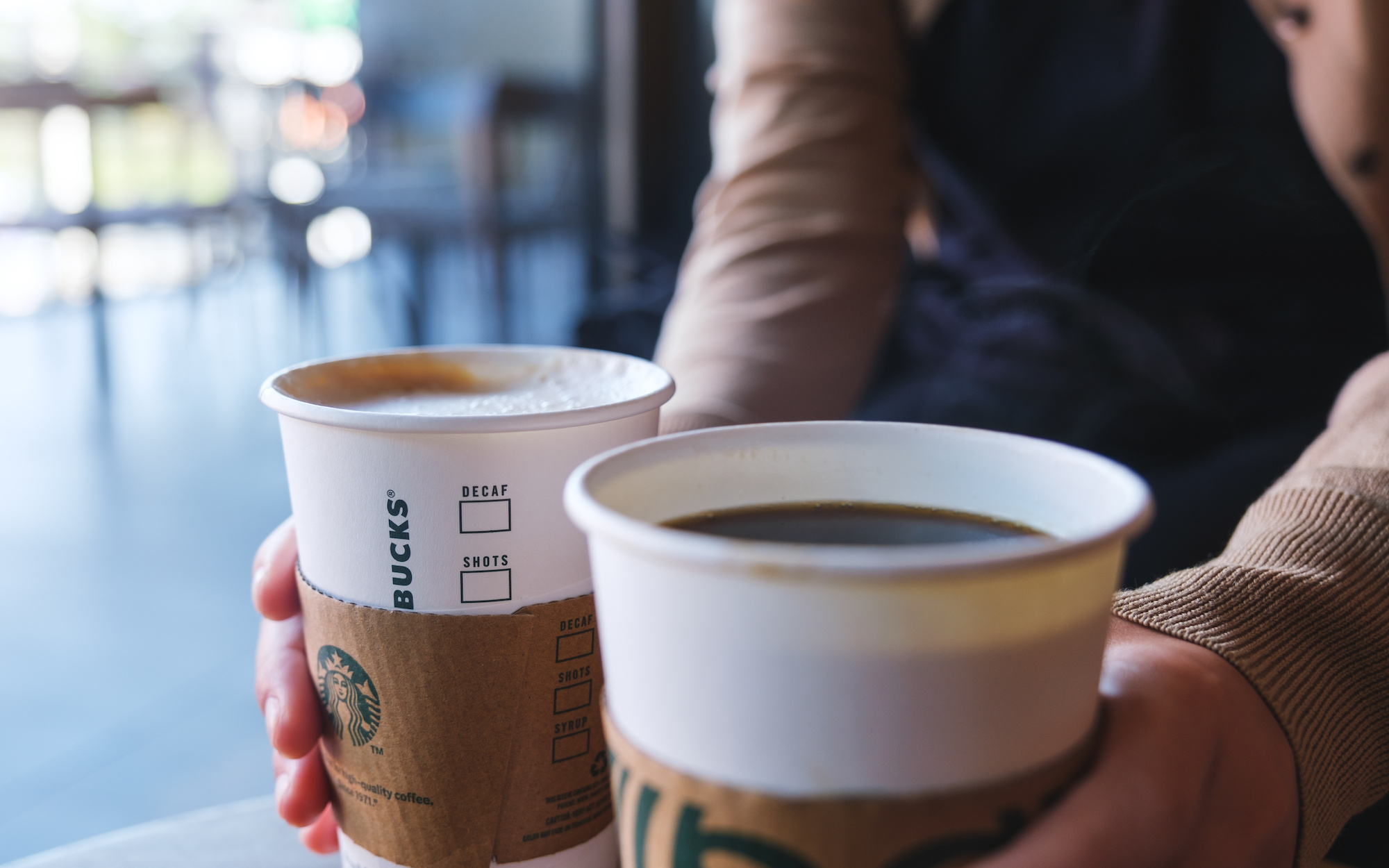 If life without Starbucks is not an option, how can you trim the $75 a month (which totals $900 a year) you spend there?
The truth is it's possible to maintain a regular relationship with Starbucks for less.
Become a Starbucks Rewards Member
When you sign up for a Starbucks Rewards membership, you get free brewed coffee refills during your visit. You can earn stars for your purchases (one star per $1 spent) and redeem them for free food, drinks and more.
To accumulate stars more quickly, you can participate in Bonus Star challenges, Double Star Days and games. You'll also get a free food or drink item on your birthday.
Use Creative Ways to Get Your Favorites
With a little creativity, you can enjoy your Starbucks favorites while staying within your budget. Here are a few hacks you can try:
If the price of your favorite latte is beyond your budget, order a double espresso and add milk and sugar from the condiments bar.
Order an iced coffee and add free syrup and cream.
Add free milk to a Tazo Chai to create a chai tea latte.
Try Smaller Sizes
A method that is often overlooked of ways to save money at Starbucks.
If you usually order a tall (12 ounces), grande (16 ounces) or venti (20 ounces hot; 24 ounces cold) size drink, you can save some money (and possibly a few calories) by ordering a short, which is 8 ounces
If you routinely order an extra shot in your coffee, ordering the next-larger size may actually be less expensive.
Bring Your Own Cup
As part of its environmental initiatives, Starbucks offers a 10-cent discount if you bring your own clean cup. This option is available in stores only, not at the drive-through.
Don't Buy Bottled Water
If you want water while you're at Starbucks, there's no need to spend $3 for a bottle. Ask for a cup of water from the tap. You'll save money and get the same water baristas use in the drinks they make.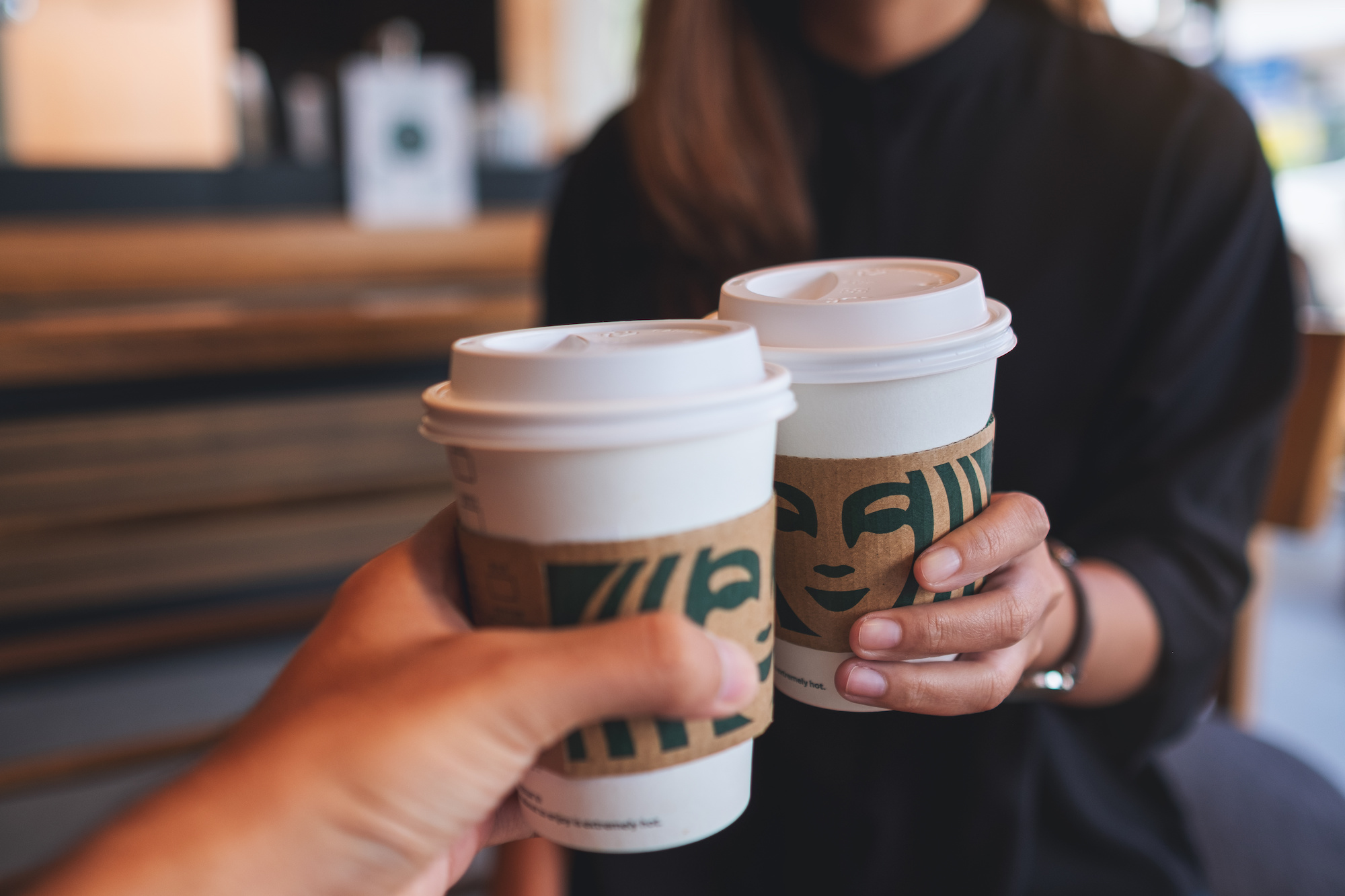 Share with a Friend
Like so many other things, coffee can be better if enjoyed with a friend. At Starbucks, sharing with a friend can save you money too.
Order a 20-ounce venti and an extra cup, or bring your own cup, and split it. It's always cheaper than if you each buy a single cup.
All you need is a friend who loves coffee as much as you do.
Always Use the Starbucks App
Ordering through the Starbucks app, rather than at the counter, lets you see exactly what you're spending before you commit to the purchase.
For some people, it can be embarrassing to walk back your order when you're talking to a cashier and there is a line of customers behind you. With the app, you can set up your order and make changes to lower the price easily and on your own.
In addition, with the app, you can set a budget for the month and load your app with the amount your budget allows. When funds are low, you can switch to a smaller size or less-expensive brew.
Ways to Save Money at Starbucks Summary
For many people, Starbucks is an essential luxury unlike an aquarium coffee table. You know you can brew coffee at home at a fraction of the cost, but a daily visit to Starbucks somehow makes life more worthwhile.
If this describes you, these tips could help you keep Starbucks in your life each day, without breaking the bank.