The Starbucks Caramel Frappuccino is one of the most popular and beloved beverages on the extensive Starbucks menu.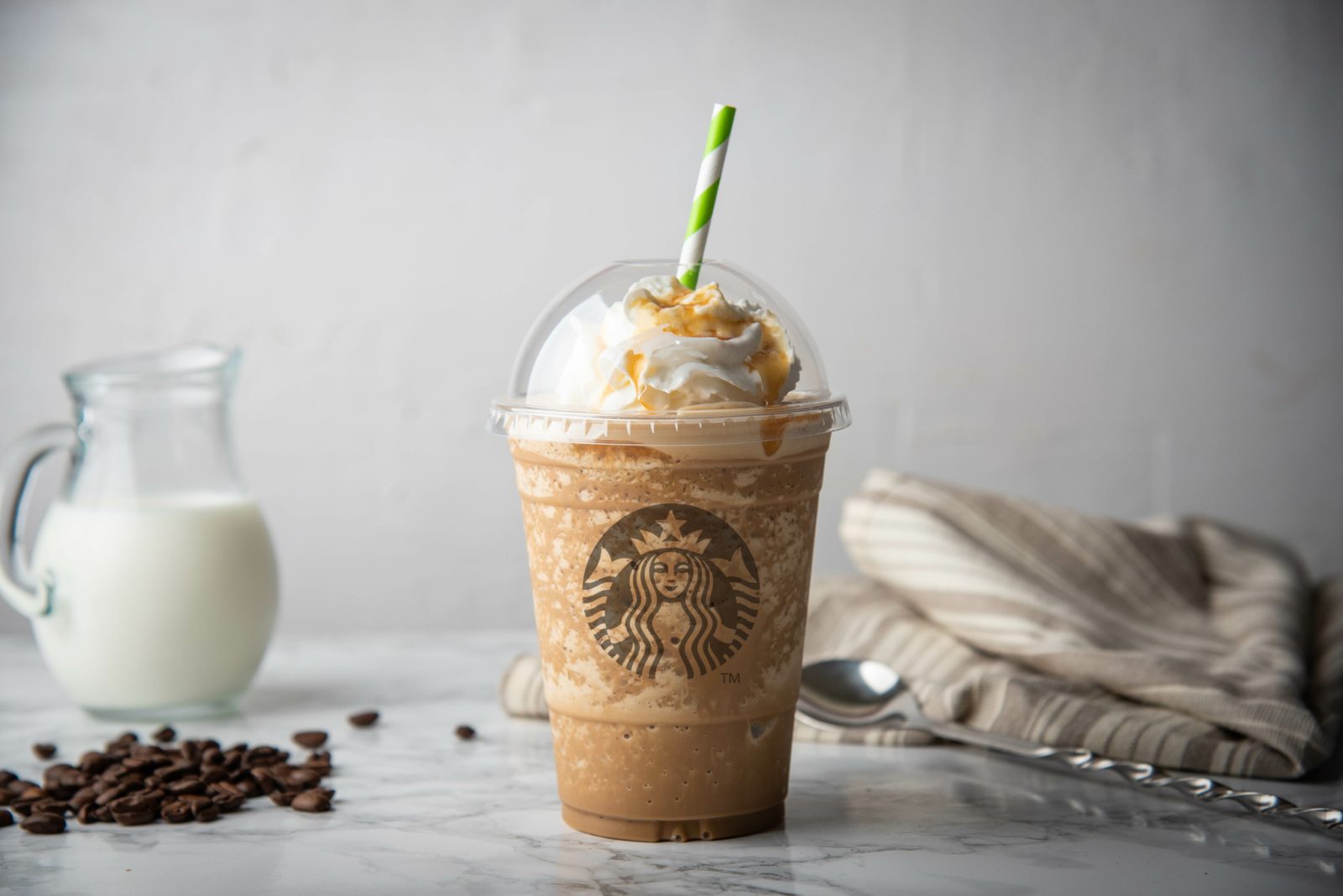 Combining a rich, creamy blend of coffee, ice, and caramel sauce, the Caramel Frappuccino offers a perfect balance of sweetness and bold coffee flavors that will delight your taste buds.
With its irresistible taste and iconic whipped cream topping, it's no wonder that this frosty beverage has become a favorite for both coffee enthusiasts and sweet-toothed adventurers alike.
Starbucks Caramel Frappuccino Overview
What Is a Starbucks Caramel Frappuccino
A Starbucks Caramel Frappuccino is a popular blended coffee beverage served at Starbucks locations worldwide.
This icy concoction offers a balance of coffee and sweetness, featuring rich caramel flavors blended with coffee and milk, then topped with whipped cream and a drizzle of caramel sauce for a decadent treat.
Key Ingredients
The main components of a Starbucks Caramel Frappuccino are:
Coffee: Starbucks uses its proprietary Frappuccino Roast coffee to give the beverage a bold, distinct flavor.
Milk: Customers can choose from a variety of milk options, including whole, 2%, skim, almond, coconut, or oat milk.
Caramel Sauce: This sweet, syrupy sauce adds the signature caramel flavor and is also drizzled on top of the whipped cream for added visual appeal.
Ice: Blended ice gives the Frappuccino its smooth, frosty texture.
Whipped Cream: A dollop of whipped cream tops off the beverage, adding a creamy, indulgent touch.
Optional modifications:
Customization: Customers can adjust the sweetness level, request extra caramel, or even add other flavors like chocolate or hazelnut.
Non-Caffeinated Alternative: Starbucks also offers a version without coffee, called the Caramel Cream Frappuccino, for those who prefer a non-caffeinated option.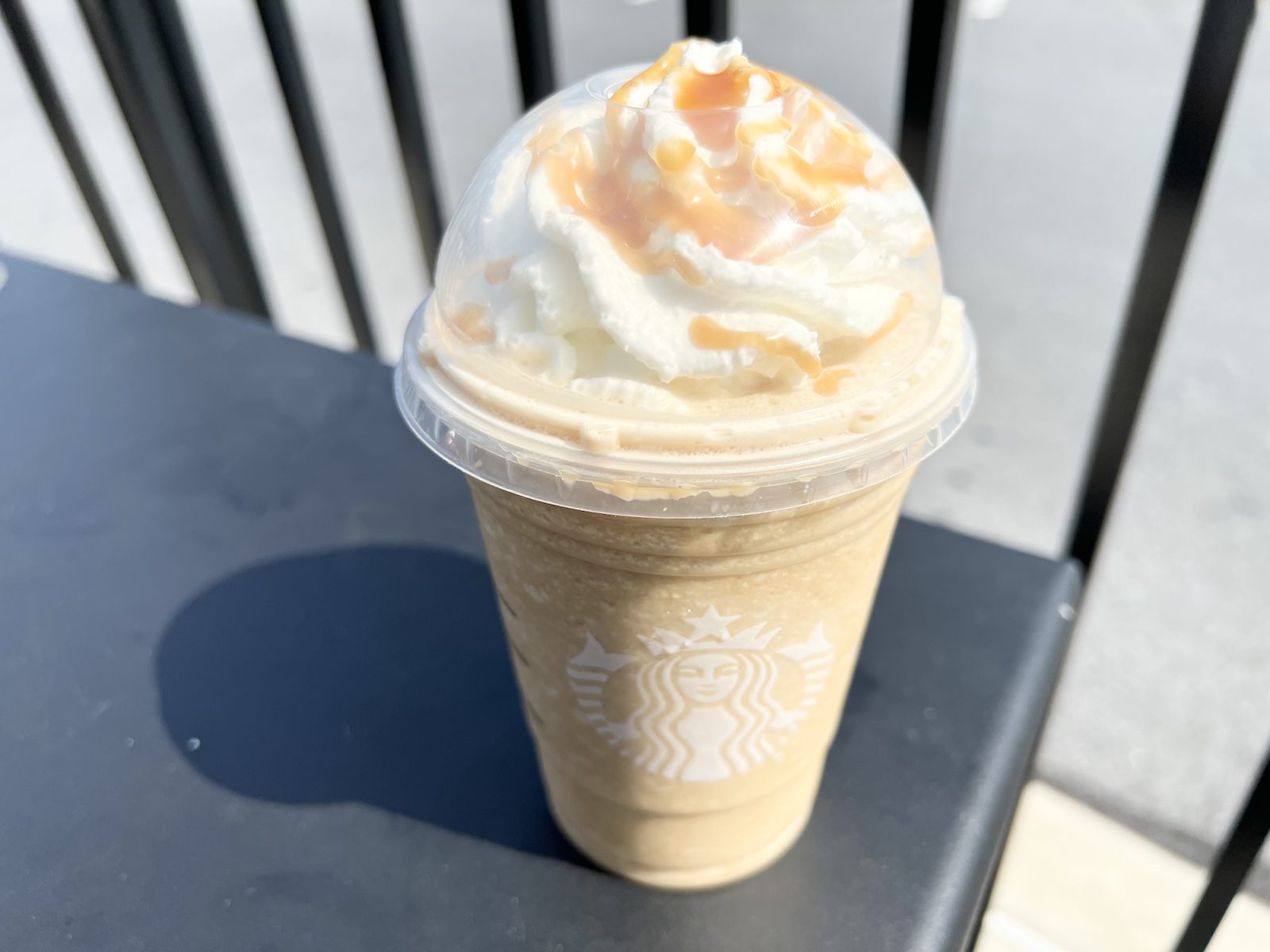 Customizing Your Drink
Alternative Milk Options
Starbucks offers various milk options for customizing your Caramel Frappuccino. These options include:
Skim milk
Plant-based milk, such as:
Heavy cream
Replacing the standard milk with an alternative can change the taste, texture, and nutritional content of the drink.
Different Sweeteners and Syrups
Customers can choose alternative sweeteners and syrups to adjust the flavor profile of their Caramel Frappuccino. Some popular options are:
Sugar-free caramel syrup
Additional caramel syrup, for a sweeter taste
The sugar content can be adjusted to suit individual preferences.
Extra Toppings
Enhancing the Caramel Frappuccino with extra toppings can provide a unique and personalized experience. Some possible toppings include:
Extra caramel sauce
Whipped cream
These additions can enhance the drink's flavors and presentation, making it even more enjoyable.
Caffeine Content
The caffeine content in a Starbucks Caramel Frappuccino is relatively low compared to other Starbucks coffee beverages. The caffeine amounts per size are as follows:
Tall (12 oz): 65mg
Grande (16 oz): 85mg
Venti (24 oz): 120mg
Keep in mind that individual tolerance to caffeine may vary and that moderation is key to enjoy this delicious drink without potential adverse effects.
Caramel Frappuccino Calories
Nutritionally, the caloric content can vary greatly depending on customization options, like adding or omitting whipped cream, adding different milk alternatives, and if any syrups are added to the drink.
Coffee Frappuccino: 230 Calories (Grande)
Caramel Frappuccino: 370 Calories (Grande)
Java Chip Frappuccino: 440 Calories (Grande)
How Much Is A Caramel Frappuccino?
Starbucks offers their Caramel Frappuccino in three different sizes: Tall (12 oz), Grande (16 oz), and Venti (24 oz). The pricing varies by location, but a general range can be provided to give an idea of cost:
Tall: $4.25 – $4.45
Grande: $4.95 – $5.15
Venti: $5.65 – $5.85
These prices are for a standard Caramel Frappuccino without any additional customizations or modifications. It is important to note that adding extras, such as whipped cream, extra caramel, or other flavorings, may increase the cost.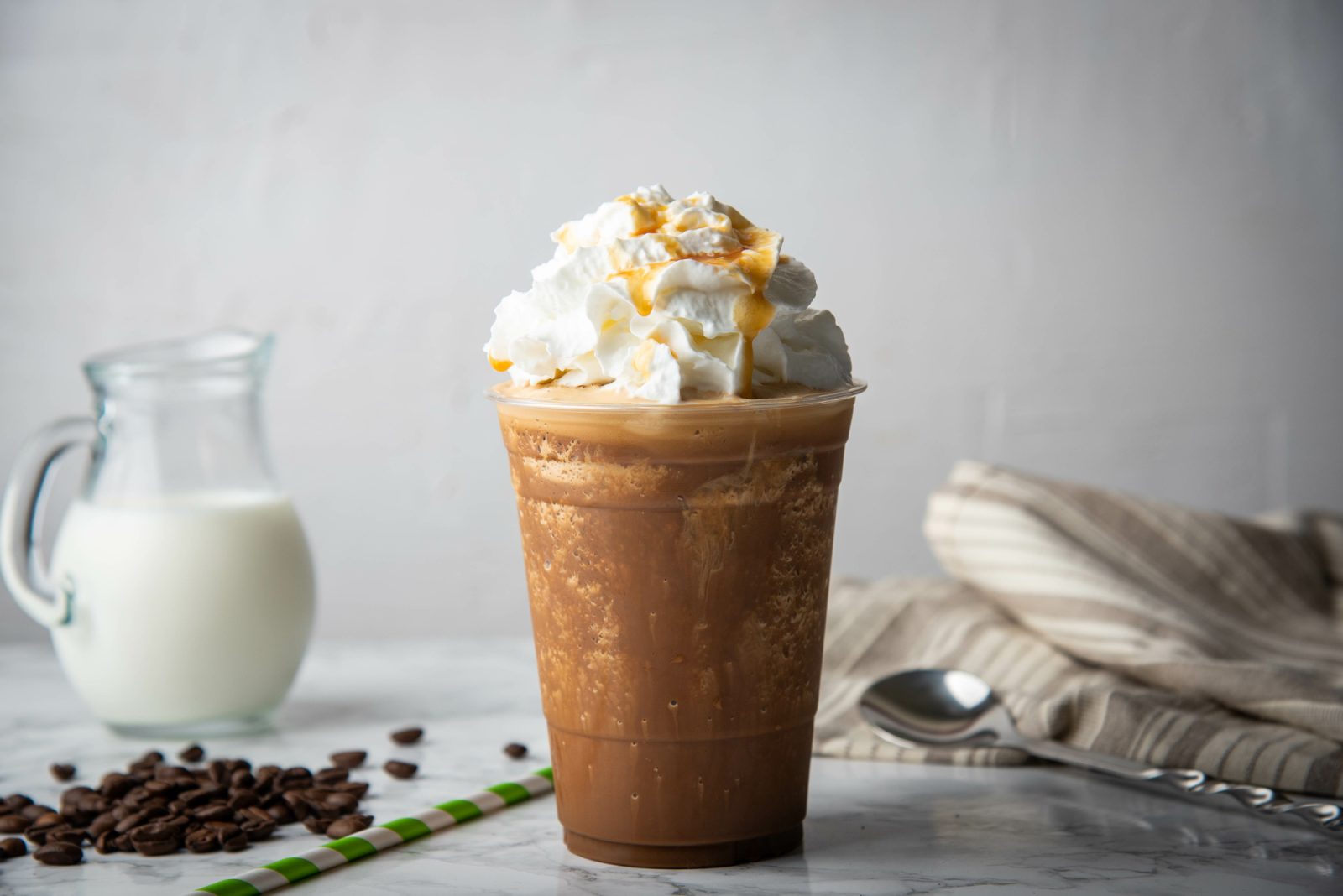 Copycat Starbucks Caramel Frappuccino
For those who adore the Starbucks Caramel Frappuccino but crave the convenience of making it at home, a copycat recipe is perfect. Achieving the same delicious flavor is easier than one might think.
First, gather the following ingredients:
1 cup of ice
1/2 cup of milk (any type)
1/2 cup of brewed coffee, cooled
3 tablespoons of caramel sauce or syrup
3 tablespoons of sugar
1/4 teaspoon of vanilla extract
Whipped cream (optional, for topping)
To create the copycat Starbucks Caramel Frappuccino at home, start by blending the ice, milk, coffee, caramel sauce, sugar, and vanilla extract until smooth. Pour the mixture into a glass, and if desired, top with whipped cream and a drizzle of extra caramel sauce.
This recipe is customizable to individual tastes.
For instance, if a stronger coffee flavor is preferred, simply add more coffee. Likewise, if the sweetness needs adjusting, modify the amount of sugar or caramel sauce to fit personal preferences.
Incorporating variations and experimenting with different ingredients can be exciting, such as trying an alternative milk selection or adding a unique topping. The possibilities are endless.
Comparing Caramel Frappuccino to Other Starbucks Drinks
Coffee Frappuccino vs Caramel Frappuccino
When comparing the Coffee Frappuccino to the Caramel Frappuccino, customers might notice distinctions in taste, ingredients, and calories. The Coffee Frappuccino offers a classic, coffee-focused taste, incorporating a coffee base, milk, and ice.
On the other hand, the Caramel Frappuccino features an indulgent blend that mixes the coffee base with caramel syrup, milk, ice, and whipped cream.
Focusing on nutritional information, a 16-ounce Grande Coffee Frappuccino contains approximately 230 calories, while the same size Caramel Frappuccino boasts around 370 calories.
This difference in caloric content is primarily due to the caramel syrup and whipped cream utilized in the latter.
Java Chip and Other Coffee Drinks
In contrast to the Caramel Frappuccino, the Java Chip Frappuccino emphasizes chocolaty flavors. It combines a coffee base with chocolate chips, mocha sauce, milk, and ice before being topped with whipped cream.
The taste of this beverage leans more towards the rich and chocolatey, rather than the smooth and creamy sweetness of the Caramel Frappuccino.
A 16-ounce Grande Java Chip Frappuccino has approximately 440 calories, making it a more calorie-dense option compared to Caramel and Coffee Frappuccinos.
Nonetheless, each of these drinks appeals to different preferences when it comes to taste and ingredients.
For those interested in an espresso-based beverage, Starbucks also serves various coffee drinks such as lattes, cappuccinos, and Americanos.
While these options do not offer the same chilled experience as the Frappuccino selections, they deliver a more robust coffee flavor and can be customized to include different flavors and milk options.