Standing in line for Starbucks Christmas drinks and trying to decide what will satisfy your Christmas-influenced taste buds? There is nothing better than exploring new coffee flavors during this festive time of year! Starbucks has released its 2021 holiday drink menu, introducing six great festive drink options! These 2021 holiday drinks include; Peppermint Mochas, Chestnut Praline Lattes, Caramel Brulée Lattes, an Irish Foam Cold Brew, the new Sugar Cookie Almondmilk Latte, and a Toasted White Chocolate Mocha.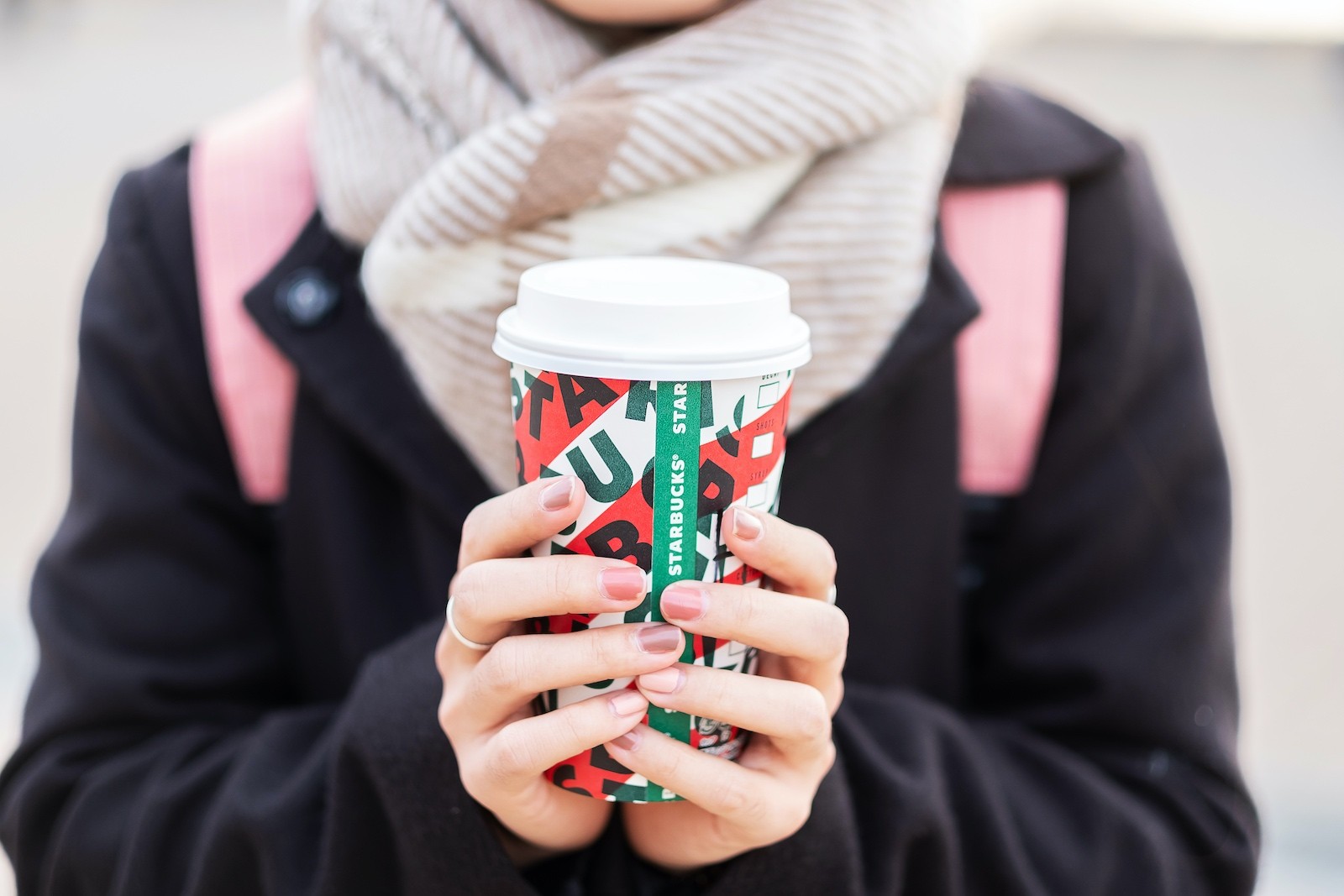 Even with the great variety above, we can't turn a blind eye to some of the most famous Christmas secret menu drinks. Past Christmas-themed secret menu drinks are becoming more difficult to order as ingredients are unavailable or become obsolete. Here is our list of the best Starbucks Christmas drinks you can order from the Starbucks menu. As for the Christmas secret menu, we'll save our pick (the best) for last!
The 8 Best Starbucks Christmas Drinks 2021
1. Peppermint Mocha
This Peppermint Mocha is the perfect blend of chocolate and peppermint with a well-balanced espresso taste. We've heard the "PM" provides quite the energy boost as the chocolate and signature espresso roast come together to create one of the most festive HOT drinks on the menu. If you enjoy the taste of candy canes and hot espresso, the Peppermint Mocha is a sure bet!
2. Chestnut Praline Latte
Are you feeling a bit nutty around the holidays? The Chestnut Praline adds to the nuttiness (at Starbucks, that is…) during one of the busiest times of the year. The Chestnut Praline Latte serves up a robust nutty flavor that will leave you wanting more after seeing the bottom of your cup. The BEST part? It's not sugary sweet like everything else that screams Christmas!
The "CPL" is a solid latte choice made with Starbucks' signature espresso, added flavors of caramelized chestnuts and spices. Whipped cream is swirled on top and decorated with spiced praline crumbs! Wow!
You can capture a similar taste by adding Chestnut Praline flavor in your next iced coffee or ordering a Chestnut Praline Frappuccino. The Chestnut Praline Latte is a must-try Christmas Starbucks drink with no regrets!
3. Caramel Brulée Latte
Who's dreaming of a Caramel Christmas? The Caramel Brulee Latte is the perfect blend of coffee and sweetness for all caramel lovers out there. Caramel coffee drinks make up some of the most ordered drinks on the Starbucks menu, and the Caramel Brulee Latte likewise. Starbucks begins with espresso, steamed milk, and rich caramel brulée sauce – creating one of the most balanced and smooth caramel drinks we have ever devoured. Whipped cream and toppings of even more caramel brulée bits float on top, making the Caramel Brulee Latte the perfect Christmas latte for caramel lovers.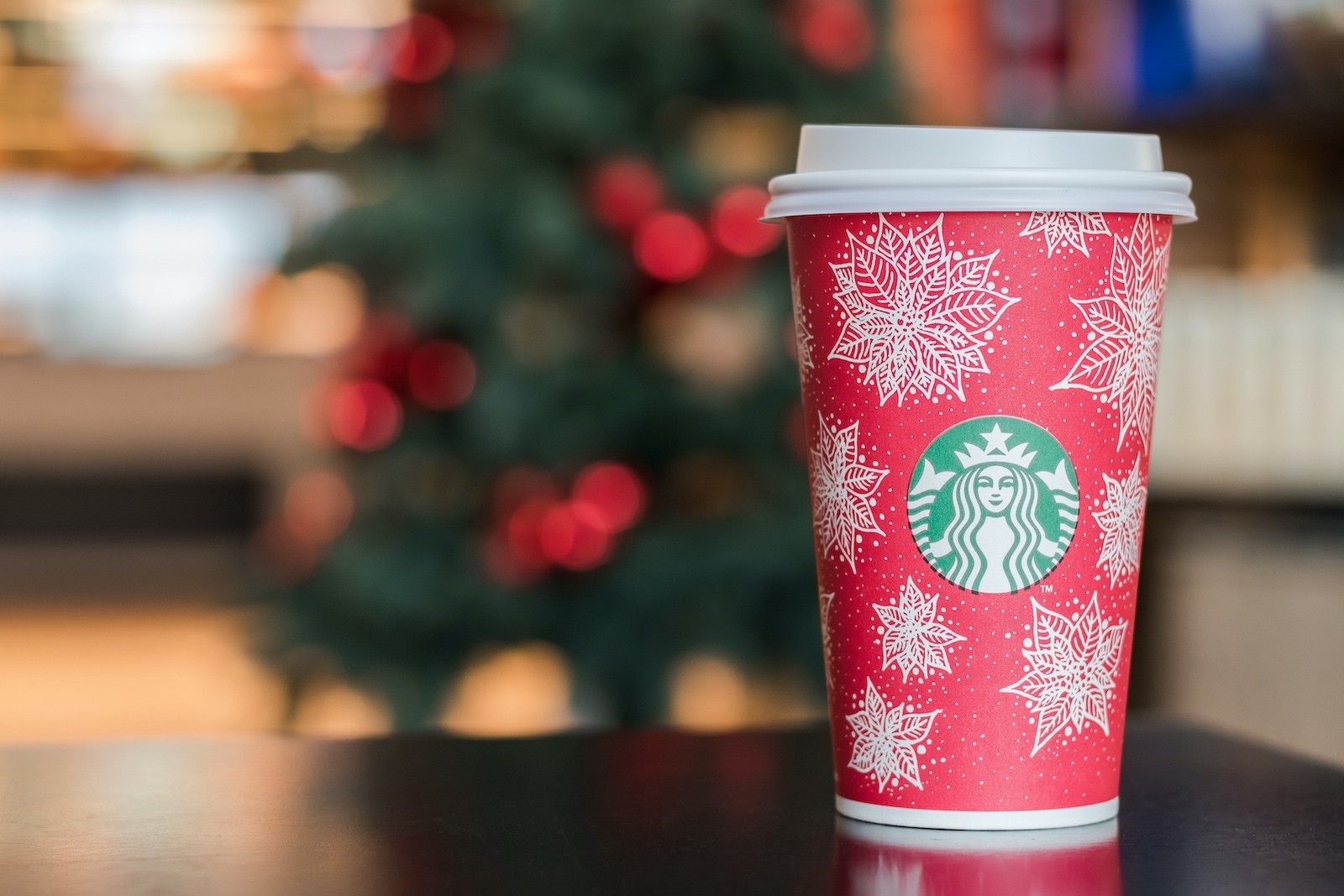 4. Sugar Cookie Almondmilk Latte
The Sugar Cookie Almondmilk Latte is by far this season's most popular drink and the newest addition to the Starbucks holiday menu. Who doesn't love a traditional made-from-scratch sugar cookie?
The Sugar Cookie Almondmilk latte features the newly famous cookie-flavored signature syrup combined with blonde espresso and steamed almondmilk. Starbucks adds a nice festive touch and drops sparkling red and green sprinkles on top.
Craving milk and cookies? Try swapping the almondmilk with regular milk for an authentic milk and cookies experience. And…don't forget to try the Sugar Cookie as an iced latte!
5. Irish Cream Cold Brew
We were confused when we first heard of the Irish Creme Cold Brew appearing on the Starbucks holiday menu. Is St. Patty's Day really that close to Christmas? We wish! After giving the Irish Cream Cold Brew a shot, we realized this particular cold brew make-up is perfect for the holiday season.
The "ICCB" is a very relaxing drink that reels you back to earth during the unpredictable craziness of the holidays. Vanilla sweet cream cold foam with a hint of cocoa endorses this Christmas drink as the perfect sip on Christmas morning or in front of the fireplace. We have designated this great cold coffee as our choice for Christmas morning. Find out if your Starbucks is open on Christmas so that you can join us and get your hands on an Irish Cream Cold Brew!
6. Toasted White Chocolate Mocha
Described as a "Merry" treat, the White Chocolate Mocha does not mislead! Espresso paired with flavors of caramelized white chocolate, steamed milk, and whipped cream makes you feel quite "merry" and "bright"! Festive holiday sugar sparkles and crispy white pearls send you spiraling into that desired white Christmas mindset.
7. White Hot Chocolate
How does hot chocolate make the list of the best Starbucks Christmas drinks? By being the simplest of them all! The Starbucks White Hot Chocolate may be the most simplistic of the Starbucks Christmas drinks, but it's ALL the rave!
We cannot hear coffee drinkers and non-coffee drinkers talk enough about the White Hot Chocolate from Starbucks. Simply put, this drink comprises traditional hot chocolate with white chocolate sauce, steamed milk, whipped cream. The White Hot Chocolate is SO smooth, light as a feather, and a crowd-pleaser.
Add the White Hot Chocolate to your list of must-haves this holiday season—simplistic, bold, and smooth snowy white.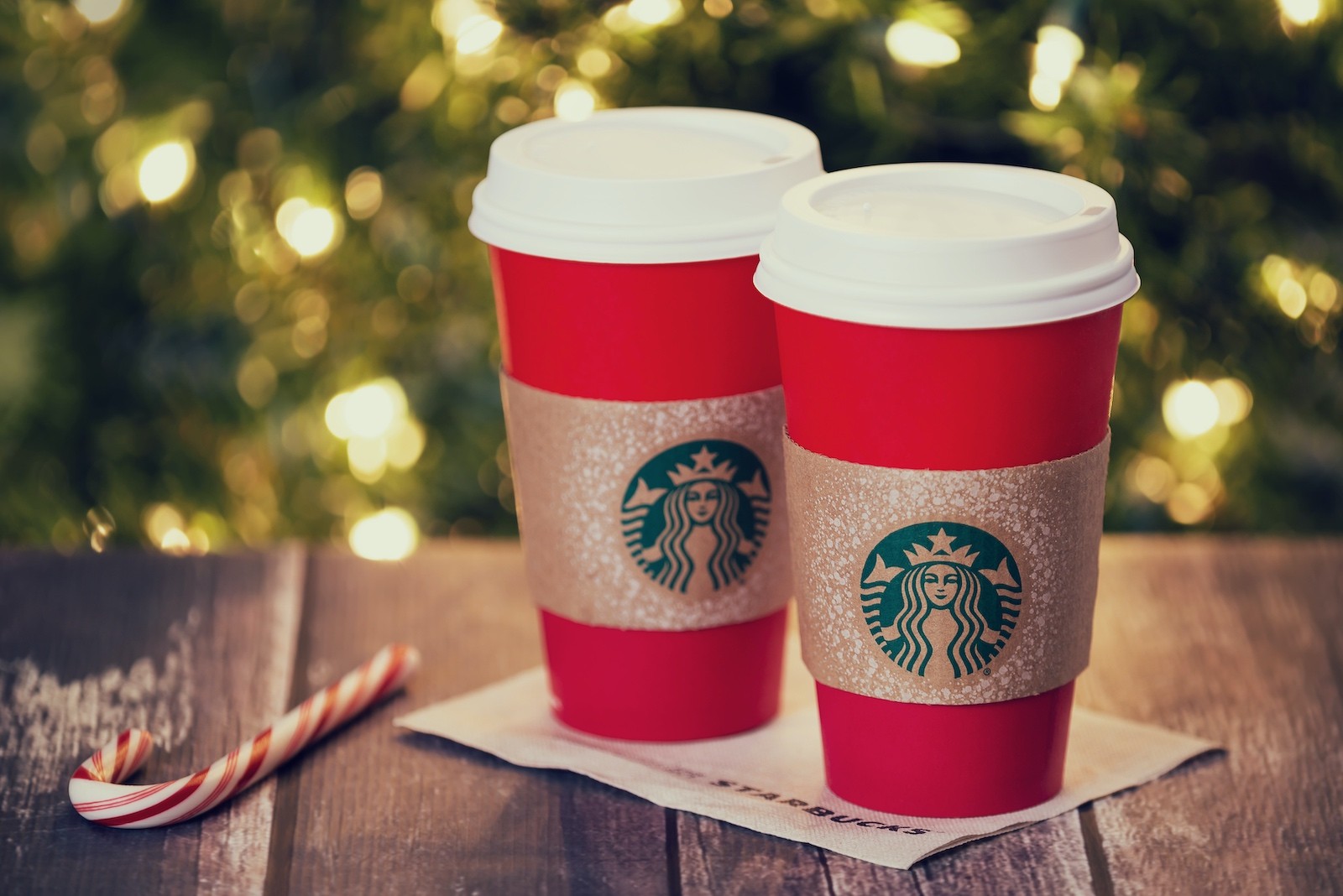 8. Iced Peppermint Mocha
The Only Starbucks Christmas Refresher
Ever wonder what a frozen-coffee chocolate-covered candy-cane tastes like? Me either, but here it is! The iced version of the Peppermint Mocha is deserving of its own headline — so good it should classify as the ONLY Starbucks Christmas refresher!
The peppermint, ice, and chocolaty flavors make this an everyday drink you must order in a venti size cup. Cold, crisp, and packed with peppermint, this Starbucks Christmas drink earns the badge of the most refreshing Christmas drink on this year's menu!
Starbucks Christmas Secret Menu 2021 Pick
Trying to top the Iced Peppermint Mocha is an arduous task, but this secret menu drink is a must-try for all ages.
Introducing our Starbucks Christmas Secret Menu #1, the Candy Cane Frappuccino!
If you are looking for a Starbucks Christmas drink for the kids, or its name alone convinces you to order, the Candy Cane Frappuccionno is a sure win for the whole family! Sometimes known as the Strawberry Candy Cane Frappuccino, this Christmas secret menu item will have everyone in the store asking, "What the heck is that beautiful drink?".
Not only is this drink Christmas beautiful, but if Christmas had a taste, this would be it! Flavors of strawberry and peppermint over a vanilla bean base create one of the best Starbucks Christmas secret menu drinks of all time!
To order our Starbucks Christmas Secret #1, ask your barista for:
A grande Vanilla Bean Frappuccino

Strawberry puree

Signature Peppermint syrup

Whipped cream on top
The Best Starbucks Christmas Drinks Summary
What are your favorite Starbucks Christmas drinks? We would love to hear how you enjoy the holiday season with Starbucks. Please share your experience in the comments below.