A Quick Guide to the Starbucks Secret Menu
Like any other coffee or Starbucks enthusiast, you've probably heard whispers of the Starbucks secret menu or maybe even Starbucks secret menu frappuccinos.
But have you ever tried to order an item from it?
Do you even know what's on it?
Can you just ask your barista for a funky drink name you heard might be on the secret menu?
The truth may shock you.
Most people head into Starbucks and order off the posted menu. But not you.
A Starbucks Ordering "Adventure"
No, you're an adventurer — ready to try some of the craziest off-menu Starbucks drinks you can envision. There has to be some kind of secret code you tell your barista to see the full menu selection though, right? Sadly, the Starbucks secret menu isn't exactly what you thought it would be.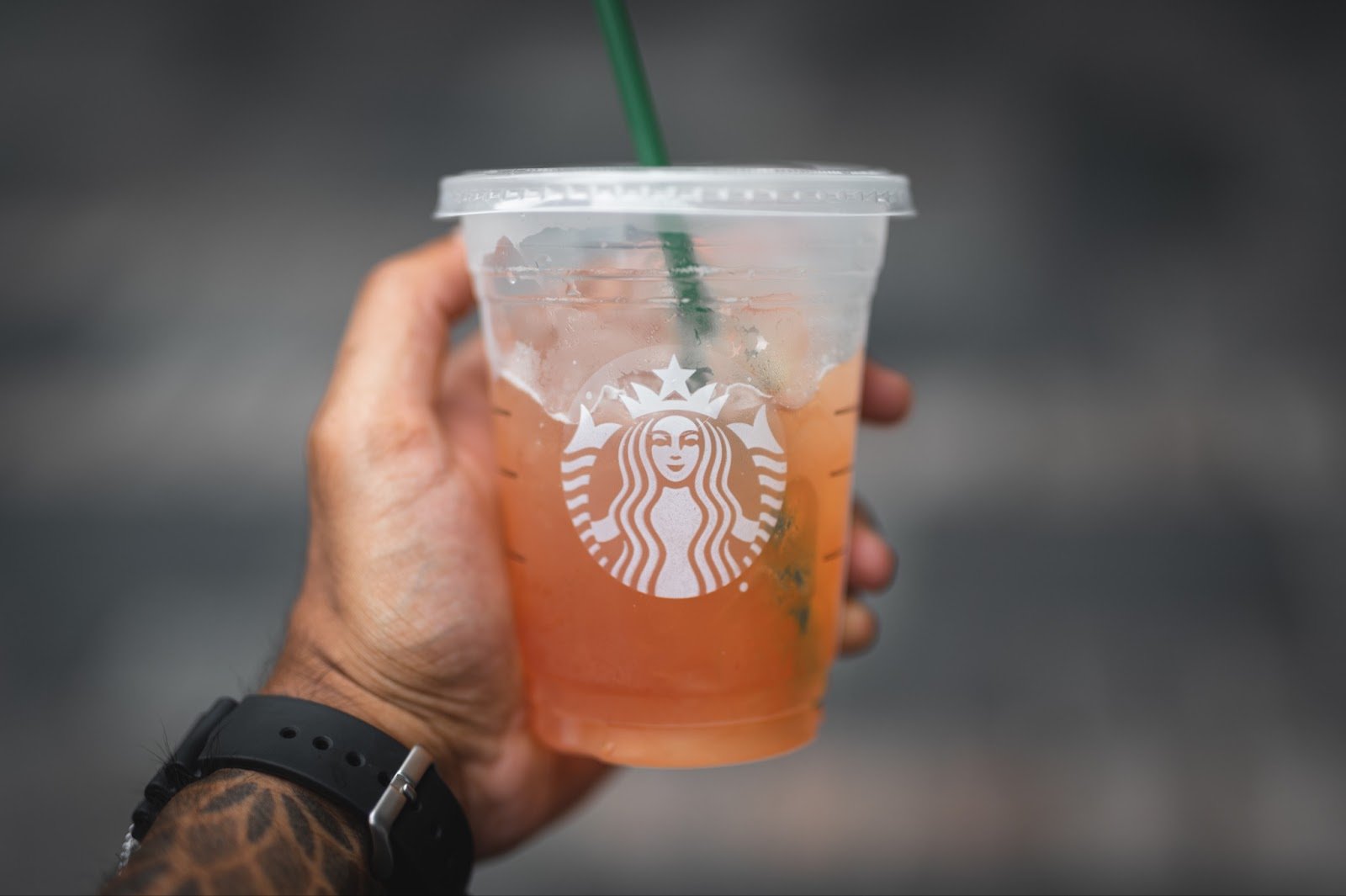 What Is the Starbucks Secret Menu?
The Starbucks Secret menu is a constantly evolving concept of creating new Starbucks recipes and mixtures that are not on the traditional menu.
These drinks are considered secret drinks but have gained popularity after going viral on social media platforms.
Does Starbucks Have A Secret Menu?
Starbucks allows and encourages customers to make substitutions to their beverages. And this is how the Starbucks secret menu was born. Customers just like you have brilliant recipe ideas they try out, and word spreads like wildfire.
This is partially due to the increasing popularity of social media platforms like TikTok and Instagram Reels, which give these secret menu contributors a chance to go viral.
And when they do, the best of the best secret menu items make it onto the unofficial "Starbucks secret menu".
Where Can You Find Starbucks Secret Menu Drinks?
Hard truth: There is no REAL Starbucks secret menu.
But when people create concoctions that catch the attention of others, they can dub their beverage creation a Starbucks secret menu drink.
If you're interested in finding some of the various secret menu items from over the years, a simple Pinterest or Google search will show you hundreds of options.
You can also download secret menu apps, including Secret Menu Premium, Starbucks Secret Menu: Cafe, and the Starbucks Secret Menu by Luna. Be careful; some of these apps require a subscription or require in-app purchases.
Don't worry, though; we are about to detail thirteen of our favorite Starbucks secret menu items, along with information on how to order them!
How to Order a Secret Menu Drink From the Barista
Ordering a drink from Starbucks secret menu may be more of a challenge than you may think. The problem is that this unofficial menu doesn't really exist.
So, asking your barista for a Butterbeer latte may or may not work out. If your barista has had others order this secret menu item before, they may know what you're talking about by name.
But it should not come as a surprise if they don't.
However, sometimes, the secret menu drinks become so popular that Starbucks will actually add them to the official menu. The Pink Drink and the Medicine Ball are two beverages that Starbucks made official in 2021.
Tip: If you want to order a Starbucks secret menu beverage as easily as possible, don't ask for it by name. Instead, tell the barista the size of your beverage, its base, your substitutions, and how you want it made.
Starbucks Secret Menu Drinks 2022
You can search for secret drinks by the holiday, the season, or whatever flavor you're in the mood for — perhaps something fruity, sweet, robust, or chocolate. The possibilities are endless. If you're the creative type or an aspiring foodie, you might even try creating your own Starbucks menu item.
The Best Starbucks Secret Menu Frappuccinos
Whether coffee-based drinks are your go-to Starbucks order or you prefer a lighter drink, the Starbucks secret menu has something for everyone. Some of the more popular items that made it onto the unofficial Starbucks secret menu are Frappuccinos.
1. Winnie the Pooh Frappuccino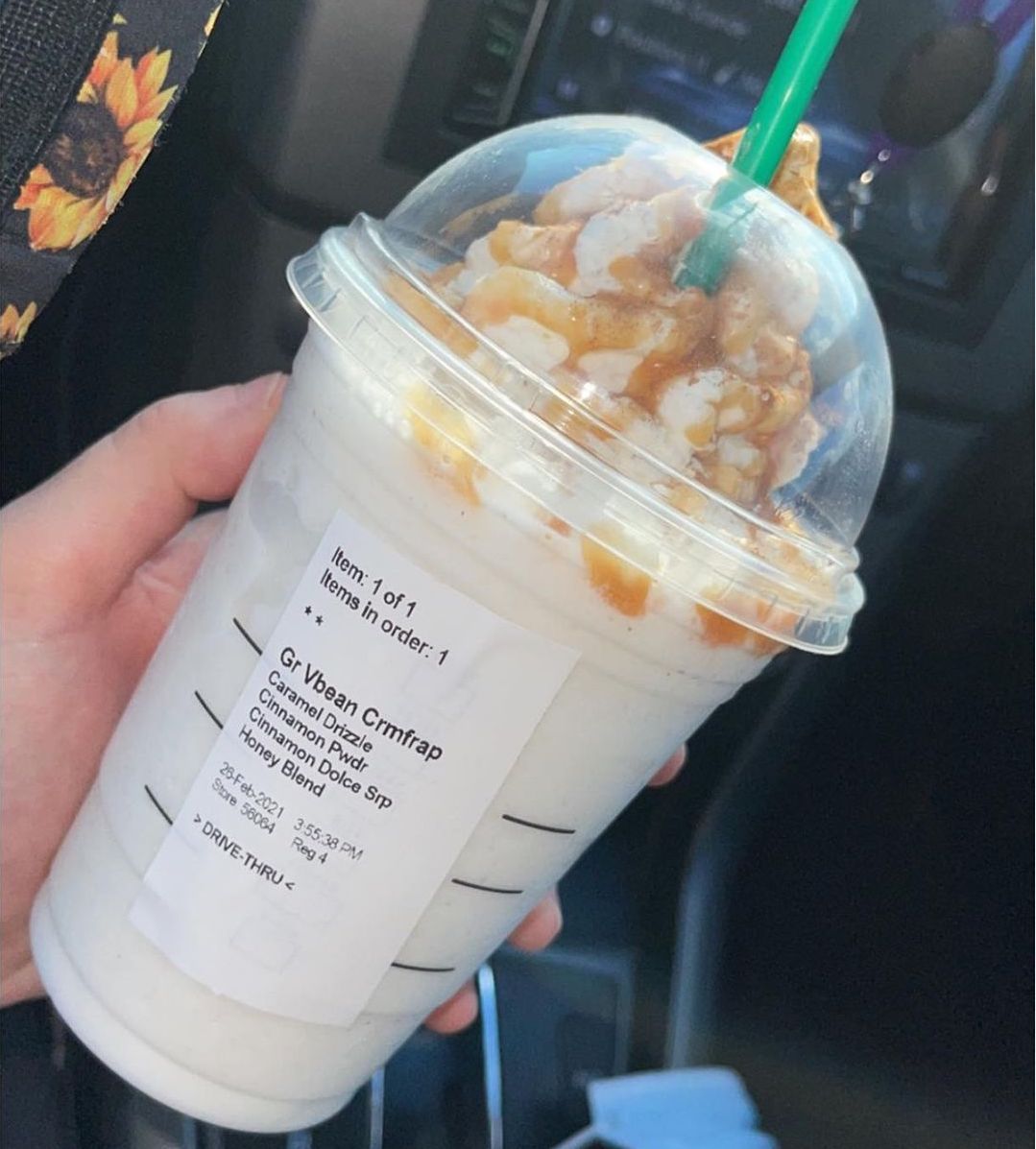 If you want to start your morning in a sweet honey Frappuccino dream, the Winnie the Pooh Frappuccino is for you. This is one of the best honey frappuccinos money can buy! Ready to order? Ask the barista to:
Pour a vanilla bean frapp
Add caramel drizzle, cinnamon dolce, and cinnamon powder
Make sure it is blended!
Drizzle extra caramel around the inside of the cup
2. Skittles Frappuccino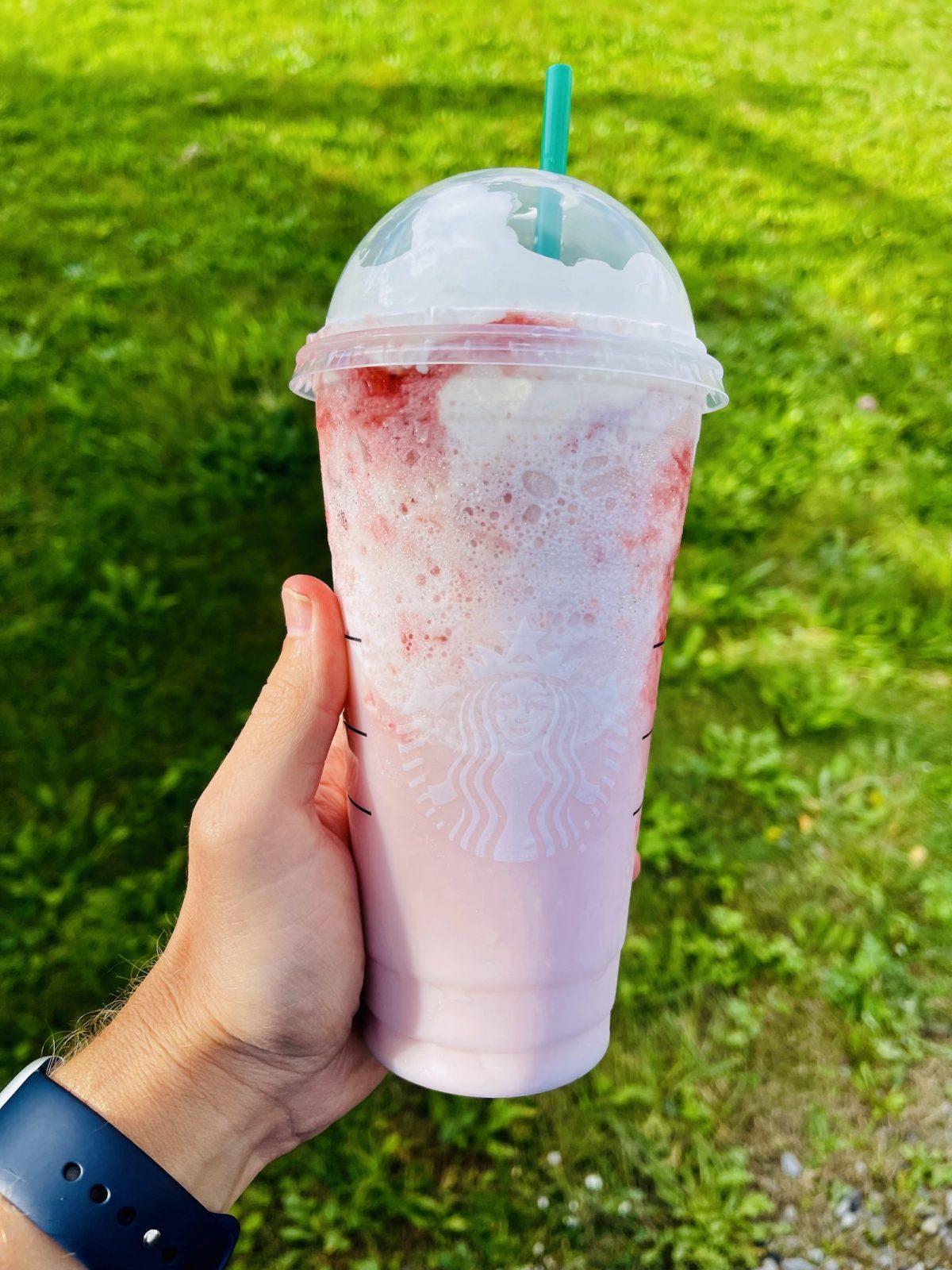 A fruity explosion your kids will love, the Skittles Frappuccino literally melts in your mouth. When you're ready to order a Skittles Frappuccino and "Taste the Rainbow", ask your barista for:
A Venti strawberry creme frapp
Four pumps of vanilla syrup
One-and-a-half pumps of raspberry syrup
Whipped cream on top
3. Caramel Apple Frappuccino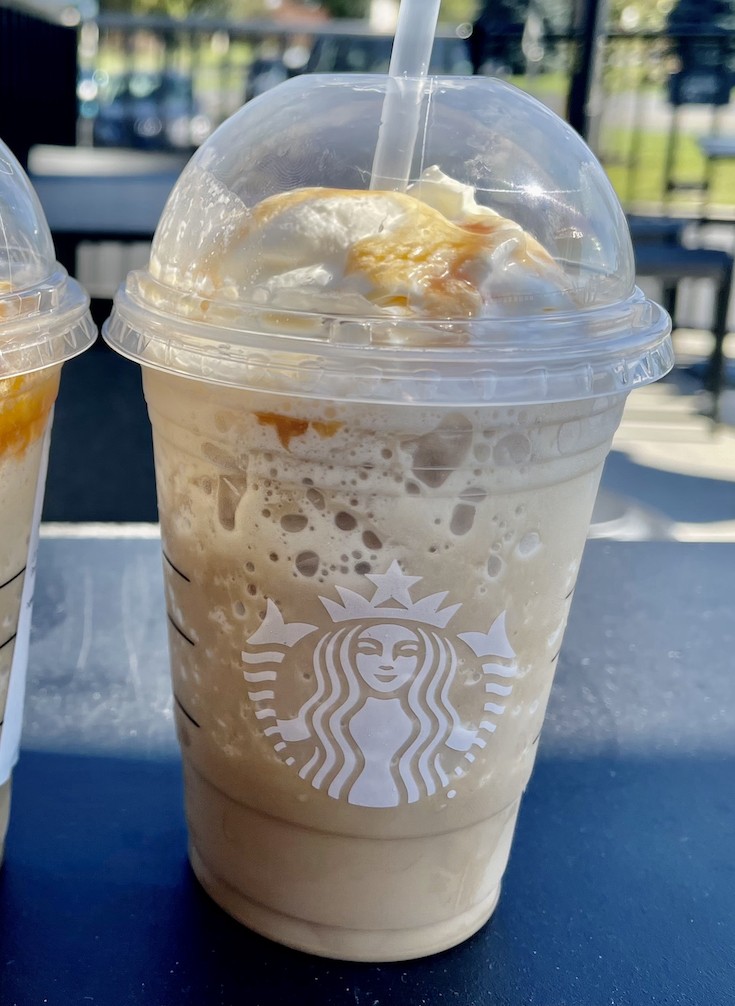 Another menu creation we recommend just in time for fall weather is the Caramel Apple Frap! Starbucks keeps the ingredients in stock all year round for this caramel juicy apple dream. Order this juicy apple concoction just like this:
Apple juice to the first line and milk to the second line
Cinnamon syrup, 3 pumps
Cream base, 3 pumps
Add dark caramel, 2 pumps
whipped cream
caramel ribbon crunch for added caramel flavors
top with signature cinnamon dolce topping
Starbucks Secret Menu Refreshers
It's been nearly 5 years since Starbucks introduced refreshers to their menu. Ever since Starbucks Secret menu refreshers have been quite the hit! Originally only available as a limited-time offer, these refreshing drinks are now on every iced beverage list at just about every coffee chain in the country. Here are a few original Starbucks secret menu refreshers you must try!
4. Peach and Coconut Refresher
This drink has a vibrant red color that is packed with peach and coconut flavors. This simple mixture is one of the best Starbucks refreshers that money can buy, especially on a hot summer day! Here is how to order:
Order a traditional Starbucks Berry Refresher
Simply ask for 2 pumps of coconut syrup and 2 pumps of peach syrup
5. Rose Gold Starbucks Refresher
One of the most Instagrammable refreshers is the Rose Gold refresher. This refresher was literally born on Instagram! To get your hands on one of these savory refreshers, ask your barista to:
Pour a Venti mango dragonfruit refresher
Remove the inclusions
Add peach juice (not water or lemonade)
One pump of raspberry syrup
One pump of vanilla syrup
6. Gummy Bear Refresher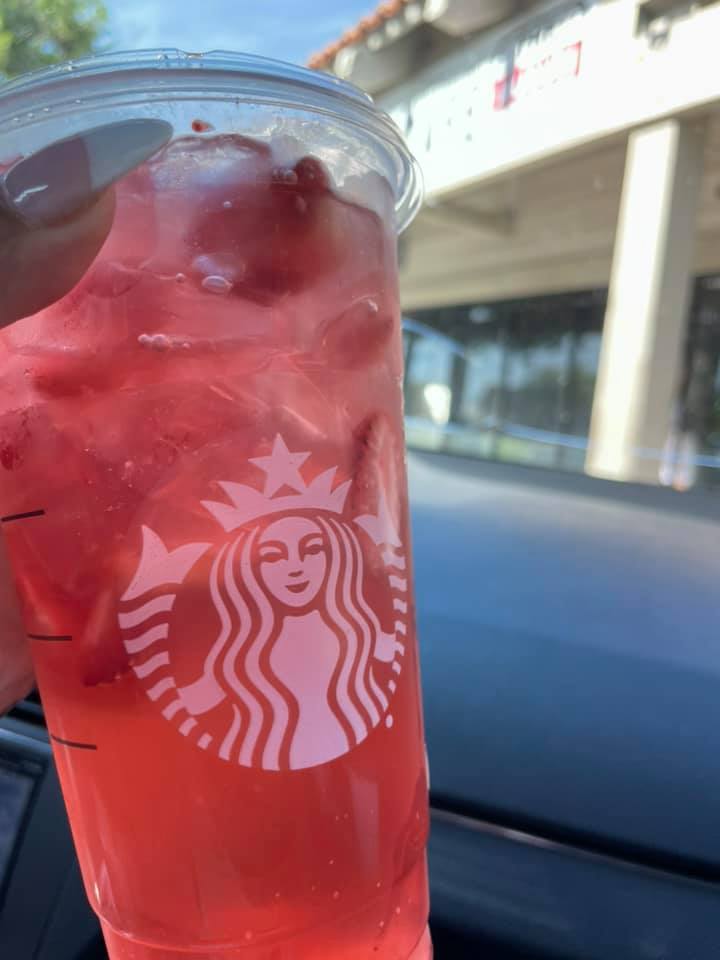 Oh I'm a gummy bear.
Yes I'm a gummy bear.
Oh I'm a yummy tummy funny lucky gummy bear.
I'm a jelly bear.
Cause I´m a gummy bear.
If you have kids and haven't heard those lyrics from the "I am A Gummy Bear" song, consider yourself the luckiest person alive! Because of the gummy bear song, we needed to try the Starbucks gummy bear refresher, and it did not disappoint! To get your hands on a gummy bear, ask your barista for:
a Strawberry Acai refresher
Add 2 pumps of peach syrup
Add 2 pumps of raspberry syrup
7. Firecracker Ombré Drink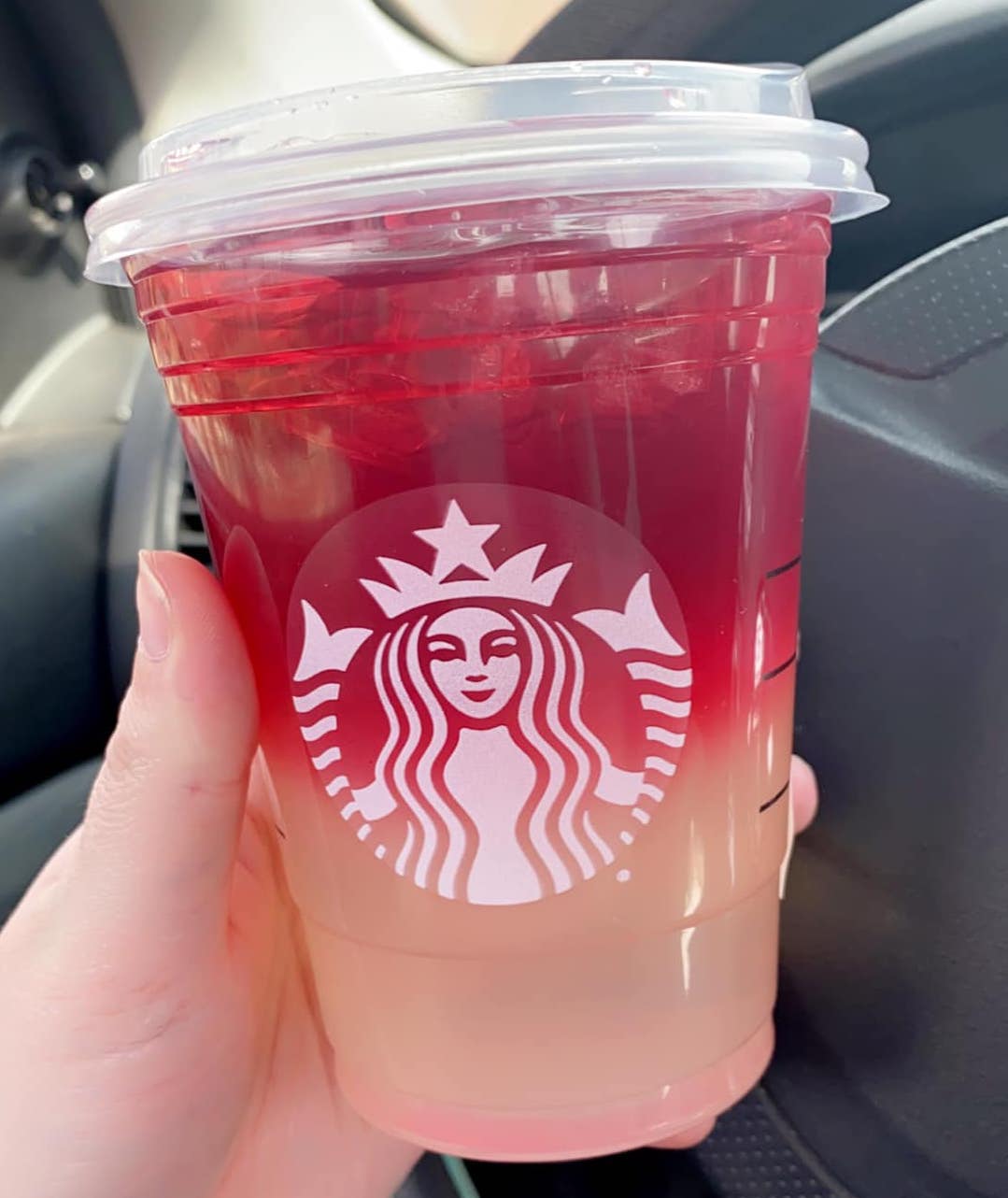 The Firecracker Ombré drink emerged in 2021 as one of the *coolest* secret menu refreshers. You can get your hands on this refreshing beverage by asking your barista to:
Create a Venti mango dragonfruit refresher
Add lemonade (not juice or water)
Remove the inclusions
Add one pump of raspberry syrup
Shake the lemonade and syrup first, then pour over ice
Top with passion tea
Other Starbuck Secret Menu Must-Haves
8. Starbucks Oatmeal Cookie Latte
Fall and winter are right around the corner, and you know what that means: all the yummy fall flavors — including Oatmeal Cookie. Order an Oatmeal Cookie Latte by asking your barista to:
Make a latte with oat milk
Two pumps mocha syrup
Two pumps brown sugar syrup
Oat milk foam on top
Add a drizzle of chocolate sauce
9. Starbucks Pumpkin Patch Latte
With Fall just around the corner, a Pumpkin Patch Latte should be at the top of your secret menu list. Ask the barista to:
Create a pumpkin spice latte
Steam in match green tea powder
10. Butterbeer Frappuccino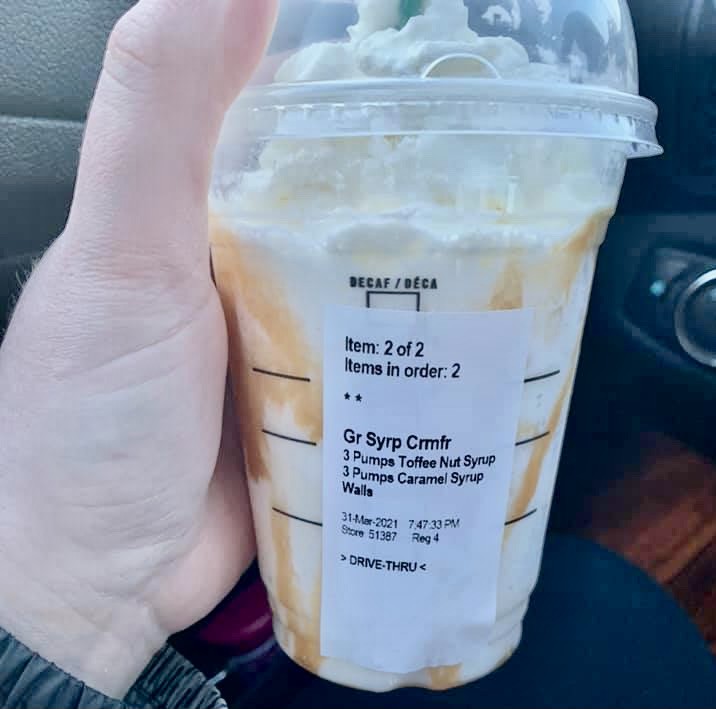 Have you tried the Butterbeer Frappuccino? It has become an iconic secret menu drink for Harry Potter fans. There are many ways to make your own version of this delicious beverage that tastes just as good as the real thing!
To order a butterbeer frap, ask your barista to:
Create a creme frappuccino base
Add 3 pumps of caramel syrup
dd 3 pumps of toffee nut syrup
Top with caramel drizzle
11. The Original Secret Menu Blue Drink
Beware of the fake blue drinks at Starbucks. If you've heard of the purple drink at Starbucks, this blue drink is quite similar. The difference is in the ingredients, adjusted just enough to change the purple to a dull lavender shade of blue. Check out our recent article on Starbucks blue drinks, or order the original secret menu Starbucks blue drink by asking your barista for:
A Venti Passion iced tea
Add soy milk
Add four pumps of vanilla syrup
12. Caramel Snickerdoodle Macchiato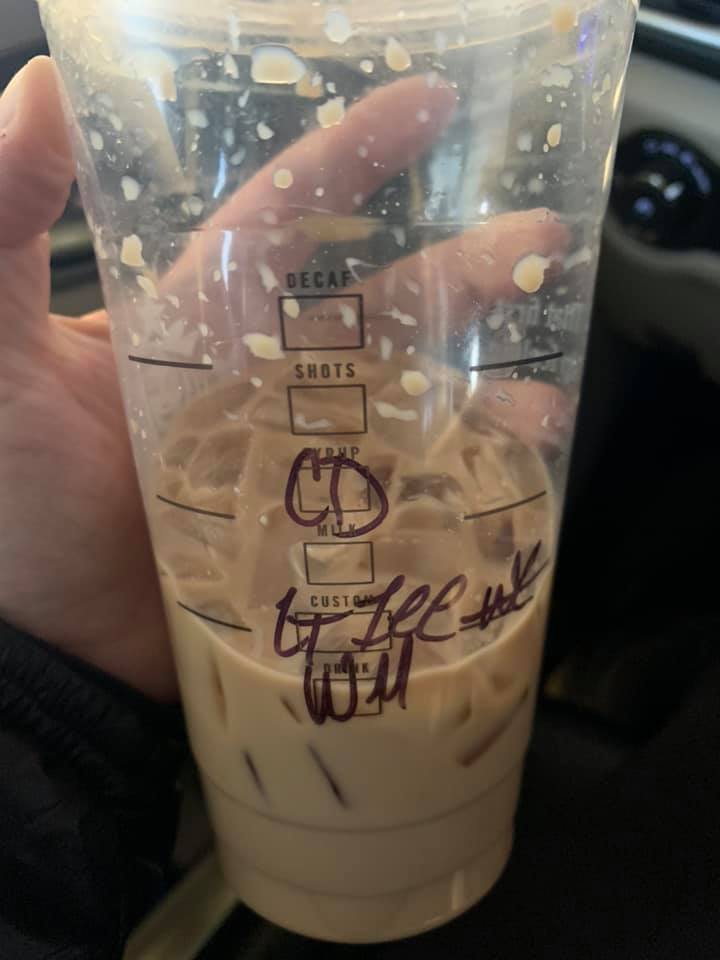 The Caramel Snickerdoodle Macchiato is one of the most popular Starbucks secret menu caramel drinks. Made with lightly sweetened milk mixed with espresso, and topped with caramel sauce, the Caramel Snickerdoodle Macchiato recipe is easy to make.
Ask your barista for:
a grande Chai Creme Frappuccino with soy milk
2 pumps cinnamon dolce syrup
Add cinnamon dolce sprinkles
13. The TikTok Pink Drink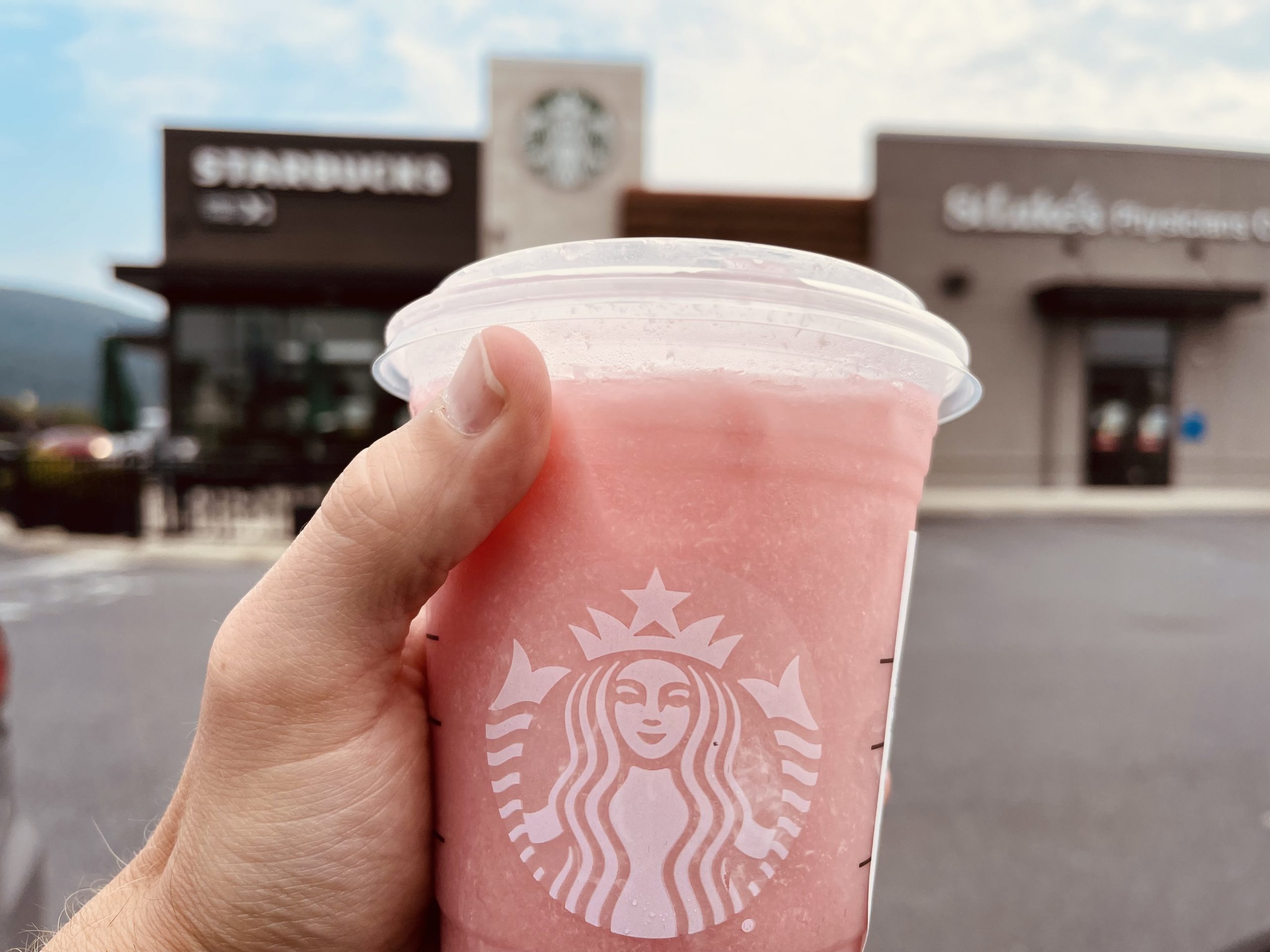 The regular menu Starbucks Pink Drink is made with coconut milk, but the TikTok version replaces that with heavy cream. So, if you've been putting off trying the Pink Drink because you're not a coconut milk fan, now's your chance to give it a try!
Ask your barista for:
A venti Pink Drink
Heavy cream instead of coconut milk
Three scoops of vanilla bean powder
Whipped cream on top
Starbucks Secret Menu Summary
There are so many Starbucks secret menu options to choose from. The good news? Whether you are into hot or the best Starbucks iced coffees, the Starbucks Secret menu will continue to thrive on social media. Which menu item are you most excited to try? Let us know about your favorite Starbucks secret menu drink in the comments below.