Dunkin' has been delighting its fans with various seasonal flavors and menu releases for years. One of the flavors that has captured the hearts and taste buds of many since 2013 is the MOST POPULAR Dunkin' Butter Pecan Swirl.
This flavor consists of notes of butter roasted pecan and sweet cream, making it a truly indulgent experience for coffee lovers.
The Butter Pecan Swirl's popularity led to its return as a permanent addition to Dunkin's menu.
Now, customers can enjoy this delightful flavor in hot or iced coffee, espresso drinks, cold brew, Frozen Coffee, or Frozen Chocolate all year round.
This versatile flavor option offers a touch of nostalgia for those who love the taste of butter pecan.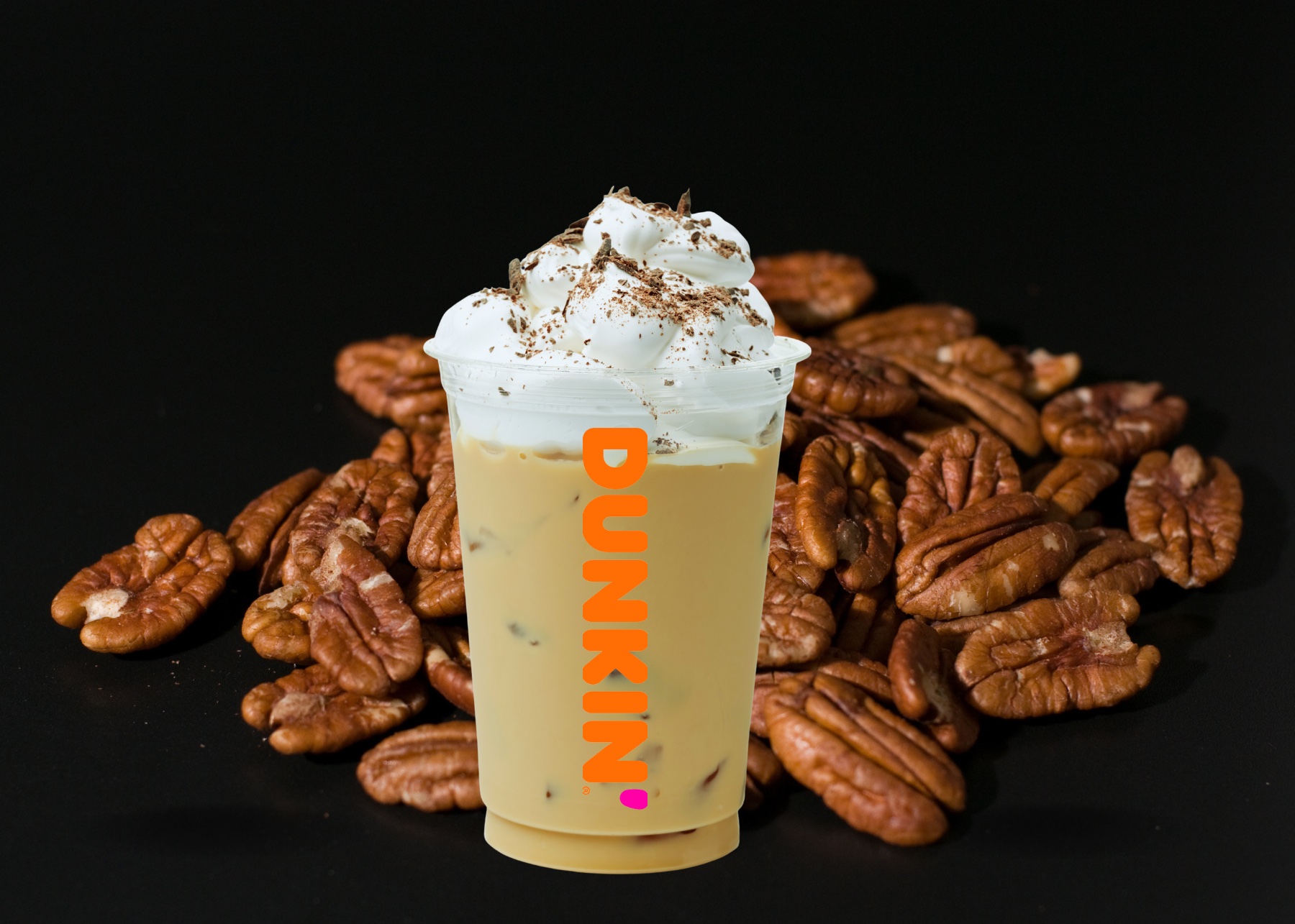 Dunkin' Butter Pecan
Butter pecan swirl was first introduced in 2013 and has been a spring-summertime favorite ever since!
According to Dunkin', butter pecan is "one of the brand's most requested flavors."
(We found several online petitions about bringing back the flavor.)
And we know why butter pecan is so popular: it is AMAZING addition to original iced coffee.
Pecan Facts
One of Dunkin's most requested flavor swirls
Online petitions to bring it back permanently may have had an impact
Butter pecan swirl contains milk, but does not contain tree nuts
Can be added to any beverage that allows for flavor swirls
Release date: April 26th, 2023 until forever
The Dunkin' Butter Pecan Experience
Butter Pecan Swirl
Butter Pecan swirl features notes of butter roasted pecan and sweet cream, perfect for those who love a touch of sweetness in their coffee. An ideal addition to hot or iced coffee, espresso drinks, cold brew, Frozen Coffee, or Frozen Chocolate, the Butter Pecan Swirl is now available all year round.
Turtle Signature Latte
Would you like to expand your taste buds beyond the Butter Pecan Swirl?
Dunkin's Turtle Signature Latte might be an excellent choice for you.
This indulgent beverage combines the flavors of rich espresso, steamed milk, caramel, and mocha, topped with a generous drizzle of both caramel and chocolate sauces. It makes a fantastic treat for all who crave a combination of chocolate, caramel, and butter pecan in their coffee.
Butter Pecan Crunch Frozen Coffee
For those warm days when you still want to enjoy your favorite Butter Pecan flavor, the Butter Pecan Crunch Frozen Coffee is a refreshing option.
A blend of Dunkin's signature coffee, sweet butter pecan flavor, and rich chocolate chips, this frozen drink provides an irresistible treat for coffee and chocolate lovers alike.
The Butter Pecan Crunch Frozen Coffee is a limited-time offering to please your taste buds this summer.
Butter Pecan Here Forever
Dunkin' consistently delivers enticing options for coffee enthusiasts.
With the Butter Pecan Swirl now permanently on the menu, Dunkin' ensures that fans can indulge in this beloved flavor anytime they please.
Dunkin' Butter Pecan Review
If you never sampled this amazing swirl in an iced coffee, you are missing out!
The flavor is a rich combination of butter and roasted pecans.
It's delicious enough to be enjoyed on its own –– with the classic Dunkin' coffee –– or in any cold beverage or other combination that makes "nutty" sense.
The flavor has just the right balance of sweetness and nutty richness that sets it apart from other popular flavors like mocha or caramel.
As part of the new early summer menu lineup, you can enjoy Dunkin' butter pecan in a new frozen coffee or via a new Signature Latte.
Menu Additions and Combinations
Butter Pecan Donut
Dunkin' is known for its delicious donuts and beverages, and the addition of the Butter Pecan flavor to their menu is no exception. The Butter Pecan Donut is a delightful treat that features a tender, yeast-based donut filled with a rich Butter Pecan-flavored cream. The donut is then topped with a luscious glaze and finished with a sprinkling of crushed pecans. The combination of flavors and textures creates a satisfying and delectable experience for Butter Pecan enthusiasts.
Tender yeast-based donut
Filled with rich Butter Pecan-flavored cream
Topped with glaze and crushed pecans
Baskin-Robbins Ice Cream Collaboration
Dunkin' is not only committed to serving delicious donuts and beverages, but also to keeping its menu fresh and innovative. One notable collaboration is with Baskin-Robbins to bring its signature ice cream flavors to Dunkin's lineup.
The Butter Pecan Swirl flavor available in Dunkin's menu is inspired by Baskin-Robbins' popular Butter Pecan ice cream. With its notes of butter roasted pecan and sweet cream, this delightful swirl can be added to hot or iced coffee, espresso drinks, cold brew, Frozen Coffee, or Frozen Chocolate.
Collaboration with Baskin-Robbins
Butter Pecan Swirl inspired by the popular Butter Pecan ice cream
Can be added to various beverages
This collaboration offers customers a unique taste experience, blending the best of both brands with a distinct product offering. Dunkin' continues to expand its menu with exciting new additions, ensuring that customers have a variety of delicious options to choose from.
Dunkin' Butter Pecan Drink Options
Espresso Drinks
Dunkin' offers a variety of espresso-based options that can be customized and enhanced with their unique Butter Pecan Swirl flavor. Customers can choose from classics such as lattes and macchiatos, made with robust espresso shots. Whole milk can be substituted for a richer and creamier texture in these drinks.
Cold Brew
For those looking for a more refreshing and smoother caffeine experience, Dunkin' Cold Brew provides a perfect alternative. The Butter Pecan Swirl can be added to cold brew for a delightfully sweet and nutty twist to this popular drink choice.
Other Drinks
Lastly, Dunkin' features an assortment of other beverages that cater to the non-coffee crowd. Tea options are available, ranging from hot and iced varieties to novelty frozen drinks. The versatile Butter Pecan Swirl can be incorporated into these tea-based beverages, as well as Dunkin's signature Frozen Chocolate and Frozen Coffee.
Tea options: hot, iced, and frozen
Espresso Drinks: lattes, macchiatos
Cold Brew: customizable with Butter Pecan Swirl flavor
Other beverages: Frozen Chocolate, Frozen Coffee
Incorporating the beloved Butter Pecan Swirl into these different beverage categories provides Dunkin' customers with a flexible and flavorful experience.
Satisfying a wide range of tastes, Dunkin' proves its versatility in creating a diverse and delightful menu.
Summary
The new Butter Pecan is a permanent addition to the lineup of Dunkin' flavors, so now you can crave it anytime.
One thing is for sure, Dunkin' Pumpkin has bumped Butter pecan off the menu early for the LAST time!