With endless new drinks at Starbucks and Dunkin' coming out each season, cutting back on sugar consumption is not always easy. If you've fallen in love with an Iced Mocha Latte or your Sweet Cream Cold Brew, you might be surprised to find out how much sugar these sweet treats contain.
Luckily, skinny syrups for coffee offer the perfect sugar-free alternative to make various delicious coffee recipes.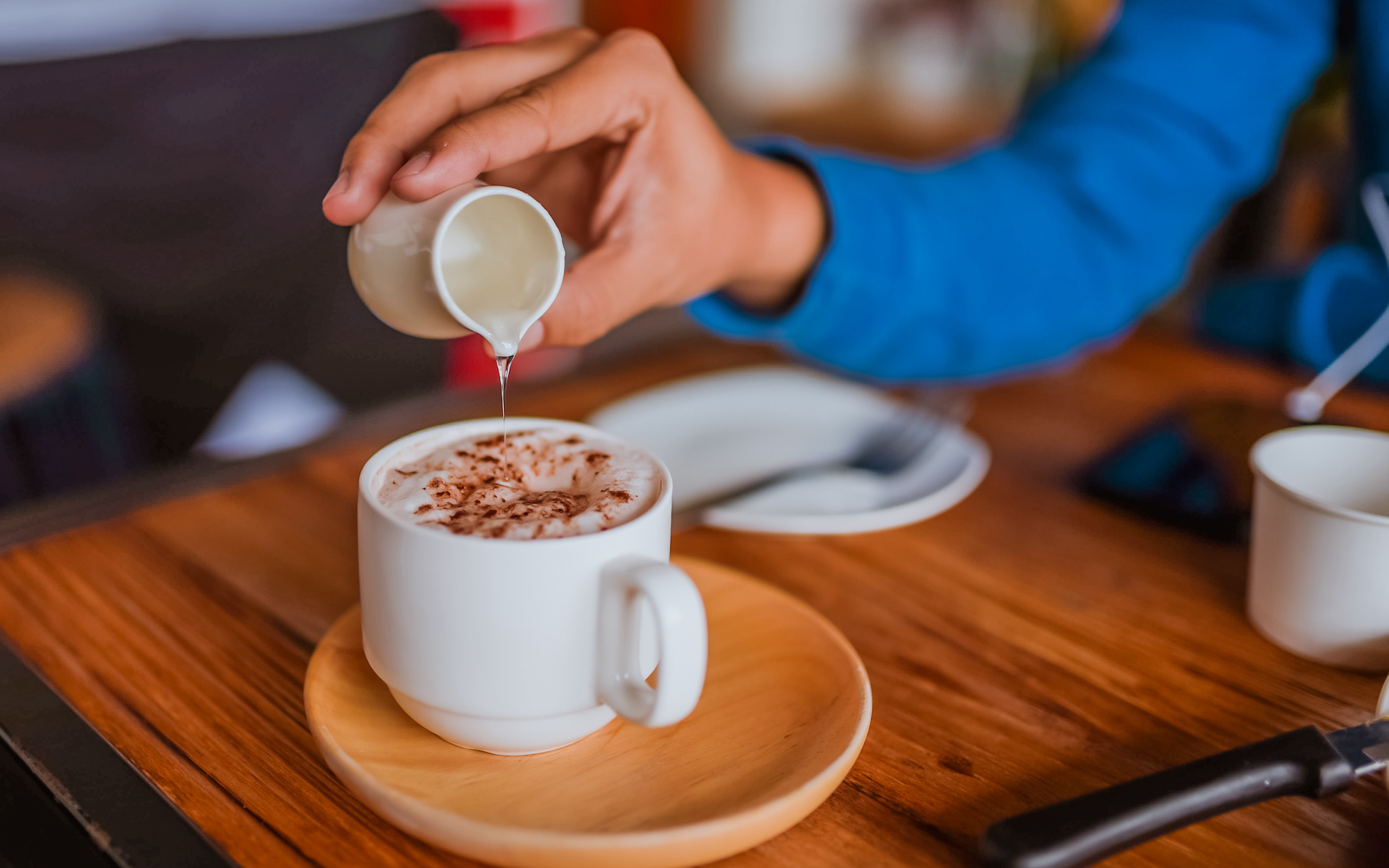 Whether you're simply trying to cut down on sugar intake for your health or trim down with summer approaching, skinny syrups are worth a shot. This zero-calorie sweetened coffee syrups come in dozens of flavors, including classic coffee flavorings and seasonal flavors.
Plus, you can find them at dozens of online and in-store retailers.
So, how do you use skinny syrups for coffee to make a delicious low-sugar drink?
Try these simple skinny syrup recipes to help you make healthier dupes for your favorite hot and iced coffee drinks.
Caramel Latte with Skinny Syrup
The Starbucks Iced Caramel Brulée Latte is one of the most popular lattes, and for a good reason. Unfortunately, this classic favorite contains 44 grams of sugar per Grande cup. Luckily, creating a copycat recipe with far less sugar using skinny syrups for coffee is easy.
Here's what you'll need:
Skinny Syrups Sugar-Free Caramel Syrup (4 pumps)
12 oz of any coffee
Nonfat milk
Ice (if served cold)
Optional: Whipped Cream
Depending on your preference, this can be made either in hot or cold (served over ice) form.
Start by mixing four pumps of Skinny Syrups Sugar-Free Caramel Syrup with 12 oz of coffee in a large mug or cup.
Next, add the desired amount of any non-fat milk. Stir well with a coffee frother or a spoon.
Top with whipped cream, if desired. You can also top it with Sugar-Free Salted Caramel Sauce for the "drizzle" effect.
Pistachio Latte
Starbucks' hot and iced Pistacho Lattes' are another two fan favorites. Using skinny syrups for coffee in the Sugar-Free Pistachio flavor, you can easily create a lower-sugar version of this popular drink.
Here's what you'll need:
Sugar-Free Pistachio Syrup (3 pumps)
Choice of milk
Sugar-Free Caramel Sauce
Ice (if served cold)
Note: If you're trying to cut carbs, such as those on the keto diet, choose the type of milk you use for this recipe carefully. Milk alternatives, such as unsweetened almond or coconut milk, are lower-carb options than traditional milk. Plant-based milk alternatives are also great for those following a dairy-free or vegan diet.
To make a Skinny Syrup Pistachio Latte, first begin by steaming the milk (if making a hot latte) on the stovetop.
Next, pour your milk into a bowl and froth it using a whisk or milk frother. Then, brew your espresso (or very bold coffee if espresso is not available).
Combine the frothed milk and espresso into a glass. Add ice if making an iced version of this recipe. Now, add three pumps of your sugar-free Pistachio Syrup. This amount can be adjusted accordingly, based on your sweetness preferences. To complete your Pistachio Latte, drizzle some sugar-free Caramel Sauce on top.
Iced Cinnamon Roll Latte
This copycat recipe for Starbucks' Cinnamon Dolce Latte is so good you won't even notice the sugar missing. This recipe is perfect for making when you're short on time, requiring only one step. To make this, you'll need the following ingredients:
Skinny Syrup Iced Cinnamon Roll (2 TBSP)
Ice (1 Cup)
1 Cup of Cold Brew
¼ Cup Milk of Choice
To make this, simply mix all ingredients into a cup or tumbler. Add ice, stir well, and enjoy.
Creating Unique Skinny Syrup Recipes
These three skinny syrup coffee recipes are the perfect copycat recipes to help you slowly remove sugary drinks from your diet. However, these are just a few of the dozens of varieties of sugar-free syrups available for coffee.
With some experimentation, you can create endless possibilities of coffee recipes using these sugar-free syrups.
Cutting back on sugar doesn't have to be hard!