Did you hear about Starbucks' new Java Mint Frappuccino? It was released on May 9th, 2023 as part of their 2023 Summer menu and it's ALL the latest craze at Starbucks!
So what is a Frappuccino anyway? Let's break it down.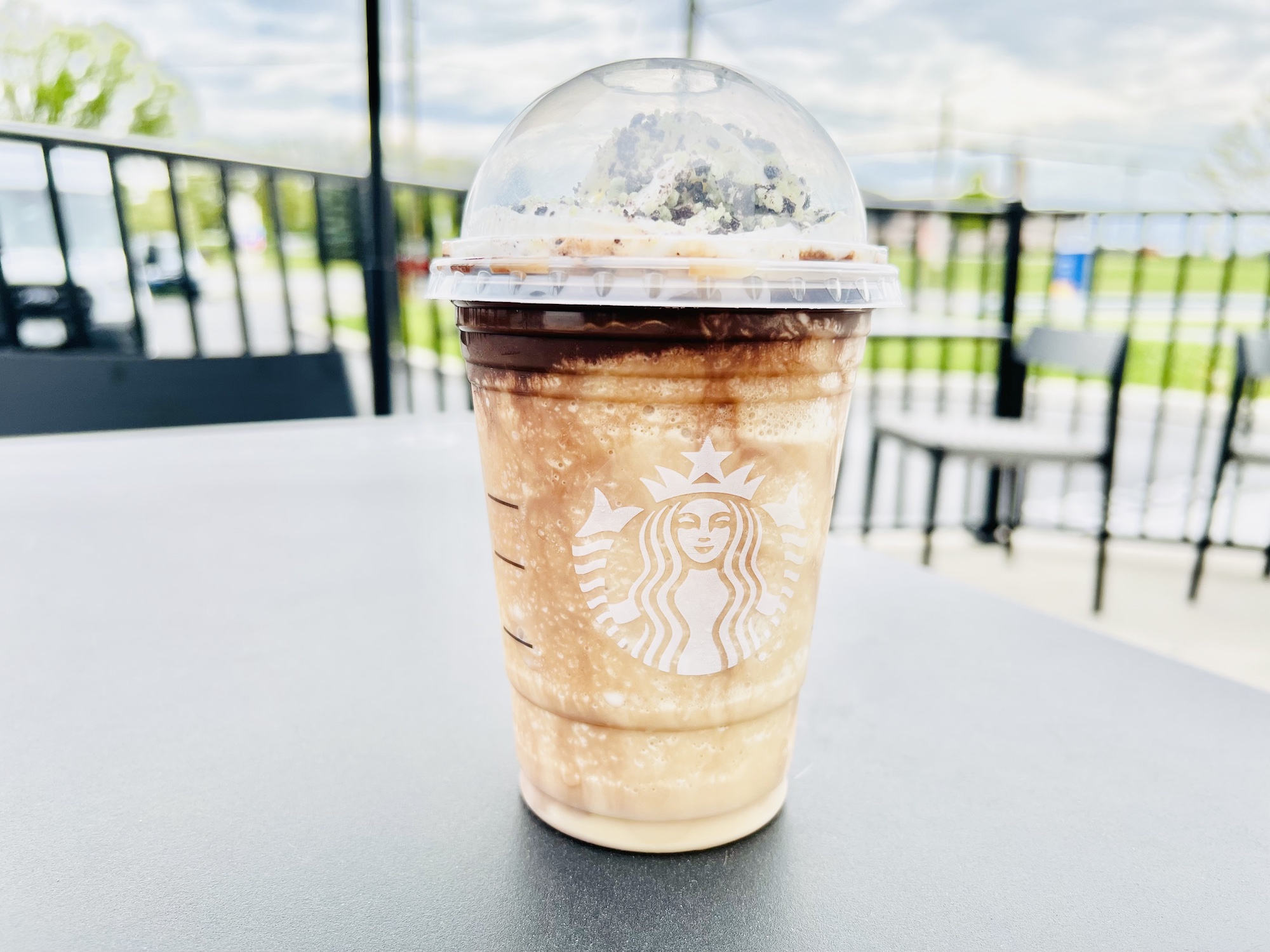 What Is A Frappuccino?
A Frappuccino is a famous line of blended iced coffee drinks sold by Starbucks.
This refreshing beverage is made with a coffee or crème base, blended with ice and other ingredients like flavored syrups.
Topped with whipped cream and sometimes garnished with spices, Frappuccinos are enjoyed by millions of customers worldwide.
In addition, bottled Frappuccino coffee beverages can be found in grocery stores, convenience stores, and vending machines.
Frappuccino is a combination of "frappe," which refers to a blended, icy beverage, and "cappuccino," a well-known espresso-based drink. Trademarked by Starbucks, other restaurants may sell similar concoctions under the name frappe.
These iconic drinks appeal to coffee lovers and cater to those who enjoy caffeine-free options, as some versions of the drink (crème-base) do not contain coffee.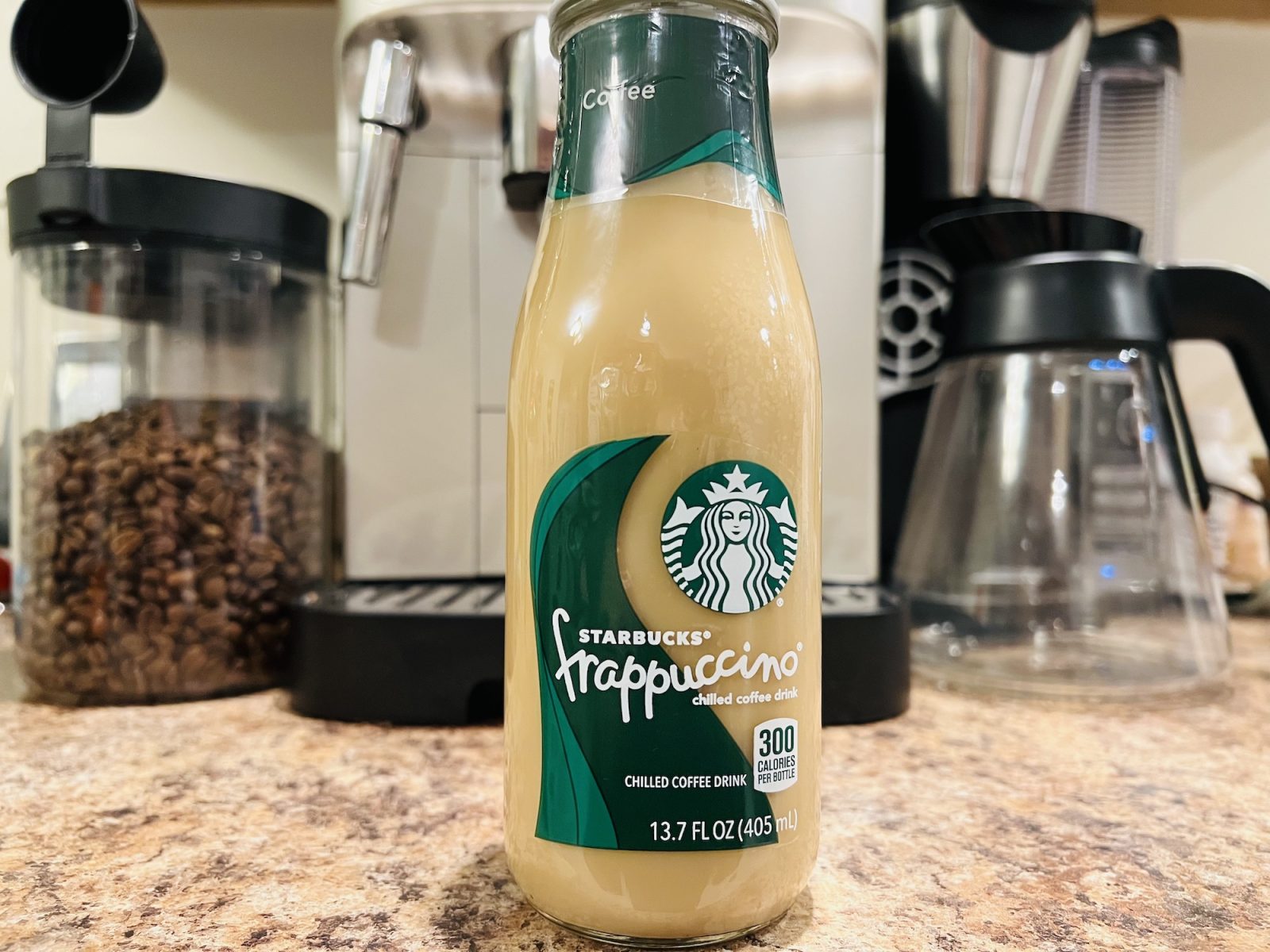 History of Frappuccino
The origin of the Frappuccino can be traced back to The Coffee Connection, a coffee shop in Boston, Massachusetts, United States.
George Howell, founder of The Coffee Connection, created a blended iced coffee drink called the "frappé," which inspired the modern-day Frappuccino.
In 1994 Starbucks acquired The Coffee Connection, giving them the rights to the "frappé" name and recipe. Starbucks then developed its own version of the drink, combining the characteristics of a frappé with a cappuccino, creating the Frappuccino.
The Frappuccino was initially launched as a blended iced coffee drink with a coffee or crème base blended with ice and flavored syrups. It is usually topped with whipped cream and spices, making it a popular indulgence for many.
In 1999 the Caramel Frappuccino was introduced, featuring whipped cream and caramel drizzle. This new addition was the first time Starbucks used domed lids and green straws for their blended beverages.
Using domed lids and whipped cream on Frappuccinos symbolized a momentary break for customers and contributed to the drink's growing popularity.
Some popular variations of the Frappuccino include mocha and caramel flavors, proving the versatility of this blended beverage.
These drinks have become widely recognized and well-loved in the United States and worldwide.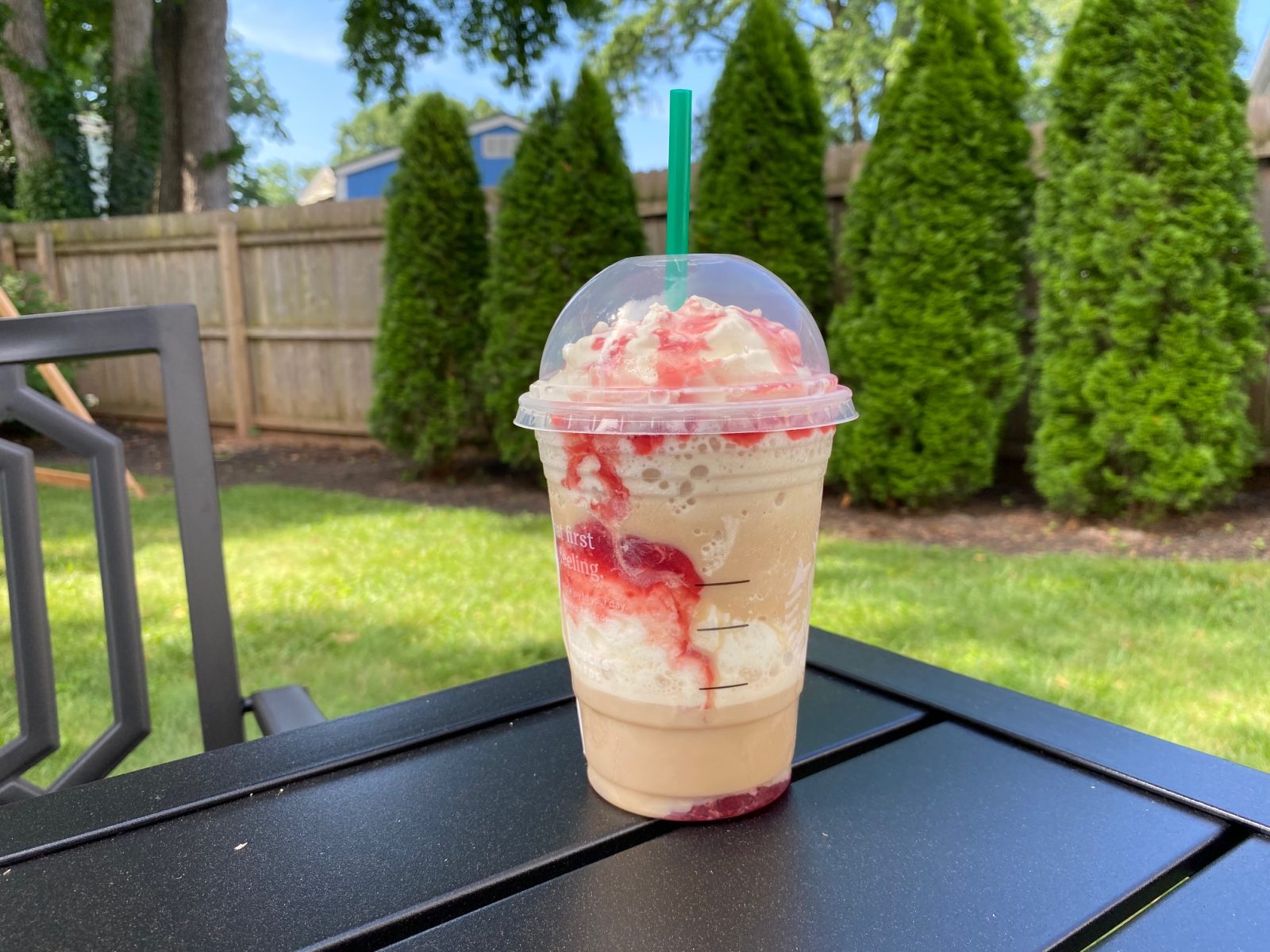 Coffee-Based Frappuccinos
Coffee-based Frappuccinos primarily use espresso or instant coffee as their base, combined with milk, ice, and flavorings. Here are a few popular variations:
Mocha Frappuccino
This popular variant combines espresso, chocolate syrup, milk, and ice. The beverage is typically topped with whipped cream and a drizzle of chocolate syrup.
Caramel Frappuccino
With a base of espresso, caramel syrup, milk, and ice, this sweet and creamy drink is a favorite among many. It is often topped with whipped cream and a drizzle of caramel sauce.
Some common ingredients in coffee-based Frappuccinos include:
Espresso
Milk
Ice
Flavorings
Crème-Based Frappuccinos
Crème-based Frappuccinos do not contain coffee and instead focus on the flavors of milk, ice, and other ingredients. Here are a couple of popular examples:
Vanilla Bean Crème Frappuccino
This creamy, non-coffee drink combines vanilla syrup, milk, and ice, resulting in a sweet and simple beverage. It is often topped with whipped cream to add extra richness.
Some common ingredients in crème-based Frappuccinos include:
Similar Drinks to Frappuccinos
Frappe
A frappe is an iced coffee beverage popular in Greece and other European countries. It typically consists of instant coffee, water, milk, and sugar, blended with ice to create a frothy, chilled drink.
The frappe is similar to a Frappuccino in that both are cold, blended beverages, but a frappe uses instant coffee instead of strong brewed coffee or espresso.
Cappuccino
The cappuccino is another popular beverage in coffee culture. It is made with equal parts espresso, steamed milk, and milk froth, resulting in a creamy, smooth, hot drink.
Although it doesn't share the iced, blended characteristics of the Frappuccino, it may appeal to those who enjoy coffee-based drinks focusing on the texture and balance of flavors.
Iced Coffee
Iced coffee is brewed coffee served over ice, often with added milk, sweeteners, or flavorings. It shares similarities with the Frappuccino as both are caffeinated, iced coffee beverages, but an iced coffee doesn't have the blended texture or whipped cream topping typical of a Frappuccino.
However, some variations of iced coffee include blended iced coffee drinks, making them closer to a Frappuccino experience.
Customization and Toppings
One of the best characteristics of a Frappuccino is the ability to customize it according to personal preferences. From whipped cream to caramel sauce, the available toppings enable customers to create a personalized drinking experience!
Whipped Cream
Whipped cream is a popular topping for Frappuccinos, providing a rich, creamy texture that complements the icy, blended drink.
Many customers choose to add a generous dollop of whipped cream on top of their Frappuccino for an indulgent treat, while others may opt for a lighter version without the whipped cream.
Caramel, Caramel and More Caramel
Caramel sauce is another favorite addition to Frappuccinos, imparting a sweet, gooey flavor. Drizzling the sauce on top of the whipped cream or directly onto the blended beverage enhances the taste and gives the drink an appealing visual presentation.
Chocolate Sauce
Similarly, chocolate sauce can be used to accentuate the flavors of a Frappuccino. Like caramel sauce, it can be drizzled over the whipped cream or blended into the drink. Some people even like mixing caramel and chocolate sauces to create a delightful blend of sweetness.
Besides these popular options, a variety of other toppings are available for customizing a Frappuccino.
Here are some examples:
Chocolate chips:Add a crunchy texture and extra chocolate flavor
Crushed cookies:Offer a sweet, crumbly texture that pairs well with many flavors
Sprinkles:Provide a playful and colorful touch
Fruit:Gives a refreshing, natural sweetness to the drink
Customers can ALSO mix and match these ingredients to suit their tastes and dietary needs when ordering a Frappuccino.
Skip Whipped Cream or Dairy
For example, those looking for a dairy-free option can ask for plant-based milk and skip the whipped cream. It's essential to note that some syrups and toppings may contain dairy, so it's wise to consult the barista if there is any uncertainty.
In summary, Frappuccinos' customization and topping choices make them versatile and exciting beverages!
With a wide array of ingredients, customers can create their perfect, personalized drink every time.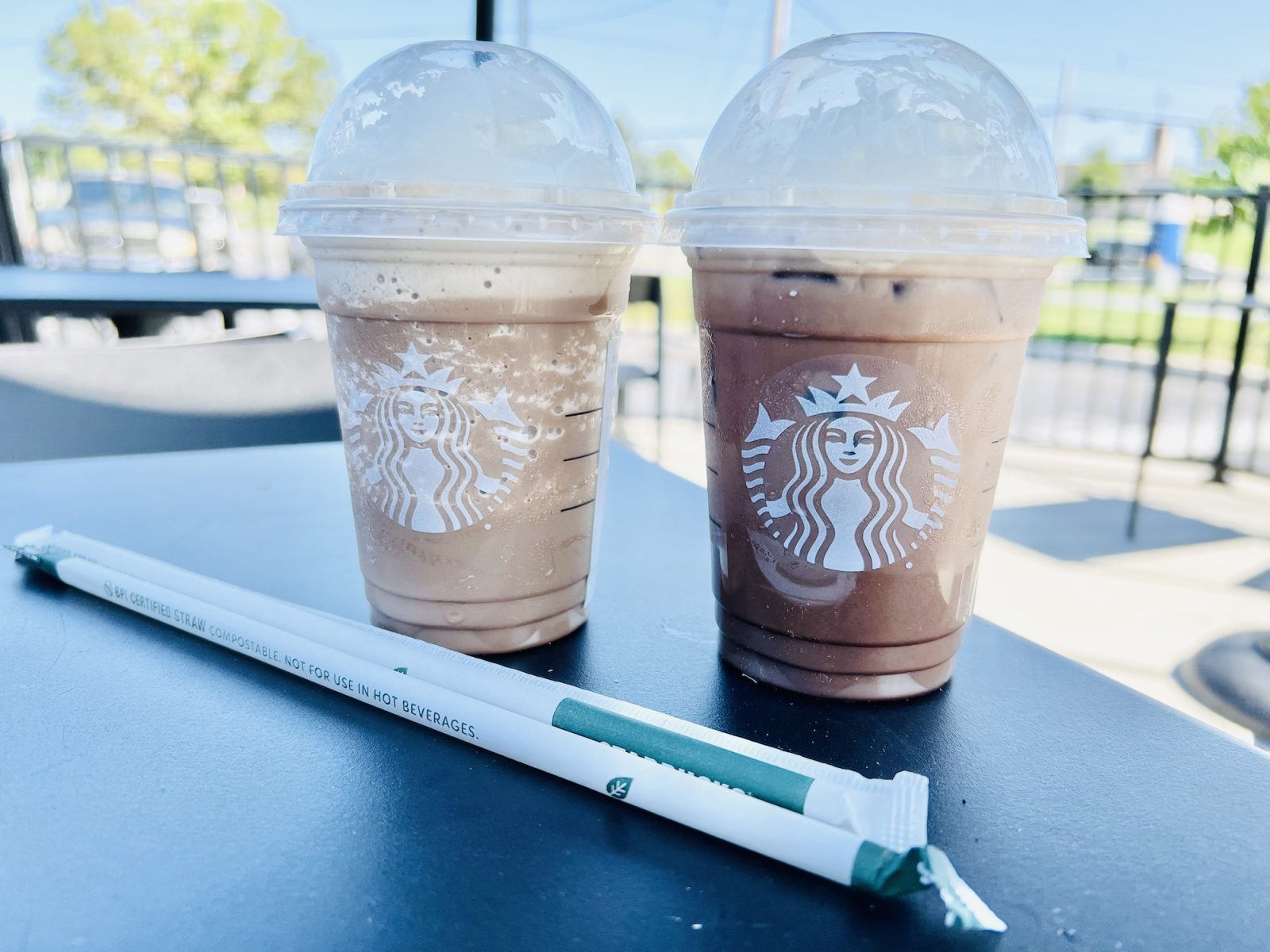 Frappuccino Fun Facts
Frappuccinos come in two main types: coffee-based and crème-based.
The coffee-based ones include the popular Mocha Frappuccino, which contains espresso, milk, ice, and chocolate syrup. On the other hand, the Frappuccino Blended Crème is a delightful option for those who prefer a coffee-free treat. One example is the Mocha Crème Frappuccino, comprised of milk, ice, chocolate syrup, and whipped cream.
The versatility of a Frappuccino allows for endless possibilities (Starbucks Secret Menu) when it comes to flavor and ingredient combinations.
Starbucks continuously introduces limited-time Frappuccino flavors, keeping its menu fresh and exciting for customers.
Summary
What is your favorite Starbucks Frappuccino? Let us know in the comments below!