4 Best Starbucks Decaf Drinks
If you're one of the many people that avoid caffeine, there is no need to feel left out of the crowd when visiting Starbucks. Although most drinks are created with a coffee base and contain some amount of caffeine, there are dozens of caffeine-free Starbucks drinks and options to choose from. Here is our list of the most popular caffeine-free Starbucks drinks and even how to order a decaf frappuccino!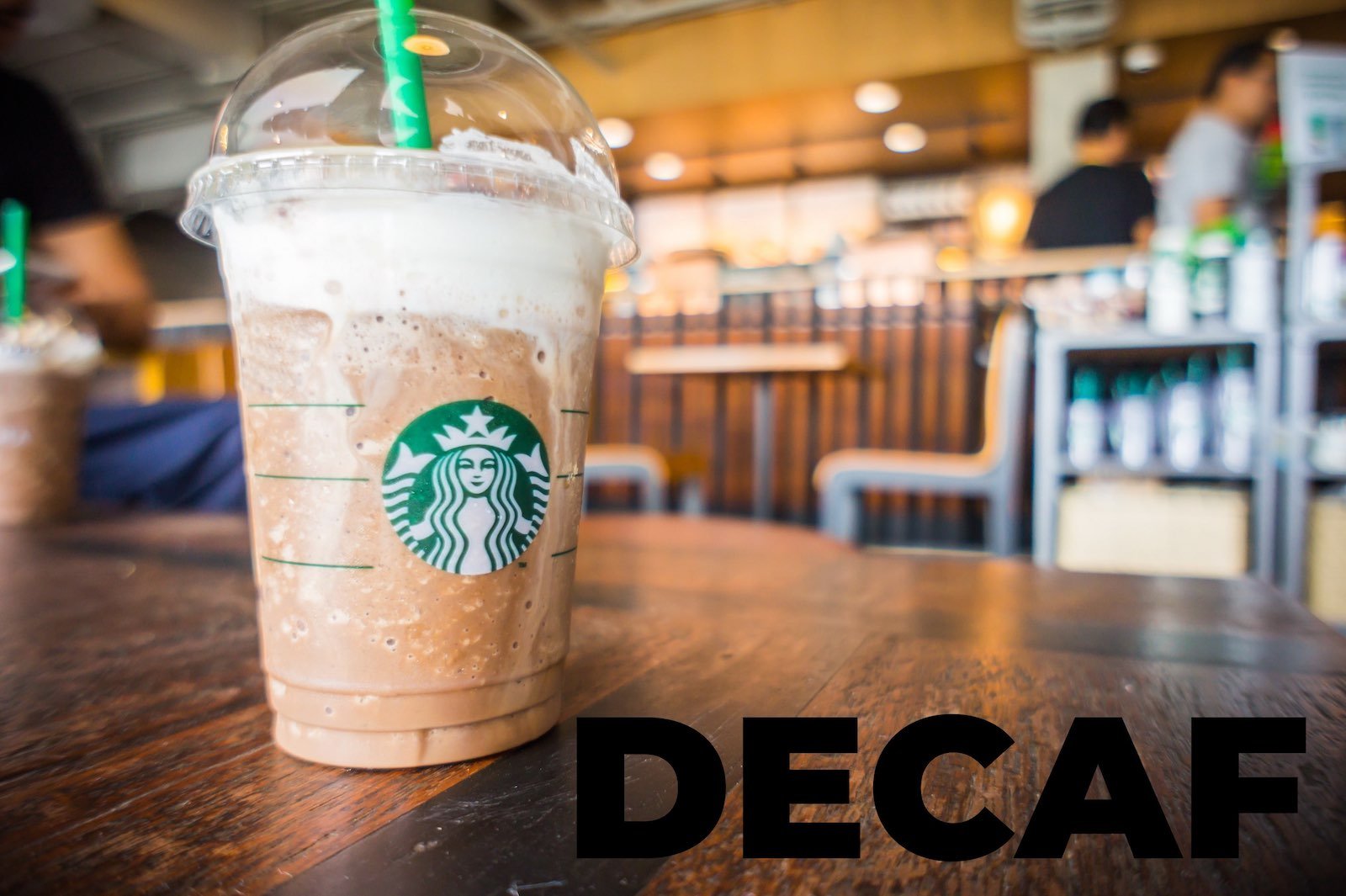 Best Caffeine-Free Starbucks Drinks
It's important to note that most Starbucks decaf drinks do indeed have small amounts of caffeine. Here's how to get your favorite Starbucks drinks when you're trying to cut back!
1. Starbucks Decaf Frappuccinos
How To Order a Decaf Frappuccino
Starbucks frappuccinos are definitely a "go-to" drink if you are looking to skip on the caffeine. You can simply order a "decaf frappuccino," and the barista will take care of the rest! The caffeinated coffee frappuccino syrup gets replaced with a few decaf shots of espresso. That's it! If you ever replaced authentic espresso or other coffee-based syrups with decaf espresso, you can hardly notice the difference. Remember that decaf espresso is an easy alternative to caffeine in many of the best Starbucks drinks on the menu, including both hot or iced varieties.

2.

Caffeine-

Free Grande White Mocha
How To Order a Decaf White Mocha
You can simply order a "decaf White Mocha, with whole milk."
The caffeine-free White Mocha is fantastic to drink and includes white mocha alongside the regular mocha pumps. You can taste the difference between the two flavors, and they mix well…really well! Essentially, it's hard to tell that this drink is decaf because both the dark and white mocha pumps (for grande, it is two of each) give such a unique flavor that ends up distracting your tastebuds. When ordering a caffeine-free White Mocha, choose whole milk for extra richness. The whole milk creates a vibrant drink and can best be characterized as a more "sugary" or "light" drink. The iced chocolate version of the White Mocha is one of the best Starbucks drinks on the menu and can also be ordered in a decaf format.
3.

Caffeine-

Free Apple Crisp Macchiato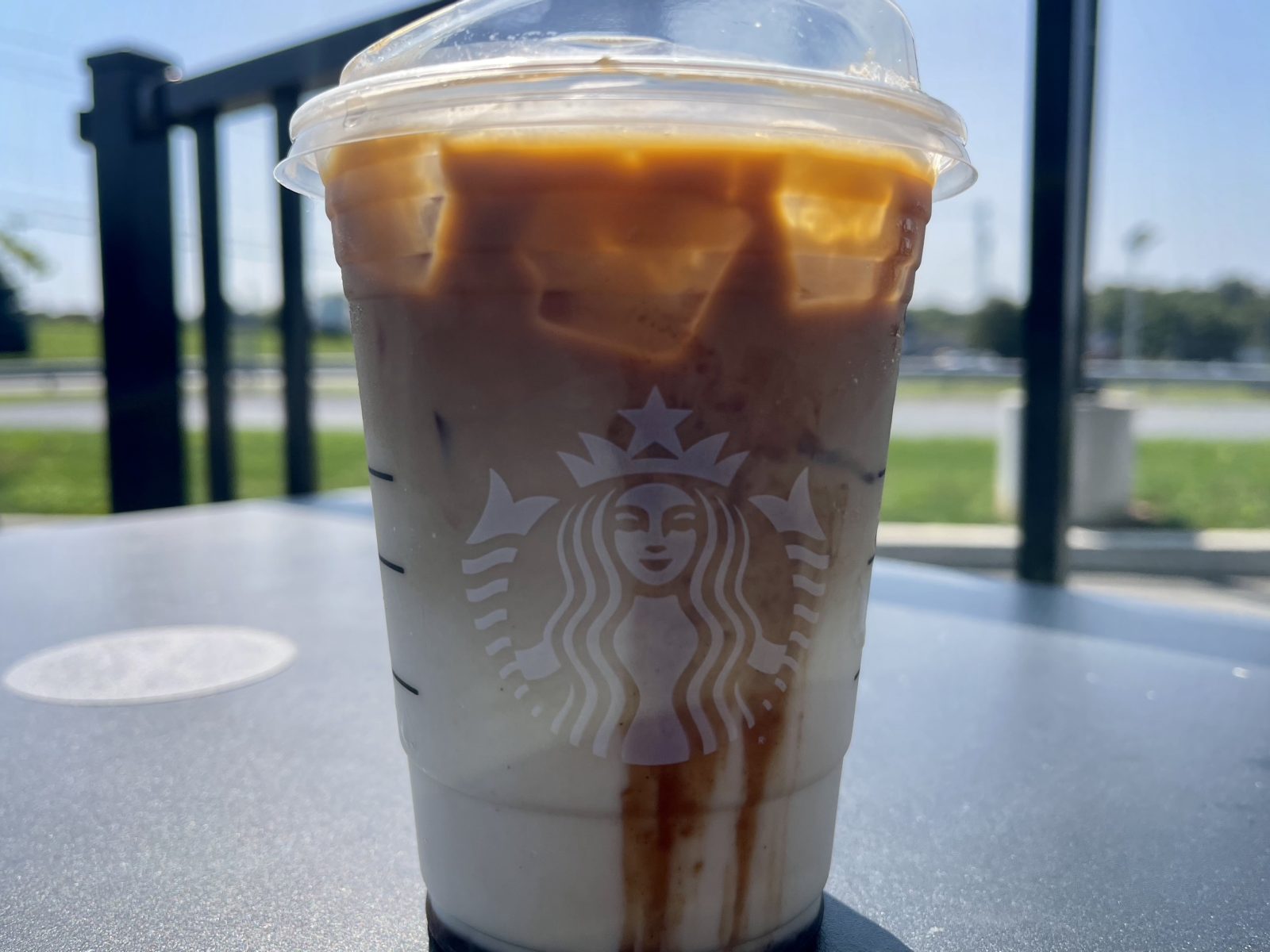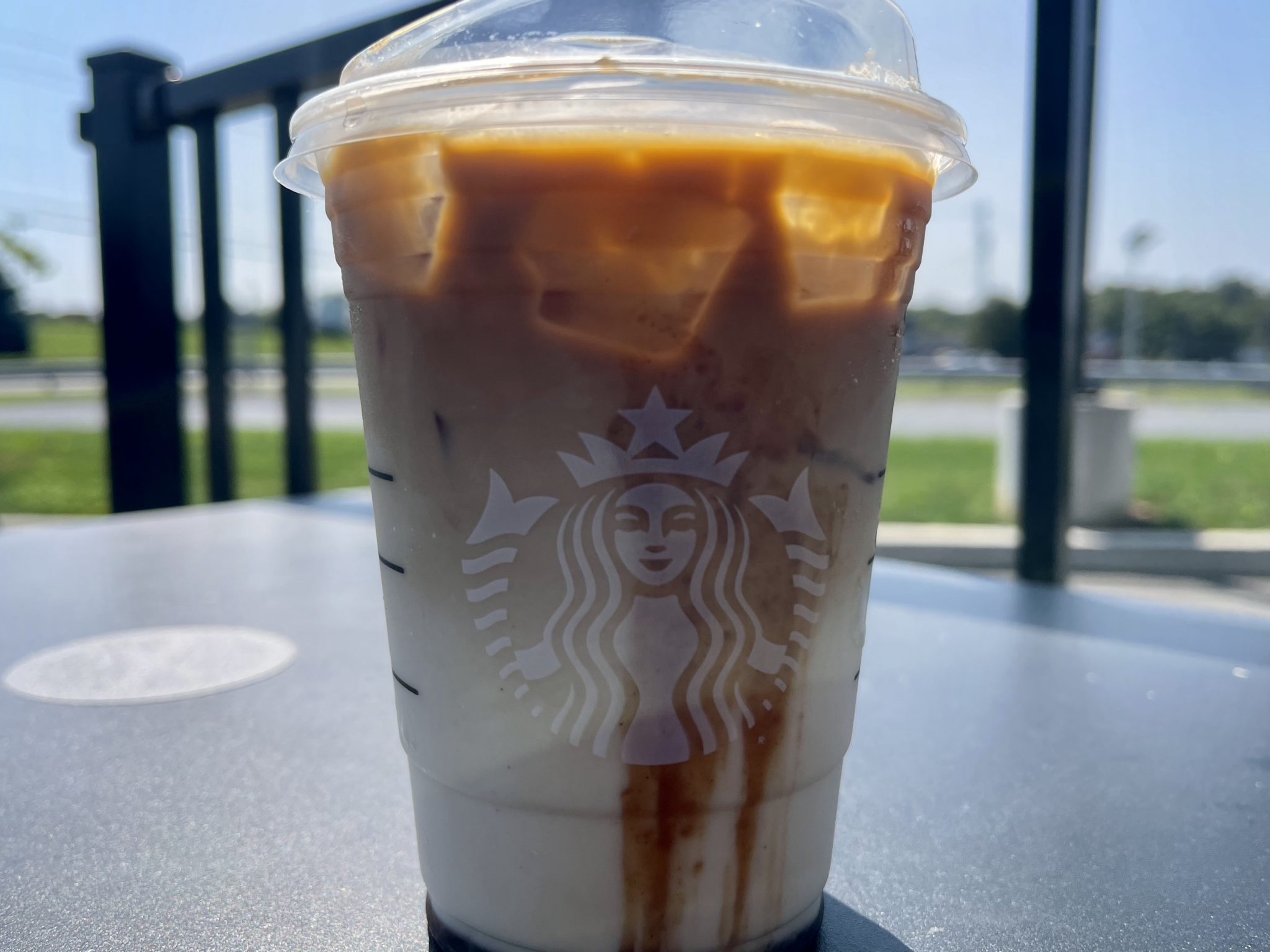 You can get the Apple Crisp Macchiato, either iced or hot (but we enjoy it with some ice!). The sugar is granular and stays at the bottom until stirred, and the cream is heavier than the coffee and sits at the top.
The Decaf Apple Crisp Macchiato is perfect as a very light pick-me-up drink. Typical of Starbucks drinks, you can taste the heaviness of the coffee–even in the decaffeinated versions–which, again, is suitable for that placebo effect. Along with other seasonal macchiatos, the Decaf Apple Crisp Macchiato does an outstanding job of blending the flavor of apple into the drink, making it taste almost like apple pie underneath the coffee rather than alongside or on top of the coffee.
4. Starbucks Simatra Pour-Over Decaf
What is a Starbucks Pour-over?
The Starbucks pour-over method is pouring hot water over freshly ground coffee in a slow, circular motion. Water passes through a filter with coffee grounds, just like a drip coffee maker. In some cases, when ordering certain decaf iced coffees, the pour-over effect may be required. This is because Starbucks does not keep a large amount of decaf iced coffee on hand.

The Decaf Simatra Pour-over is an excellent option if you're trying to get a decaf coffee that doesn't taste like decaf. The Starbucks Decaf Simatra decaf drink has a balanced and rich taste without feeling too heavy or thick. We will caution you; however, this drink is strong, with a bitter taste that you can manipulate nicely with whole milk or cream.
Other Caffeine Free Starbucks Drinks
Without getting too fancy, you can order these caffeine-free Starbucks drinks right from the menu:
Caffeine Free Frappuccinos (Creme is the key) and even a few from the Starbucks Secret Menu:
Vanilla bean creme
Strawberry creme
Butterbeer
Caramel Brulee creme
Strawberry
White chocolate creme
Pistachio creme
Caramel ribbon crunch creme
You Can Get Almost Any Starbucks Drink Decaf
Starbucks is known for its highly caffeinated drinks, especially Pike Place Roast, Lattes, and Macchiatos. However, Starbucks will make almost any drink on its menu in decaf if you ask. Starbucks decaf coffees are great for those who want to keep their caffeine intake low or avoid it altogether. These days people have many reasons to cut back on caffeine and still want to enjoy a great drink from Starbucks. The next time you stop by your local store, ask them if they'll accommodate your request "decaf style." Most times, the answer is yes!
Do you have a favorite Starbucks decaf drink you order over and over? Please share in the comments below, and we would love to hear your experience decaf style!